Hi! I'm Kimberly.
Welcome to
The Art of Living in Turkey
I have fallen in love with Turkey and continue to do so. My hope is that you are also able to fall in love with it through this blog. When you come to visit, you'll love it even more!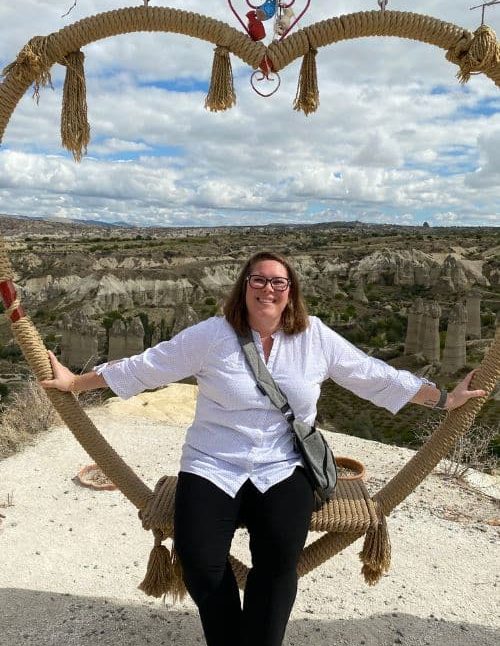 I moved to Istanbul, Turkey in 2019. I have survived a pandemic while living in a country that is not my own.
I have learned Turkish and know my neighbors. I have found my own community of both foreigners and locals.
I have traveled to 17+ cities and still going strong! You could say I have become a bit of an expert.
This website is all about helping you learn about Turkey, inviting you to fall in love with this country as I have, and inspiring you to come visit so you can see for yourself.
I love to help people just like you visit Turkey with confidence and peace of mind, so you can have the trip of a lifetime.
If you've always wondered about Turkey but just assumed it was the middle east or have been dreaming of coming for a visit then you're in the right place.
Exploring Turkey,
one city at a time
Everyone loves to travel. To dream of vacations and see exotic places. For some people, beaches are their thing or maybe mountains. Maybe you're more of a retreat person or an extreme adventurer.
But sadly, we don't always go on those adventures we dream of.
At least I know I didn't. I always wanted to travel but it wasn't until much later in life that I really started traveling abroad like I wanted to. In the last 10 years, I have been able to go to over 25 different countries.
When I got to Turkey, it just felt right. It felt like home somehow. Life is hard regardless of where you live, might as well enjoy the bits you can!
I want this blog to inspire you to visit Turkey and to see what I see!
Let's figure out how you can go together! I'll share tips on how to enjoy your time and plan your trips but also how you can mentally prepare and get excited.
Since I was a child, I wanted to live in Asia. There was something about it that drew me though, at the time, I didn't know what that was.
A friend moved here and I realized I didn't know anything about Turkey.
So I started researching.
I still remember the first time I came to Turkey in 2018 with my best friend…
It was as if I had come home. It didn't make rational or logical sense. I could just feel it inside.
After two short weeks, I returned to America with the desire in my heart to move…some way, some how.
It was 1 year later that I was able to get everything in order to make the move. My ducks were in a row.
My "i's" were dotted. My "t's" were crossed. And I am still on the journey…. Exploring this beautiful country, one city at a time.
So here I am. Living my best life. I live in Istanbul and get to explore the world all around.
I hope I can help you fall in love with this beautiful place as well!
– Kimberly
---
Discover Turkey
A few of my favorite moments
Turkey is a treasure trove of discoveries. There is everything from different climates to different foods to rich history and amazing sights and sounds. Here are just a few!
Meeting a local who was making Tarhana soup by hand outside of Selçuk

You will see that Turks use every part of the animal….here cow's tongue.

Ancient ruins are everywhere.

Street cats are everywhere!

Turkish breakfast quickly became a favorite thing!

An evening in Antalya, smoking some hookah and having a great conversation.

Beach in Antalya.

The epic view from Galata Tower.
---
join the artfully living newsletter
I'll send out emails no more than once a week sharing tips and stories from life in Turkey. I want to inspire you to explore the world, especially this corner of it.
As you learn more, you will gain confidence to see this beautiful country that is so different from your own!
I hope you'll join me and even come see it for yourself. Catch you on the other side!