Airalo ESIM Review: The Best eSIM for International Travel (2023)
Disclaimer – The Art of Living in Turkey contains affiliate links and is a member of the Amazon Services LLC Associates Program. If you make a purchase using one of these Amazon links, I may receive compensation at no extra cost to you. See my Disclaimers for more information.
Have you been wondering airalo eSIMs? I've got you covered in this review of airalo!
Attention, globetrotters and adventure seekers! Are you tired of the hassle of swapping out SIM cards every time you jet off to a new destination?
Do you yearn for a more seamless and convenient way to stay connected on your next trip to Turkey?
Well, let me share my personal eSIM experience with you.
As an avid traveler who has wandered far and wide, I've had my fair share of dealing with traditional SIM cards.
But let me tell you, once I discovered the wonders of eSIM technology, it revolutionized the way I stay connected on my journeys.
With an eSIM, there's no more fumbling with tiny pieces of plastic or searching for local SIM card providers.
You don't have to buy a local phone or deal with such things.
It's a digital travel companion embedded directly into your device, ready to activate and connect you to the world at your fingertips.
Join me as we delve into the realm of eSIMs and unlock a world of flexibility, convenience, and freedom during your globetrotting escapades.
Whether you're a seasoned traveler or embarking on your very first adventure, eSIMs are a game-changer you don't want to miss.
5 Must-Have accessories for your phone
My favorite eSIM for travel internationally
What is an E-sim Card?
An eSIM, short for embedded SIM, is a SIM card that is embedded directly into a device, such as a smartphone, tablet, or smartwatch.
Unlike traditional SIM cards, which are removable and need to be inserted into a device's SIM card slot, an eSIM is built into the device's hardware.
With an eSIM, you can activate cellular service and connect to a mobile network without the need for a physical SIM card.
The activation process is typically done through a mobile carrier's app or website, where you can choose a plan and download the necessary network information onto the eSIM.
It also enables dual SIM functionality on devices that support it, allowing you to use multiple mobile plans simultaneously.
Additionally, eSIMs are smaller and take up less space within a device, making them particularly useful for smaller devices like smartwatches.
Who is Airalo?
Airalo was launched in 2019 and was the first eSIM store out there.
While it isn't an old company, they are a leader in the industry and have a great selection of both countries and eSIM data plans for each country.
Airalo is on a mission to provide global data connectivity for all travelers. They want to help liberate us from the limits imposed by roaming fees.
They have team members in 20+ countries and are on 6 different continents. They proudly support over 1 million users.
If that wasn't enough, they also have multiple initiatives to improve the planet, like a Clean Water Initiative in Cameroon, their work with Children International to sponsor children in developing countries and various relief funds they've organized for Ukraine, Myanmar, and Australia.
They also value diversity, inclusion and equity.
Check your phone for airalo compatibility
There are a couple of ways to figure out if your phone is eSIM compatible.
You can download the app and it will check your phone when you work to purchase the preferred eSIM data package.
You can also look up your EMEI number if you have an iPhone.

Go to Settings > General > About.
Scroll down to Available SIM (iOS 15 or later) or Digital SIM (earlier iOS versions).
If your phone supports eSIMs, you'll see a 15-digit IMEI number.
Airalo eSIM Provider Pros
So now you know what an eSIM is. Now let me tell you why an eSIM is the best option for international travel in my opinion.
Flexibility and Convenience
When you use Airalo eSIM Turkey plans, you don't have to worry about switching between mobile carriers or needing to physically change SIM cards.
This can be particularly useful when traveling or if you frequently switch between different networks and countries.
You can easily activate your eSIM through the free Airalo app which eliminates the need for carrying multiple SIM cards or visiting a store to obtain a new SIM card.
Dual SIM Functionality
Many devices that support eSIM technology also offer dual SIM functionality, allowing you to use two different mobile plans simultaneously.
This feature is especially beneficial for individuals who need to separate personal and work numbers or for frequent travelers who want to have a local SIM card for data and another SIM card for calls and messages.
With an eSIM, you can have two active phone numbers on a single device without the need for a physical second SIM slot.
It also means you don't have to trust public WiFi. This is always a bonus in my book.
Space-saving and Durability
eSIMs are embedded directly into the device's hardware, eliminating the need for a physical SIM card slot.
This design allows manufacturers to create smaller and sleeker devices since they don't have to accommodate the space required for a traditional SIM card.
Additionally, eSIMs are not prone to physical damage, loss, or wear and tear since they are integrated into the device. This makes eSIMs more durable and reliable compared to traditional SIM cards.
Refer friends and get credit
They also have a great program where you can refer your friends. They will get $3 off their first purchase and you will get $3 Airmoney credit.
It is super easy to install your esim and easy to invite others. Use and promote!
Easy to top up
eSIMs are really easy to topup with Airalo. You simply have to enter the app and select the amount of GB you want to purchase!
Some traditional SIM cards require you to refill every so often or they become obsolete but that is not the case with Airalo.
If you're nervous about learning how to use Airalo, they also have great customer support if you come upon an issue.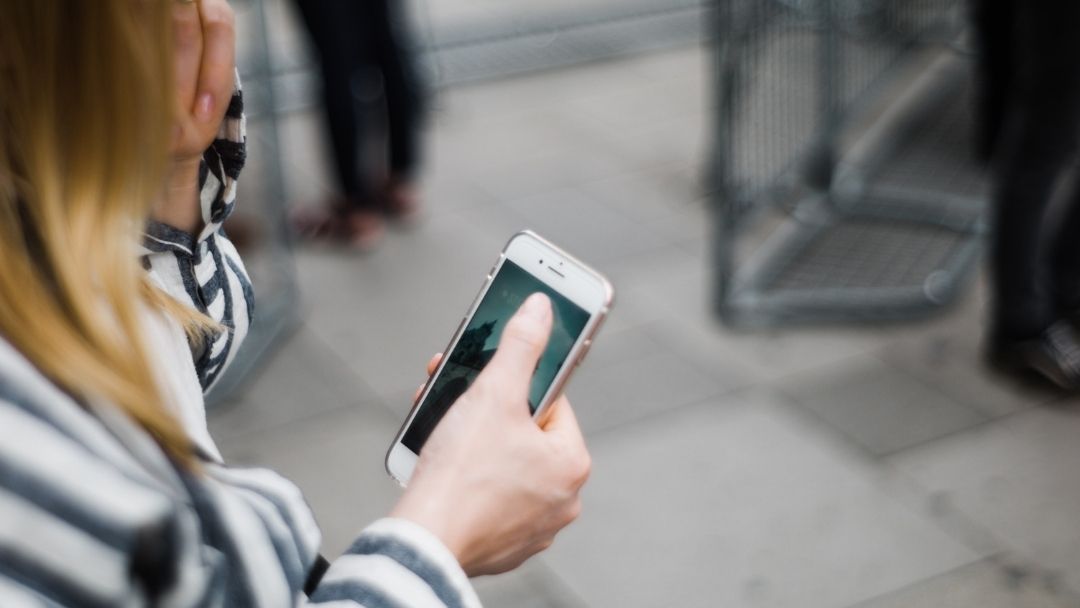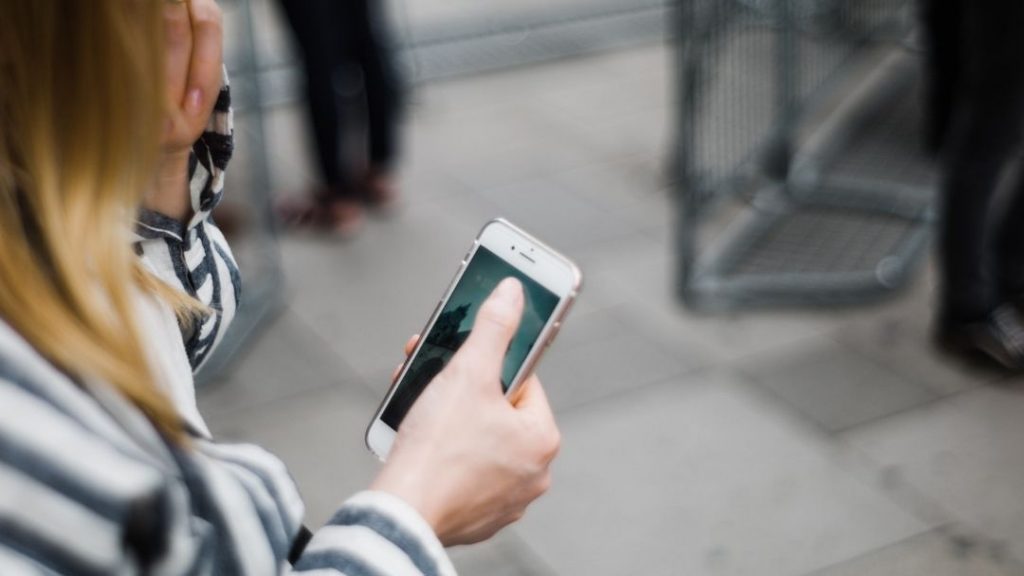 Limited Device Compatibility
Not all devices support eSIM technology.
While the adoption of eSIM is increasing, especially among newer smartphones, tablets, and wearables, older or more budget-friendly devices may not have eSIM capabilities.
Therefore, if you have a device that does not support eSIM, you won't be able to take advantage of its benefits.
If you're considering using an eSIM, if you download the Airalo app, the app will tell you if your device is compatible or not.
No actual phone number
So with eSIMs you are typically only purchasing a data plan. There are some companies that can give you a phone number but not with Airalo.
While some might consider this a negative, let me point out that when you travel, most of the world uses WhatsApp, which you only need data for.
But also, why would you need to make phone calls to a local number? You probably don't speak the language. If you do, well then perhaps this airalo isn't for you.
Complexity and Potential Activation Issues
While activating an eSIM is generally straightforward, some users might find the process more complex than simply inserting a physical SIM card.
It involves downloading the necessary network information and activating the eSIM through a mobile carrier's app or website.
Depending on the carrier and device, the activation process may vary, and some users may encounter technical issues or experience difficulties during activation.
With Airalo's app you can easily activate your Airalo Turkey esim as long as you have internet.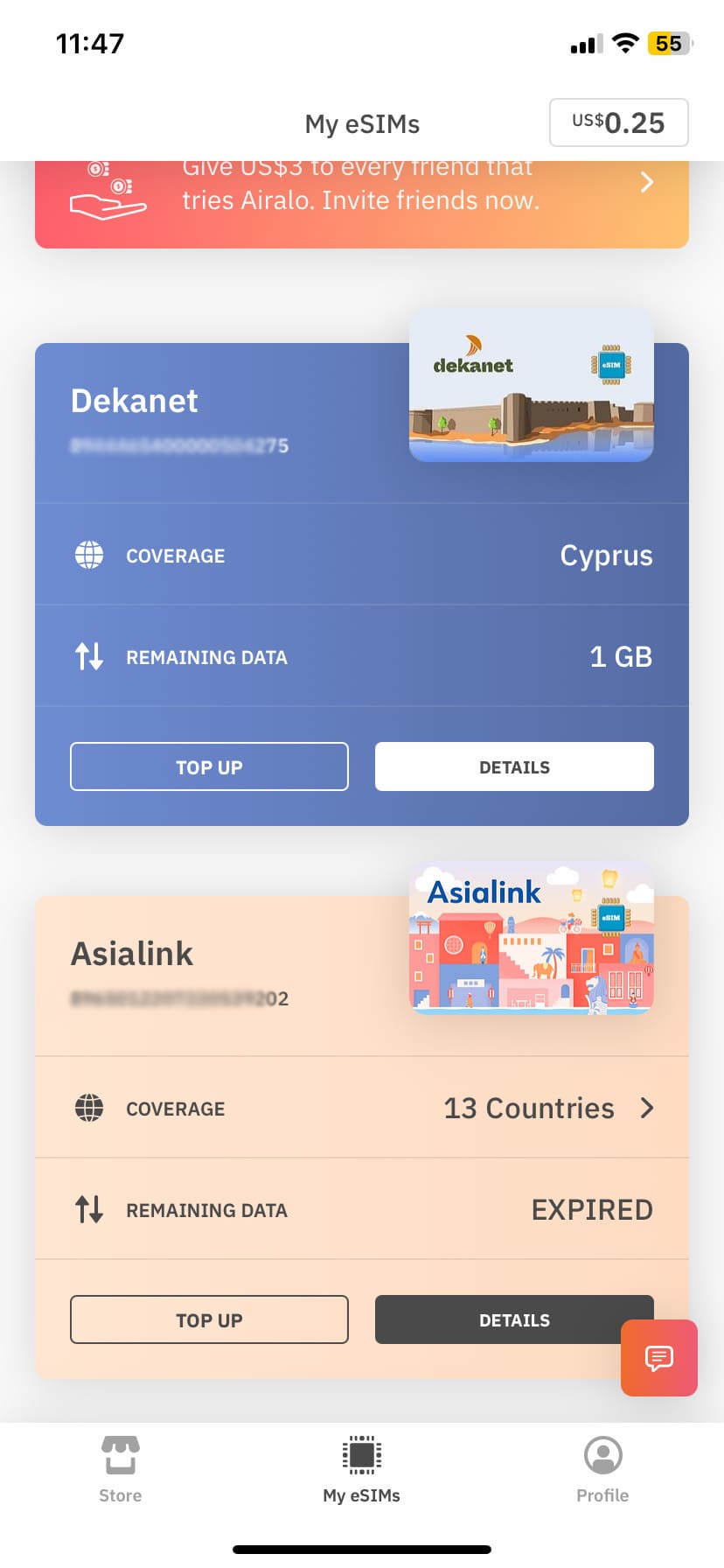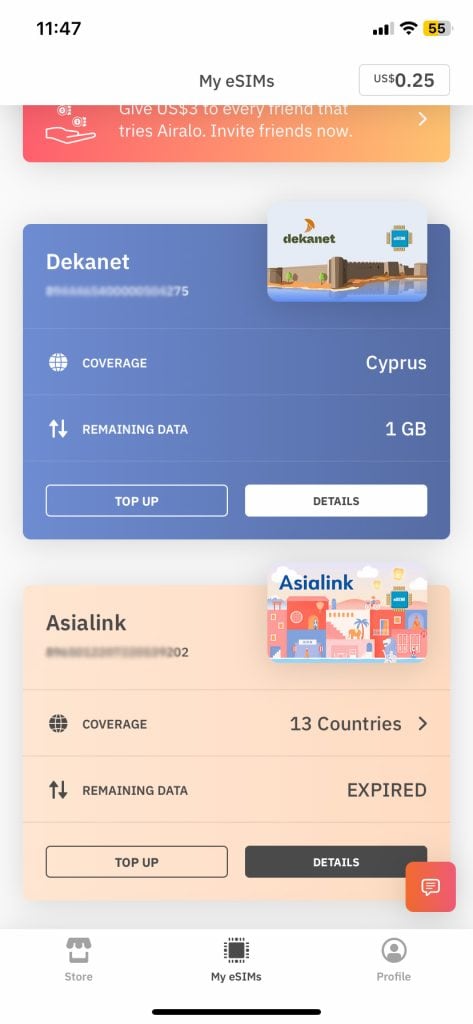 My Experience with Airalo eSIMs
When traveling I typically have gotten a traditional SIM card and just put it in a crappy old phone. It worked well enough but then I had two phones and it was annoying.
Last year, however, I went on an epic trip to SE Asia. I went to celebrate turning 40 and needed a SIM card.
As I researched, I discovered that regional eSIMs were a thing. Then I discovered Airalo.
I bought a regional eSIM that was good for a month and had, I thought, plenty of GB. Towards the end of my trip, I started to run out of data.
Adding more was so incredibly easy! All I had to do was go on the app and buy another top-off package.
It was the easiest way I had ever used a SIM before. Best of all, I got to keep my number on WhatsApp and nothing really changed. I just made the eSIM primary while I was abroad.
Best yet, the eSIM stays on my phone until I delete it. This means if I go back, I can just upload more data to the one I already have. iPhones for instance can store 5-10 eSIMs depending on the device's storage!
AIRALO's eSIM Package Pricing
You can download the app for free. It will allow you to see all the eSIM packages available for every country. They provide a global esim, country esims and local esims.
The Airalo app will also tell you if your phone is compatible with an eSIM.
From there you can purchase and then once you get to Turkey (or wherever you're headed), you can activate the eSIM while on a stable internet connection.
Easy peasy.
Alternatives to AIRALO
Of course, all that being said, perhaps you aren't interested in an eSIM or maybe your phone just doesn't work with an eSIM.
A recommendation for a regular SIM is DrimSim. They too do not provide a phone number but provide both eSIM data and normal SIM data cards.
The big difference with DrimSim is that you don't buy a package, you only pay for what you use. For Turkey, the current price is 0.01€/MB.
FAQs About eSIMs
What is eSIM for a phone?
eSIM means embedded SIM (subscriber identity module). While a traditional SIM is a tiny card you insert into your phone, an eSIM is a digital version that can't so easily be lost.
Can you have a SIM and eSIM at the same time?
If your phone supports eSIMs then you can usually have one SIM and one eSIM active at the same time. Some phones will allow you to store anywhere from 5-10 extra inactive eSIMs as well.
What if I lose my SIM card?
One of the downfalls of a traditional SIM card is if you lose it, you can't just get a new one. With an eSIM it stays on your phone unless you delete it.
Does Airalo work in Turkey?
Yes! The Merhaba Turkey eSIM works only in Turkey, however. If you will be traveling anywhere else you may consider getting Eurolink or perhaps just another country esim.
Final Thoughts: Airalo eSIM Turkey review
As you prepare for your trip to Turkey, don't miss these 7 apps that you should have on your phone when you come.
Embracing the power of the eSIM while traveling abroad is a decision that can truly enhance your globetrotting experience.
Say goodbye to the hassle of sourcing and swapping SIM cards in every new destination.
With eSIMs, you can effortlessly connect to local networks, access data, make calls, and stay in touch with loved ones, all with a few taps on your device.
The flexibility and convenience of eSIMs enable you to roam freely, switch carriers with ease, and manage multiple phone numbers effortlessly.
So, fellow adventurers, make your journey smoother, your memories more shareable, and your experiences more enriching by embracing the wonders of eSIM technology.
I hope this Airalo Turkey review helped. Let me know if you still have questions. Bon voyage and happy travels!
Read More:
Turkey vacation basics
When I plan a trip these are the websites I use. Hope they help you plan your next adventure as well!
FLIGHTS: I am a huge fan of Kayak and WayAaway.
VISAS: You can use the free e-visa portal here but for a few extra dollars you can use iVisa and someone else will handle any issues that may come up.
E-SIM: When I traveled to SE Asia I discovered e-sims and I'm never going back. Airlo has been easy and cheap! Use code "SEP15" to get 15% off on one booking.
TRAVEL INSURANCE: I use TravelInsurance.com for my trips abroad.
CAR RENTAL: I have loved working with Discover Cars when I rent cars in country.
ACCOMMODATION: Find the best Turkey hotel deals on Booking.com.
CITY TOURS & DAY TRIPS: You can browse GetYourGuide's website to find just the tour you're looking for!