13 Delicious Turkish Meze: Ultimate Guide (2023)
Disclaimer – The Art of Living in Turkey contains affiliate links and is a member of the Amazon Services LLC Associates Program. If you make a purchase using one of these Amazon links, I may receive compensation at no extra cost to you. See my Disclaimers for more information.
Do you want to learn more about Turkish Meze, how to eat them, and what's so special? Look no further!
Around the world, you will find various appetizers unique to a certain group of people and culture.
While sometimes you'll find similar ones, they are often made from foods that are easily found in that environment and beloved by the local people.
A meze, a Turkish appetizer, is no different. It can be a bit overwhelming if you're looking at a list or a showcase of options.
Because I live in Kadikoy, which on the water, I have had many opportunities to eat Mezes, especially at fish restaurants.
I can attest to the fact that they are both absolutely delicious and vary throughout the country.
You will find different specialties in different regions as well as some that are consistent throughout the country.
I bet if you think about it you can remember a good time around an appetizer before your meal when you were laughing with your friends.
We were always pretty cheap growing up because we were quite poor. It wasn't until later in life as an adult that I really got to appreciate appetizers.
Now I know I have to pace myself or I won't even be able to finish dinner!
Well, let's jump in and get all the deets on these delicious tastes of Turkey for your upcoming trip.
5 Must-Have appetizer accessories
13 loved Turkish Meze List
There are so many mezes to try but I wanted to share 13 of my favorites. I have linked to a recipe so you can try it at home but I still think they are better made here by someone else.
Also below each meze type you will find Turkish meze recipes for each one to be able to be tried at home.
1. Patlican Şakşuka
This is probably one of my absolute favorites. I have to exercise a lot of self-control to not eat the whole dish, especially when it is done exceptionally well.
The funny thing is that prior to living in Turkey, I didn't really like eggplant.
Actually, it was one of the very few foods I disliked. Upon moving to Turkey, however, I learned how to cook it and have fallen in love!
Şakşuka is roasted eggplant, tomatoes, peppers, and spices. Of course, it also has some olive oil in there.
I usually need to add a little salt but seriously the flavors of this side are so so yummy.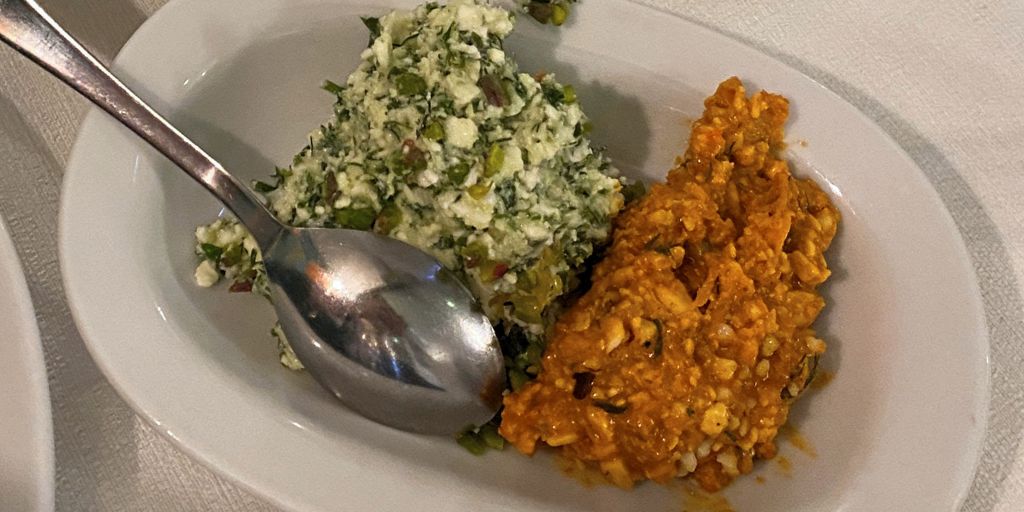 2. Gİrİt ezmesİ
I recently had this for the first time at a fish restaurant with a friend. He picked it out and I was quite intrigued.
It was so delicious that I nearly ate all of it! Good thing I don't think he minded much.
This is typically a combination of feta cheese, olive oil, and walnuts, though every restaurant will put its own twist on this meze.
What I loved about this meze at ALA Restaurant was the addition of parsley and dill, making for a light and refreshing flavor. Though the dill made the dish in my opinion.
There are a ton of recipes and a lot of them seem to mash the ingredients together but I found that I really enjoyed it a bit more chunky.
The flavor was delightful but also the texture was perfect. When paired with a fresh warm roll, I thought I was in heaven.
This is in Turkish but you can copy and paste it into Google Translate quite easily and worth it as her stuff is great!
3. Denİz börülcesİ
The English name for this is Samphire salad. Honestly, when I first saw it I was a bit hesitant because it didn't look so appetizing but it was absolutely fantastic.
This meze is rich in iodine and iron much like seaweed. Other names it is known by are pickleweed or glasswort.
This samphire plant is combined with lemon juice, garlic, and olive oil to produce a lovely pickled-flavored dish.
Perhaps it isn't always so pickled in flavor but the one we ate was and I will definitely be ordering it again!
4. Humus
I have had a love/hate relationship with hummus over the years. Sometimes the flavor is so good you eat so much that you're sick of it.
Other times, it seems to have a really gritty flavor and can sometimes be quite bland. I recently learned a trick to make this obsolete.
The trick is to cook your chickpeas with 1/2t of baking soda and it breaks them down in such a way that leaves your hummus light and fluffy. I was amazed!
One difference you will sometimes see with Turkish hummus, however, is that it can be served hot in a clay dish with meat on top. Yummmm.
It isn't always like this but definitely a fun twist on the now internationally common snack.
Besides tasting good, this meze is packed with fiber, protein and vitamins & minerals.
I would start with half the tahini and add in more if you want more.
5. köpoğlu
If you take the same ingredients as the şakşuka and add yogurt, you essentially have köpoğlu. If you're a yogurt fan, you'll probably love this one.
One thing to note is that Turkish yogurt is usually more sour and not sweet like it is in the States. It is generally more akin to what we would call Greek yogurt.
While I eat more yogurt living in Turkey than I ever did in the States, I still prefer şakşuka because I love being able to taste the flavors of the vegetables.
You will need the Google Translate plugin to make this one. Working on finding a better English version but for now, this is the best one I could find.
6. İzgarada Halloumİ Peynirİ
I had never heard of grilling cheese before coming to Turkey. Wouldn't it just melt?
Well, this is Hellim or Halloumi cheese and it is so incredibly easy to do. It is quite a versatile cheese.
It is a great meze but can also be used on salads, at breakfast, or with a meal.
While it is often served on its own, I find it quite lovely to combine it with things especially the last meze on this list, acili ezmesi.
The salty flavor of the cheese pairs well with the spicy tomato and pepper mixture.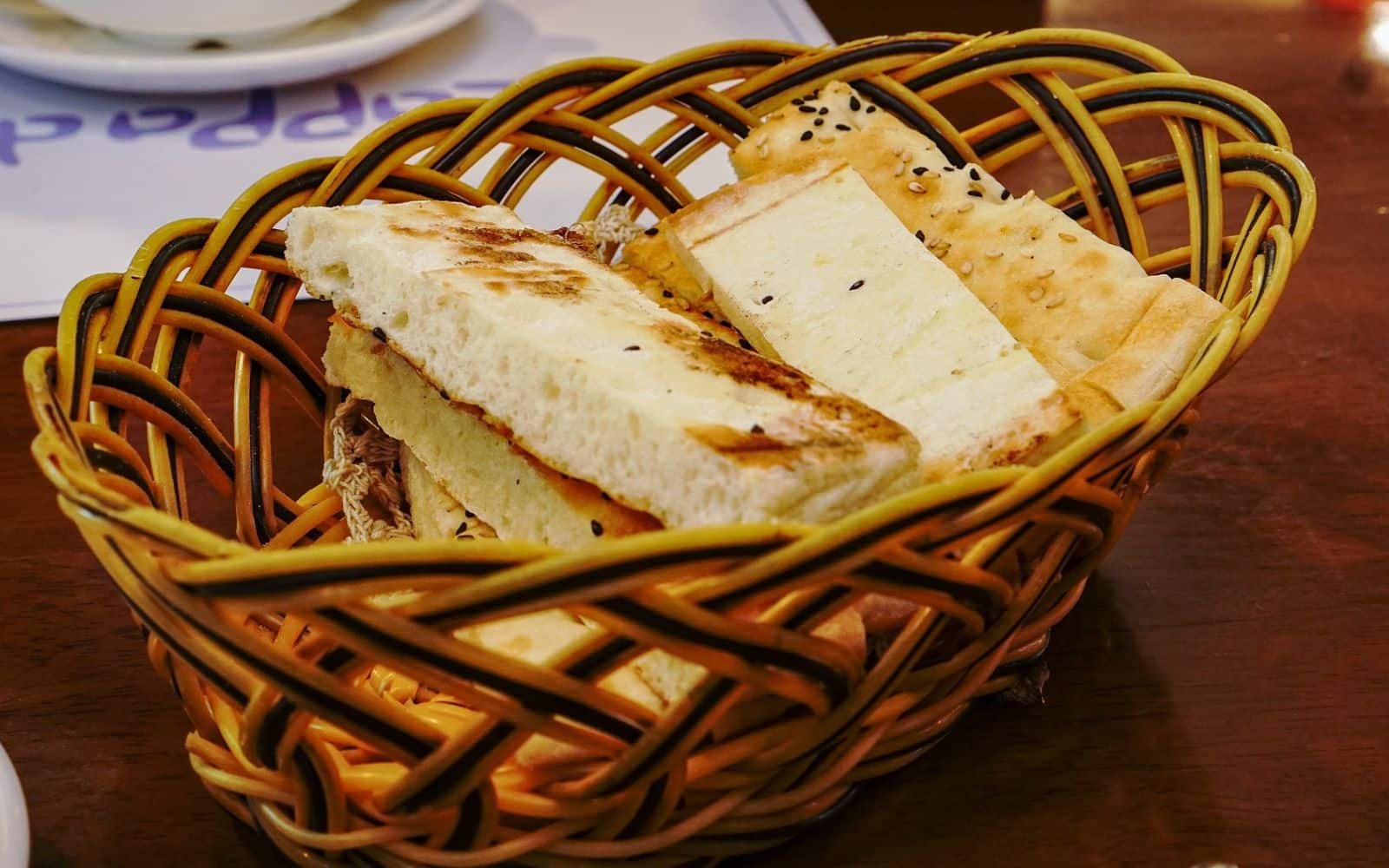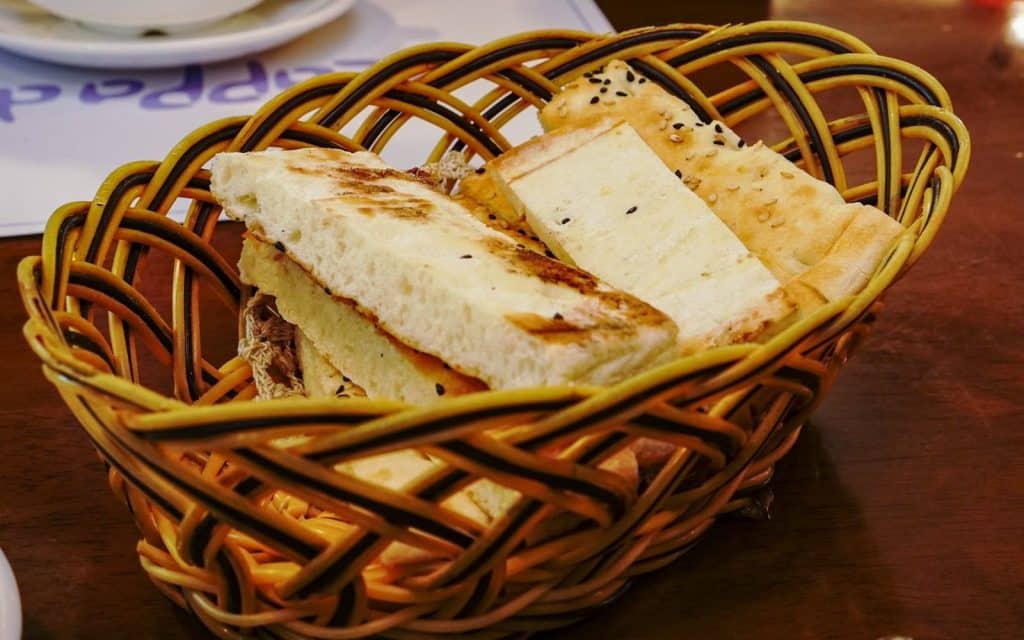 7. Kısır
This is another dish that I was pleasantly surprised by! It is a bulgur dish with onions, parsley, and tomatoes.
This dish is quite similar to tabbouleh but is much more bulgur-based, unlike tabbouleh which really brings in a lot more herbs.
It is great on its own or as a side dish for a meal. I honestly thought this one was going to be too plain and I hadn't really eaten much bulgur before so I was weary.
A village woman made it so I had to try it and I wasn't disappointed.
8. Havuç Salatası
This is literally carrot salad. I would say it is less salad and more like cacık or tzatziki than anything else. It is essentially yogurt and shredded carrots.
Before you think, "That's not for me", it really is worth a try. I didn't actually think I would like it but it was better than I expected.
There is something magical about yogurt here that is so different than in the States. It transforms food in a unique way.
9. Cacık
Cacık is similar to the Greek tzatziki but has more herbs in it. I do like mine a bit saltier and garlicier than traditional cacık though.
It will often be served with meatballs, köfte, or as a meze. It can be eaten with bread. When it is really good, I eat it all by itself because the flavor is so delectable.
If you make it at home, as the author of the recipe calls for, make sure to use the smaller cucumbers.
Especially in the States, veggies have lost their flavor. The smaller they are, the more rich the flavor will be. It will really add to the dish.
10. Muhammara
This is more of a dip and is made from tomato paste, spices, and crushed walnuts. You will often see it with bread crumbs or small pieces of bread.
It is quite lovely on some fresh bread. I especially love pairing it with some white cheese if there is any available.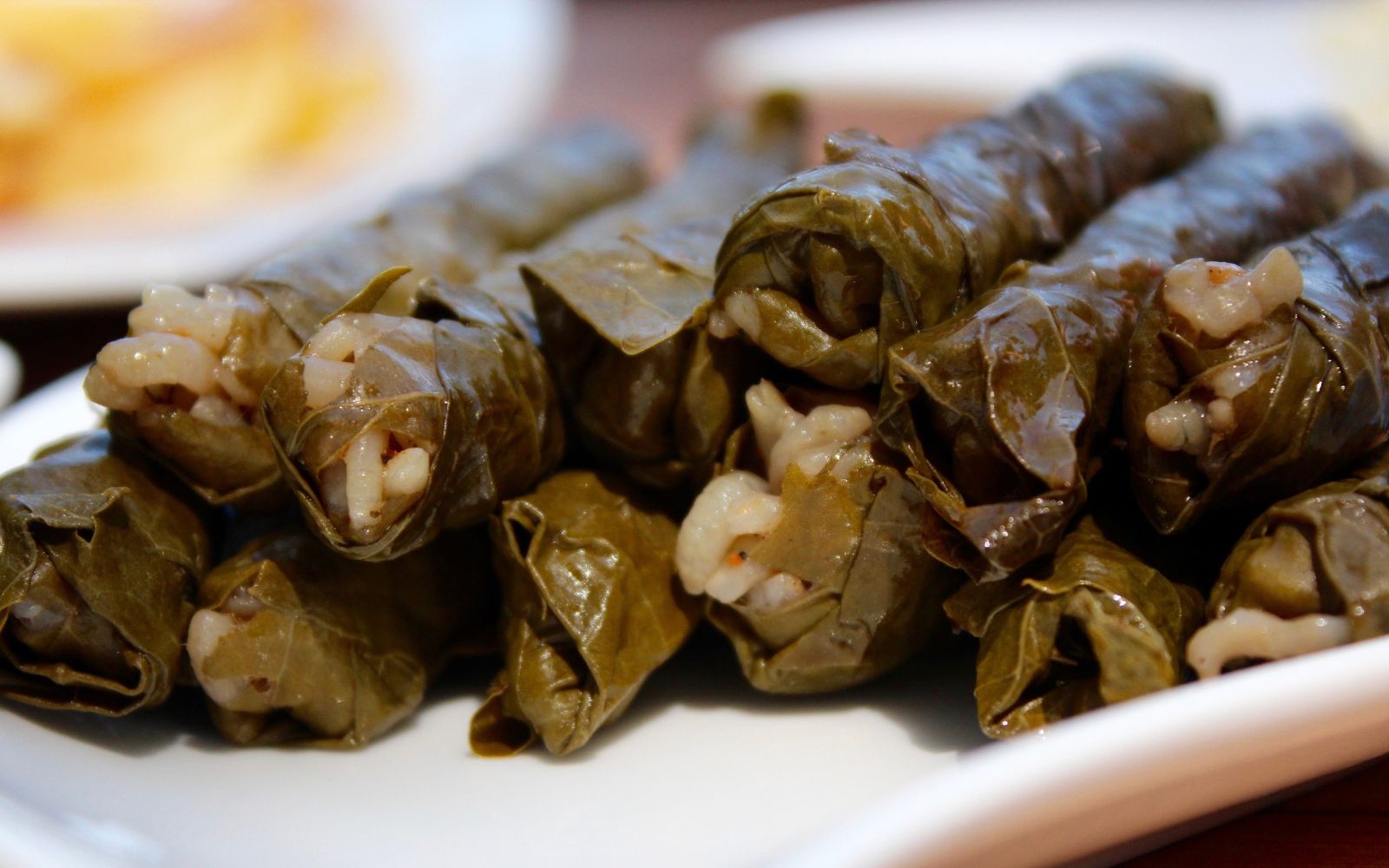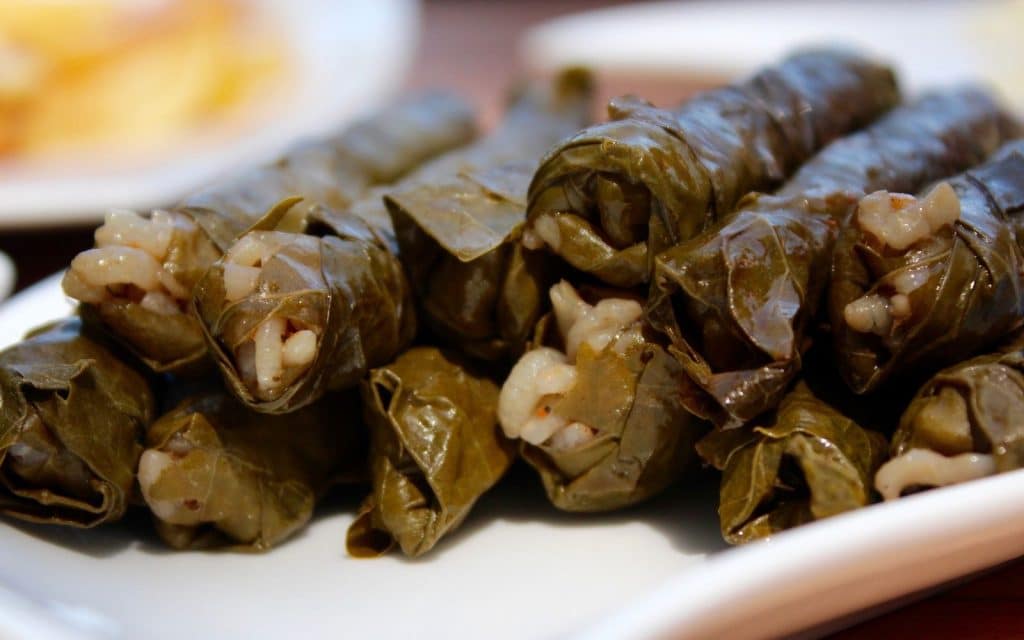 11. Sarma
In my opinion, not all sarma is created equally. Many people put a lot of lemon in theirs but I'm not a fan of lemon in food (though I love it in water and sweets.)
That being said, this is a meze you can definitely play with the flavor a little more and see what you like. Some are sweeter and tangier whereas others are nuttier and more savory.
Either way, sarma can be made from cabbage or grape leaves. You make a delicious rice mixture, scoop a little into each leave and roll it like a cigar. They are lovely!
I often will stop and get a couple of hundred grams from someone who has made them fresh and eat them as snacks or part of my meal for the next couple of days.
12. Haydarİ
Something I was interested to find is that Turks use a lot of mint in dishes.
Sometimes it is just a small amount that you can barely point out but it changes the flavor of the dish ever so slightly.
Other times it is a much more prominent flavor to the dish.
In Haydari you definitely will taste it, especially depending on how much mint you add, but it is such a nice balance to the other really strong flavors that are likely on your table.
Again, this can be customized a bit with a little more of one thing or less of another.
This is another dip-type dish that you could combine with bread or veggies to eat or perhaps you'll enjoy it by the spoonful.
13. Muhammara
This is more of a dip and is typically eaten with bread. For those of you who don't like spicy, be careful because this one is more often than not spicy.
It is a tomato-based dip with some onions and chilis. It is so incredibly delicious on some warm bread or if you're brave, eat it by the spoonful.
I also often enjoy it when I get a kebap and they put some on the side. It really enhances the flavor of the meat.
Definitely recommend using some good tomatoes for it so the flavor can really come through!
What is Turkish Meze?
A meze is a small portion of a dish that can be served as an appetizer or a main course. Turks LOVE having a lot of options. They even have a saying.
Az az ortaya.
You say it when you do not want an individual meal instead you ask the waiter to bring a mix of the restaurant's various food in small portions.
Actually, it is a big deal if as a Western you say this phrase. It means you want to replace the Western way of eating with the Turkish way.
They don't want to have to only pick one option so they would rather have lots of options with just a little of each.
Something else to note about mezes is that they can be cold or warm. In my humble opinion, there are some that are just better hot but will often be served cold.
For instance, I prefer eggplant to be warm, not cold but you'll often see it in the cold section.
How do you eat a Meze?
Türk mezeleri (or Turkish meze) is shared among everyone at the table so make sure you don't eat all of the delicious patlican şakşuka (eggplant, tomato, peppers, and onion dish) which happens to be one of my favorite mezes.
They are put in the middle of the table and are typically served with bread of some sort. You can also often just eat them by themselves.
There is typically a pretty good variety. You will find that even eating your portion of each of the mezes can leave you quite stuffed with no room for your dinner.
In some restaurants you pick the ones you want and only those and some restaurants they have a set menu that they provide as part of your meal.
Make sure you ask which place you're at so you know what to expect when you get your bill.
What should you expect?
You will often find times when they are free and included in what you're already ordering. Be careful, however, that sometimes they are not.
However, especially at fish restaurants, they are not included. They will bring a large tray with the mezes covered in saran wrap and you pick the ones you want.
If you have an experience like that, you are going to be paying for each one you choose.
If the minute you sit down at the table they start to bring them out, it is a safe bet that they are included in your meal.
Sometimes they will just include a couple for free and then you add more if there is something else you want.
Some restaurants specialize in mezes and are quite proud of their recipe or special take on a traditional dish.
You should also expect to take your time. Mezes aren't meant to be scarfed down and then rush to the meal.
Turks love to sit around and talk about anything and everything and what better than to eat while doing that?
You will often find dinner lasts a couple of hours rather than the rushed 30 min in America.
Turkish culture really is so much about relationships and good food. There is a high value for them to enjoy each other and good food slowly.
What about Alcohol?
For a long time, alcohol wasn't an acceptable drink here though Turkey has rich traditions around liquor.
Over the years it has become more accepted, some definitely more than others.
If you're in a village you will probably have more of a difficult time finding alcohol to go with your meal.
The exception would be Raki. It is the unofficial drink of Turkey.
Raki is a liquor made from twice-distilled grapes that are then flavored with anise (think black licorice). If you're a black licorice fan, then you might really love it!
The more I have tried it, much like Ayran, the more I have grown to like it. I wouldn't say I crave it but I can enjoy it.
If you want to read a little more about raki and how to drink it, you can check out this blog post on Turkish drinks.
Wine is also often paired with Turkish mezzes though raki is typically preferred by locals. Wine is newer and still growing in popularity here in Turkey.
---
If you look at these recipes one of the things you'll see commonly used that isn't as common in the States is pomegranate molasses.
It adds a touch of sweetness to things and is quite lovely.
When you come to Turkey, don't forget to grab a bottle to take back so you can make all of your new favorite dishes. You can read more about other great gifts to take back!
Are you ready to try a Turkish Meze at home? Or perhaps here in Turkey!
read more:
Turkey vacation basics
When I plan a trip these are the websites I use. Hope they help you plan your next adventure as well!
FLIGHTS: I am a huge fan of Kayak and WayAaway.
VISAS: You can use the free e-visa portal here but for a few extra dollars you can use iVisa and someone else will handle any issues that may come up.
E-SIM: When I traveled to SE Asia I discovered e-sims and I'm never going back. Airlo has been easy and cheap! Use code "SEP15" to get 15% off on one booking.
TRAVEL INSURANCE: I use TravelInsurance.com for my trips abroad.
CAR RENTAL: I have loved working with Discover Cars when I rent cars in country.
ACCOMMODATION: Find the best Turkey hotel deals on Booking.com.
CITY TOURS & DAY TRIPS: You can browse GetYourGuide's website to find just the tour you're looking for!