Is Turkey in Europe? A Look Inside the Desired Turkish Bid for EU Membership
Are you wondering if Turkey is in Europe or Asia? Then you're in the right place!
The Art of Living in Turkey contains affiliate links and is a member of the Amazon Services LLC Associates Program. If you make a purchase using one of these Amazon links, I may receive compensation at no extra cost to you. See my Disclaimers for more information.
There is nothing worse than jumping into a conversation and feeling like a complete idiot because you don't know something you think you should know.
After living here for years, it has become such a fun piece of information and you'll see why soon.
As someone who wants to learn more about Turkey, I bet you'll find this interesting as well.
That being said, Turkey is an exciting and unique destination, situated between Europe and Asia at the crossroads of ancient civilizations.
It is a country with a long history and culture that dates back thousands of years, making it an ideal holiday spot for those interested in exploring its rich heritage.
But one question often asked by travelers is, is Turkey in Europe or Asia?
The answer lies somewhere in between!
While geographically located on two continents, politically Turkey has been closely associated with European countries since 1923 when it became a member of the League of Nations.
Today, although Turkey does not officially belong to any European Union institutions such as the Eurozone or Schengen Area, Turkish citizens enjoy visa-free travel to many EU countries.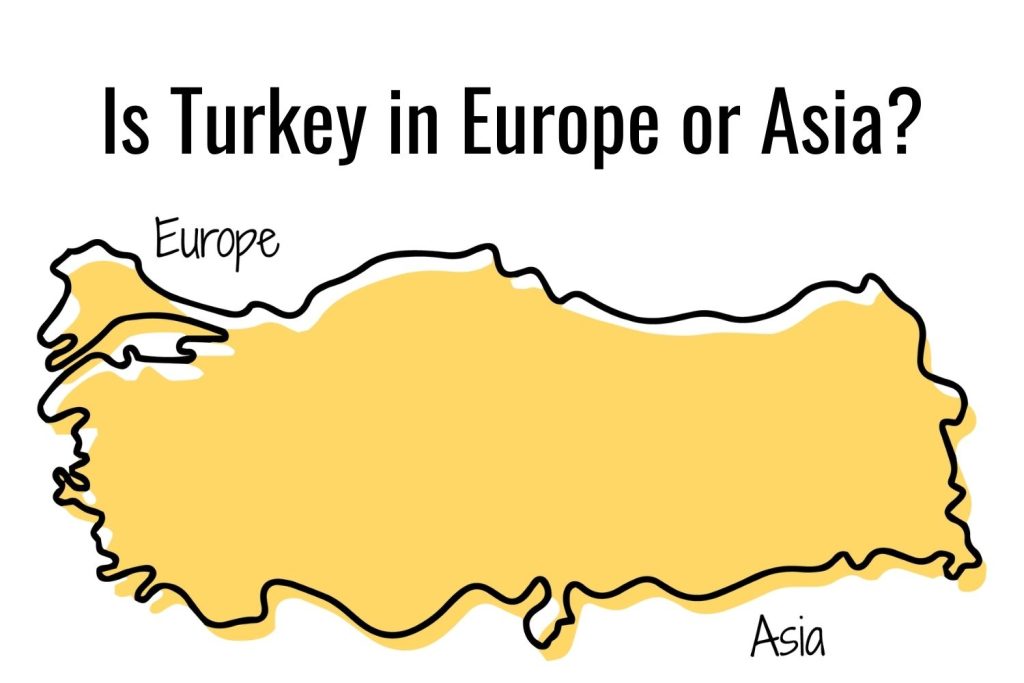 Is Turkey in Asia? Is Turkey in Europe?
This is a very popular question and for a valid reason.
If you look at the map below, you can see in the top left corner that there is a very small portion of Turkey that is on the European side and most of it remains in Asia.
According to the geography of Turkey, it is more Asian than European but depending on where you are you will get an entirely different feel of culture.
Is Turkey an EU Member?
The current answer is no, Turkey is not a member of the EU. Turkey first applied decades ago and has worked on it through the years.
During the EU accession talks, not all of the 35 policy chapters have been opened and worked through, which is something that has to be done before approval is given.
In 2018, the EU's General Affairs Council noted that
Turkey has been moving further away from the European Union. Turkey's accession negotiations have therefore effectively come to a standstill and no further chapters can be considered for opening or closing and no further work towards the modernization of the EU-Turkey Customs Union is foreseen.

Peter Michael – Cyprus Mail
That being said, it is important to note that although Turkey is not an EU member, it is a member of NATO.
General Info about Turkey
Official Name: Republic of Turkey, Türkiye (Turkey's new name)
Units of Measure: Celsius (°C), meter (m), liter (L)
Time Zone: Turkey is in the Eastern European Time Zone. This is 2 hours ahead of London (GMT +2). Turkey does not observe daylight savings time.
Location: It is located in Southeastern Europe and Southwestern Asia. The portion within Europe is considerably smaller in size.
President: Recep Tayyip Erdogan (2014-present) previously served as Prime Minister of Turkey from 2003 until 2014.
Capital: Ankara (it was moved from Istanbul when Mustafa Kemal Ataturk established the republic)
Religion: 99.8% of the population is registered as Muslim (mostly Sunni)
Country Code: +90

Language: Turkish

Currency: Turkish Lira
Religion: 99.8% of the population is registered as Muslim (mostly Sunni)
Population: 84,680,273 in 2021 (second highest population in Europe)
Landscape: The topography of Turkey is quite vast including plateaus, plains, mountains, beaches, and all that is in between.

Turkey also holds the Euphrates and Tigris rivers. While the European part is made up mostly of the Eastern Thrace plan and the Strandzha mountain, the Asian part has many mountain ranges.

One of the most beautiful things is the mountains that run alongside the most stunning beaches.
Weather: This varies greatly depending on where you are in the country. If you want a deeper look you can check out the 7 Regions of Turkey for more information.

The winters are generally cold and wet whereas the summers are hot and dry.

You will also find the coastal regions have much higher humidity, making the temperatures feel more extreme in both directions.
Size: 783,562 sq km (302,535 sq mi). 755,688 sq km (291,773 sq mi) are in Asia and 23,764 sq km (9,175 sq mi) are in Europe.
Emergency Numbers: by dialing 112 you will be able to be connected though English will likely not be spoken.
Turkish Language
The Turkish language was changed from a Perso-Arabic script to a Latin-based alphabet by Mustafa Kemal during the establishment of the Republic of Turkey in 1928.
It belongs to the same linguistic family as Finnish and Hungarian and for native English speakers it is rated as a level 4 language.
While it is a very difficult language to learn, there are many redeeming factors. One of my favorite things about Turkish is that it is phonetic.
This means that every letter always says the same sound. It makes for easy reading.
When I first moved to Turkey, every day as I rode into the city for language lessons, I would read all the signs to myself.
It was so fun to be able to read right away even if I didn't know what the heck I was saying.
Another great thing about Turkish is that there aren't so many exceptions as there are in English. The grammar is hard but straightforward.
If you are planning to visit, you can check out Turkish for tourists and learn some basic phrases before go!
Interesting facts about Türkİye
Noah's Ark – Many Christians believe that Mount Ararat is where Noah's Ark landed after the flood. Though there have been many expeditions, the remains have yet to be found.
Name Change – in 2022, Turkey officially changed its name to Türkiye in order to get away from negative stereotypes of the bird with the same name.
Transcontinental – Turkiye is one of the 4 transcontinental countries in Europe. The others are Russia, Egypt, and Kazakhstan,
Istanbul is one of a kind – Istanbul is the only major city in the world that is located on two continents. It also used to be called Constantinople.
100 Years – 29 October 1923 will mark the 100th anniversary of Türkiye becoming the Republic of Türkiye. That means they will have been around for an entire century in 2023!
The Original OG – The story of Santa Claus originates in Türkiye with a monk named St. Nicholas who was born in Patara in 280 AD
Fez is Outlawed – it's actually illegal to wear a fez in Türkiye. Atatürk made the "Hat Law" in 1925 which banned the fez, a symbol of the Ottoman Empire, and this law has never officially been overturned.
UNESCO Sites – Türkiye has 19 properties inscribed on the UNESCO World Heritage List and another 84 properties on the Tentative List.
The basics in Türkİye
Food & Drinks
Food and drinks are an important part of Turkish culture. While there are well-known drinks lik Turkish Coffee and perhaps Tea, there is also Ayran, Raki, and Sahlep to name just a few.
There are also a plethora of foods to try while you're here. You can check out more about Turkish foods, drinks, and desserts in these blog posts.
That being said, they use a lot of red pepper flakes (though typically mild), cumin, mint, paprika, and thyme.
The most popular methods of cooking are grilling and roasting though you will see all the others as well.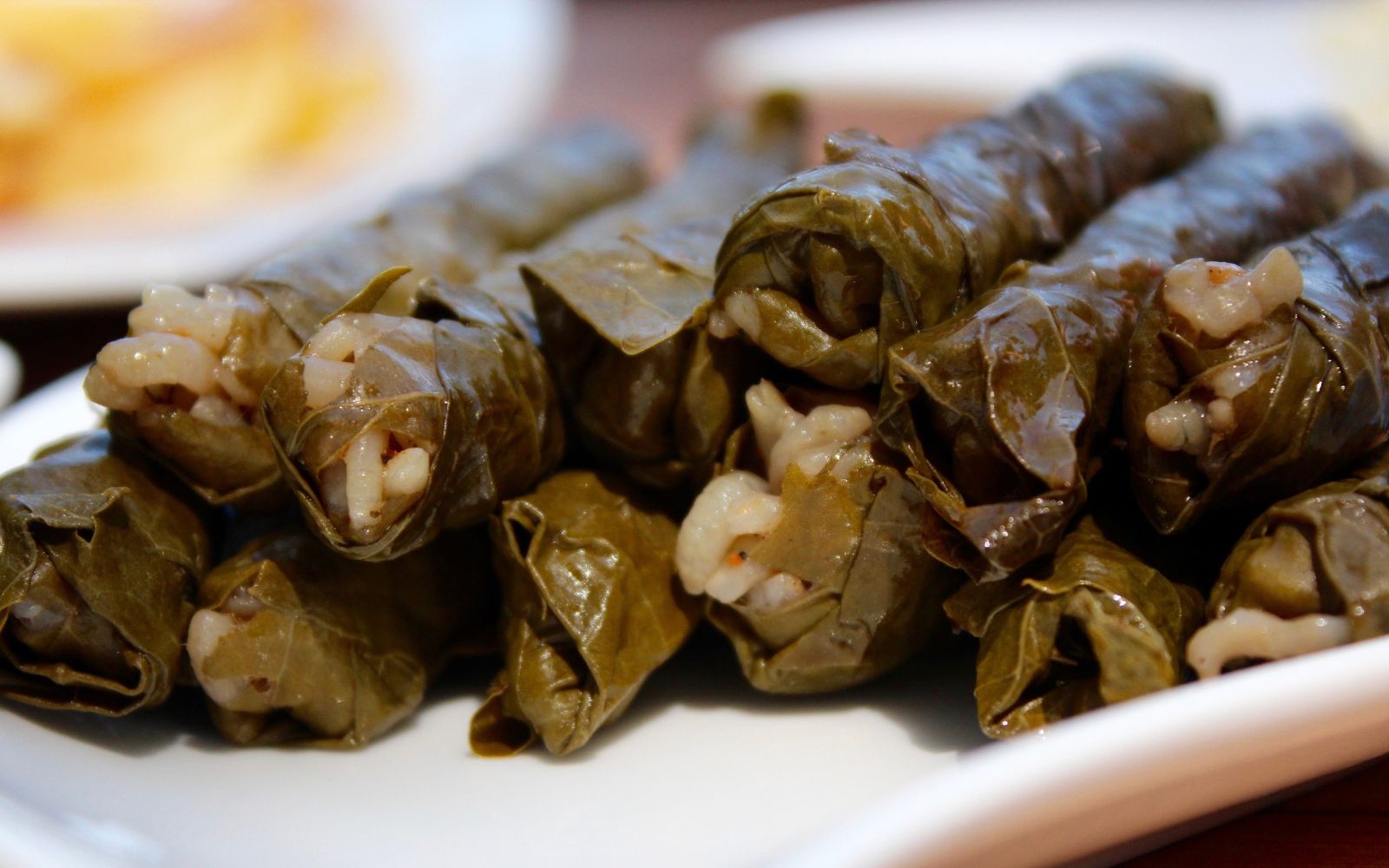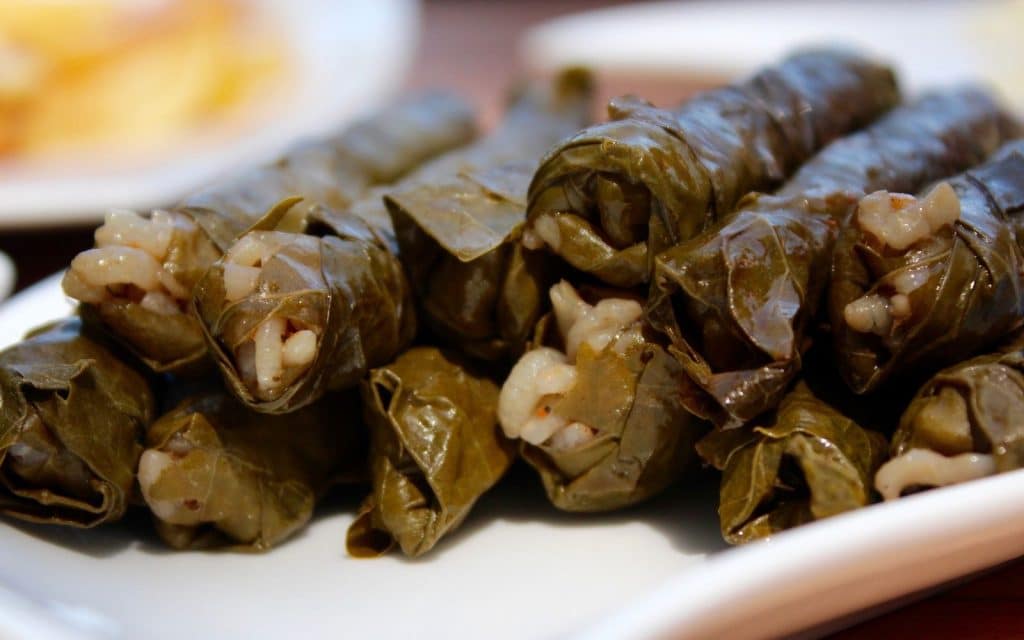 They also do a lot of veggies. Things like eggplant, onions, tomatoes, cucumbers, potatoes, leeks, and peppers.
They will often combine the veggies with meat (typically chicken or beef) and rice or bread.
In addition to that, they have so many delicious snacky type things like gözleme (similar to a quesadilla), börek (a savory pastry filled with cheese, veggies, and/or meat), and simit (a Turkish bagel essentially).
Money
If you're planning a trip to Turkey, it's important to understand the currency – the Turkish lira.
The lira is used for all transactions in Turkey and is an essential part of your travel experience.
It can be confusing for travelers who are not familiar with the currency, so it's helpful to know a few basics before you go.
The Turkish Lira is made up of coins and notes that vary in size and denomination depending on their value.
Coins come in 5, 10, 25, 50, and 100 kuruş denominations while paper money comes in larger denominations such as 5, 10, 20, 50, 100, and 200 liras.
Though there are smaller kuruş, they are rarely used and often even discarded in the current economic crisis as they are worth less than a penny.
While you can exchange money at a stand, I have often found it much easier to just pull directly from an ATM from my bank back in the States.
It is especially good if you have zero ATM fees like I do with my credit union. Make sure to check before you go!
You can also get a Wise account that will come with a free debit card that can be used internationally with low to zero fees. This makes traveling a breeze.
Emergency
Above I shared that 112 is for emergency but here is a graphic for the other necessary numbers.
If you need to get a hold of the Tourism Police you can call +90 (212) 527 45 03.
For tourism information use 170.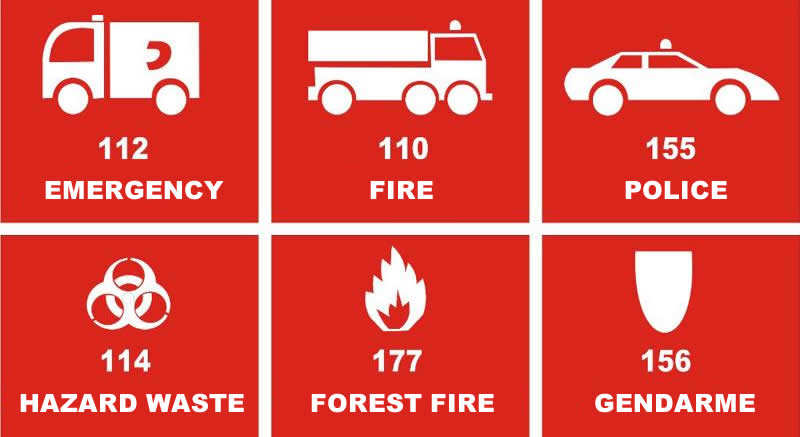 Turkey is famous for
When you hear Türkiye, what do you think of it? I think of Turkish lamps, Hagia Sophia, and baklava.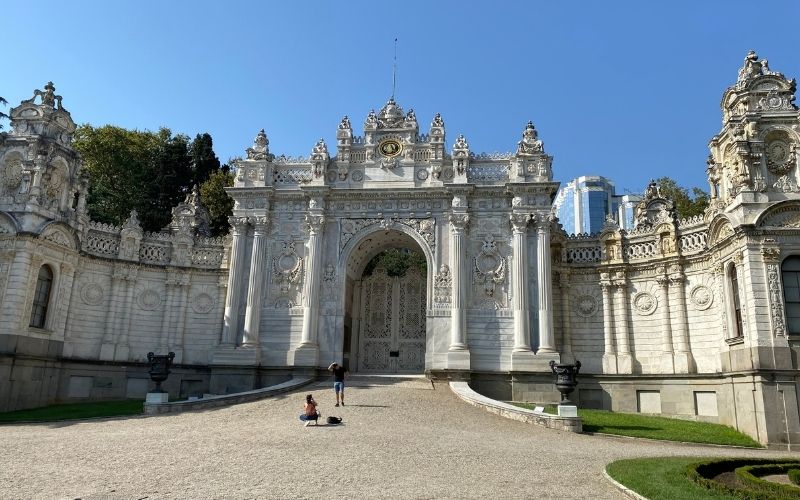 That being said there is so much more that it is famous for! There are things like:
Blue Mosque
Topkapi Palace
Bosporus Bridge
Turkish Coffee
the Evil eye
Turkish carpets
Hamams (Turkish Bath Houses)
Mount Ararat: a potential resting place for Noah's Ark
7 Churches of Revelation
Temple of Artemis in Ephesus – one of the seven ancient wonders of the world
If you're interested in doing a tour so you hit all the spots in the best order and get all the history without hours of boring audio guides check out my Private Istanbul Guides post.
Neighbors to Turkey
Turkey is surrounded by 8 countries, some just barely touching.
They are Armenia, Azerbaijan, Bulgaria, Georgia, Greece, Iran, Iraq, and Syria.
As in any relationship, the depth of the relationship between each one varies drastically and for a variety of reasons.
You can read more about the countries that are near Turkey here.
Frequently Asked Questions about the Turkish State
Is Turkey a European Country?
Though part of Turkey is on the European continent and it borders two European countries, Turkey itself is not technically a part of the EU.
Is Turkey in the Middle East or Europe?
Actually it isn't a part of either. It, however, plays an important role as it relations to Europe, the Middle East and Central Asia.
What ethnicity are Turkish people?
They are the Turkic ethnic group. Turks (Turkish people) actually make up the world's largest Turkic ethic group. They speak Turkish though there are a variety of dialects.
---
Many people consider Turkey to be both geographically and culturally diverse.
While some see Turkey as part of the Middle East others see it more accurately as bridging between these European and Asian regions, having its own unique identity.
Ultimately, whether you consider Turkey to be in Europe depends on your personal point of view.
Read More:
Turkey vacation basics
When I plan a trip these are the websites I use. Hope they help you plan your next adventure as well!
FLIGHTS: I am a huge fan of Skyscanner and WayAaway.
VISAS: You can use the free e-visa portal here but for a few extra dollars you can use iVisa and someone else will handle any issues that may come up.
E-SIM: When I traveled to SE Asia I discovered e-sims and I'm never going back. Airalo has been easy and cheap!
TRAVEL INSURANCE: I use TravelInsurance.com for my trips abroad.
CAR RENTAL: I have loved working with Discover Cars when I rent cars in country.
ACCOMMODATION: Find the best Turkey hotel deals on Booking.com.
CITY TOURS & DAY TRIPS: You can browse GetYourGuide's website to find just the tour you're looking for!