Turkey's National Dish: Kebab prepared in more than 20 different ways (2023)
Have you been wondering about Turkey's national dish? I've got you covered!
The Art of Living in Turkey contains affiliate links and is a member of the Amazon Services LLC Associates Program. If you make a purchase using one of these Amazon links, I may receive compensation at no extra cost to you. See my Disclaimers for more information.
The Turkish national dish is the world-famous kebab.
It is a traditional meat dish served in many different forms and can be found in almost every corner of the country.
Since moving to Turkey, food is one of the many things I have fallen in love with.
I have had the opportunity to learn how to cook some of its local dishes and have even cooked a few kebabs.
As someone who has lived here for years, it's my goal to help you make sure that you won't miss out during your visit as we talk about all the important foods to try!
There are actually at least 110 different variations of the tasty Turkish kebab. That being said, there are many possibilities.
Today we will take a look at 23 different ones. So let's jump in!
6 Must-Have travel accessories for Under $25
23 Different Turkısh Kebabs
The Turkish kebab is one of the most iconic dishes and is a must-try for anyone visiting the country.
This main dish consists of a variety of meats cooked on skewers over an open flame and served with rice, salad, or pita.
Traditionally made using lamb, beef, or chicken meat, kebabs can also include fish and other seafood – as well as vegetarian options such as mushrooms, peppers, and tomatoes.
Cooked slowly over low heat, these succulent morsels are packed full of flavor.
Depending on where you are in Turkey, you might find yourself presented with a shish kebab (lamb cubes), a köfte (minced meatballs), or even an Adana kebab (spicy minced beef).
No matter what type of kebab you try, however, it's sure to be some of the best food in Turkey!
I have tried at least half of these kebabs and they are all so tasty. I can't wait to hear which one will end up being your favorite.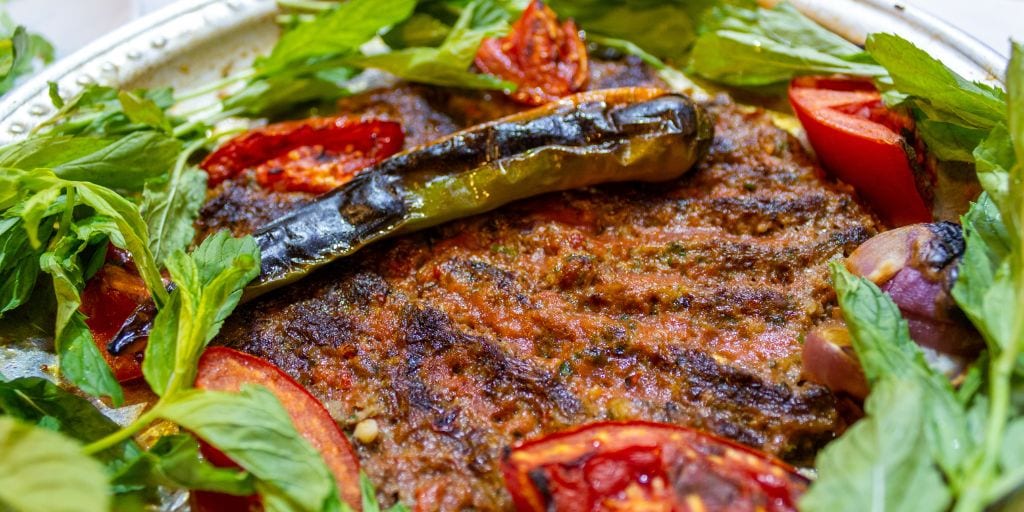 If you are curious about trying one of Turkey's many kebabs, then a food tour may be a great option for you.
The birth of the kebab
The Turkish kebab origins can be traced back to the Ottoman Empire and the practice of roasting meat on a skewer over an open fire.
During this period, small pieces of lamb or mutton were used to make what is now known as "şiş kebap".
The first shish kebab in Turkey was most likely inspired by Central Asian nomadic cooking traditions; small pieces of meat were easily cooked over a fire while also being easy to transport during long journeys.

Today, there are many varieties of kebab dishes, including grilled or roasted variations.
Some common examples include döner kebap (commonly known as "doner" elsewhere in the world), where large cuts of spiced meat are slowly roasted on a vertical rotisserie, and Adana Kebap – spicy ground beef grilled on flat skewers and served with pide bread.
There are many varieties of kebabs available in Turkey. The variations are endless! You can make your own unique combination with different types of meats, spices, and sauces.
Whether it's a simple shish kebab or something more creative, there is sure to be a delicious kebab for everyone.
Let's talk about 23 of the many you will find throughout Turkey.
1. Döner Kebabı
Döner kebabs are a staple meal for tourists visiting Turkey and for good reason.
Made from succulent cuts of meat cooked on a vertical rotisserie, the meat is then thinly sliced and served with rice, salad, fries, and different sauces to complement the flavor.
The traditional doner kebab is made from lamb or beef, although in some places it can be made out of chicken as well.
Spice mixes vary according to region but often include cumin, black pepper, and oregano.
Served with an array of accompaniments like yogurt-based sauces or hot chili paste and a crisp beer to finish off the meal – it's no wonder why this street food is so popular!
2. ŞİŞ Kebabı
Şiş Kebab is one of the most popular dishes in Turkey, made with ground lamb or beef that is cooked on skewers over an open flame.
Şiş kebab is a beloved Turkish dish that can be found throughout the country, and it's an absolute must-try for travelers to Turkey!
It's made from marinated cubes of beef, chicken, or lamb, skewered onto a shish (metal or wooden stick), and grilled over hot coals.
The marinade usually includes spices like cumin, paprika, garlic, pepper, oregano, and thyme. It's served with rice pilav and a salad on the side.
For a more flavorful experience, consider adding some sumac and Aleppo pepper to your şiş kebab!
Sumac is a tart red berry powder used extensively in Middle Eastern cuisine, while Aleppo pepper is made of sun-dried hot peppers with a touch of cumin.
Together they bring out the best flavors in şiş kebab – perfect for travelers looking to explore Turkish cuisine!
3. Adana Kebabı
Adana kebab is a dish that originates from the city of Adana in Turkey. It typically consists of minced lamb or beef, grilled on a skewer and served with pide bread or lavash.
Adana Kebabs are a popular treat among tourists in Turkey and are known for their intense flavors and spiciness, making it one of the most popular dishes in the country.
This is actually one of my absolute favorite kebabs!
The kebab is made with ground lamb, beef, or a combination of both mixed with special spices like red pepper flakes, paprika, cumin, and garlic.
The meat is then formed into a long thin cylindrical shape and grilled over hot coals until cooked through.
Served on a bed of warm Turkish bread with a sprinkle of onion and tomatoes, the Adana Kebab is best enjoyed with warm pide (Turkish flatbread) and a healthy dollop of yogurt.
For those looking for an extra kick, try the traditional 'acılı' version which adds more spicy red pepper to the mix!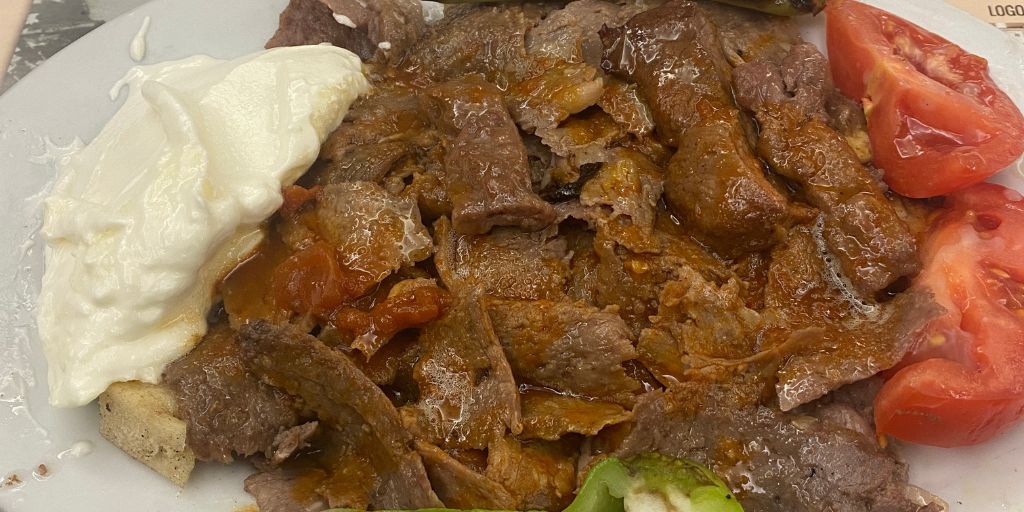 4. İskender kebabı
Iskender kebabs are definitely something I always introduce to friends and tourists who come to Turkey!
It's a famous Turkish food consisting of pita or flatbread, sliced doner kebab (lamb or beef), and a flavorful tomato sauce.
It is named after Iskender Efendi, who first served it in the 19th century at his restaurant in Bursa.
The juicy slices of meat are cooked on a vertical rotisserie and then served on hot pita bread with the tasty tomato sauce, which is made with red pepper paste, tomato paste, and butter.
To top it all off it is drizzled with a butter sauce over it for an award-winning flavor! Yogurt, green peppers, and tomatoes are typically served on the side.
5. Döner Tavuk Kebabı
Döner tavuk kebabs are a popular street food for tourists in Turkey.
This dish is made by layering slices of spiced and marinated chicken onto a vertical skewer, then roasting it over a flame until the outside is slightly charred and the inside is cooked through.
The cooked chicken is cut into thin slices and served either on its own or with flatbread, salad, and other accompaniments like pickles or tomatoes.
It's usually seasoned with Turkish spices like sumac, thyme, oregano, chili powder, salt, pepper, and garlic.
To top it off, döner tavuk kebabs can be drizzled with a creamy yogurt garlic sauce for added flavor. This delicious dish is sure to please any tourist's taste buds!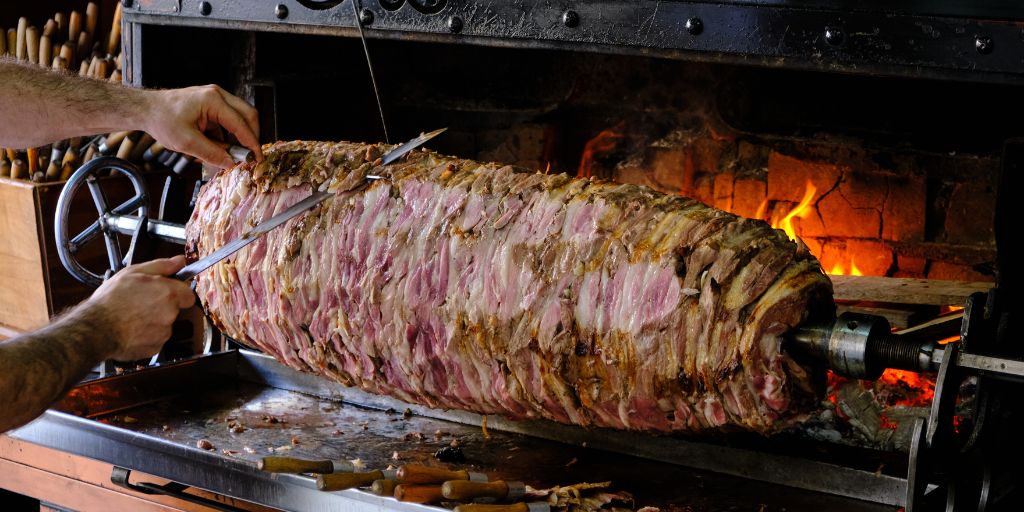 6. CaĞ Kebabı
Cağ kebab (or Acı Kebap as it's called in some areas) is made with either lamb or beef which is cut into thin strips, marinated for 24 hours in a mixture of spices, and then skewered and cooked over an open fire.
The skewer is placed on a slant so that it touches the flames of the fire, giving the meat its distinctive smoky flavor.
Traditionally, cağ kebab is served with roasted tomatoes and peppers, fresh flatbreads, and a spicy garlic yogurt sauce.
Spices commonly used include cumin, black pepper, oregano, paprika, and sumac.
If you're looking to try something new while traveling around Turkey this summer, give cağ kebab a try!
7. Beytİ Kebabı
Beyti kebab is an iconic Turkish dish that has been satisfying taste buds since the 1960s.
It is a mix of spiced minced lamb, cooked on a skewer and served inside a lavaş flatbread wrap with tomato sauce and garlic yogurt.
Beyti kebab originates from the Beyti restaurant in Istanbul and its distinct flavor comes from traditional ingredients like oregano, cumin, red pepper flakes, pepper paste, paprika, sumac, garlic, and onion.
No visit to Turkey would be complete without sampling this delicious Turkish specialty!
8. Cİğer Kebabı
Ciğer kebab is a dish made with cubes of calf liver, onions, and peppers, skewered and then grilled over charcoal.
It is usually served with flatbread and most commonly seasoned with sumac, oregano, and chili flakes.
For those who enjoy extra spiciness, a squeeze of fresh lemon juice will take your dining experience up to the next level!
I am actually not a huge fan of liver BUT I did venture out and try it again in Goreme, Cappadocia and it was so tender and didn't have the typical gamey flavor.
If you are a fan of liver, I definitely recommend you to try this as they do it really well in Turkey.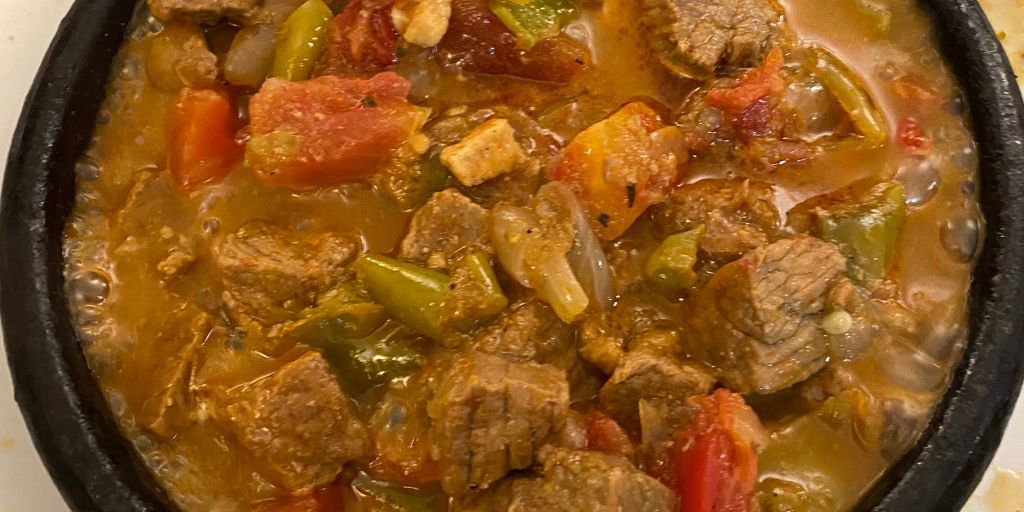 9. Testİ Kebabı
Testi kebabs are a truly unique and flavorful Turkish specialty that can be found in just about every corner of the country.
Traditionally, they are made with a combination of lamb, beef, onion, garlic, and spices like cumin, paprika, and oregano.
It's all cooked together in an earthenware pot that is sealed with dough. The result is a juicy, hearty dish that will literally melt in your mouth!
The first time I ate this was in Cappadocia and seriously it was the most tender meat I have ever eaten. If you get a chance to try it, do!

Testi kebabs come served in a huge range of styles across the country.
Originally from Central Anatolia, testi kebabs have been around since the Ottoman Empire first started sending out trade caravans to spread their culinary delights across different parts of the world.
Originally created as a way to preserve meat over long journeys where refrigeration wasn't available yet, this delicious dish has stood the test of time!
10. Patlıcan Kebabi
Patlıcan kebabı (eggplant kebab) is a delicious dish that you must try if you are visiting Turkey.
It's made with marinated and grilled eggplant, chopped onions and tomatoes, ground beef, and spices.
The eggplants are usually sliced into thin strips or cubes before being marinated and then grilled over charcoal.
Then, the ingredients are layered in a shallow pan which is placed on top of the charcoal until they become charred and crisp.
The prepared patlıcan kebabı is served atop warm, buttered Turkish pide (flatbread) with a few slices of onion for garnish.
A traditional preparation includes plenty of spices such as garlic, cumin, coriander, and paprika for flavor.
For those of you who aren't a fan of eggplant in the States, I recommend taking a chance on it in Turkey.
I never ate eggplant in America but somehow in Turkey, they make it taste so incredible. I have totally been converted.
11. Tandır Kebabı
Tandır kebabs are commonly made using lamb or beef and generally are known to come from the Aksehir region.
They are cooked in a special oven called a tandir, giving this kebab its name. The lamb is prepared with onions, tomatoes, potatoes, and peppers.
When served, they come with freshly baked flatbreads, onions, and sweet tomatoes – it's a meal fit for royalty!
The spices commonly used to season Tandır kebabs include cumin, paprika, oregano, and black pepper, giving them a palate-pleasing flavor that everyone can enjoy.
If you're ever in Turkey don't miss out on trying this incredible delicacy!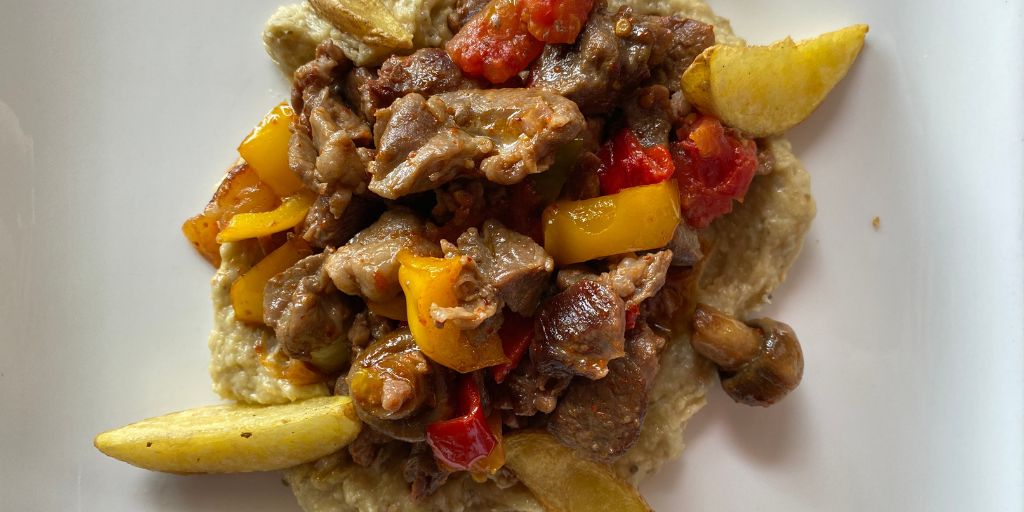 12. Hunkar Beğendİ Kebabı
Hunkar Beğendİ kebab is a Turkish dish that is beloved by locals and tourists alike.
It is also often called the Sultan Kebabı as it was the beloved kebab of Ottoman sultans.
The kebab is made with cubes of lamb, served over creamy pureed eggplant, with a generous helping of tomato sauce.
To give it its signature taste, spices such as paprika, cumin, nutmeg, coriander, and pepper are used to season the meat.
Served with hot Turkish bread and sometimes a salad, Hunkar Beğendİ kebab makes for an unforgettable meal!
Map of best Kebab Restaurants
13. Çökertme Kebabı
Turkish Çökertme kebab is a classic form of kebab that is made by char-grilling succulent cubes of marinated lamb, beef, or chicken and serving them on thin fried potatoes accompanied with garlic yogurt and tomato sauces.
The dish originates from the coastal city of Marmaris, located in the Mugla province of southwest Turkey.
To give the kebabs their unique flavor, a variety of spices are used including onion, cumin, thyme, and chili pepper.
When served to hungry tourists at terraced local Turkish restaurants overlooking the Mediterranean Sea, it is sure to be an unforgettable culinary experience!
---
14. Fırın Kebabı
Firin Kebab originates from the Central Anatolian region and is served on pita bread accompanied by fresh onions and ayran (a local yogurty drink you should totally try at least once).
The Firin Kebab is quite basic compared to other kebabs as it is simply lamb and salt.
For this specific kebab only the lamb or sheep's forearm and ribs are used.
The sheep cooks in an oakwood fire for anywhere from 8-10 hours. The lamb only cooks for about 4 hours.
Enjoyed by both locals and visitors alike, Firin Kebab is definitely one dish that every tourist should put on their must-try list when visiting Turkey.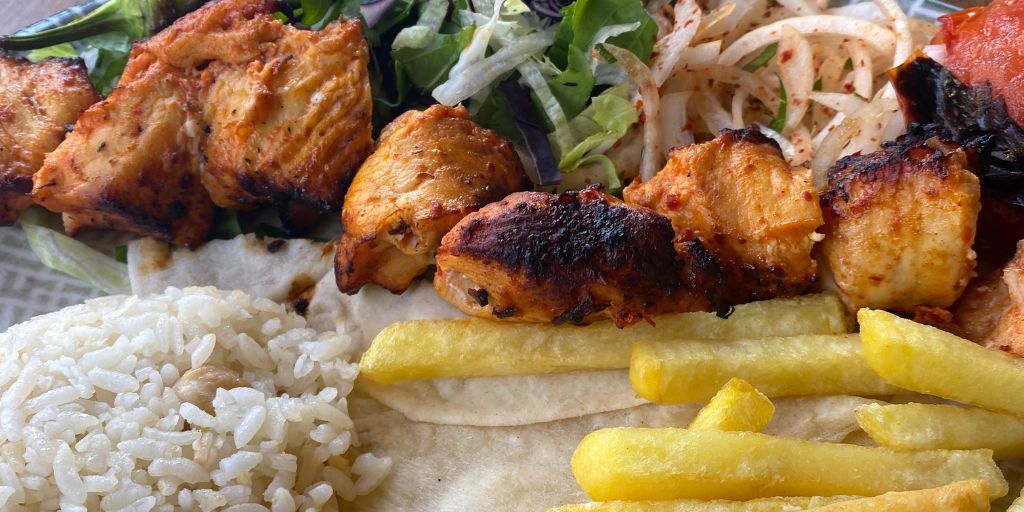 15. Tavuk şİş Kebabı
Tavuk şiş kebabs are a classic Turkish dish and a must-try for any tourist visiting Turkey.
I probably eat this kebab the most because it is quite healthy and still incredibly flavorful. Turks make chicken incredibly tender and rich in flavor by marinating it in yogurt.
The dish consists of slices of marinated chicken breasts, which are then skewered onto metal skewers and grilled over hot coals.
It is served with a variety of accompaniments, including fresh salad, sweet tomatoes, onion salad, and bulgur wheat.
The origins of the dish can be traced back to the Ottoman Empire, where it was widely enjoyed as part of the cuisine.
Tavuk şiş kebabs are widely spiced with garlic, cumin, paprika, and other spices to give them their unique flavor.
16. Kağıt Kebabı
Kağıt Kebabı (aka parchment paper kebab) is a kebab originating from Antakya in southern Turkey.
It's made with a combination of meat, usually beef or lamb, combined with veggies like tomatoes, peas, carrots, bell peppers, and potatoes.
It is cooked together in parchment paper with olive oil and spices such as salt and pepper.
This hearty dish has become an essential part of Turkish cuisine since its introduction to the country so long ago.
For tourists looking to sample some authentic Turkish flavors, Kağıt Kebabı can be a great way to indulge without breaking the bank.
Served hot and fresh off the grill, it's guaranteed to tantalize your taste buds!
And if you're not feeling particularly daring, you can always opt for a combination of meats instead of just one type.
17. Urfa Kebabı
The Urfa kebab is an iconic dish of Turkey, particularly in the town of Urfa.
It is made from ground lamb and tail fat. It is actually quite similar to the Adana kebab except there is no heat to the spices in the Urfa kebabı.
It is seasoned with spices like cumin, paprika, and cinnamon then placed on a flat skewer and grilled on an open mangal with coals.
It's often served with a side dish of bulgur pilaf, charred peppers and tomatoes, lavas, parsley, and onions sprinkled with sumac.
If you're looking for a flavorful but not spicy kebab – the Urfa kebab will certainly satisfy you!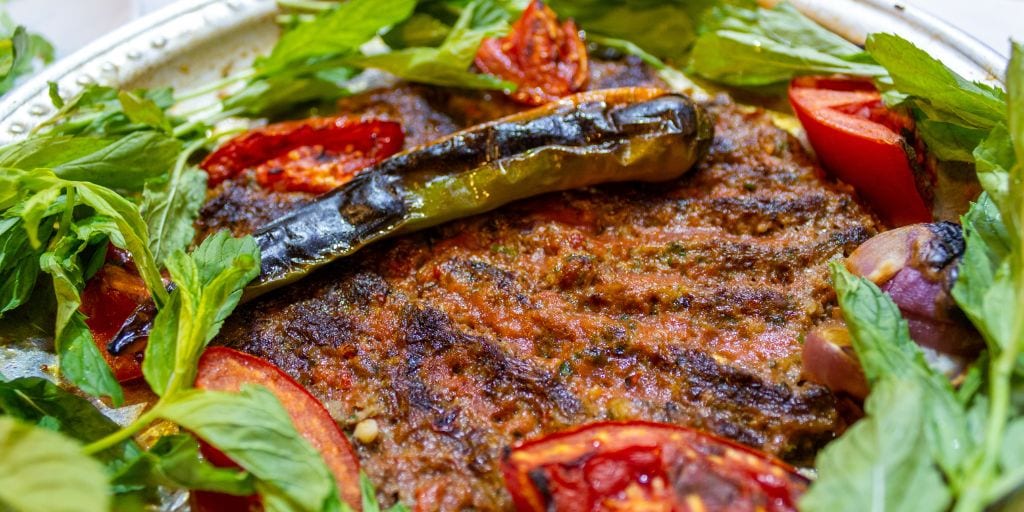 18. Tepsı Kebabı
The Tepsi kebab consists of layers of thin, pan-fried eggplant or potatoes topped with ground beef or lamb seasoned with herbs like parsley, garlic, salt, pepper, tomato paste, and cumin.
The ingredients are then placed in an oven-safe dish called tepsi, covered with a lid, and baked until all the flavors meld together into one delicious meal.

The cooked Tepsi kebab can be served on its own or alongside some of Turkey's colorful salads or sliced grilled tomatoes and peppers.
This kebab is also sometimes called the Kilis kebabı because of the city where it was created.
All in all, tepsi kebab is an incredibly flavorful experience for any tourist who wants to dive right into Turkish culture – it certainly won't disappoint!
19. Tokat Kebabı
Tokat kebab is a type of Turkish kebab that is beloved by locals and tourists alike.
It is made with diced lamb, potatoes, eggplant, garlic, onion, peppers, and tomato all placed in a baking dish or skewered.
One thing that makes this dish different is how it is typically roasted under a whole bulb of garlic.
As it cooks, the juices from the garlic drop down to the kebab, giving it a lovely roasted garlic flavor.
Served with fresh tomatoes, parsley, and lavash bread, it can be found in many restaurants throughout the country – but the best Tokat Kebab can be found in its city of origin – Tokat City!
Enjoying this delicious meal while visiting the vibrant city of Tokat will provide visitors with an authentic taste of Turkish culture.
20. Soğan Kebabı
Soğan kebabs are known for their savory and flavorful taste and originate from the Gaziantep region.
They are made with minced lamb that is placed inside small onions that are then drizzled with pomegranate molasses.
The meat is only seasoned with salt and pepper, though if you're making them at home, feel free to add whatever tickles your fancy.
These are incredibly easy to prepare and when you use fresh onions, you will get the best flavor.
Enjoy this traditional Turkish cuisine!
21. Köfte Kebabı
Köfte kebabs are an iconic dish of Turkish cuisine and are commonly made from ground beef, lamb, or a combination of the two.
Köfte kebabs are usually shaped into small oval shapes and grilled until cooked through.
They can be served with vegetables like peppers and onions, as well as other accompaniments such as French fries.
While recipes for this delicious dish vary slightly between the regions of Turkey, there are some common ingredients shared in all versions, including onion, garlic, parsley, and cumin.
Paprika is also often used to add flavor and color. Salt is added to taste to enhance the overall flavor profile of the Köfte kebab.
If you are gluten intolerant this is one you should be aware of as they will often add flour to them to help hold them together. Since I am not a fan of that texture, I usually make them at home.
This is one kebab you will especially see differences in preparation depending on where you are in the country. Have fun exploring!
22. Yoğurtlu Kebap
Yoğurtlu kebabs are made from minced meat mixed with spices like salt, pepper, and red pepper flaxes.
The mixture is then shaped into a flat kebab shape, placed on skewers, and cooked on a charcoal grill.
Bread that has been soaked with the oils of the cooked meat is then covered with freshly whipped yogurt then the cooked meat is added. The final step is adding melted butter on top.
At the quick, this looks really similar to Iskender though the main difference is this can be any type of meat and the yogurt covers the bread whereas the Iskender kebabı has a tomato sauce and shaved meat on top of the bread with yogurt on the side.
Whether you're visiting for a holiday or living here long-term, try out a yoğurtlu kebab.
23. Orman Kebabı
Orman kebabs (or "forest kebabs") are a unique and delicious dish that tourists should definitely try if they come to Turkey.
The classic version is made with chunks of lamb (beef or chicken can also be used) and vegetables like celery, peppers, carrots, eggplant, and peas.
It is seasoned with salt, pepper, tomato paste, garlic, and thyme.
One thing that makes it distinctive from other kebabs is that it isn't cooked on a skewer but is cooked in a pot more like a stew. ,
This dish is typically served on top of rice with a side of cacik (similar to tzatziki).
It's an incredibly flavorful dish that originates from the city of Bolu and can also be known as Bolu kebabı.

So if you're looking for an amazing culinary experience during your travels to Turkey, be sure to try Orman kebabı! You won't regret it.
Frequently Asked Questions about Turkey's Food Culture
What is the most popular Turkish food?
There are many popular foods in Turkey including but not limited to baklava, kebabs, borek, simit, pilav, dolma, and so many more.
Is Turkey famous for its food?
Turkey is famous for its delicious foods that are often seasoned with cumin, paprika, and red pepper flakes among so many more. The vegetables also taste much fresher than those in America and are often purchased at local outdoor markets.
What is a typical breakfast?
A typical Turkish breakfast is made of a small amount of a variety of items such as olives, jellies, tomatoes, cucumbers, eggs, fresh bread, pastries, cured meats, and potatoes.
what is a traditional Turkish drink?
There are a handful of traditional Turkish drinks. Turkish tea is probably the most well-known. It is a black tea that is drunk from small tulip-shaped glasses. There is also raki, a liquor made from twice-distilled grapes and aniseed.
Is Turkish food spicy?
Turkish food is rarely spicy in my opinion. Compared to Indian or SE Asian food it is not spicy at all, though compared to bland food it might be considered spicy on occasion. Some dishes like the Adana kebab are spicier than the more mellow counterpart, the Urfa Kebab.
What is the best food to eat in Turkey?
There are many famous foods in Turkey as well as many traditional Turkish foods like baklava, Turkish ice cream, Turkish delight, cheeses and so many more. The best food to in Turkey will depend on your palate but I recommend you just try everything!
What is the national dish of Turkey?
It is often considered to be the kebab. There are at least 110 different kinds throughout Turkey. Surely there is one that you could fall in love with.
Final Thoughts: Traditional foods in Turkey
Turkey has some of the best traditional cuisines in the world.
From kebabs to mezes, baklava to turşu, there's something for everyone to enjoy. So come and experience it yourself!
Come visit Turkey and try one of the delicious kebabs that you've just read about.
With your visit, you'll become part of a long tradition of enjoying Turkish fare – a tradition that dates back centuries.
And don't forget to follow it up with one of the popular desserts and a Turkish coffee.
So don't hesitate any longer – come to Turkey and see why its food is so universally beloved.
Read More:
Turkey vacation basics
When I plan a trip these are the websites I use. Hope they help you plan your next adventure as well!
FLIGHTS: I am a huge fan of Skyscanner and WayAaway.
VISAS: You can use the free e-visa portal here but for a few extra dollars you can use iVisa and someone else will handle any issues that may come up.
E-SIM: When I traveled to SE Asia I discovered e-sims and I'm never going back. Airalo has been easy and cheap!
TRAVEL INSURANCE: I use TravelInsurance.com for my trips abroad.
CAR RENTAL: I have loved working with Discover Cars when I rent cars in country.
ACCOMMODATION: Find the best Turkey hotel deals on Booking.com.
CITY TOURS & DAY TRIPS: You can browse GetYourGuide's website to find just the tour you're looking for!