Turkey Itinerary 7 Days in the Land of Adventures
Are you looking for a Turkey itinerary 7 days in length? It is definitely a tall task but I have three for you…
The Art of Living in Turkey contains affiliate links and is a member of the Amazon Services LLC Associates Program. If you make a purchase using one of these Amazon links, I may receive compensation at no extra cost to you. See my Disclaimers for more information.
So you only have 7 days in Turkey to see all the things. I hate to break it to you but you will have to pick and choose what you want to see.
Turkey is a massive country…well not compared to some but if you're thinking about only having seven days for your Turkey trip it will feel that way.
There is definitely not enough time to see everything. But hopefully, this 7-day Turkey itinerary will help you make some decisions.
I have lived here for years now and I don't think I will ever be able to see it all. As I have traveled around Turkey, I have picked up some favorites.
In this post, I have three different itineraries for you that will help you see a good amount on your trip to Turkey.
So if you're concerned about what you need to see, then this is the post for you!
Let's jump in and see what's so special about this vast country.
5 Must-Have travel accessories
Why should I take a trip to Turkey?
Before we jump into the itineraries, maybe you're asking yourself why should I come all the way to Turkey?
Honestly, before I moved here, I didn't know anything about Turkey either. A friend moved here and it intrigued me.
Then I started looking it up. It is such a fascinating country. The history here is epic and deep.
The people are the kindest, though like in most countries, you have to be more careful in touristy areas.
Turkish food is really great. I have never had fresher vegetables or eaten so much salad. The cucumbers and tomatoes actually have a flavor, not just blah.
Also, I never ate eggplant before moving here but they put some kind of magic in it and now I love it!
Besides the food and the people and the history, you will also be able to find all of the climates and everything from ancient sites to beaches to mountains and all that's between!
So now you know…you need to come for a visit.
It should be at least 2 weeks, maybe even a month, but in the likely case of you only having 1 week in Turkey, here are three options for where to go and what to do.
Major cities in Turkey: Istanbul, Cappadocia, and more!
Since 1 week just isn't enough to see Turkey, I have made a list of the cities that are most definitely worth seeing. Below there are three possible itineraries.
You can even build your own itinerary as you can see what you can do in a day.
Summer is hot but also usually drier than other seasons. While summer may be the best weather for some, it is the busiest time of the year!
High tourist season means long lines and crowded streets.
I like Champion Traveler's help with the temperatures and precipitation. They will give their idea of the best travel times but look and see what is good for you.
This is your vacation so do what you like to do and when you want to do it.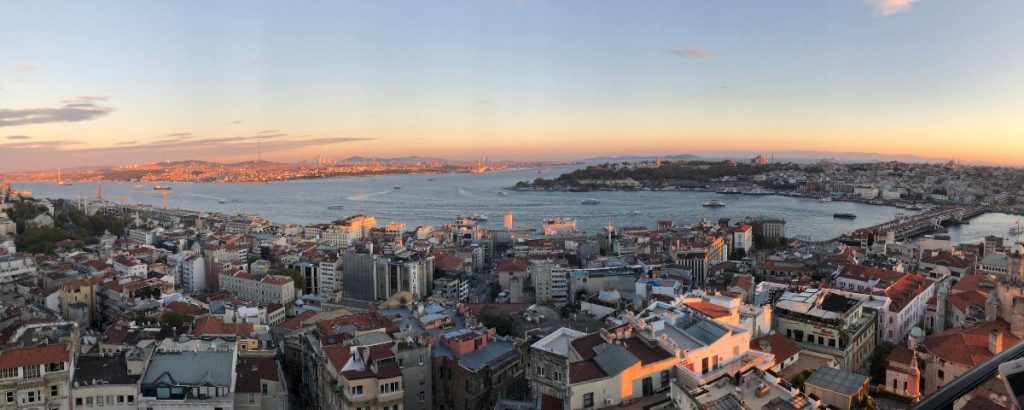 Istanbul
If you only have one day in Istanbul, the only mega city in the world to straddle two continents, pick one or two of these areas that seem the most interesting.
Kadıköy & Moda
I love living in Kadikoy. It is so close to public transportation we well as having some of the more modern feels typically associated with the European side.
It is definitely a trendy place to live on the Asian side. It is where I recommend people stay in Istanbul for sure.
When people come to Istanbul it often can get overlooked but you can wander for days here. You'll discover amazing restaurants, quaint shops, and the most eclectic people.
Wander the streets of the Yeldeğirmeni area and the Osmanağa neighborhood to the south of the Bull.
As you make your way past Osmanağa, you will come across Caferağa Neighborhood which is home to the area called Moda.
Kadikoy is the hip place to be on the Asian side but Moda is the fancy hip place to be. You will not run out of restaurants to go to, places to walk, or things to see in Moda.
While you wander around make sure you look up as you will see some incredible street art on the buildings.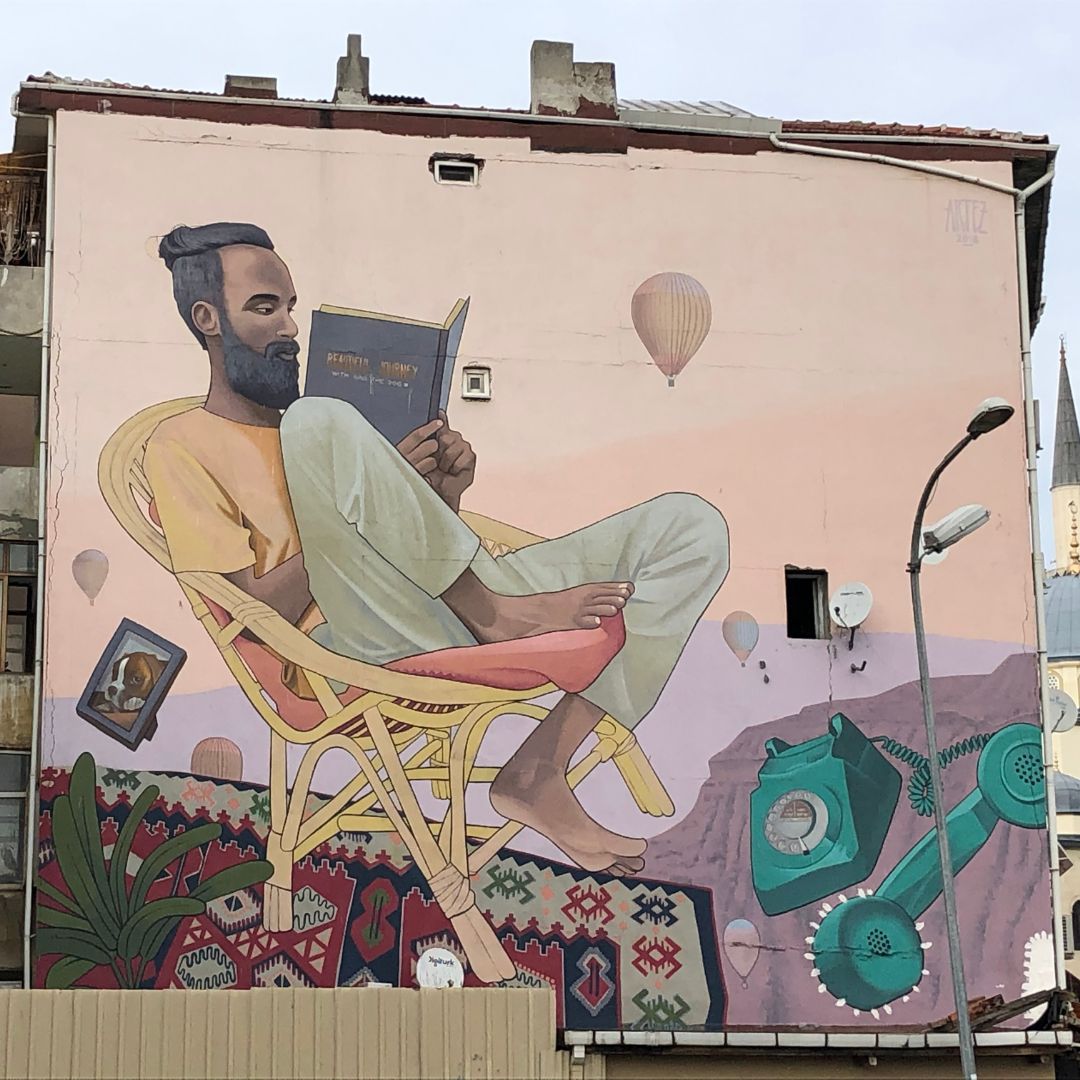 Here are a few of my favorite places you could check out:
PALEGG – The owner of this place is a Turkish man who lived in Japan, Norway (if I remember correctly), and the US. Then moved here and started the restaurant when the pandemic happened.
Pro tip: They are closed on Tuesdays and open after 3 p.m. That being said, highly recommend this if you want something unique to eat. My favorite is the Tavuk Falan. They also have killer lavender lemonade.
Moda Seaside – One of my favorite things is to walk down by the seaside. You will have incredible people-watching opportunities. Grab a beer and a blanket and enjoy!
Pikta Bakery & Cafe – This is a woman-owned French bakery meets Turkish style. This is a great place to take a load off in the midst of all the walking.
Cafe Jele – this is a great spot if you want to get a Turkish Breakfast. They have a great spread and it is quite tasty.
Caferağa – If you wander around this area you will find so many different shops and opportunities to find unique things to take home with you. There are many local artisans and musicians, pottery places, and eclectic knickknack stores.
If, at the end of all this, you still have time, I highly recommend a ride to Kuzguncuk in Üsküdar. It is a quaint town to the north, walkable from the port in Uskudar.
If you're in the mood for a Western-style drink, I really like Glow Coffee. Their dirty chai is legit if you're into those. They have delicious treats as well.
Then you can take a ferry back over to the European side.
Looking for something unique to do?
Try this walking Food Tour in Kadıköy.
Sultanahmet & Balat
Sultanahmet is a more traditional tourist area. Here you will find things like the Hagia Sofia, Blue Mosque, Grand Bazaar, and Topkapi Palace.
Of course, there is more to it than that but those are most well known.
In my opinion, you could do a quick peek of the Grand Bazaar because it is quite glorious, lasting from the 15th century, but honestly, everything is really expensive inside the Grand Bazaar.
Head for the shops to the north of the grand bazaar in Eminonu. Here is where the locals shop and you will find much better prices. Here you can find all kinds of gifts.
After you shop yourself to death, or perhaps before, head to Balat for a unique look at this neighborhood where entire Greek, Armenian, and Jewish communities lived.
It is known for its colorful buildings and bohemian cafes.
You can drink a Turkish coffee and enjoy some baklava or grab a bite to eat. While doing so, enjoy watching people as they walk along.
You can even find some nice gifts to take home, handmade by locals.
If you're into museums, check out a museum, though one of the best ones I have heard of is the Archeological Museum.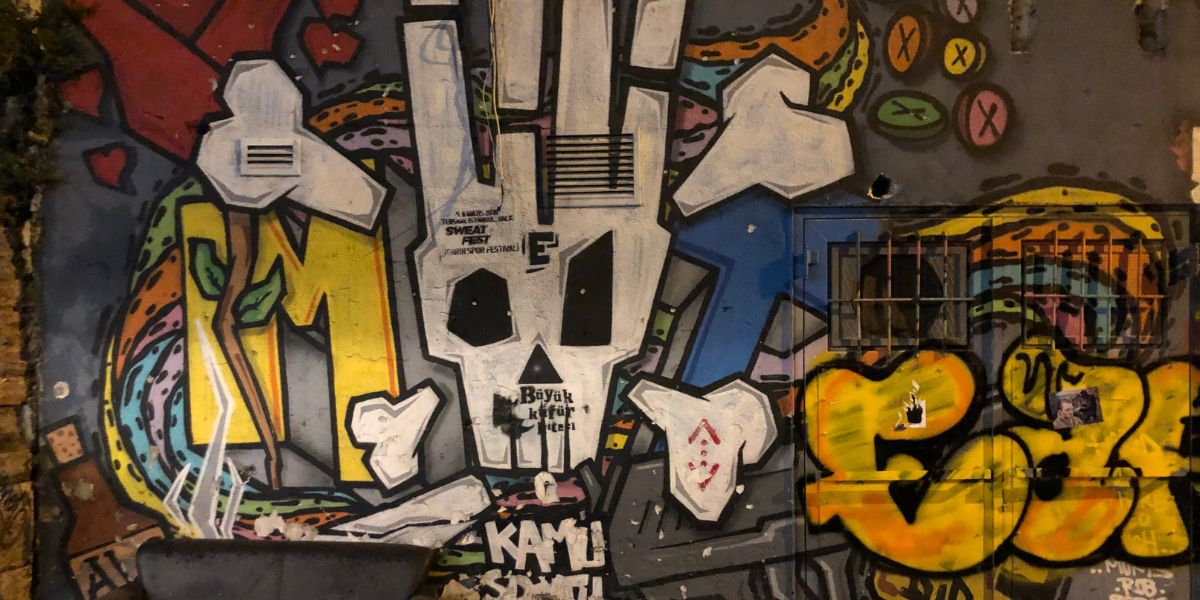 Northern European Istanbul
This part of Istanbul is the newer business district.
There are many things worth seeing here and is where many foreigners live in Istanbul. You will find many Western shops and cafes.
There are places such as Taksim (which many people love but I was never really a fan of), Galata Tower (more on that below), some great parks (highly recommend Yildiz Park and Macka Democrazy Park), and the Dolmabahce Palace (really an incredible piece of architecture).
These are just the most famous ones.
It really depends on what you want to focus on here. If you love nature, check out what parks look like in a big city.
If you're into tourist must-sees, catch the Galata Tower and Dolmabahce Palace. And if you like to see day-to-day life, wander around Karakoy and Besiktas.
It is an incredible area to just walk around. You will enjoy seeing old and new buildings along with new and old cultures. Don't miss the abundant street art, especially in Karakoy.
The Galata Tower is a 15th-century tower that has been restored and is a landmark in Istanbul.
You can buy tickets to go to the top of the tower which houses an incredible 360° view of the city. I really enjoy it at sunset as a rosy golden glow touches the city.
Afterward, you can wander down and around the museum on the lower levels. There is a really cool 3D model of the city. Worth checking out.
You can also check out other places to visit near Istanbul.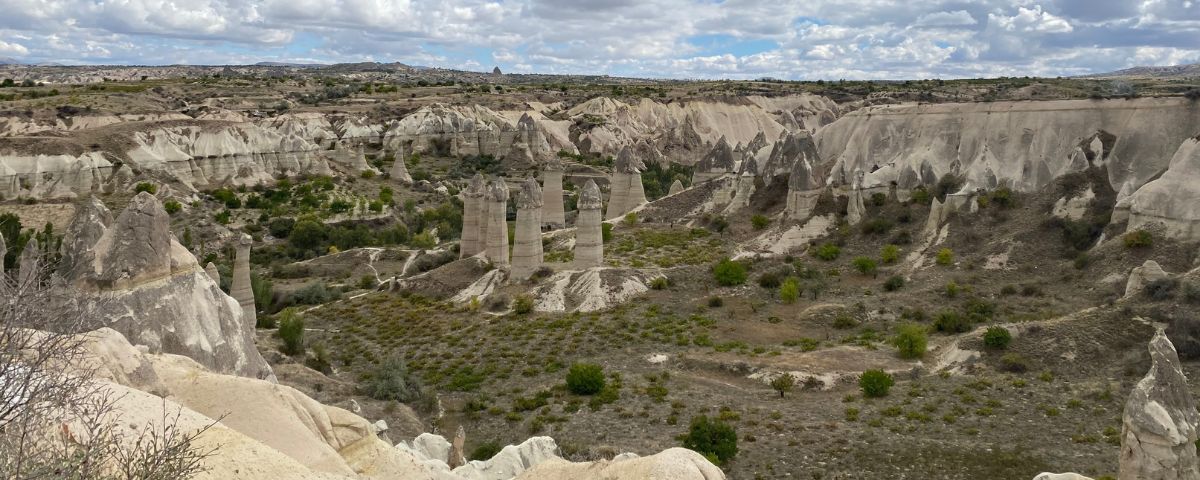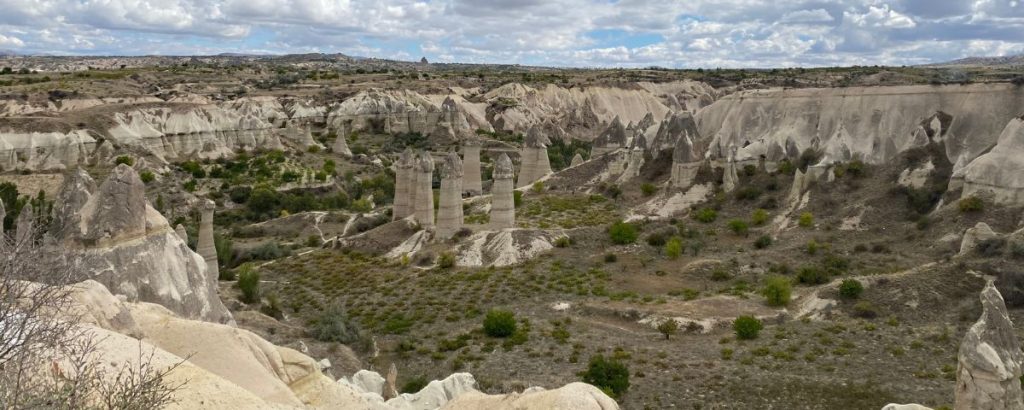 Cappadocia
You can easily catch a flight to Cappadocia and spend just one day in Cappadocia or multiple depending on how much you want to cram in.
If you would rather do group tours, then you don't need a car but if you want to do your own thing, you will definitely need a car.
This is one of those places that has great tours that bundle sites together so you can see a bunch of things.
The benefit to this is they pick you up and take you to each one. You don't have to worry about getting everywhere.
That being said, my suggestions are tour-based though you could map out the different places yourself. The tour route just avoids a ton of hassle.
Typically I also don't have as many recommendations about where to stay but since Cappadocia is a region in Turkey instead of a city it matters a little more.
There are three popular towns, Goreme, Urgup, and Uchisar.
If you want to see the hot air balloons from your hotel in the morning, stay in Goreme. I definitely recommend you take a hot air balloon flight as it is a once-in-a-lifetime opportunity.
I would also recommend doing at least 2 days in Cappadocia if you want to do the hot air balloon ride in case they cancel the first day. This is especially important in the off-season.
Tour options
Red tour areas: Uçhisar Castle, Open Air Museum, Çavuşin Rum Village, Paşabağ Valley, Devrent Valley, Pottery Workshop.
Green tour areas: Göreme Panorama, Underground City, Pigeon Valley, Ihlara Valley, Yaprakhisar Panaroma, Onyx Workshop
Blue tour areas: Soğanlı Valley, Mustafapaşa Old Greek Village, Underground City, Şahinefendi Ancient City, Keşlik Monastery, Ürgüp Fairy Chimneys
(This one is usually the most expensive because it covers a more extensive area thus more gas.)
I have a few favorites that I think you should definitely check out regardless.
Goreme open-air museum – this is incredible. There is an extra church there called the Dark Church. It is an extra small fee but it was so worth it. The paintings inside were absolutely incredible.
Underground City – I went to the Kaymakli underground city but I have heard good things about Derinkuyu Underground City. They are so extensive and fascinating.
They have level upon level and thought through so many things. They even have communication holes where sound could travel between floors.
Love Valley – it really is quite incredible to see what nature does on its own.
Hot Air Balloon & Tour 1
Cappadocia is such a beautiful area! And the #1 experience it is known for is the hot air balloon rides.
I had always wanted to go up in a hot air balloon, especially wanted to be proposed to in one, but when I finally got to do it while in Cappadocia, it was breathtaking.
The views are stunning. You get to see so far while in the balloon but also you look out and see this sea of other balloons with the sun rising and it is a recipe for joy.
If this sounds at all appealing, you should really do it on your first day. Often times they will have to cancel a ride because it is too windy and thus unsafe.
If you are there two mornings, you can always do it the second day, provided it is safe then.
Also, make sure you bundle up as it can get quite chilly up there, especially when it is closer to winter. You are back by 8 am or so.
This means you will have time to get back to your hotel, freshen up and grab a quick breakfast before you hop on a tour.
But also, if that will wipe you out, skip the tour and wander through Goreme. You can cover much of the red tour on your own just by walking.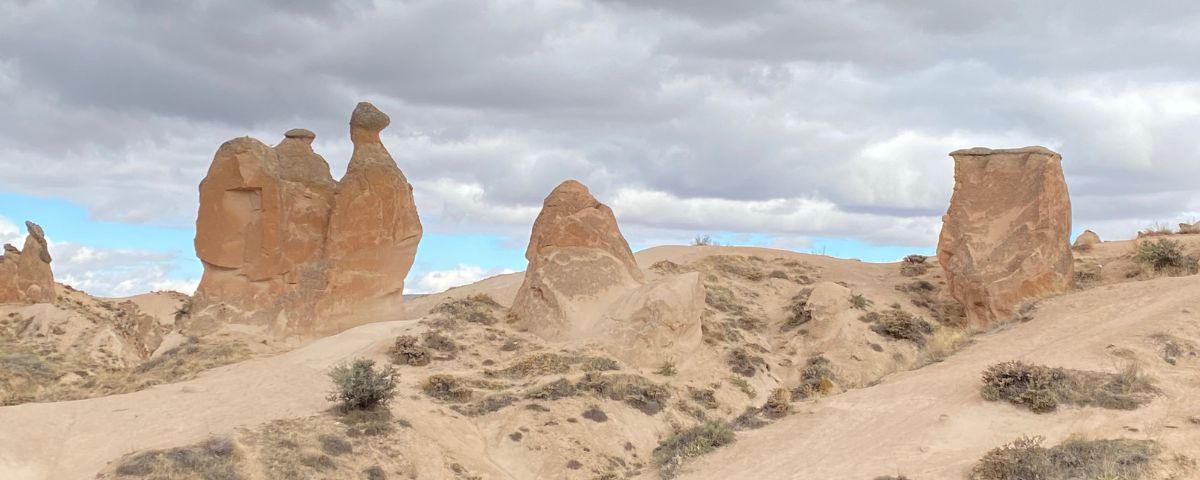 When you get back around 5:30 pm you have the evening to rest or explore more. Some great options for what to do in the evening are:
Hike the cliffs overlooking Goreme to snag some great sunset shots. Take a rest and just enjoy the space.
Figure out which valley you won't be going to on your tour and go for a hike.
There is always ample shopping all around. You will find handmade goods (exquisite & more expensive) as well as mass-produced (cheaper).
Enjoy authentic Turkish cuisine. I recommend the clay pot kebab, otherwise known as the testi kebap. They put all the ingredients into this clay pot and seal it. Then they cook it forever until they open it and out comes the most tender and delicious meal.
Tour 2
Enjoy a good breakfast at your hotel or restaurant close by and then head off on your second tour.
I recommend the blue tour because the other two are more popular and more touristy. This one, though more expensive, will also allow you to see things that many miss.
I try to avoid the tourists even when I am one.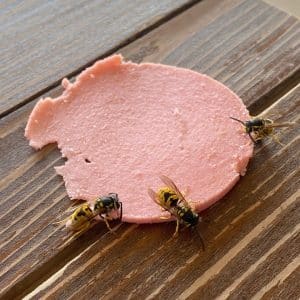 Whichever tour you decide to do you will still be home by around 5:30 pm.
This gives you the option again to have the evening to yourself to wander or try one of the things on the list above.
Since you didn't have to be up early, you could also go for a later night cultural experience and check out the whirling dervishes and enjoy a later dinner.
It is a 7:30 – 10:30 pm thing so, in my opinion, best not to do on the day you go on the hot air balloon but you do you.
Antalya
Downtown
I recommend this on a travel day when you need to just cover a few hours. There is a bazaar area as well as newer shops.
There is a lovely pide place downtown called Antep Pide. One of my favorite cheese pide (kaşarlı) that I have eaten in Turkey.
You will also be able to see Hadrian's Gate. This is a cool historical landmark that was established in 130 AD in honor of the arrival of Emperor Hadrian.
It is still standing. My mind is blown. From here, you will be able to move into the Old City. Grab a bite to eat at the little cafe on top of the cliff with a beautiful view of the bay.
You could also wander by the Antalya Clocktower, another ancient landmark from the 9th century. Or head over to the Hidirlik Tower.
Excavations are always being stopped and started but I hear there are some more recent ones revealing more of this old tower.
Konyaalti
If you're up for a beach day Antalya's Konyaalti Beach is the place to be. Antalya has recently finished a new strip of shops and restaurants.
You can take the tramway to the end and then walk 15 min or so down to the beach, or grab a taxi if you'd like.
If you are renting a car while in Antalya, there is also parking so that is a possibility.
In addition to shops and restaurants, there are also beach clubs along the water where you can rent a chair and an umbrella.
As a vacationer down there, I have to admit that being able to rent a chair and umbrella is quite nice. Then you also have access to bathrooms and a restaurant.
What I love about this place is you can get all the things here. Sit up further on the beach to enjoy a nice cup of coffee or head down and soak up the sun.
They even have an area to do water sports. Have fun!
Duden Falls & Perge
You can wander around the lower Duden Falls, head up to the upper Duden Falls and all that's between.
I especially like the lower falls as there is a great viewpoint. From here you can watch the water flow down the cliffs and into the Mediterranean Sea.
If you want to check this out head to Duden Park Waterfalls. You can wander around and look off the cliffs and enjoy an ice cream.
There are cute benches to sit on or areas to do a picnic. Perfect for a spring or summer day.
You can also take a cruise to see it from a unique viewpoint if you're into boats. With this Antalya tour, you will get to see the falls, go on a boat ride, and up the cable car.
If you decide to rent a car on your own, make sure you agree to a price beforehand and get a receipt/in writing.
Finally, you can head to Perge. This is an ancient city located much more inland. You can easily spend a couple of hours wandering around.
Don't miss the theater on the other side of the road. Though small, it's pretty cool! The fee isn't too bad but is also included in the MuseumPass*.
Izmir
çeşme
This is such a quaint town to the west of Izmir by about an hour. It is a coastal city whose name means fountain.
It is the perfect spot to wake up early and walk along the coast through the town. You can hear the seagulls squawk and see the dogs lounging.
Then you can end the walk with a delicious breakfast seaside.
There are lots of cute shops to wander around and the Çeşme Castle is a prominent feature of the city. This is also known for its windsurfing.
If you're into that it is definitely a great place to do this.
A day in Cesme is a great chill day in the midst of all the chaos of traveling. If you need a relaxing day, check it out and take a breath.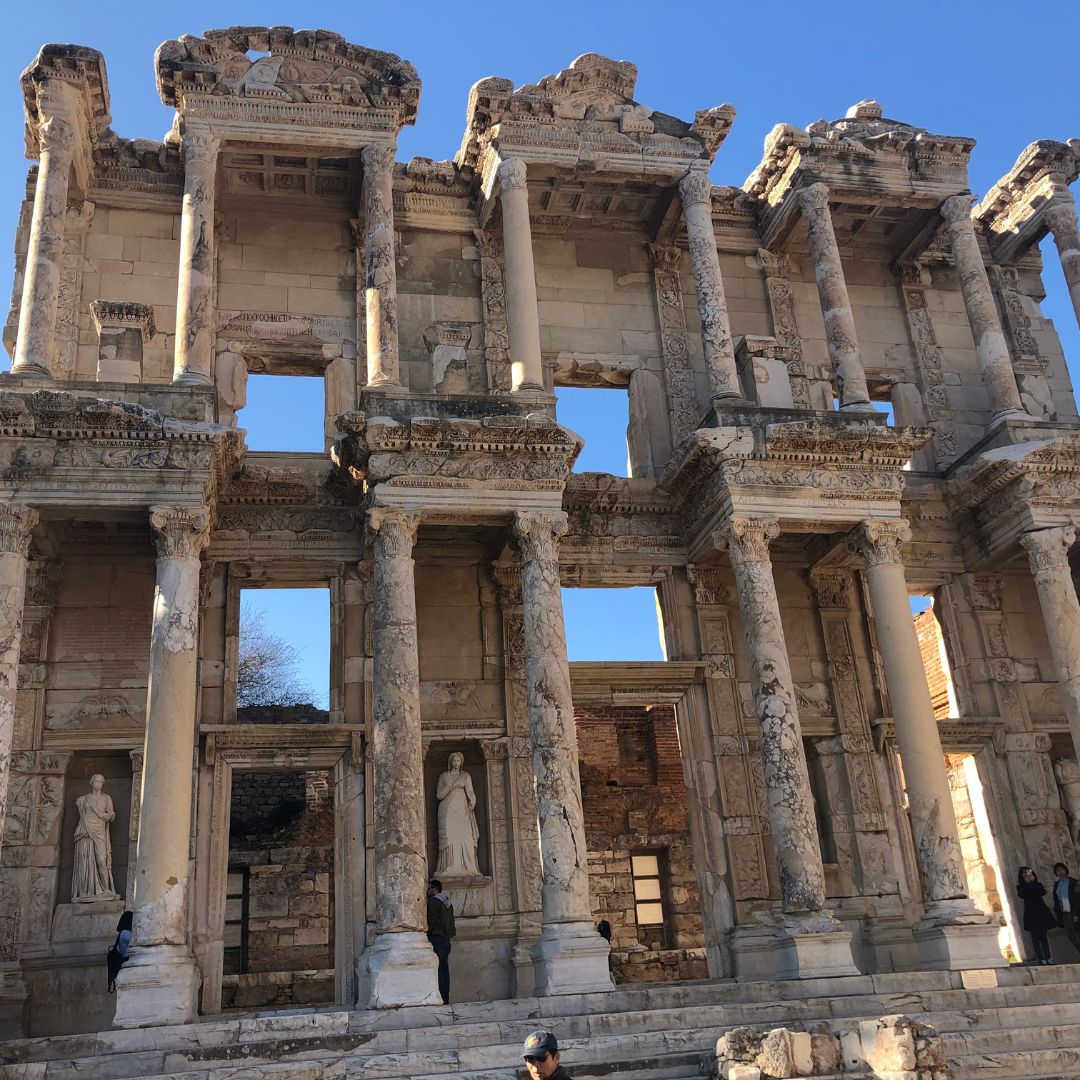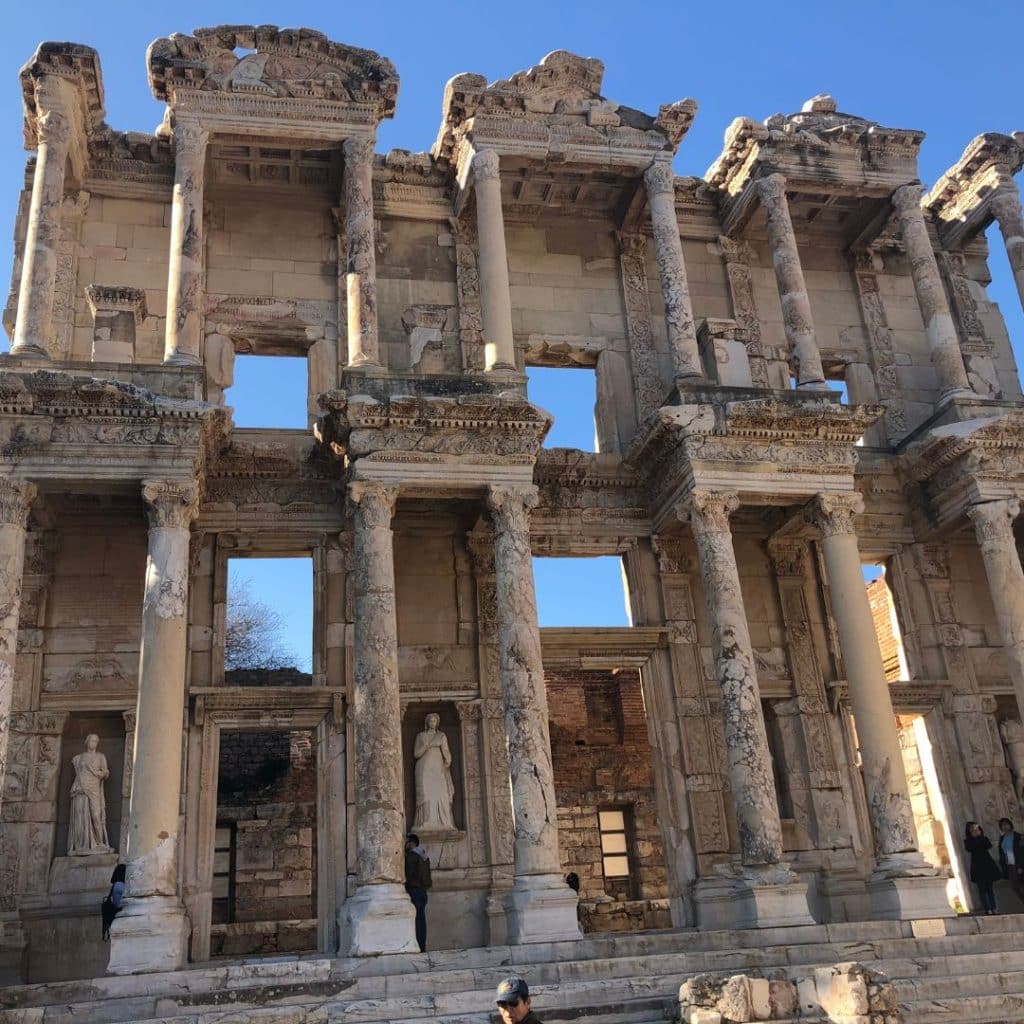 Ephesus & Selçuk
Ephesus is such a famous city and interestingly enough, it is one of the only ancient cities that has retained its name to this day.
Nicea became Iznik. Smyrna became Izmir. Constantinople became Istanbul. And so on. Ephesus, and many of the 7 churches of revelation, have kept their ancient name.
Ephesus has a long history which we won't dive into here but I do want to mention that it is definitely worth seeing if you like ancient cities. It is quite extensive and you can wander around for hours.
I have one recommendation for Ephesus. Make sure you check out the terraced houses. They are absolutely incredible.
It is an extra fee, not included in the entrance price but it is really incredible.
Selçuk is a great little town close by and is known for its sweet wine.
It is up in the mountains/hills, depending on where you're from, so make sure you have a car that will get you up the steep roads.
You can wander around and see more local shops, drink delicious wine, and step back in time as you enter old churches and buildings. Enjoy the wine with a view!
Laodicea & Denİzlİ
Instead of heading back to Izmir after here, you could always drive straight over to the Denizli area and stay there. It will save some time in driving and it is definitely worth the trip.
Laodicea is my favorite of the 7 churches of revelation.
The grounds take hours to wander if you try to see all the things and the church building they discovered has been restored so well. It's so much bigger than I ever expected.
What's even better is that most people only go to the Hierapolis and the church. There is so much to wander and see here.
Up the hill from here is Pamukkale and Cleopatra's pool.
Pamukkale is stunning especially when the water is running. It looks like these terraces are covered in snow but it is actually mineral deposits.
People walk up and down the terraces and splash around but be careful! The ground is slippery and there are sharp bits that really hurt.
I definitely recommend you take water shoes with you to really be able to enjoy it.
Cleopatra's pool is believed to have healing powers. The warm mineral water actually has natural healing properties.
The pool is surrounded by a seating area for those of your group that don't want to go swimming or if you want to take a break and grab a bit to eat or drink something.
Here are a few things you should keep in mind before you go:
There is a fee to swim so make sure to double-check the current prices before you go
There are lockers to store your stuff while you swim and you will have a key on a wristband
You should bring your own towel or you can purchase one from the gift shop
DİKİLİ – beach day / small-town life
If you want to see small-town Turkey, this is a great place to go! We left after a late breakfast to head up to Dikili. It takes about an hour and a half from downtown Izmir.
Places open and close all the time throughout Turkey but especially the small towns. I recommend you call ahead and make sure they are open.
You can also just go and find somewhere like we did. Somewhere will be open, especially during the summer.
Stop at a market and grab some water and whatever supplies you want to bring. Then enjoy the amazing water and epic views.
Side note: this beach, and many other Mediterranean beaches actually, sometimes have little biting fish.
If you want to just float, I would recommend bringing a floaty. If you want to be in the water, just move around.
They are common but not always present. Regardless of where you go in the Mediterranean, it's an option.
Honestly, that day in October was the only day I have had that experience. Take care of yourself.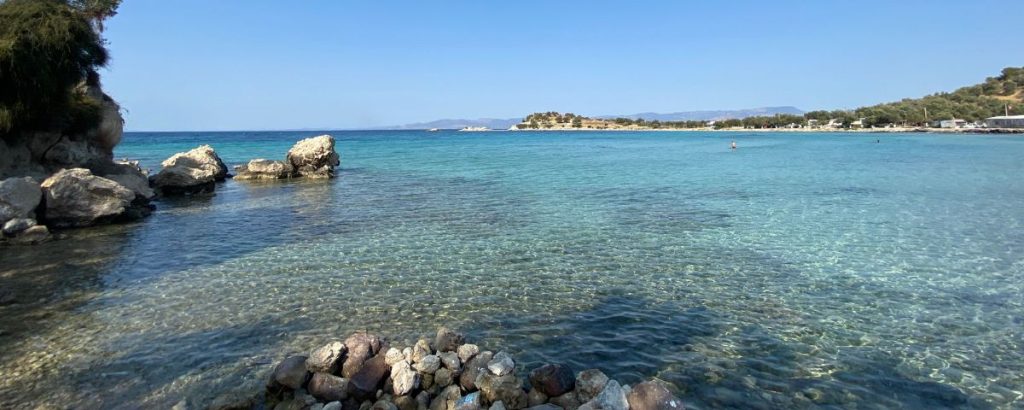 Trabzon
One thing to note in case you decide to pop off to the beach in any of the days is that the Black Sea has a really strong undertow and can be quite dangerous in some areas.
There are many places where it is still and calm or so people write but especially in Şile the undertow is quite strong.
If you go in the water please be careful.
Also, make sure you eat Muhlama wherever you decide to go. It is a melted cheese and cornmeal dish. It is usually eaten with bread.
It can be ordered as a side or part of your Turkish breakfast. While it is able to be found throughout Turkey, it is special to this region and is worth trying!
Wander downtown
There are some really special places in downtown Trabzon.
My biggest recommendation, if you do head downtown, is to make sure you park outside of the downtown and take public transportation to downtown.
We had Turkish breakfast at the Green Corner Cafe & Restaurant right by the Hagia Sophia. It was quite delicious and had a good spread of options.
It also has an incredible view of the water. Be careful of the bees…they love the lunch meat.
There is the little Hagia Sophia that is modeled off of the one in Istanbul.
This one is unique, however, because half of it is preserved as a museum, and half of it is currently used as a mosque.
The museum side of it is covered in original paintings and is absolutely incredible.
There is some common vandalism of scratching out the eyes which is unfortunately pervasive on ancient Christian paintings.
There is also the Trabzon Castle. There is more wall than a castle but it does have an epic view. If you're short on time, just do a slow drive otherwise enjoy the view!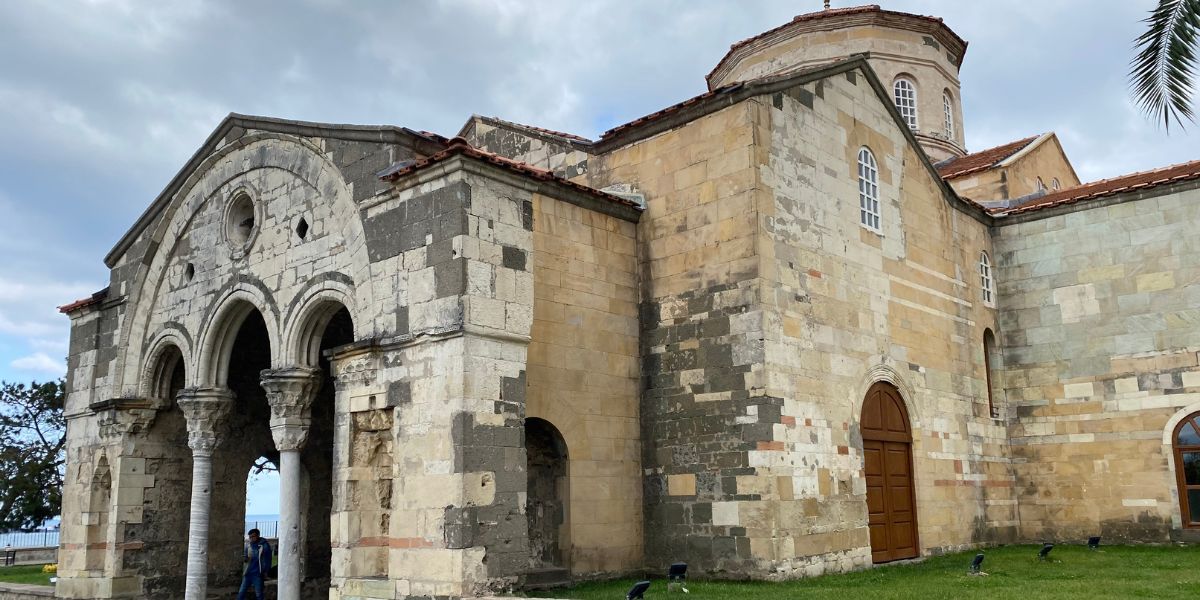 Here you can also see Saint Anne Church. So many churches have been converted to mosques throughout Republic of Turkey and so I think it is interesting to see them as what they were originally created.
Finally, you can also check out Ataturk's Pavilion.
Day trip to Rİze
Rize is a 1-hour road trip to the east. Rize is well known for its tea plantations. It would definitely be worth your time to go check one out while you're there.
You will get a little taste of Turkish culture. Given its name means "a lot of mountains" you will also be able to enjoy stunning views.
Fırtına Deresi River is another good option. It is a great spot for kayaking as well as enjoying a meal with a view of the rushing river.
There are many different restaurants that line the river so find what you love and enjoy!
Aydar Village is also a popular place among tourists. It is a typical mountain village but it has the cutest mountain homes, shops and restaurants.
You will get to see another side of Turkish Culture.
There is also a beautiful Botanical Garden in Rize. You can sit and have a glass of tea and a light snack while taking in the beautiful panoramic view.
This view holds the Black Sea, Rize Castle, and the city. Enjoy a relaxing moment in a busy trip.
Because of the terrain and climate, there are also a number of beautiful waterfalls. You could easily find them within the city even.
A few of them are Bulut waterfalls, Palovit Waterfall, Agaran Waterfall and the most incredible one is Gelin Tulu Waterfall.
Hiking, Soumela Monastery & Rice pudding
Depending on when you head up to the black sea, you can see the beautiful fall colors.
The mountains are beautiful and there are many areas to see in Altindere Valley National Park.
We drove and enjoyed the fall leaves and the cool air.
Our goal was the Sumela Monastery. We were told friends were just there and so after years of renovations it was open again.
We went with childlike excitement only to discover that we could get up to it and look at it from the side but the actual monastery was closed for further renovations.
I highly recommend that you call ahead to make sure it is open. Even if you can't go inside the Sumela Monastery, you can still go up and see the area.
You should also make sure you see Uzungöl (literally a long lake) while you're there. If you head to Trabzon, every Turk will ask you if you went there or not.
They are incredibly proud of this lake!
But my absolute favorite part of the day was the rice pudding. Growing up I wasn't a rice pudding fan but then in college, my roommate got me hooked on Kozy Shack.
It wasn't even that great.
But then I came to Turkey. I lived with this Turkish woman who made incredible rice pudding. Here it is called sütlaç (soot-lach).
Turks make this dish so well but sometimes the consistency is a bit different.
In Hamsiköy though the sütlaç is absolutely amazing. Though in my opinion, it does lack if there is no cinnamon on top.
The big difference with sütlaç in Hamsiköy is the difference in the cows. They are free to graze throughout the small town and thus have a rich diet.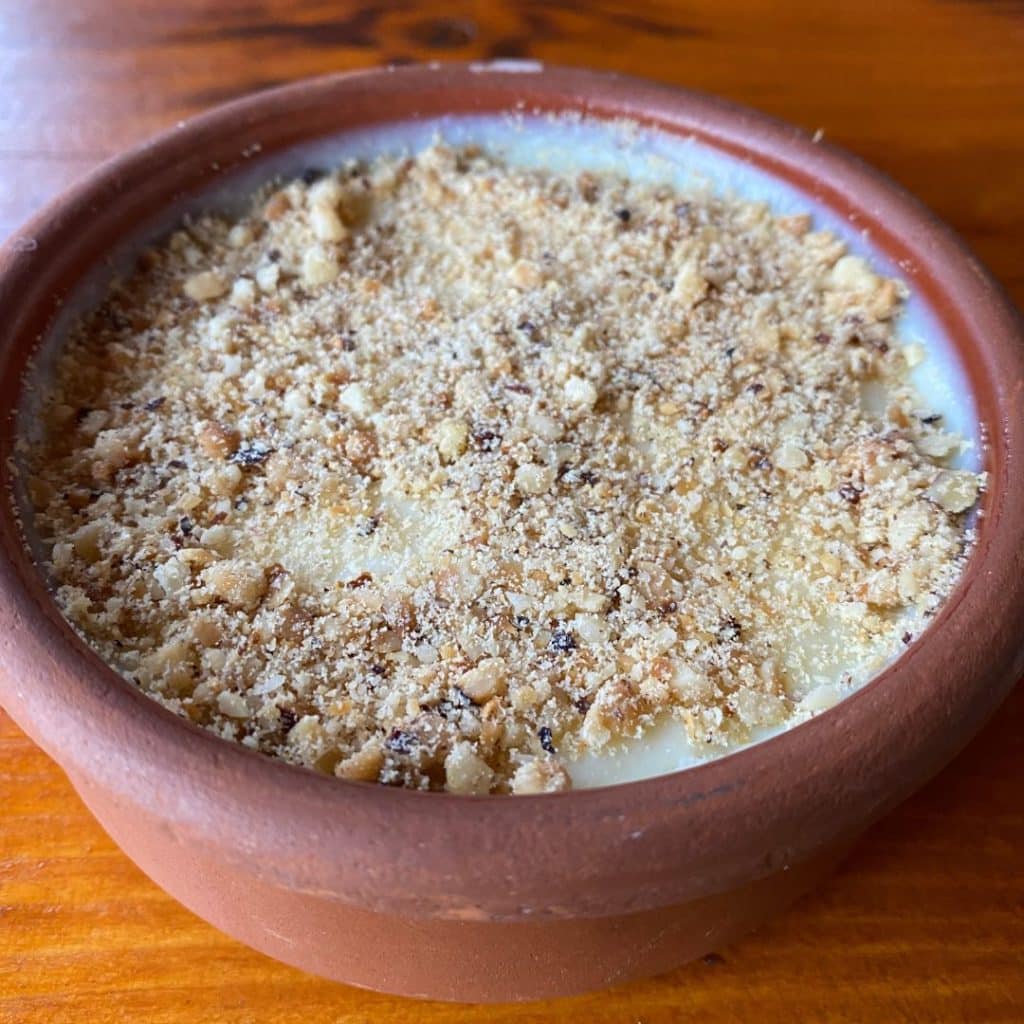 This is the milk they use to make the rice pudding. It makes it taste as if it was made with cream instead of just milk. The flavor is so much fuller and creamier.
Truth be told, you can probably get flavor in Trabzon but there is definitely something sweet about eating this delicious dessert in the mountains in a quaint town.
Road trıp down the Black Sea coastline
When I did a road trip with my local friend we drove from Trabzon to Sinop. Granted we weren't planning to return to Trabzon but you could easily just do part of the drive.
The drive along the coast of Turkey is littered with adorable little towns and some bigger ones.
There are places you can stop and picnic or just admire the gorgeous, often time tumultuous waters of the Black Sea and breathe a sigh of rest.
I think I really enjoyed it because it is so different and somehow so similar to Istanbul.
Different foods are more popular along the black sea and their accent is much thicker, and to be honest much harder to understand.
But the people are kind. A little Turkish will go a long way with them!
We really loved the coffee we got in Samsun at MackBear. It was a really good cup of coffee and they had some fun flavors.
---
Looking for a tour or activity? Check out these fun options when visiting any of the above cities.
* If you plan to go to many different museums or archeological sites, I highly recommend the MuseumPass. You can get one for just a particular city or if you will be in multiple cities, it will totally be worth it.
You can go to the website to see which ones are included and compare them to where you will go. I do want to note that, unlike some places, it is actually a great value if you use it. Plus you get to skip the ticket lines!
---
These Turkey itinerary ideas will help you decide what is important for you to see and then go from there.
They all include at least two days in Istanbul since you will more than likely arrive in Istanbul. The rest is up to you!
7 days in Turkey: Aegean Region
This 7 days in Turkey itinerary is great for summer. While Izmir can be warm in summer, this is my favorite place for summer because it isn't as hot as it is down in Antalya.
The fact that it is on the coast will also help temper the heat.
Day 1 – Istanbul – Sultanahmet & Balat
Day 2 – Istanbul – Northern European Istanbul
Day 3 – Izmir – Ceşme
Day 4 – Izmir – Ephesus & Selçuk
Day 5 – Izmir – Laodicea & Denizli
Day 6 – Izmir – Dikili – beach day / small-town life
Day 7 – Istanbul – Kadıköy & Moda
7-day Turkey Turkey: Black Sea
If you're more into avoiding the normal tourist areas, this part of Turkey provides a look into the culture with much fewer crowds.
We went in November and the weather was great! The summer months get hot but the average is in the 80s (mid-30s C).
The least amount of rain is generally in the summer months. That being said, it didn't rain on us in November.
Day 1 – Istanbul – Northern European Istanbul
Day 2 – Istanbul – Sultanahmet & Balat
Day 3 – Trabzon – Wander downtown
Day 4 – Trabzon – Day trip to Rize
Day 5 – Trabzon – Hiking, Soumela Monastery & Hamsiköy
Day 6 – Trabzon – Take a drive down the Black Sea coastline
Day 7 – Istanbul – Kadıköy & Moda
7 day Itinerary for Turkey: Mediterranean
This is best in the spring and autumn. The temperatures in all of the places will be most moderate but in late spring and early fall, you can still enjoy the beaches!
Day 1 – Istanbul – Kadıköy & Moda
Day 2 – Istanbul – Sultanahmet & Balat
Day 3 – Cappadocia – Hot air balloon & Tour 1
Day 4 – Cappadocia – Tour 2 & Whirling Dervishes
Day 5 – Antalya – Downtown
Day 6 – Antalya – Duden Falls & Perge
Day 7 – Antalya – Konyaalti
How to get into Turkey for your
Flights
Flights into Turkey are definitely the most common and easiest if you're coming from the States.
I have been diggin' WayAway for checking out flight prices. You can read my review on it here or just go to their website and search.
What's more is that you can book your activities, hotels, and cars through WayAway and get cashback on all of it with their Plus program.
There are two airports that you will come into in Turkey depending on where you're coming from:
IST – The new Istanbul airport that opened in 2018 won't be completed until 2027. Here are a few things to keep in mind:
It is massive so be prepared to walk.
They have finally installed some water filling stations though they are few and far between so fill up when you find one.
It isn't near anything so you will definitely have to take a bus or a taxi to get to your hotel.

HavaIST is a great and inexpensive option. You can check out the prices and details on their website.
I definitely prefer a private transfer to a taxi and they are about the same price. I use this company for my transfers if you're interested.
If you want to take a taxi, there is a queue outside that you can get in. The line usually moves pretty quickly. Make sure they turn on the meter.

The one caveat is that if you're going to the other side (the Asian side of Istanbul) then you will also have to pay toll fees.

Even if you're on the European side, you will likely have to pay some toll fees but obviously, it would be less.
SAW – This is the airport on the Asian side of Istanbul. If you are flying domestically after you get here, you will likely be flying out of here.
If you're staying on the Asian side, it is definitely easier to get to as it is easier to get to the IST airport if you're on the European side.
You can also take a havabus here. Just make sure you're on the right bus. One goes to IST and one goes to SAW.
You can also take a taxi there. See notes above for this.
I recommend searching according to where you're staying as well as which one is cheaper.
If there are a couple of you and you don't have massive luggage, a taxi may be quicker and nearly the same price.
For a single person, the havabus is much more economical. If you're flying in internationally, here are a few tips to make it an easier trip.
Cruise/Ferry
If you're in the Greek islands there are also ferries that come over. If you want to come straight into Marmaris or Bodrum for instance, it is really easy to do with a ferry.
Then you could drive around close by and fly to Istanbul.
You can find out more information on the ferries and the different options for traveling from Greece to Turkey on the Ferry Hopper website.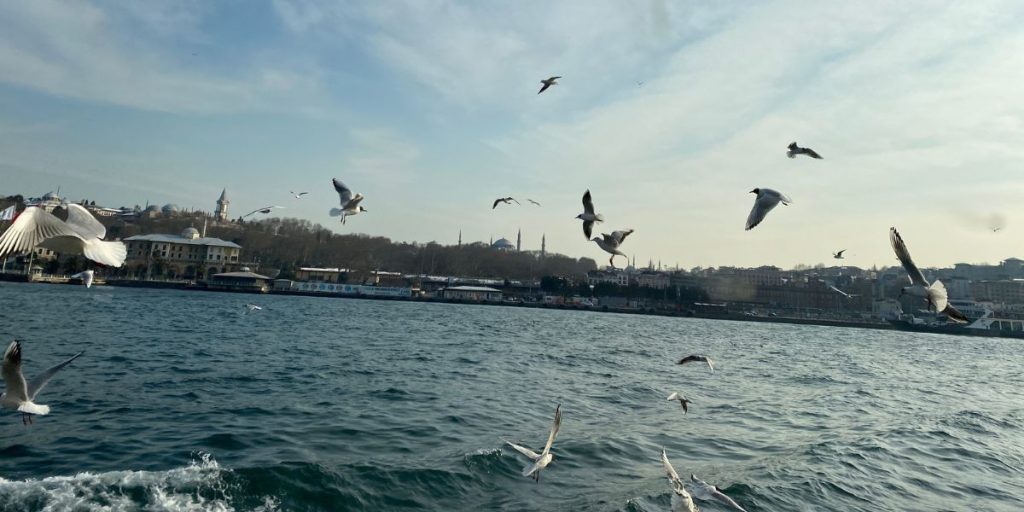 Drive
Finally, you can drive in but definitely don't recommend this.
There are issues with taking cars across international borders especially when one is in the EU and the other isn't. Honestly the best option is flying in!
Where should I stay?
Booking.com
I am a huge fan of booking.com because of the verified reviews that are posted.
Because businesses close down regularly a website like this is helpful because they are managing the booking.
Something to pay attention to when you do book a hotel is the reviews. Turkish standards for comfort are different. The beds are harder than they would be in the States.
They don't provide wash clothes because no one really uses them here. You'll typically have a kettle for water because tea is so important.
Regardless, the place should be clean. Turks care about cleanliness. If it doesn't have good reviews for cleanliness, I wouldn't stay there.
Also look for a customer rating of 8+. You should have a good selection if you find something with that score.
There are also a couple of well-loved hostels in Istanbul especially. You can check those out if you're wanting to cheaper.
How do I get around Turkey?
This really depends on where you're going to be. If you're in Istanbul I definitely recommend NOT renting a car and just sticking to public transportation.
You will be able to get everywhere you need to go with public transportation.
However, if you're going anywhere else, Antalya, Izmir, Trabzon, etc, I do recommend renting a car.
It will be much easier to get around and you will be able to see more on your timetable.
Rent a car
Renting a car is easiest when you get it from the airport and return it there. Then you're covered all around.
If you're anywhere other than Istanbul I definitely recommend renting a car. It is easy enough to do so and you will get to see all the things you want to on your own time.
Make sure you choose a reputable company and have insurance coverage to protect you as you go around.
Most cars are manual but automatics are becoming more popular.
That being said, if you are planning to go into the mountains it is best to have a manual so you can give the extra punch to get up some of the steep inclines.
Don't miss this blog post about driving a car in Turkey which has some good pointers. When I book cars, I use DiscoverCars.
Public Transportation
You can use an IstanbulKart on all three of these public transportation methods. It is easy to get a card from the big yellow machines like the one to the right.
You can choose your language and follow the prompts. Easy peasy.
Ferry
This is by far my favorite way to get around when I can use it.
You can use ferries to go between the European and Asian sides, up to the black sea area as well as to go to the Prince's islands and more.
You just have to tap your Istanbulkart on the turnstile and you'll gain access.
Google Maps does a pretty good job of keeping up with the times and will give ferry options when suitable.
If you want to go via ferry but don't see the option, check out the Mobiett app. It is the official public transportation app.
It will help you know what buses are on their way and the options you have to go places.
Bus
The bus system is quite expansive and will get you most places you need to go. The one drawback to it is traffic.
Traffic can get bad here so if you go during traffic time, you can get stuck for a while.
When you take the buses you will sometimes see a bus stop area or you will just see a little yellow sign like below.
When you get on the bus, you can just show them your google maps and they will tell you if you're on the wrong bus or not.
Bus drivers are typically quite helpful as are most Turks. Start with "Merhaba" and end with "tesekkurler" and you'll be on your way.
Metro/Marmaray
This is my favorite way to get around if it is suitable for where I am going. There are never any traffic issues.
They are fast but they are often crowded. I especially love that I can go from Kadikoy to the SAW airport. It makes it so much easier!
If you need to go north to south buses are the best way to go. Unfortunately, there is only one open currently and the rest are under construction. They are coming though!
When visiting Turkey What should I eat?
Köfte
This essentially means meatball. What is fun is that these meatballs are different textures, flavors, and shapes depending on where you go.
Some of my favorites are Akçaabat köftesi. They have such a softness to them. They are a bit fattier than some and have a distinct flavor.
I even recommend trying them in each city you go to and see if you can tell the differences.
Döner
Never tell a Turk that a doner is really from Greece or any other country…not if you want to maintain any kind of joy in your interaction with them.
Tensions between Greece and Turkey are often higher in general but beyond that, there are so many similarities in the foods in the region it is hard to say it is only from one place.
One thing I'll note about döner is that every place does its own spin. Read and know what you're eating.
Some are dry and others put sauces in them. Some put potatoes and others are heavy on parsley, onions, and tomatoes.
Manti
This is a well-loved dish throughout Turkiye and again has different styles depending on where you are. It is essentially a small handmade ravioli.
If you are in Sinop, on the Black Sea, they have my favorite manti which is manti with just butter and walnuts.
The flavor pops so much more in my opinion. In Kayseri, Cappadocia, it is more like a soup. Typical manti has some yogurt on top with a bit of chili oil.
Definitely worth trying.
Iskender
This is not a healthy dish per se but it is a tasty one. It originated in Bursa in the late 19th century by a man named İskender Efendi.
The dish is made up of a few layers. The bottom layer is pita bread slathered in butter. Again, tasty, but not healthy.
Then it is covered with thinly sliced lamb doner and covered with a warm tomato sauce. It will typically have yogurt on the side or on top of it along with green peppers and tomatoes.
If you can't get it in Bursa, it is still worth trying but make sure the reviews for it are good by locals!
Kebap
This is yet another dish that has so many different types. Kebaps are meat on a stick and often combined with peppers or onions as well.
They can be chicken, beef, or lamb. Some are chunks of meat and some are ground up and then grilled like that.
My personal favorite is the Adana kebap. It is typically a bit spicier than others and is ground beef.
They are typically served with lavaş, similar to tortillas, peppers, tomatoes, and onions with some sumac. Since it is grilled it is typically pretty healthy and delicious.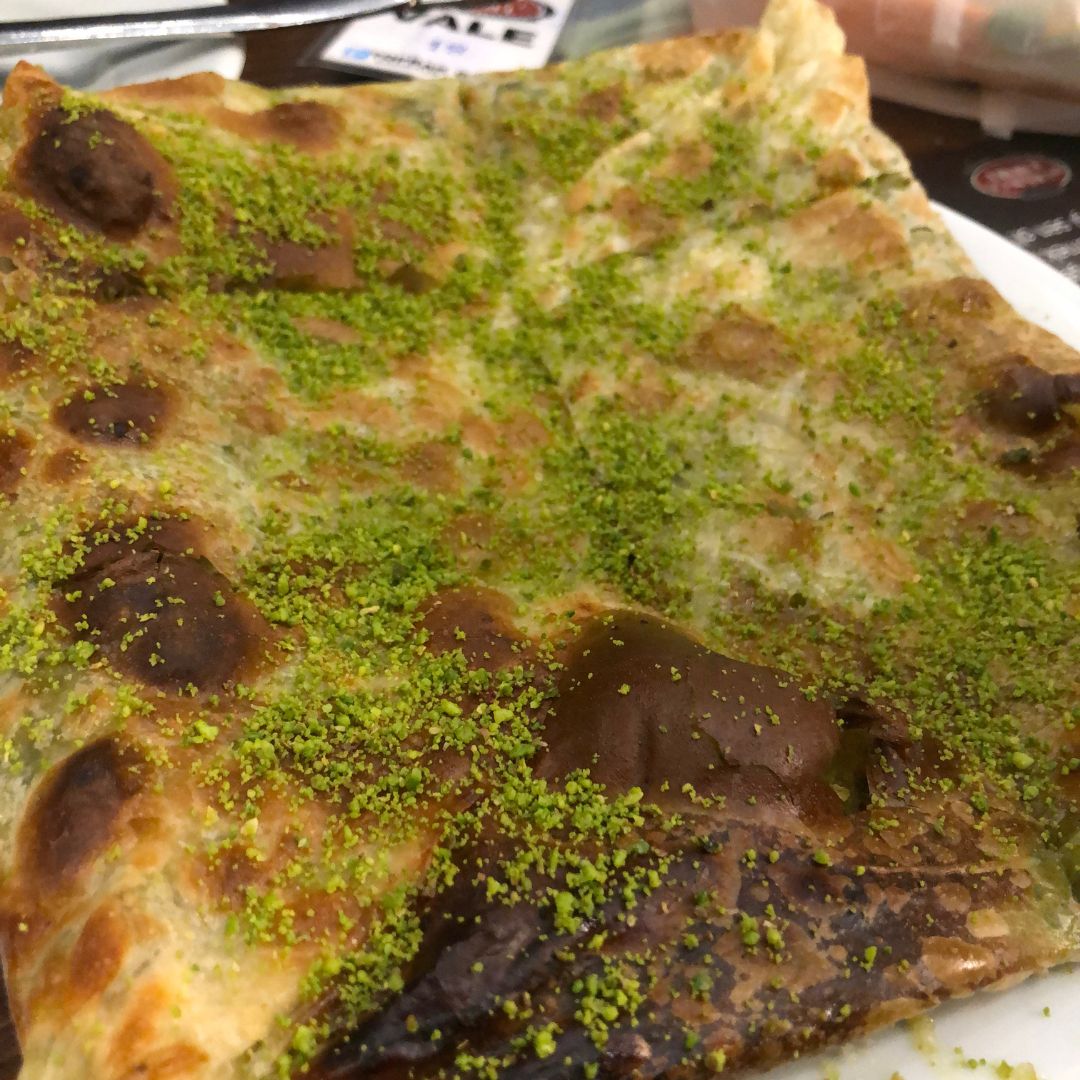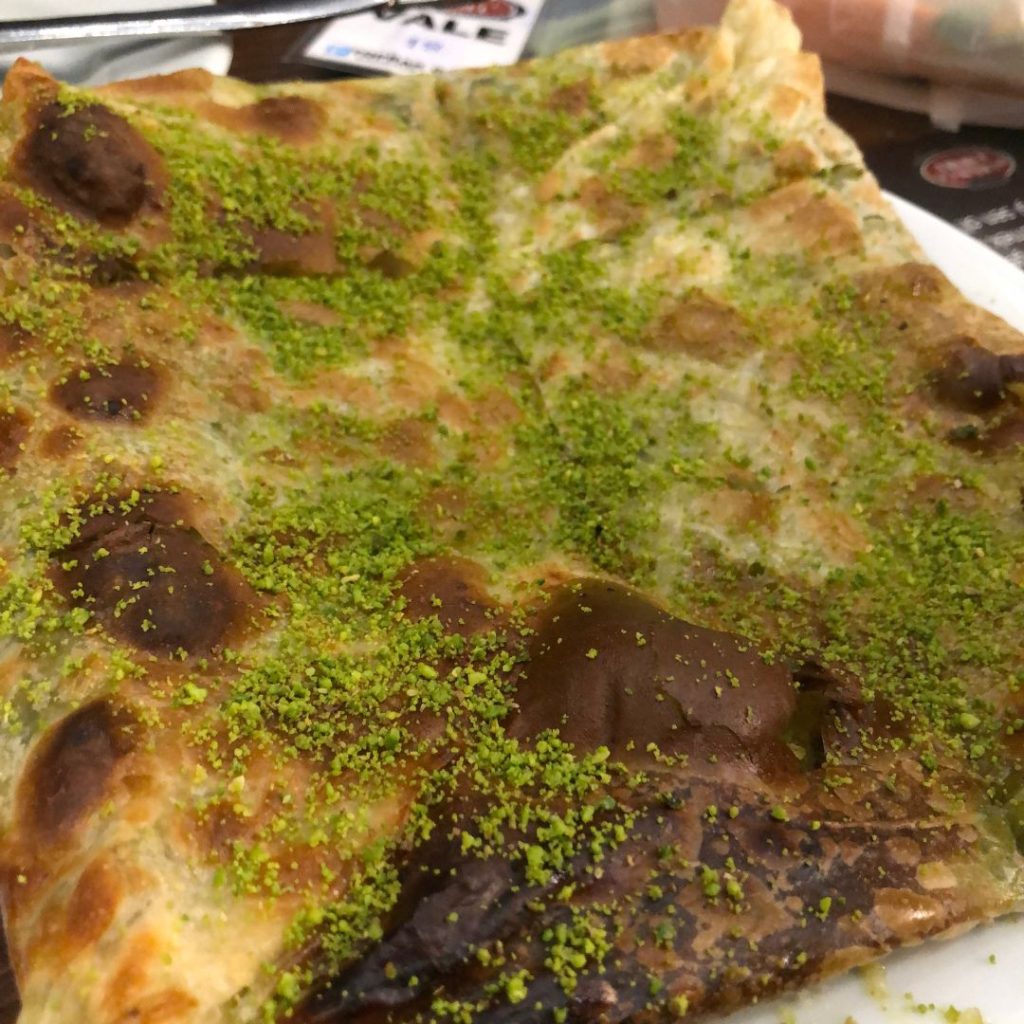 Katmer
This is one of my favorite desserts here in Turkey. It's a crispy phyllo type of dough stuffed with pistachios and kaymak (clotted cream).
While the taste is generally the same, you will find this in a variety of shapes.
Sometimes it is rolled in on itself and is called rose (gül) katmer. A more standard shape is a square or rectangle.
Generally, it doesn't come with ice cream but it is a nice addition to the warm dessert.
KÜnefe
This was my former roommate's favorite Turkish dessert. It doesn't sound as appealing as it can be though it is still not my favorite.
It is basically a shredded wheat-type dessert with a stringy cheese in the center covered in a sugary syrup.
It is definitely best with a dollop of kaymak on top. The kaymak cuts the sweetness a bit.
While it isn't my favorite, it is definitely worth trying.
There are many other desserts in Turkey. Check out this blog post to read about 7 other desserts in Turkey.
Street Food
You will see a ton of street food options in Istanbul. Here is a list to try out while you're in town.
Simit – Turkish bagel. You can find them everywhere but they are best fresh from the bakery. All the other baked goods are delicious as well.
Mussels – you will see men on the streets with a tray of them and lemons. I can't do the texture of mussels but everyone who has had them loves them.
Lahmacun – this is a tortilla-type bread with a mixture of ground beef, onions, and peppers spread across. You roll it up with onions, arugula and squeeze lemon and eat it like a burrito. Great snack as you meander the streets.
Çiğ köfte – these are "meatballs" made from bulgur, tomato paste, and spices. It is the Turkish version of steak tartare though after food safety concerns the meat has been replaced with bulgur and ground walnuts. Vegetarians must definitely try it!
Tips to keep in mind when you travel in Turkey
What to wear
I have an entire post on what to wear in Turkey but I wanted to make a few comments on it here as well.
While Turkey doesn't have a dress code and it is technically a secular nation, it is still a Muslim country.
This means while you can do whatever you want and wear whatever you want, it doesn't mean that it will be easier or better.
I recommend being more modest than you may be back in the States. You can read the full post to understand why I say that and some suggestions as to what that could look like.
Things you should know
This blog post will talk about 23 things that you should know before you go to Turkey. Most of them are things you should or shouldn't do but a couple of them are just about life.
One of those is that çay (Turkish tea) is life. Unlike British tea, it is never served with milk but is always served with sugar.
It is a black tea and rarely has bergamot in it though that is much more uncommon.
They are served in cute tulip-shaped glasses and sometimes 10-15 glasses are drunk in a day.
Do what you want!
Many people just do what the guidebooks say to do but that isn't always the best.
If you love wandering through the streets of a new city and drinking coffee in local shops then don't waste your time visiting sites that you will never appreciate near as much.
There are things that are worth seeing but if it doesn't bring you joy, then is it really worth it? Get to know yourself and enjoy your trip.
Make it your own. And if you have any questions, feel free to reach out and ask!
---
As you can see one week in Turkey is too short to see it all since Turkey is huge. I think it is still worth a visit!
I hope this itinerary helps you plan the perfect first trip to Turkey, or maybe it's your second or third.
As to the best time to visit Turkey, you can see that each of these 7 day Turkey itineraries is better for a different season. It is all about what you want.
It is so important to see the places in Turkey that are important to you. Don't go somewhere just because you feel like you have to.
I would love to hear your thoughts and experiences when you come.
So which epic 7-day Turkey itinerary sounds the best to you?
Turkey vacation basics
When I plan a trip these are the websites I use. Hope they help you plan your next adventure as well!
FLIGHTS: I am a huge fan of Skyscanner and WayAaway.
VISAS: You can use the free e-visa portal here but for a few extra dollars you can use iVisa and someone else will handle any issues that may come up.
E-SIM: When I traveled to SE Asia I discovered e-sims and I'm never going back. Airalo has been easy and cheap!
TRAVEL INSURANCE: I use TravelInsurance.com for my trips abroad.
CAR RENTAL: I have loved working with Discover Cars when I rent cars in country.
ACCOMMODATION: Find the best Turkey hotel deals on Booking.com.
CITY TOURS & DAY TRIPS: You can browse GetYourGuide's website to find just the tour you're looking for!