Gifts from Turkey: 21 Turkish Souvenirs You Can't Miss
Disclaimer – The Art of Living in Turkey contains affiliate links and is a member of the Amazon Services LLC Associates Program. If you make a purchase using one of these Amazon links, I may receive compensation at no extra cost to you. See my Disclaimers for more information.
Are you looking for the best Turkish souvenirs to bring home? I got you covered. Here are 21 great gifts from Turkey!
Who doesn't love to have gifts and mementos from all the places you visit? Gifts for friends. For family. For yourself.
I get it. There are a lot of options and it can be overwhelming. The longer I live in Turkey, the more things I find to add to the list.
Every time I go to Eminonu to go shopping, I am on the hunt for a new small gift to take back to friends and family.
When you come to visit, or maybe move here and head back home for a visit, this list of Turkish gift ideas will help you plan ahead and relieve some of the stress.
You won't be disappointed either. Turkey holds some amazing gems! Let's check out what to buy from Turkey as a gift.
5 Must-Have Turkish gifts
1. Turkish Tea
Turkish tea is drunk throughout the day, all day. Regardless of who you're with or what you're doing, çay often follows.
Pro tip: This is not "chai" like the spice latte type drink. Turkish çay is a black tea.
While drinking tea is definitely not unique to Turkey, Turkey is actually known to have the world's highest per capita consumption of tea in the entire world.
Though to be fair, the UK is a close second.
Depending on where you go, you will find some that have Bergamont in with the black tea.
You can also find other herbal teas but simple black tea is definitely the most popular. Also because of the high import fees, most tea is locally sourced.
And when someone offers you çay, they mean black tea.
Don't miss this post on 5 drinks that Turks love for other drinks to try while you're in Turkey!
This is a really classic and light souvenir from Turkey if you're running out of room in your luggage. You can easily find it as you roam the streets of Istanbul.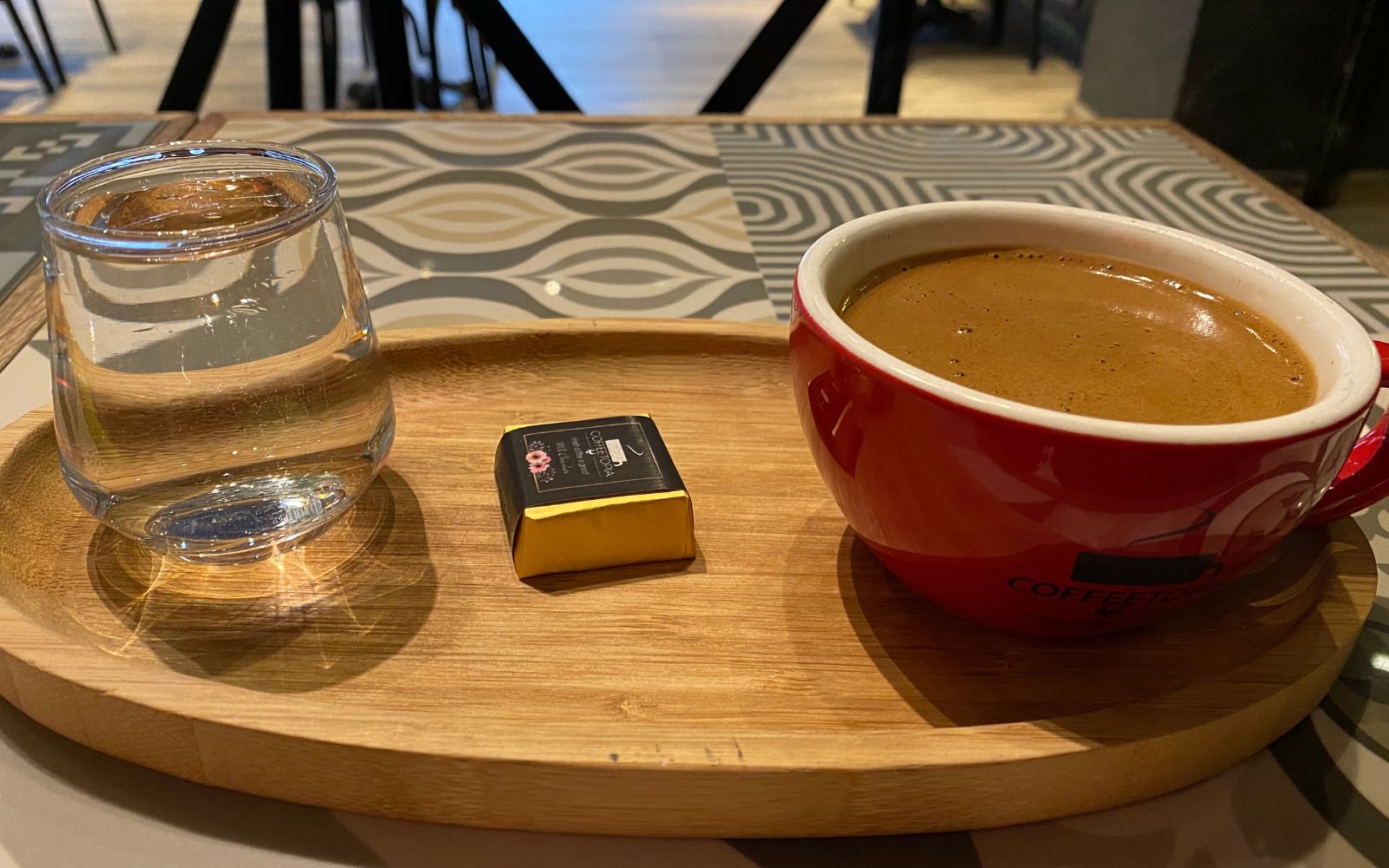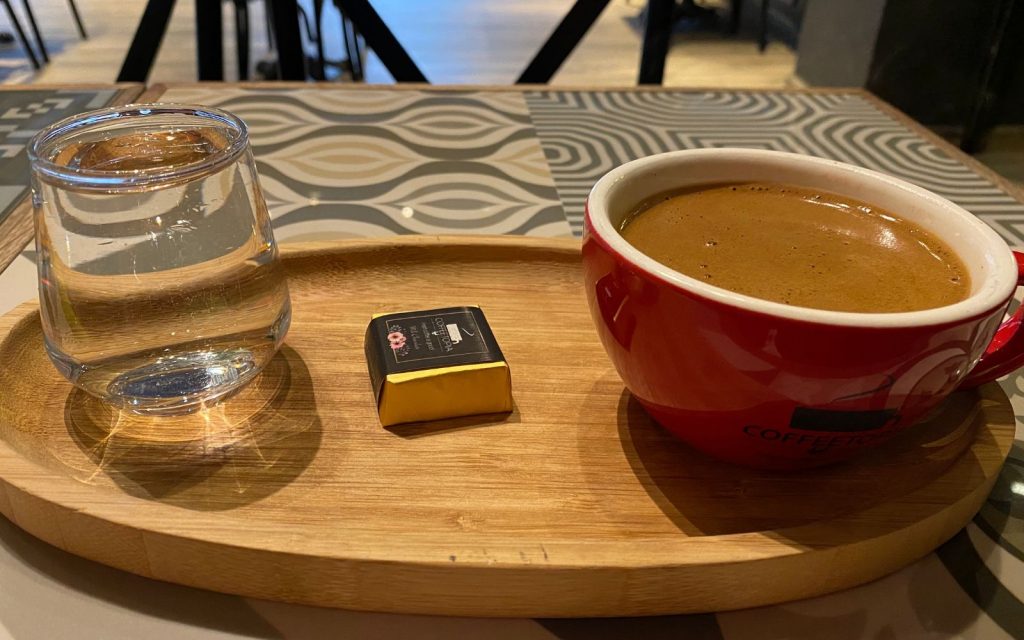 2. Turkish Coffee
Turkish Coffee is known and loved worldwide! The best Turkish coffee in my opinion is Mehmet Efendi. It is also the favorite and most well-known by Turks.
When visiting Istanbul, you will likely see people queuing up for their daily coffee or for a party, they will be hosting.
It is always best fresh and typically purchased in small 100g size packages.
It is made in a special Turkish coffee pot called a cezve. Buy in Turkey and enjoy at home.
I really love this video by Refika as she explains how to make this special coffee as well as a couple of different nontraditional options.
You're also able to get a feel of the culture as she interacts with her friend Bahar.
3. Nargile
Nargile is often known as hookah in the States. It is a water pipe that is used by many cultures throughout this region of the world to smoke tobacco.
There are lots of fun flavors these days and many don't even contain nicotine.
The culture that comes with nargile is one of relaxing and slowing down. You will often see people just chatting while smoking or even playing a game of backgammon.
For those friends of yours, or yourself, who like hookah, this would be a great souvenir.
Because it is glass, either carry it in your carry-on or package it very well to ensure it makes it home.
4. Raki to drink with your Turkish Cuisine
This is the unofficial drink of Turkey. While Muslims don't typically drink alcohol, Raki goes back a long time and is well-loved by many Turks.
It is a liquor made in Turkey from twice-distilled grapes and anise, giving it that black licorice flavor.
It is often enjoyed alongside seafood and meze (appetizers) and is always accompanied by a small glass of cold water.
While few drink it neat, it is typically mixed with water which changes the color from transparent to a cloudy white color.
While you can get it cheaper out and about in the city, it can also be purchased duty-free at the airport.
You will pay more for it but won't have to worry about luggage space or it getting crushed along the way.
If you drink while you're in the country, make sure you learn about drinking in Turkey.
5. Traditional Instruments
Turkey has some great instruments that are so worth bringing back from your epic vacation!
Oud – is a good gift for any guitar lovers who are ready to learn Middle Eastern type music. It has a short neck, either 11 or 13 strings, and is a part of the lute family. Even though it isn't unique to Turkey, it was a staple of Turkish folk music
Baglama – belongs to the long-neck lute and plucked string instruments family. It has three strings and is tuned to a different scale than Western music.
Kemence – is a part of the stringed bowed instrument family and has three strings. The classic kemence is bowl-shaped whereas the black sea region kemence is a box-shaped lute. It's played held upright with the tail on the musician's knee.
Kavul – though, again, isn't unique to Turkey has played a role in Turkish music for a long time. It was often associated with pastoral life as it was typically played by shepherds. It is similar to a flute but made out of a single piece of wood.
6. Turkish Delight
My first memory of something like Turkish delight was aplets and cotlets when I was a child. We would get them from my grandma for Christmas.
I loooooved them. The powder coating but soft and gel inside with a kiss of nuts made them my joy.
Then I had Turkish delight and realized it was nearly the same, with a different name. This is one of the best gifts for kiddos, IMO.
Though I would say Turkish delight is better because it is fresher…or at least it can be.
While you can get prepackaged Turkish delight, or lokum, beware of the date on the package.
They can sit there for a long time….and trust me, it is better fresh. When they are old, they aren't nearly as soft.
While it might not be as pretty packaging, you can purchase however much you want of any variety in bulk at the Grand Bazaar or other local shops throughout the country.
If you're going to buy, ask to taste them so you know which ones you want to bring back. Don't, however, taste all of them and buy nothing. My favorite is the rose (gül). Enjoy!
7. Turkish Rugs from Istanbul
While Turkish carpets are a much-coveted item, you have to be careful when you go to buy one.
As you walk through the bazaar or down the street and see the rug shops, it is important to know that can't make as much money here typically from a rug as they can when they export it.
It can be hard to get a good deal. That being said I have a connection if you're in Kadikoy.
Adalı El Dokuma Halı has a good reputation and he has quite a selection! Just let him know Kimberly sent you in!
That being said, make sure you take someone with you who knows rugs. Maybe you're visiting a Turkish friend or know someone who knows someone.
In the end, it will go much better for you if you do.
One thing to note is that if you do purchase a rug here, they will often ship it to the States for you free of charge.
But make sure that you are dealing with a reputable company so you don't get stuck with a knockoff or something that is "lost in shipment".
8. Traditional Turkish Spices
The spices in Turkey are fragrant and delicious, though I must admit, I do miss oregano. Of the things to buy, this is the perfect one because it is delicious and light weight.
One of the spices I have learned to cook with more is paprika. Here it is called tatli pul biber, which means sweet paprika. It is a little different than the paprika in the States.
So if you like to cook or know someone who does, don't forget to grab some.
While prepackaged spices are handy, they are also not as fresh. As you walk, you will notice so many different spice shops.
You can go in and tell them how many grams of a spice you want and they will package and seal it for you…much fresher than prepackaged stuff.
When I have gone back to the States, I have taken anywhere from 100-200g of spices as gifts for people. They absolutely love them.
If you like spicy flavors, I highly recommend Osmanli baharat which simply means Ottoman spice. I use it on meat and veggies.
I really love doing a fried rice kind of thing with some that thrown on. It also really complements a red lentil soup. Let me know if you have a favorite!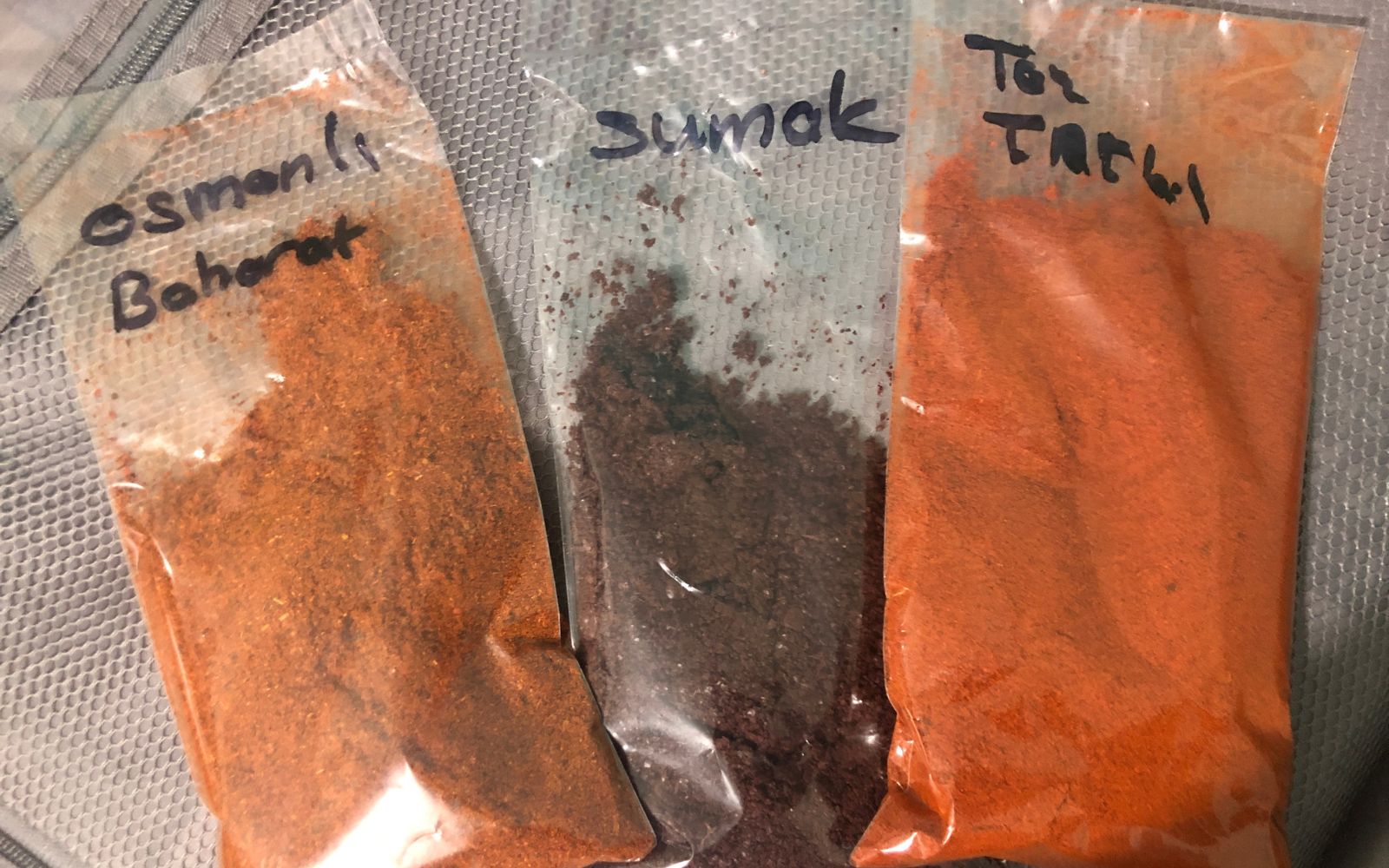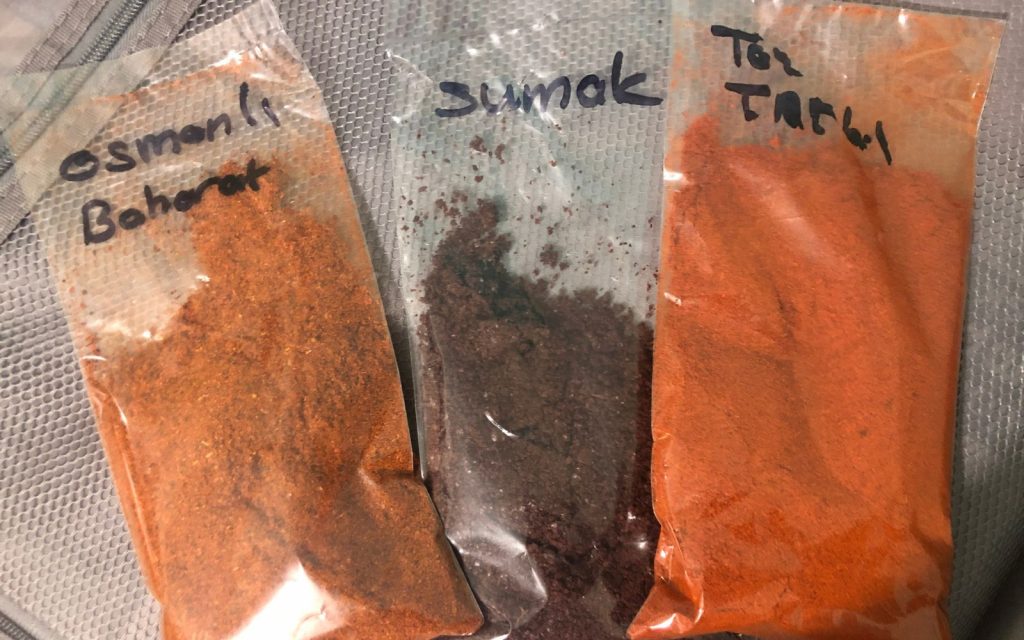 9. Gold Jewelry
One of the first things I noticed when coming to Turkey was the gold. The gold's yellow color is like the sun on a humid day, rich and saturated.
It's stunning. It is a very important part of Turkish culture.
When someone gets married the guests are expected to buy these gold coins that, in traditional weddings, get pinned to the bride's dress.
The amount being pinned on the bride is announced in front of the crowd…no pressure!
But also people invest their money in gold. As you know it always has value. You will see gold bangles and earrings and rings.
Throughout the country, you will be able to find gold and silver shops with beautiful jewelry to buy as mementos.
Often times you will see bracelets and necklaces with the evil eye on them, which they believe brings good luck.
10. Turkish Lamps
Ah, Turkish lamps. If you're not familiar, the value lies not so much in the lampstand but in the lampshade.
In fact, you can often just buy the lampshade portion. You can find them as chandeliers, floor, ceiling, or table lamps.
Make sure you do lots of looking so you don't suffer from buyer's remorse because you saw something later that you liked more.
Simultaneously, if you find something you absolutely love, buy it because you may never see it again.
These are quite common in touristy areas throughout Istanbul.
11. Ceramics/Pottery
While you can get Turkish ceramics and pottery throughout the country, there are a few places that are well-known for it.
One of the best places is in Cappadocia.
If you take a tour of the area, you will likely stop at a pottery place and watch a demonstration of their hand-building pieces.
You will be able to see them hand painting the pieces as well as buy all your favorites. The work is extraordinary!
While I was in Cappadocia, I even got to sit at the wheel! What a blast it was.
It made it even more enjoyable to buy something and support them, which I am sure they realize.
If you want genuine hand-painted pieces, you will pay more for them, though it is also better quality.
You can also find kitschy stuff at the bazaar and other stores that make perfect Turkish gifts for friends and family.
12. Backgammon
Or as it is known in Turkey, Tavla. This is a game you will see many playing in coffee or tea shops.
Couples playing. Old men playing. Friends enjoying a glass of tea and playing.
It is considered the national game of not only Turkey but also Eastern Mediterranean countries. It is an easy-to-play game with a bit of strategy and a lot of luck.
For the special game lover in your life and obviously, even for yourself, this would make a good souvenir to bring back home and start playing!
Make sure you look around as there are many different styles.
13. Luggage
You can find pretty decent quality luggage fairly inexpensively.
My mom came to visit me recently. Having left the US for the first time (save Mexico and Canada), she didn't have much good luggage. She never needed it.
On her way here though, both of her suitcases were trashed. Perhaps one of them broke before she even came.
But when she went home, she ended up buying some new luggage and was so pleased with her new silicone hardish shell suitcase.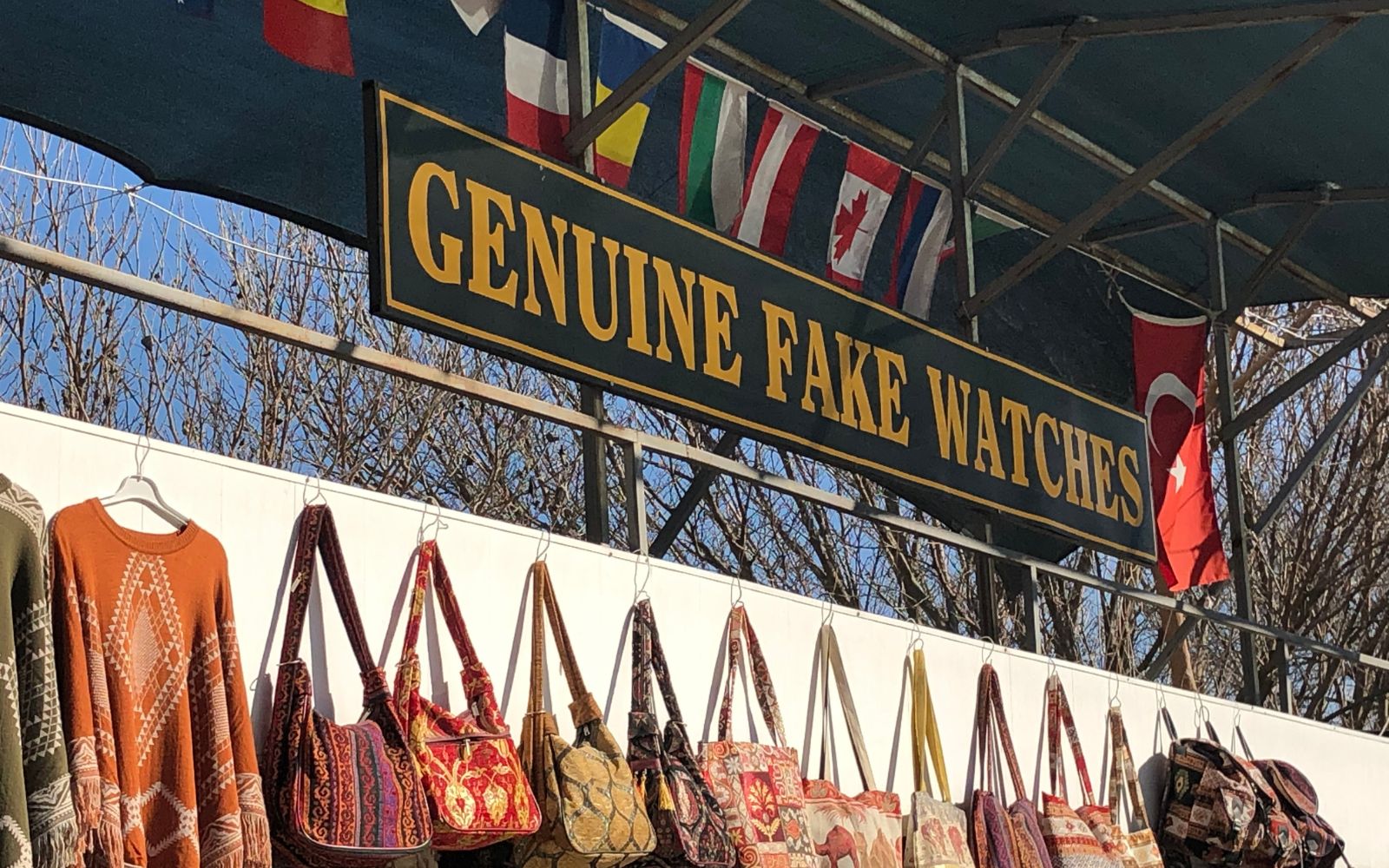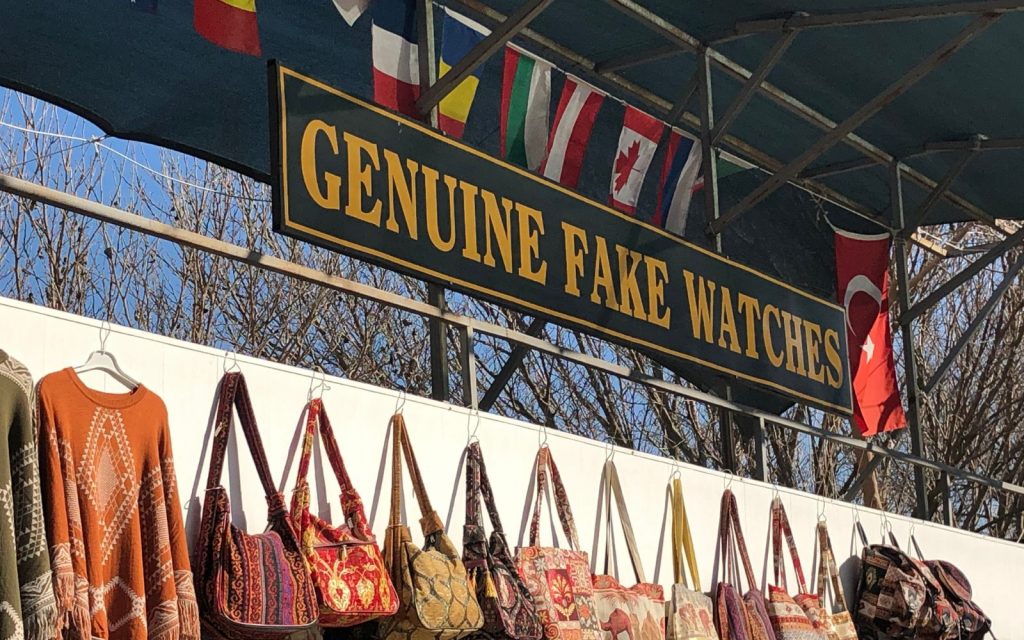 14. Knockoffs
You will be able to find knockoffs galore here. When I went to Ephesus there was a shop that was actually bragging about their fake watches.
But beyond watches, you can find knock-off anything. Purses, clothes, shoes, glasses.
They make great gifts, especially for young people who don't really need the real thing but want to make them feel special.
You can find knocks everywhere in Turkey. On the Asian side, you will especially find them in Kadikoy.
Whereas on the European side in all of the touristy places, they are easy to find.
In smaller cities, look for them in touristy places. Make sure you haggle with them though.
They are charging you a pretty penny because you're a foreigner, which is how they make a living.
15. Antiques
Antiquing was always a fun thing to do in the States. One of my jobs was actually with a real estate company that did auctions.
I saw of the most beautiful antiques. If you are into antiques, you are in for a real treat as there are many here!
One of the interesting things about Turkey is that they do areas or streets where they have all the craft stores close by or all the pharmacies or all the antique shops.
Not that you can't find them in other places, but in certain areas you can come across a bunch of shops all close together.
This makes for great shopping and bartering opportunities.
BUT BEWARE. Even if you'd like to bring back a special antique you need to know that it is illegal to take anything out of the country that is more than a century old.
It is so serious that you could spend some time in prison here because of it.
So make sure you know what you're buying. If you are unsure, take it to a museum to be verified or simply pass it.
16. Turkish Tea & Coffee Sets
As I mentioned before, Turkish tea glasses have a unique shape. A set of them is a good gift idea from Turkey for the tea and coffee lovers in your life.
You can find them in local shops in neighborhoods or if you prefer something really fancy you can find more expensive (not always better in my humble opinion) sets at the malls.
If you're bringing Turkish coffee home, you should totally add a set of cups for it. You can buy them in various quantities and styles.
Make sure you check out the local milyoncular (kinda like a Walmart type store where they have a little bit of a bunch of things).
There are some really great finds. But also I have seen some of my favorite sets wandering through Eminonu outside the Grand Bazaar.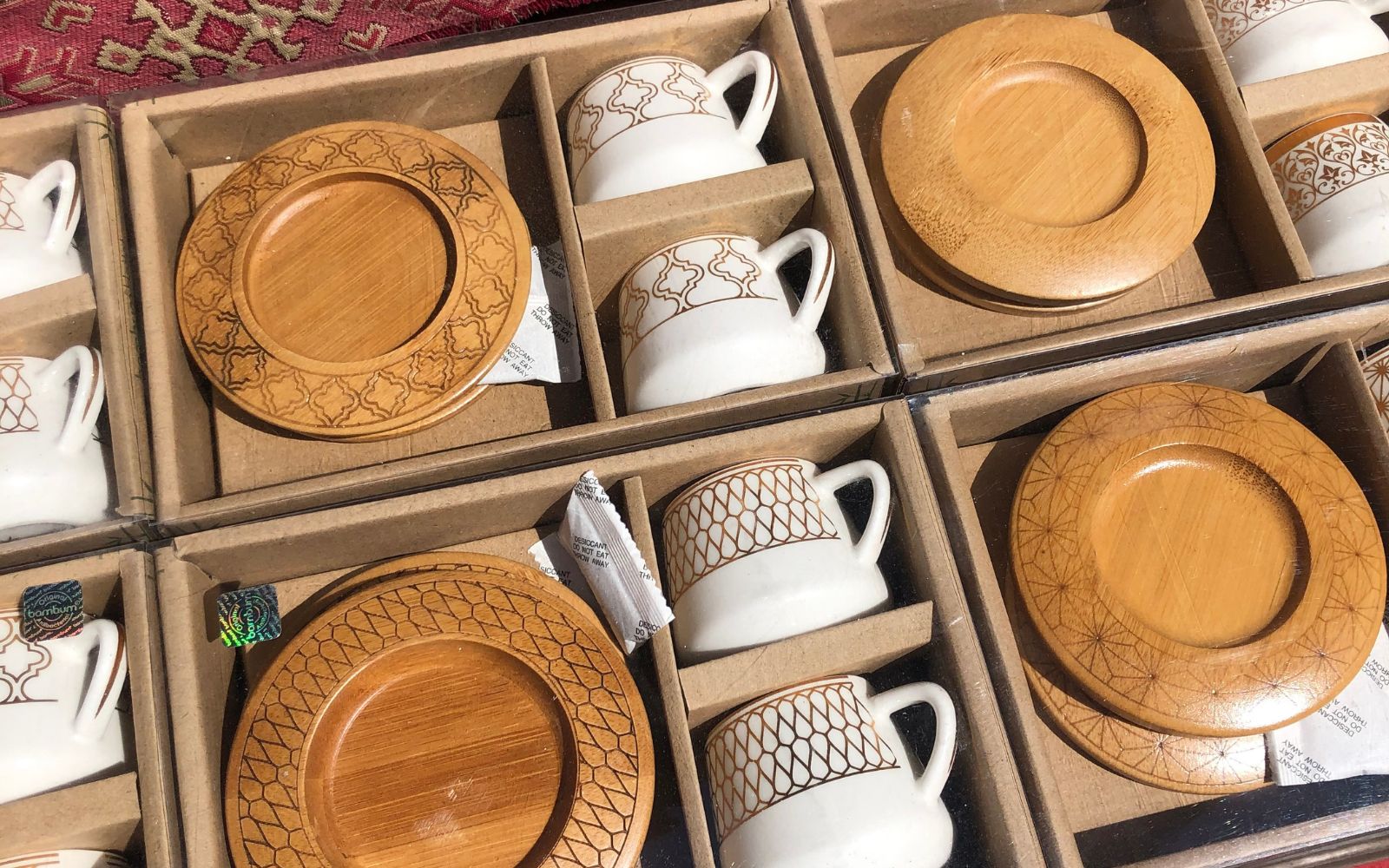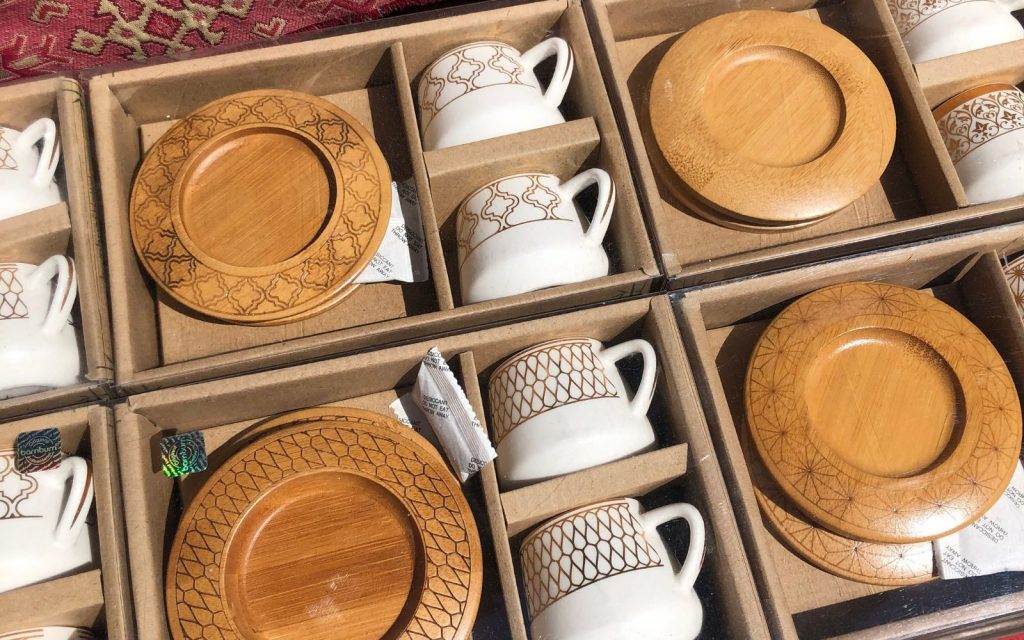 17. Leather
You can also find some great prices on leather goods here in Turkey. Because Turks eat so much lamb and mutton, there is an abundance of soft leather to make all the things.
Like with buying rugs, it is good to take someone with you who knows.
Make sure you get hakiki leather which means genuine. There are so many fakes around but if you ask if it is hakiki they will tell you.
Also make sure that when you buy clothing, you try it on before you go.
Since everything is handmade, no two items are the same. In this case, sometimes it might be better to have them make it specifically for you.
But if you're going that route, make sure you give them plenty of time to finish the project.
18. Kolonya
Kolonya is one of my favorite things that I have added to my day-to-day life since moving to Turkey. Kolonya is the Turkish version of hand sanitizer…but it is so much better.
The thing I love about Kolonya is it doesn't leave your hands feeling as gross as hand sanitizer does. It also has so many different scents.
My favorite brand is Eyüp Sabri Tuncer. They have some great scents.
Classic lemon is pretty standard but there are so many to choose from. One of my favorites even smells like Fruit Loops.
I didn't really eat Fruit Loops but the smell reminded me of America. Whenever I use it, it makes me smile.
This is a popular souvenir from Turkey because you can get a really small size, making it easy to pack but also special to Turkey.
It also makes the best travel companion, fitting in your carry-on and keeping your hands clean.
19. All the Pashima
You can find some of the most beautiful Pashmina scarves and towels here in Turkey. If you are familiar, they can be quite expensive back home.
While you can't get them for pennies here, you can definitely find them cheaper than you can in the States.
I have brought back scarves for friends and they loved them. Make sure you read the labels though. Some are 100% Cashmere and some are blends.
True Pashmina comes from the fleece of the Changthangi Goat.
It is an exotic animal and is only found at 15000 feet above sea level in Ladakh and is known throughout the world.
20. Chocolate
Ahhhhh Chocolate. Who doesn't love it? Ok, I know there are a few of you out there but for the rest of us or the chocolate lovers in your life, I recommend taking back chocolate.
Wow your friends and family back home with delicious chocolate made in Turkey.
One of my favorite brands is Vince and I have only been able to find it at A101. Their bitter chocolate is so incredibly delicious.
They also have a delightful bitter chocolate with orange chocolate. I am not much of a milk or white chocolate person so I can't speak to it as much.
But what I can say is that Turkey has some great options as far as chocolate goes. Not sure which one to get?
Grab a couple of different ones to test out during your trip to Turkey and buy a few at the end. Then everyone wins!
21. Natural Soaps
There are also a lot of really great soaps in Turkey. Make sure you read the label and look for organic or hand-made. There are many soaps that look like natural soaps but are not.
I have a local friend who actually makes all her soaps by hand with organic ingredients.
You can follow her on Instagram if you want to purchase some while you're here. She also has great hair oils and cremes.
Enjoy the smells and the rich softness a good soap brings! Don't forget your authentic Turkish bath towel to accompany it for the perfect gift.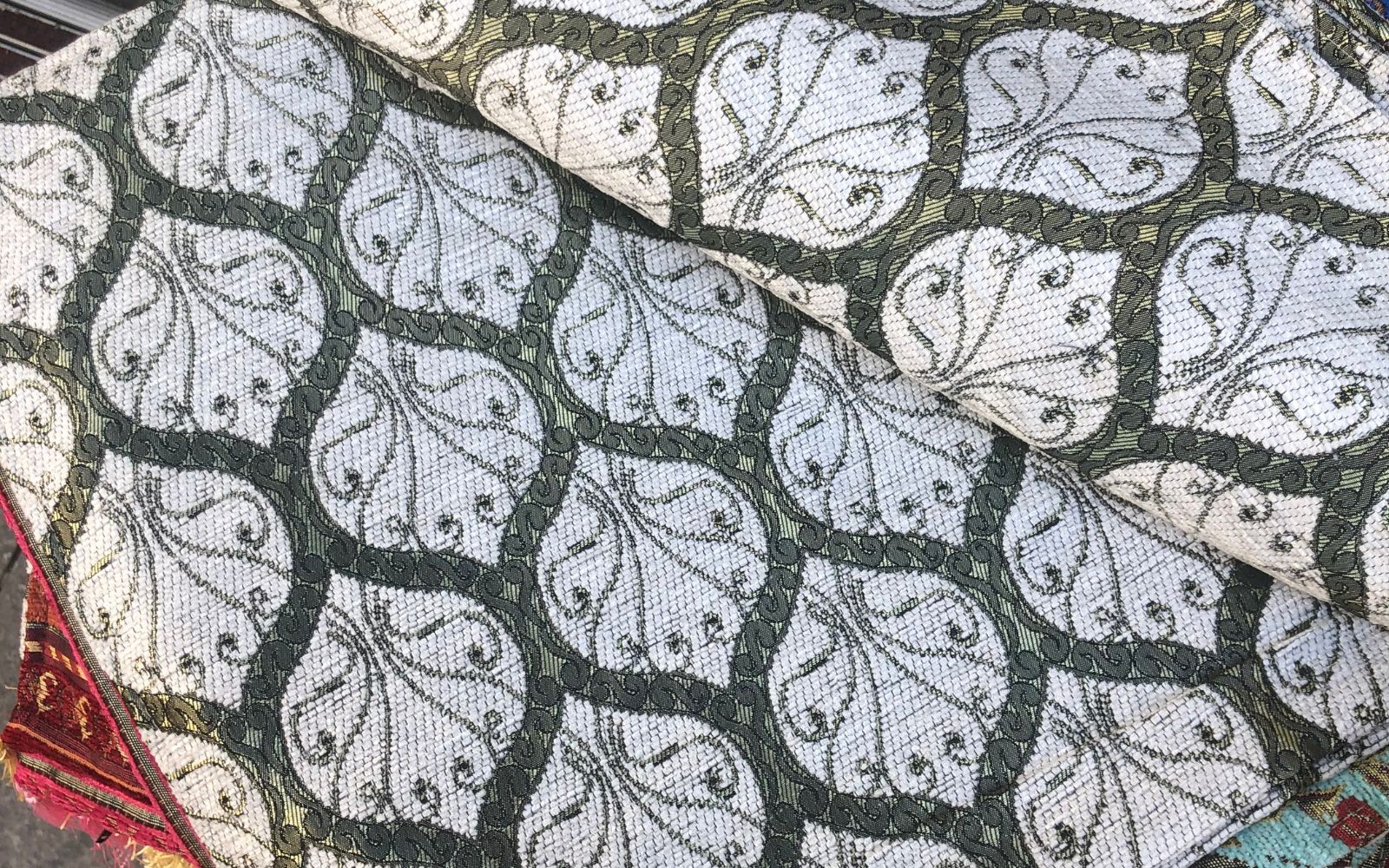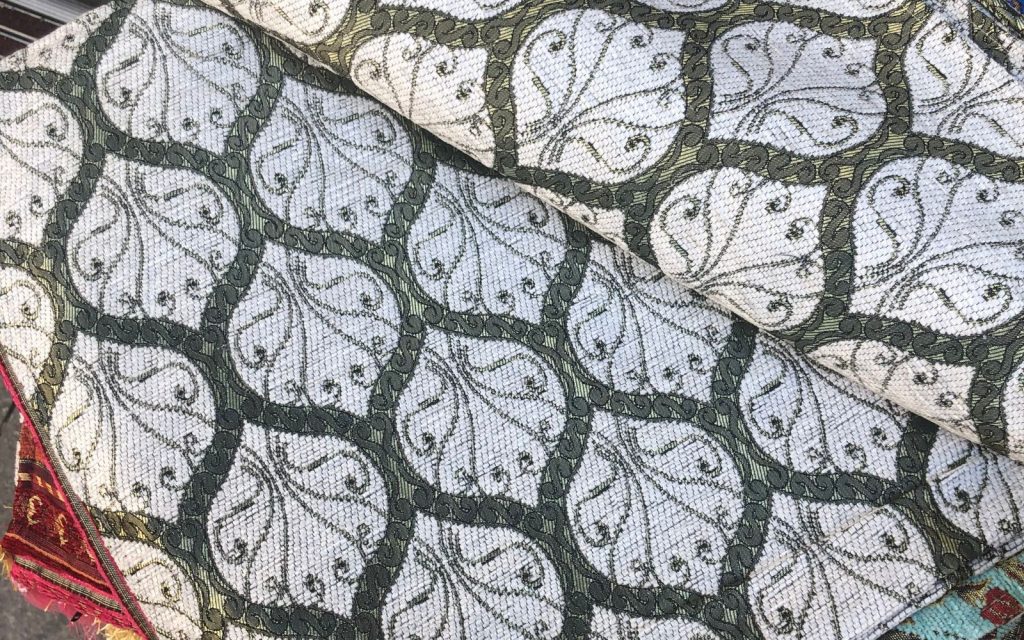 BONUS Gift from Turkey: Pillow Covers
As you're walking down the street you will see rug shops and often they will have some of the coolest throw pillow covers.
They are great to bring back as gifts if you know what style you're looking for.
The best thing is you can go home and simply stuff them with an old pillow or grab a cheap pillow and retrofit it. It's so easy.
Tips for shopping for gifts from turkey
Make sure you are prepared to haggle. Especially at the Grand Bazaar, it is expected. The prices are higher because you have to haggle. Keep these tips in mind:

Understand the market. Know a ballpark figure of what would be a good price. Know what you're willing to spend.
Remember it is honor/shame culture. Be respectful. While you want to get a good price, don't shame them into such a price that leaves them worse off.
If you really want something, play coy. If they know you want it, the price will reflect that. Be willing to leave if it isn't the price you want.
Make sure you don't give the first price and then you bid low. If you start low, they will move you more toward a reasonable price. But this may mean you need to shop around a bit and really understand the market first.
Make sure you ask for a bulk discount if you are getting multiple things from the same owner.
When haggling the price being discussed is a cash price. Realize that if you want to pay with a credit card it could be 10% more to cover the fees.

If you're traveling around, make sure you don't buy it all at the beginning of the trip. You don't want to lug it around with you everywhere. If you are traveling around Turkey, you will also be able to buy these amazing things in so many different locations.
If you save your receipts, you can turn them in and get a refund at the airport on the VAT, or Value Added Tax. That being said, you should make sure that:

You know what you're signing. If you don't, you just might be getting your VAT refund on the rug you just bought as your "discount".
If someone feels like they are trying to take advantage of you just walk away. There are great shop owners who will be true to their word.
Always get everything in writing. Unfortunately, because you're a foreigner, people may try to take advantage of you and your pocketbook. Protect yourself.

Take into consideration the conversion rate. Here is a currency converter to help.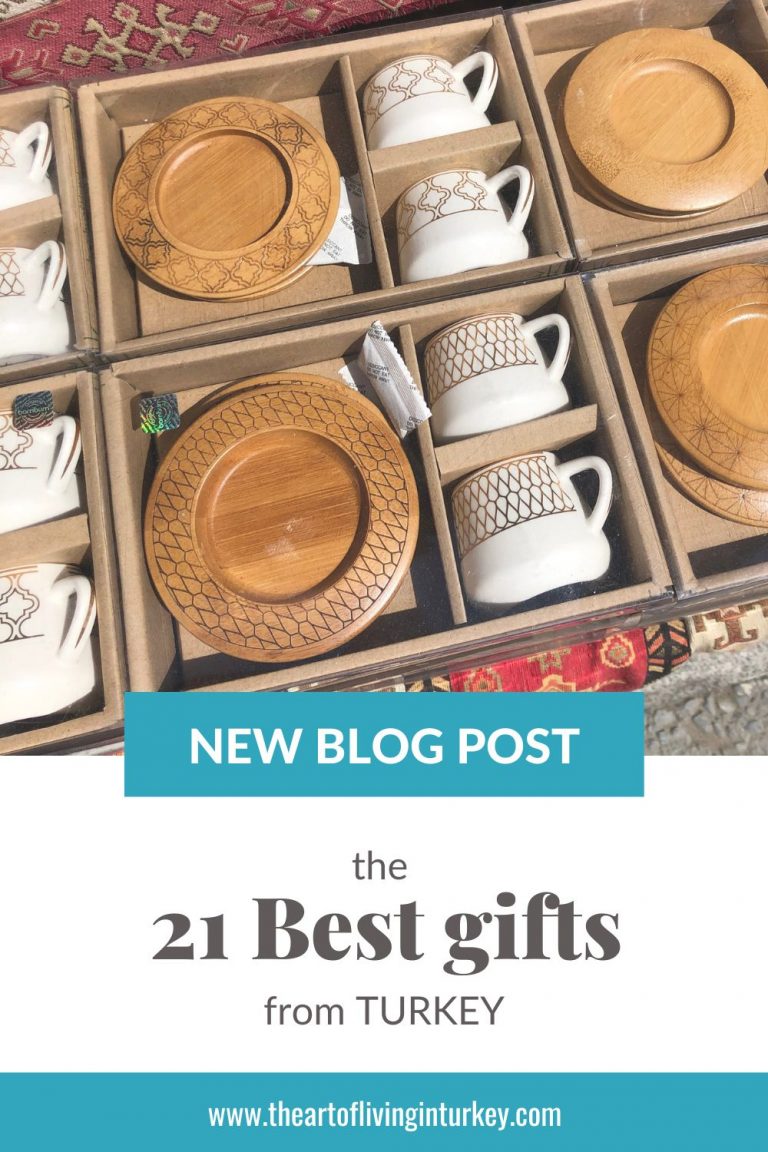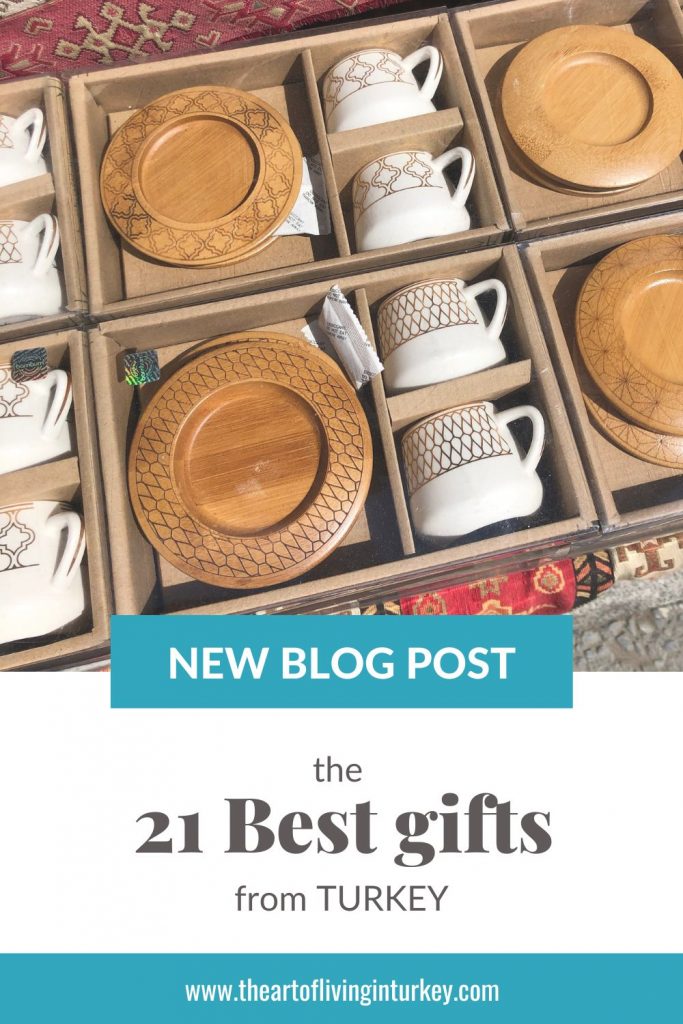 Resources for your trip
Know where you're staying?
There are some great places to stay in Turkey but they are always changing, which makes it hard to give specific places.
That being said, I like booking.com because of the genuineness of the reviews. There of course is AirBnB.com.
How are you getting around?
Public transportation is pretty great in Istanbul. In other smaller cities, there isn't as full coverage but there are still metros and buses in a lot of places.
If you're in Istanbul, you can get an IstanbulKart. Other cities also have their own public transportation cards.
If, however, you're wanting to do more wandering and exploring, then it would be great to rent a car. Make sure that you figure gas prices into your budget.
They are pretty high here right now. That being said, I have used DiscoverCars.com and had a great experience with them.
Travel Insurance
There are so many options and sometimes you need different things. That is why I like using TravelInsurance.com.
They work with many different providers and you can pay for only what you want/need.


I also like that it shows you actually customers' reviews of the policies. Some are definitely better than others. Take a gander and protect yourself.
Tours & Activities
While some people prefer to wander around and figure things out on their own, others really enjoy tours and activities.
The great thing about the latter is it gives structure if you're unsure of what to do.
That being said, make sure you go with someone who is reputable. There are two that I recommend. Get your guide has all kinds of activities.
You can search by type of activity, put in your dates and even see prices. They also have reviews so you can see how other people liked the activity.
But you may also be even more familiar with Tripadvisor. They are the world's largest travel site and help you discover great ideas for your trip, find places to stay as well as places to eat.
Flights
You can search for flights everywhere. Some websites like Kayak and Google Flights give good results but they don't have access to all the flights.
So you're always having to search around.
I have recently discovered WayAway. Much like every other flight aggregator, they won't show every single possible flight but there are some pretty great benefits. You can read my full review here.
Plus it was made by travelers, for travelers.
They have this cool PLUS program. If you join with my code artfullyliving, you will get %10 off the yearly fee.
But why should you get it?
Well, this plus program gives you cash back but not just on flights. They have partnerships with great sites like booking.com, car rentals, and tours.
Not to mention pairing it with money back while using a good credit card and you save even more!
---
I hope you found this list helpful!
When you're planning space in your luggage, you can always bring things for your expat friends here (because some things you just can't get here) and the upside is you will have guaranteed space for souvenirs when you go home!
Check out my Packing Travel Hacks and tips for international travel for more tips to help you get ready!
What are you most excited to check out for gifts? Did I miss anything? Drop a comment below.
read more:
Turkey vacation basics
When I plan a trip these are the websites I use. Hope they help you plan your next adventure as well!
FLIGHTS: I am a huge fan of Kayak and WayAaway.
VISAS: You can use the free e-visa portal here but for a few extra dollars you can use iVisa and someone else will handle any issues that may come up.
E-SIM: When I traveled to SE Asia I discovered e-sims and I'm never going back. Airlo has been easy and cheap! Use code "SEP15" to get 15% off on one booking.
TRAVEL INSURANCE: I use TravelInsurance.com for my trips abroad.
CAR RENTAL: I have loved working with Discover Cars when I rent cars in country.
ACCOMMODATION: Find the best Turkey hotel deals on Booking.com.
CITY TOURS & DAY TRIPS: You can browse GetYourGuide's website to find just the tour you're looking for!