Soups in Turkey: 7 Popular Turkish Soups That You Must Eat (2023)
Are you looking for some soups in Turkey to try at home or when you come to visit? Check out 7 soups that you must try!
The Art of Living in Turkey contains affiliate links and is a member of the Amazon Services LLC Associates Program. If you make a purchase using one of these Amazon links, I may receive compensation at no extra cost to you. See my Disclaimers for more information.
I don't know about you but soups always seem so comforting to me.
When I was sick I would eat chicken noodle soup and saltine crackers with Sprite. If you know you know. #IYKYK
Soups in Turkey hold similar sentiments.
As you will see from this list below, there is a variety of soups available in Turkey. This list is by no means exhaustive.
I have eaten my fair share of soup and these are my 5 favorites plus two extras that everyone loves but that I have yet to try.
When you come to visit Turkey, make sure that you savor the flavors of these delicious soups and soak up all their health benefits.
Not to mention, Turks will love you even more if you boast about how good their soups are as they are very proud to be Turks and proud of their food.
Soups are eaten at all times of the day as well as for holidays and everyday life.
Let's take a look at some Turkish soups I think you shouldn't miss out on.
1. Tarhana Çorbası
Tarhana soup is one easy-to-prepare soup as it is made from a powder that has previously been handmade.
Tarhana doesn't translate to anything in English.
It is made by taking vegetables, herbs, spices, and yogurt and mixing them together.
To make Tarhana they are spread out and allowed to dry out. Once they are dried out they will crush them into a powder.
It is typically made at the end of summer or the beginning of fall in preparation for the cold winter when the vegetables won't be available.
Because it was made from fresh veggies and herbs, this soup is very rich in vitamins and minerals.
Like most things in Turkey, the exact flavor will vary according to the region it is coming from. The vegetables available as well as local influence will be added.
It is also known to be one of the first foods that Turks will introduce their babies to.
Finally, because the powder is ready to go, the beautiful thing about this soup is that you can make it lickity split!
In a mere 10 minutes, you can have delicious soup as a side or your main dish for dinner. Check out this simple recipe
2. Ezogelİn Çorbası
Ezogelin is a traditional Turkish cuisine as well as one of my go-to soups here in Turkey.
This soup is often confused with Turkish red lentil soup because they look quite similar. While they both have lentils that is about where the similarities end.
The literal translation of ezogelin is Ezo the bride (gelin). There is quite an incredible story to go along with the name actually.
The story goes something like this. In 1909 there was a girl named Zohre who was born in Gaziantep.
She grew to be a beautiful young woman and was given the nickname Ezo because of her beauty.
She married but her beauty caused many problems for her and she was eventually divorced and back with her family.
Her father was quick to push her to remarry and ended up marrying a man on the southeastern border of Turkey. She longed to be home. She was sad and lonely.
During the war, she began to channel her sadness into cooking desperately trying to win her mother-in-law's heart.
She created this soup from what she could find in the kitchen at the time.
While she passed away in 1956, her recipe was well known as it made appearances in folk songs and to this day has been the subject of Turkish tv shows and movies.
Ezogelin is made from onion, tomatoes, bulgur, rice, mint, and lentils.
Of course, it too can change a bit by region but it is always served with a lemon wedge to add a squeeze of lemon juice to your soup.
Some will add butter, others extra spices. It is quite popular and is typically a staple on menus along with Mercimek Çorbası (or Turkish lentil soup) though most often the lentil soup is the yellow-colored one.
When you have the chance to try Ezogelin, take it!
3. Domates Çorbası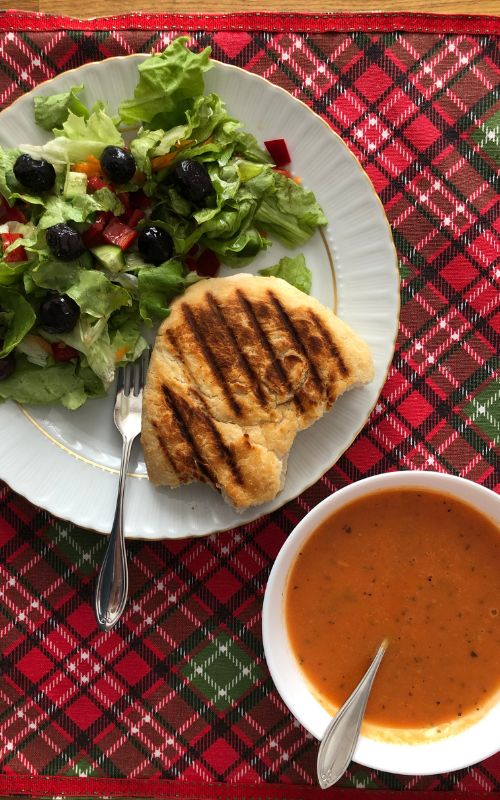 Or otherwise known as Tomato Soup. Who doesn't love some fresh tomato basil soup?!
It was always one of my favorites as an adult. Especially when accompanied by a grilled cheese, or as Turks call it, tost.
When you come to Turkey you will notice one particular thing about the vegetables here…the flavor is so incredibly rich!
In the States, I stopped eating cucumbers and tomatoes because they had become so bland.
But here, they are rich in flavor which means the tomato soup is unreal.
For those of you who are gluten-free, be careful because they will often add a touch of flour to the soup to thicken it up. Make sure you ask if it is "glutensiz" or not.
Typically Turkish tomato soup is made with tomatoes, onion, garlic, olive oil, salt, pepper, and some basil. Yuuuummm.
4. Beyran Çorbası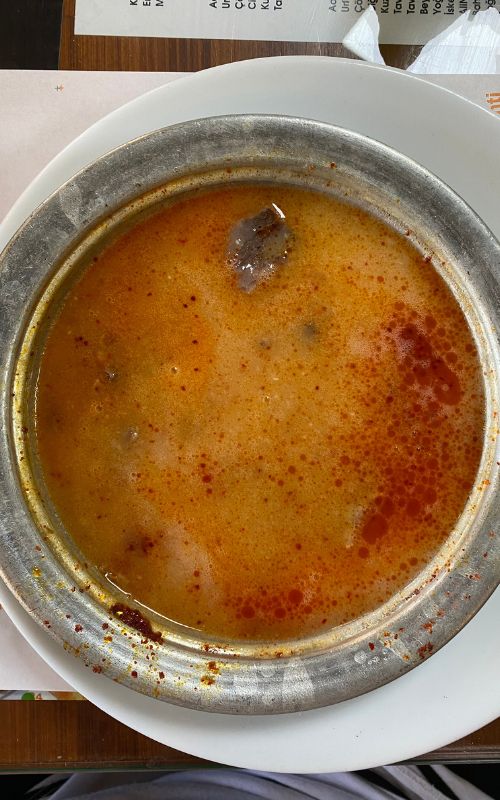 This soup holds a special place in my heart and is my absolute favorite soup.
When I first came to Turkey I was told I had to try this and soon after I was in love with this place.
This soup is often served in copper dishes and is known for being a soup you eat when you're not feeling so great.
Because it is made from lamb neck, you get all the collagen and richness of the bone broth as well as the delicious flavor of spices.
This soup isn't as easily found so if you see it, make sure you try it.
It is typically made of lamb neck, a touch of rice, butter, chili paste, garlic, salt, and pepper. It is typically served with some Turkish flatbread.
While it may seem quite simple and boring, the flavors that come together are quite delicious.
So much so that it is even often eaten for breakfast, especially in the Antep region.
5. İşkembe Çorbası
If you're into chitlins and love tripe, this is the soup for you. İşkembe Çorbası is Turkish for "tripe soup" and is often known as a great hangover cure here.
Beyond hangover cure, it is a popular soup, especially during Kurban Bayrami which is the Sacrifice Feast.
They will slaughter the animals and then use every portion of the animal. But make sure that if you're eating it, you're eating it somewhere reputable.
Because it is tripe, you really want to make sure that the tripe is completely cleaned before you eat it.
It generally consists of egg yolks, butter, flour, milk, water, and, of course, tripe. It is typically seasoned with red pepper, vinegar, and garlic to taste.
This is one I have not yet tried, nor do I plan on trying. I simply can't get past the texture. It's a non-starter for me.
But if chewy doesn't bother you, give it a whirl. I have dear friends who think this is the best soup ever.
6. Yayla Çorbası
I recently had this one for the first time. I needed to add a bit of salt to offset the sourness from the yogurt but it was quite lovely. This is one of my dear friend's favorites.
Yayla Çorbası, or Turkish Highland Yogurt Soup in English, is a creamy, flavorful, and comforting dish that is a standard in Turkish homes. Its name means High Plateau.
This traditional soup is made with yogurt, rice, a tiny bit of oil, a touch of flour, and herbs like dill, mint, or parsley. Of course, you add salt and pepper to taste.
It is another soup that is enjoyed throughout the year because of the lightness of the soup but also beloved by children. It can be enjoyed as an appetizer or main course.
It's also incredibly versatile – you can add your own favorite ingredients to customize the flavor!
Whether you're looking for something light yet filling or a unique way to use up leftover yogurt in your fridge, Turkish Yogurt Soup is sure to please any palate.
7. Kırmızı mercİmek Çorbası
Last but definitely not least, Red Lentil Soup. This was the first Turkish dish I made on my own and I was in love.
I honestly was quite skeptical because…well in America we don't really eat lentils all that much.
Or at least I didn't. When I tasted the flavors of this soup and knew how healthy it was, I was so excited.
This was the way I could get more fiber and protein in!
Lentil soup is often on the list at restaurants.
Sometimes it is green/yellow lentils and other times it is red. They are pretty similar in flavor.
Beyond it having a great flavor and being quite satisfying because of the protein and fiber, it is also an incredibly inexpensive soup to make.
If you're eating the red lentil version, they apparently have high levels of iron which is great for childhood nutrition.
You can add other veggies like onions, carrots, and potatoes and blend them together. Some people like to leave the lentils whole and falling apart but I prefer it blended well.
Definitely, one you can make at home or enjoy out!
BONUS: Balık Çorbası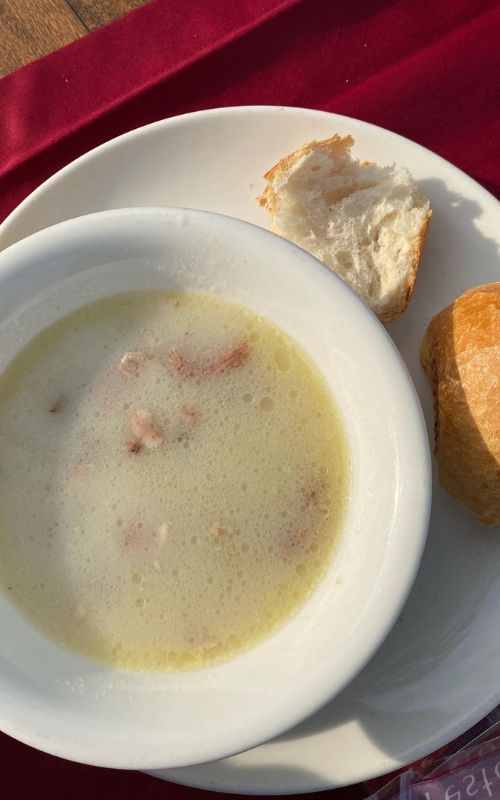 I'd like to add a bonus one. On a trip through the Black Sea region with a dear local friend, she introduced me to fish soup.
I grew up in Florida but unfortunately didn't appreciate fish until long after I lived there.
I missed out on so many opportunities. (insert sad chuckle)
My friend loves soup. Loves soup. Loves soup in the way that she typically doesn't eat a meal without having at least half a portion of a soup.
Thus we ate fish soup. And let me tell you, it was delicious!
Obviously, the closer you are to the water, the fresher it will be.
So if you're at a restaurant on the water, make sure you try the fish soup. It is all different, obviously dependent on what is in the season but it is so tasty.
---
As you can see, there is quite a variety. There are even some vegan or vegetable soups that are to die for and quite easy to cook.
But they all have rich flavors and most of them have some pretty great healing properties because they are so nutritious.
If you haven't tried any yet, try out this red lentil soup recipe. Then when you come, you can compare it to your own dish. Which one will be better?
Looking for more food blog posts? Check out this one on drinks in Turkey, food in Turkey, or desserts in Turkey.
Have you had any of the soups in Turkey or Turkish soups in your home country? Which was your favorite?!
Read more:
Turkey vacation basics
When I plan a trip these are the websites I use. Hope they help you plan your next adventure as well!
FLIGHTS: I am a huge fan of Skyscanner and WayAaway.
VISAS: You can use the free e-visa portal here but for a few extra dollars you can use iVisa and someone else will handle any issues that may come up.
E-SIM: When I traveled to SE Asia I discovered e-sims and I'm never going back. Airalo has been easy and cheap!
TRAVEL INSURANCE: I use TravelInsurance.com for my trips abroad.
CAR RENTAL: I have loved working with Discover Cars when I rent cars in country.
ACCOMMODATION: Find the best Turkey hotel deals on Booking.com.
CITY TOURS & DAY TRIPS: You can browse GetYourGuide's website to find just the tour you're looking for!