7 Spectacular Regions in Turkey: Enjoy a world full of life and rich culture
Disclaimer – The Art of Living in Turkey contains affiliate links and is a member of the Amazon Services LLC Associates Program. If you make a purchase using one of these Amazon links, I may receive compensation at no extra cost to you. See my Disclaimers for more information.
Are you wondering about the Regions in Turkey? Let me give you a brief overview of all 7 of them.
Each of the 7 regions in Turkey has different landscapes, climates, and so much more.
Because of this, you can see great variety within this one country. There are so many opportunities to see ancient sites, some dating back to 12,000 B.C.
Each region (Turkish: bölge) is broken into 81 smaller provinces (Turkish: il) which are then broken into districts (Turkish: ilçe) and then furthermore into neighborhoods (Turkish: mahellesi).
While most of Turkey lies on the Asia side (or Anatolian), there are three provinces that are fully on the European side of Turkey.
Istanbul and Çanakkale Provinces both have areas in both Europe and Asia.
Turkey is also bordered by 8 countries: Greece, Bulgaria, Georgia, Armenia, Azerbaijan, Iran, Iraq, and Syria, and its capital lies in Anakara.
In the image above you can see the 7 regions in Turkey and their approximate landmass respectively.
Marmara Region
This region's namesake is the Sea of Marmara, an island sea completely within Turkey's borders that separates the country's European and Asian parts.
While the Marmara Region has the second smallest area (8.5%), it also has the highest population (30.3%).
It is bordered by Greece and Bulgaria on the European side and by the Black Sea, Western Anatolia, and Aegean Regions on the Asian side.
Climate & Terrain
The climate in this region is partly Mediterranean and partly humid subtropical.
The regions are large and like will see with others can vary greatly depending on where you are within the region.
But because it is mostly on the water, the temperatures are much more mild compared to the rest of the country.
That being said, Summers are always hot, mostly dry but typically quite humid. The winters can be cold but that has changed in the last years.
Being an atypical Floridian myself, I have yet to buy a winter coat though there have been a handful of days that I thought it would be useful.
It is also relatively flat, with a few exceptions, though you don't always feel like it when you're walking up the hills to go to your Turkish lesson or carrying all the things back from the market down the street.
Food & Drink
1. Istanbul Street Food
Istanbul boasts some of the best street foods, easily found when you're a bit peckish. Make sure where you purchase food from is clean not necessarily empty.
My favorite 4 that you will often see:
Simit – similar to a bagel but thinner and absolutely delicious. Make sure you try different kinds because they are not all the same…but that will be for another blog.
Börek – ahhh a favorite! This is often eaten for breakfast but it can be found throughout the day. There are so many varieties and all are delicious. Typically they are savory though you will sometimes see a sade (plain) börek and they will sprinkle it with powdered sugar.
Tost – this is essentially grilled cheese. They are everywhere. They can have all kinds of stuff inside or just a plain cheese sandwich. Try different ones…which is your favorite?
Çiğ köfte – these are "meatballs" made from bulgur, tomato paste, and spices. It is the Turkish version of steak tartare though after food safety concerns the meat has been replaced with bulgur and ground walnuts. Vegetarians must definitely try it!
2. İskender Kebap
This is a famous Turkish dish named after the man who created it, İskender Efendi.
While you can find it in many places, try it Bursa since it's their specialty. It is thinly sliced lamb, cooked to perfection, mixed with butter-coated pita bread and a tomato sauce.
Then slathered in yogurt. Trust me. It's delicious.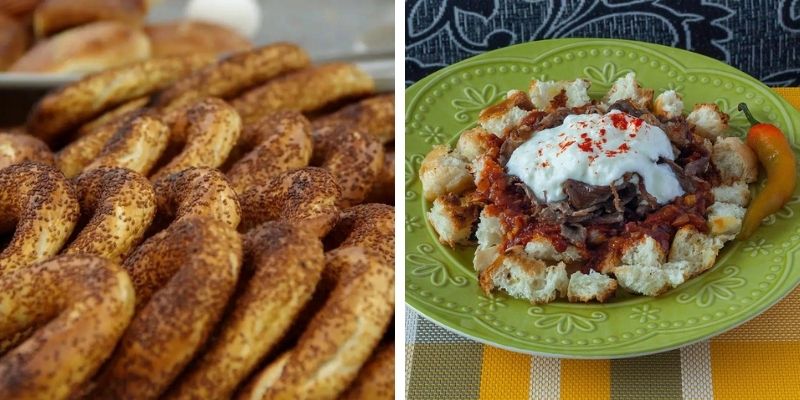 3. Yalova Sütlüsü
A sweet treat you simply must try in Yalova. It is a soft pastry that is soaked in coconut water, milk, and vanilla.
It often is adorned with pistachios which brings a nice contrast to the light color of the pastry.
famous places
There are so many! Of course in Istanbul, there are the ones that everyone knows…Hagia Sofia, Grand Bazaar (though I think the outdoor markets are better and where the local shop), Galata Tower and so many more in Istanbul alone.
Istanbul holds many incredible ancient sites, has delicious food, and boasts an easy-to-navigate public transportation system.
Istanbul is where all of Turkey comes to go shopping!
You can take a private Bosphorus cruise and see so many of the sights from your own private yacht for a quite reasonable price.
It is, however, not the only incredible city in this region.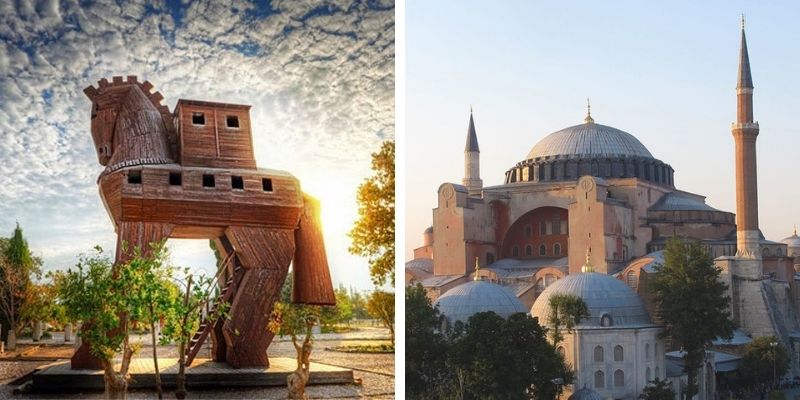 The Selimiye Mosque and its Social Complex are on the UNESCO World Heritage list.
UNESCO's website states that "the Selimiye Mosque Complex commissioned by Selim II is the ultimate architectural expression by the architect Sinan of the Ottoman külliye."
You also have the archaeological site of Troy, one of the most famous archaeological sites in the world, having been first unearthed in 1870.
It is known in Greek mythology for the setting of the Trojan War.
things to do
One of those exceptions to the flatness of the Marmara Region is the Uludag Mountain, the most prominent in the region.
Here you will find some great skiing Make sure to stop into Bursa on your way out and try some of their delicious foods!
There are so many places to site see. There are vineyards to visit (head over to the Tekirdağ Province), ancient sites peppered about and cultural experiences to be had.
You will even find some great island hopping in this region.
Kocaeli & Balıkesir Province have many natural attractions including bird sanctuaries, beautiful beaches, and hot springs.
Black Sea Region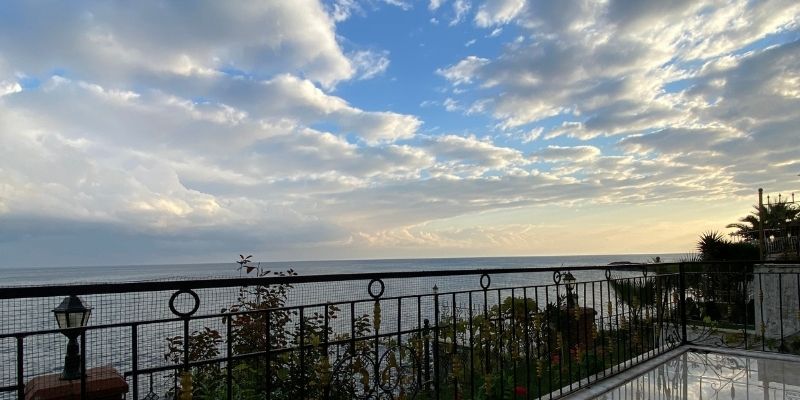 The Black Sea Region is obviously located along the Black Sea and is home to many small coastal villages.
Many find the Turkish accent quite different here and often hard to understand. It is for sure worth a visit though.
Check out this helpful video to hear the different accents throughout Turkey.
Another interesting fact about this region is that it is the only region where most of its inhabitants live in rural settings rather than urban ones.
It is bordered by 4 of the 6 regions in Turkey as well as Georgia.
Climate & Terrain
The Black Sea Region is often visited by many throughout Turkey during the summer months when trying to escape the intense heat and humidity that much of the country encounters.
Because this region has the Pontic Mountain Range, there is a higher elevation throughout this region.
The coast is rocky and steep, vastly different from the rest of the country in fact.
The coastal road through this region is one of the most beautiful scenes while driving through Turkey. So if you rent a car, make sure to drive down the D010.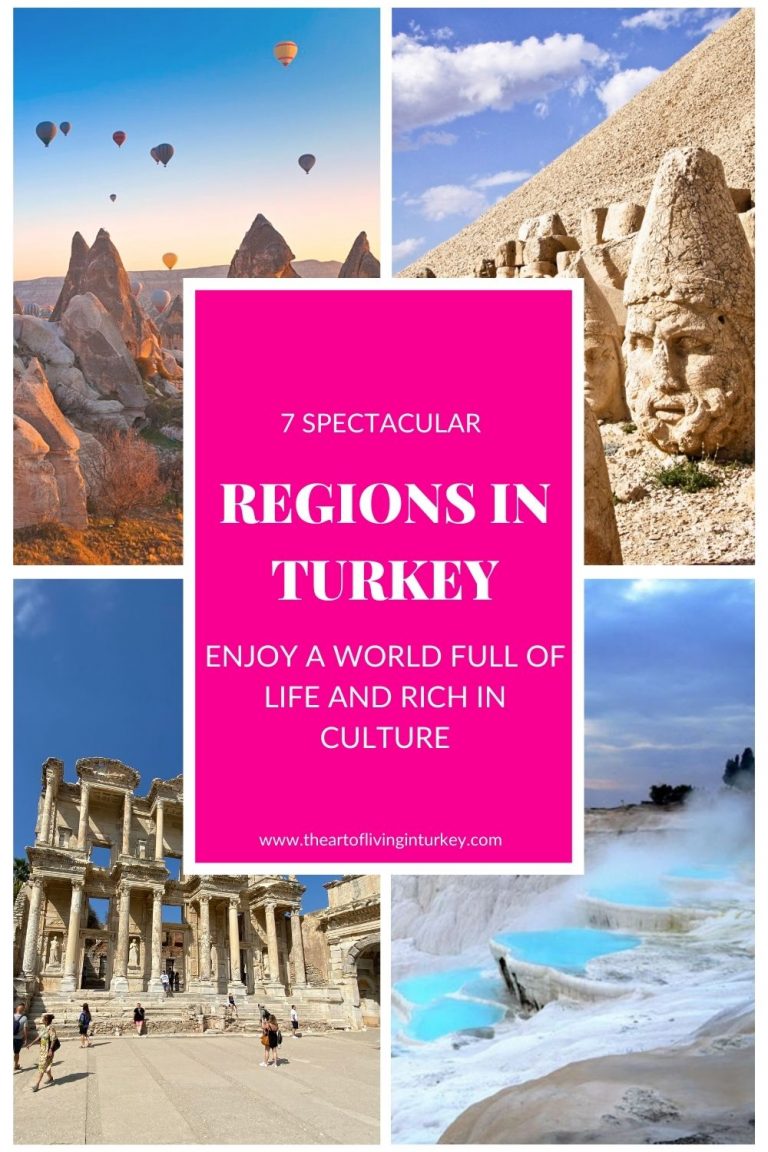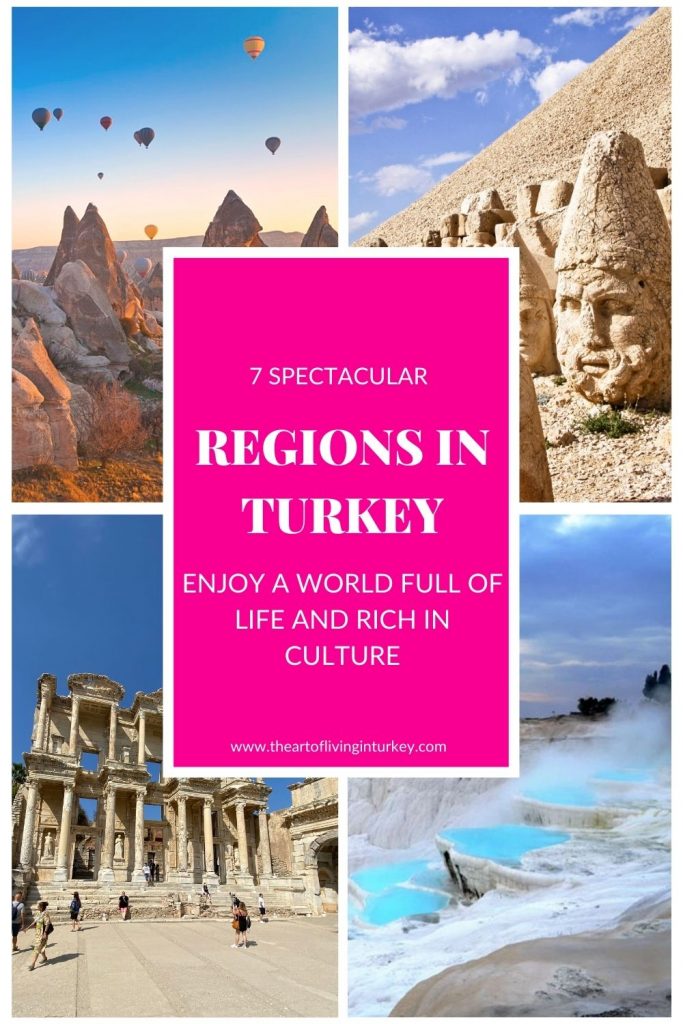 Food & Drink
1. Laz Böreği
Remember how I said that most börek is savory…well in the Black Sea Region the Laz people make one that is most definitely not savory and quite similar to baklava. Can you guess what it's called? You guessed it…laz böreği.
2. Black Hive Honey
For all you bee fans out there, make sure you check out black hive honey while you're in town.
This honey is produced with quality rather than quantity in mind. And because of the lush Black Sea flora, it is honey unlike anything else.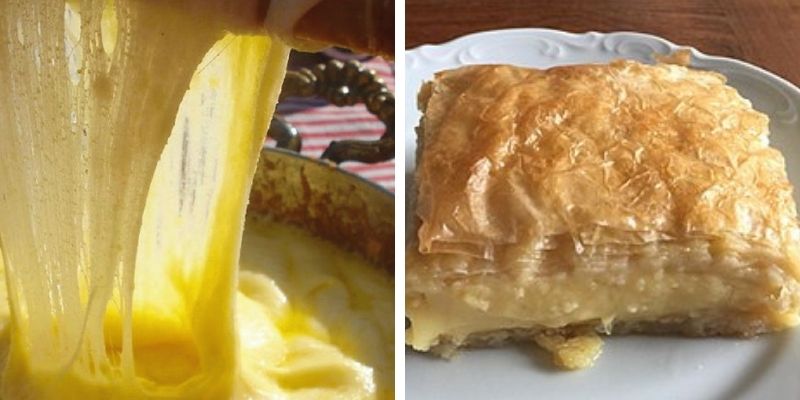 3. Kuymak
Or as popularly known as muhlama is very well known in Trabzon especially. It is cheese sauce like queso except quite stringy.
It combines Trapzone butter, cheese, and corn flour. Other places around Turkey will often substitute butter for milk, which obviously takes away a delicious flavor.
famous places
Here we will find yet another one of UNESCO's World Heritage sites. The Sümela Monastery in Trabzon was closed for renovations in 2015 and reopened in 2020.
It is an Orthodox monastery dedicated to the Virgin Mary. One of the reasons I want to see it is because it was founded in the 4th century. Amazing!
For all of you Alcatraz lovers, make sure you check out the Alcatraz of Anatolia…the historical Sinop Prison later was turned into a museum.
Considering when it was built, it is a feat in and of itself.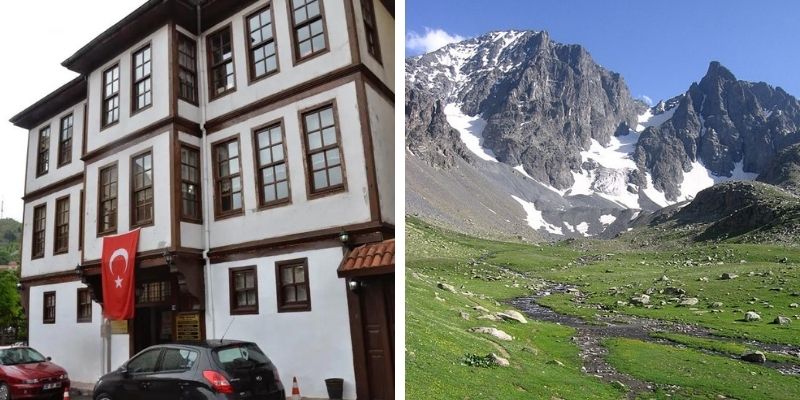 To get a feel of Turkey before it was Turkey, make sure you check out the Safranbolu Houses in Karabük.
You will step back in time to the 18th and 19th centuries, seeing well-preserved traditional houses, fountains, Turkish baths, and more.
The city of Trabzon is one worth visiting. It is one of the oldest ports in Turkey.
The scenery is beautiful and actually the setting for many of my favorite Turkish tv shows. There is much to explore and discover.
things to do
The Kaçkar Mountains boast one of the best trekking sites in Turkey. They are covered in ice and usually best hiked between June and September.
And what's more for outdoor lovers, this region has many different national parks full of hiking, canoeing, hunting, fishing, and rafting as well as the ability to see amazing waterfalls, forests, lakes, and rivers.
For history lovers, there are many ancient monasteries, mosques, and a few castles to see as well. Make sure you check out the Historical Mansions in Kastamonu.
Eastern Anatolia Region
This region has the largest landmass, with roughly 20% of the country's total, but it is also the least densely populated with only a meager 7.4% of the entire population.
This region borders the Black Sea, Central Anatolia, Mediterranean, and Southeastern Anatolia Regions as well as Georgia, Iraq, Iran, Azerbaijan, and Armenia.
Climate & Terrain
Given this region is home to the Pontus and Taurus Mountains, it has many high elevations, a more drastic climate, and is mostly inhabitable for humans.
Many of the mountains here are actually extinct volcanoes. You can see the lava flows throughout the region. It also has some of the most absolutely incredible views!
The landscape is covered with lakes, mountains (many of which are volcanos), rivers, and plateaus.
This region has cold winters and hot summers. In winter months it averages around -13 °F (-25 °C) with the lowest being around -40 °F (-40 °C).
In the summer, however, it is much hotter. You can typically find temperatures between 84.9 °F (29.4 °C) to 97 °F (36 °C).
The highs can reach up to 105 °F (41 °C) and cool off to roughly half that at 68 °F (20 °C). Make sure you drink enough water and use protective measures for your skin!
Food & Drink
1. Fresh & Dried Apricots
In Malatya, you have to check out the apricot orchards. Because of the fertile soil that is nourished by the Euphrates River, the apricots have such a rich flavor.
They utilize traditional drying methods and don't use sulfur in the process.
2. Kadayıf Dolması
This is a beautiful Turkish desert. It looks like rolled shredded wheat and is often stuffed with pistachios or walnuts.
3. Cağ kebabı
One that I am especially looking forward to trying is the Cağ kebabı. This special kebap originates in Erzurum.
It is made from lamb that has been marinated for 12 hours with onions, salt, and pepper. After it cooks on a horizontal skewer over a wood fire, it is sliced and eaten straight away.
YUMMMM….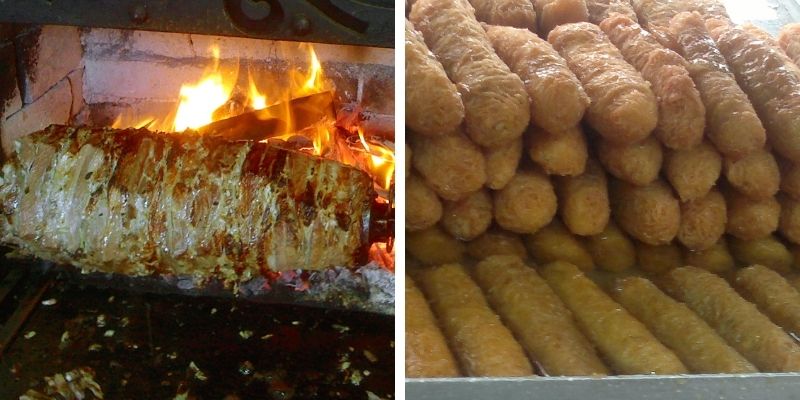 famous places
There are also a handful of well-known places in the Eastern Anatolia Region despite its rugged terrain or perhaps because of it.
Lake Van is one of the most sought-after destinations. It was actually formed after the explosion of Mount Nemrut Volcano.
Over time, the crater filled with water. The thing that sets this lake apart from the rest is that it is the largest saline soda (alkaline) lake on Earth.
Because of its alkalinity, the only fish that can survive in it is the pearl mullet which is also only found in Turkey.
If you go there between April and June you will see hundreds of these fish jumping barriers to go from the salty water to fresh water in order to reproduce.
Kars is known for its interesting Russian architecture and being the setting for Orhan Pamuk's famous novel Snow.
It is also one of the highest cities in Turkey! Make sure you take the short climb to the Kars Castle for an even higher view of the city.
And lastly, there has actually been speculation that Mt. Ararat, which had its last eruption on June 2, 1840, is the resting place for Noah's Ark.
No one has actually found it as of now though many groups have explored in search of such a discovery.
Allegedly even the famous explorer, Marco Polo, spent time searching for this piece of history.
things to do
If you're into skiing, you should definitely check out the Palandöken Ski Center in Erzurum.
You can go there from the first snowfall in November until roughly June. It is perfect because it is close to the airport, has the clearest weather and boasts stunning views.
Plus there is fishing, hiking, and site seeing in this region. A few places to see are:
The Church of the Holy Apostles
Harput Castle
Akdamar Island
Karanlık Canyon (Dark Canyon)
Bingöl Province, formerly known as Çapaçur Province. It literally means "a thousand lakes" in Turkish.
This is fitting given one of the famous things here are the floating islands. They are actually floating plants in the form of islands on one of the lakes.
They actually move much like a raft.
Southeastern Anatolia Region
This region is bordered by the Mediterranean and Eastern Anatolian Regions as well as Syria and Iraq. It comes in at the smallest landmass with only 8% of the country's total.
More often than not, with the tensions high in Syria, this region is often encouraged not to visit by the US State Department but it is still worth noting all of the amazing things about this region.
Make sure to check the security threat before you go.
Climate & Terrain
Here you will find long, hot, and dry summers with cold and rainy winters.
While the summer months in most regions are dry, this region is different because it is that "dry heat" that everyone in Arizona talks about reaching 105°F (40°C) quite easily.
Make sure you seek out the shade for some respite from the heat.
Because the central part of the region is quite mountainous and the Eastern part is flatter, again, the climate is affected.
The mountains that run through this region are the Taurus Mountains which are shared with the Eastern Anatolia Region.
You will also see many valleys and plateaus in the area of the Taurus mountains.
Food & Drink
1. All the Kebabs
In this region make sure you check out the nationwide renowned variety of kebabs.
As this is a very meat-dependent region, vegetarians may have a more difficult time here than in other regions.
2. Pistachios
Make sure you try the pistachios grown in this region. They are famous for being the world's finest!
And with that, make sure you don't miss out on the baklava that they are often used in.
3. Mumbar Dolması
If you're a fan of chitlins in the States (Do they do them in the UK?) make sure you try out the Mumbar Dolması.
While intestines aren't everyone's flavor of choice, they are well known in Batman as some of the most delicious you can find.
famous places
One of Turkey's most scientifically and culturally important discoveries is Göbekli Tepe "Potbelly Hill".
As of today, it is the oldest temple discovered that was built by humankind. It is currently estimated at 11,000 years old, nearly 6,000 years older than Stonehenge.
The Pool of Abraham in Şanlıurfa is the place many Muslims believe İbrahım (Abraham) was thrown into the fire by Nimrod.
Ibrahim (Abraham) is a very special person to practicing Muslims, Christians, and Jews alike, so this site is visited by Turks and tourists alike.
things to do
Nemrut Mountain is a famous volcanic mountain that actually created the crater that is now Lake Van.
It is on UNESCO's list because of the famous sculptures that are 8-9 meters tall on the summit. Definitely worth a looksy.
Make sure you check out Diyarbakır, where the old meets the new. There are many site-seeing places along with the rich history of the city.
The city walls, originally constructed by Constantine and enlarged by different groups along the way, are the second longest walls in the world only after the Great Wall of China.
They actually rank 1st in terms of wall height.
This region is also so uniquely different from the rest of the country.
It has a different feel and not being by water, you won't have that beach feel. It is definitely worth some exploration and see what strikes you!
Mediterranean Region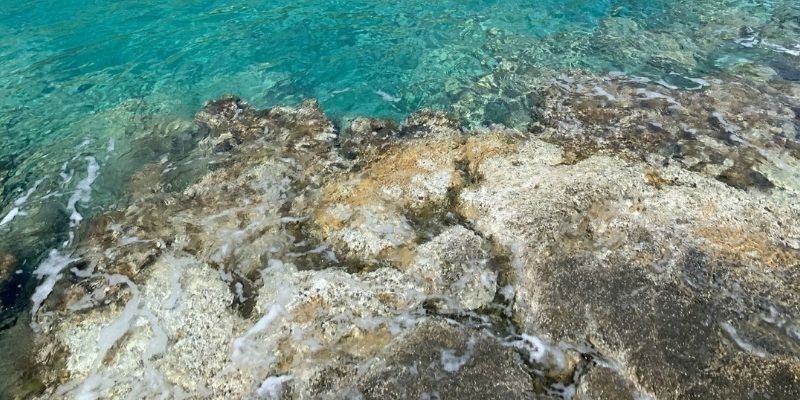 The Mediterranean Region of Turkey is one that has long been visited by tourists. Many foreigners actually purchase summer homes throughout the region.
With its beautiful views and blue water beaches, it is beloved by all, unless you can't stand the summer heat that is.
This region is bordered by 4 of the 6 other regions and Syria and is referred to as "Akdeniz" in Turkish.
Climate & Terrain
The terrain here is mountainous with the Toros and Amonos Mountains moving parallel to the sea. There are also many rivers and lakes throughout the region.
As you would expect, the summers here are also very hot and dry while the rest of the year is quite rainy with the most rain falling between October and April.
In the winter the coast rarely goes below 41°F (5°C) nor has any snowfall to speak of but further inland, especially in the Lakes District, you will find an entirely different climate.
Here it can be quite severe winters with a lot of snow.
Food & Drink
1. Adana Kebabs
While you can get it even in Istanbul, you will find that there in Adana, it is even better.
The meat is from a 1-2 year-old lamb, high quality, and eaten with delicious lavash, a type of Turkish bread. Of course with some veggies on the side.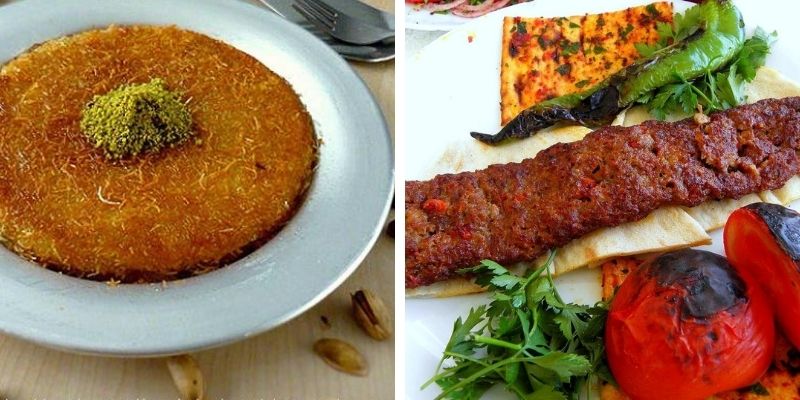 2. Künefe
In Hatay, you can have the world-famous dessert künefe. This is made from shredded wheat and a local unsalted künefe cheese.
Try it in a couple of places throughout the region and see if you can taste the differences.
You can also check out these desserts in Turkey.
3. Maraş Ice Cream
Another dessert you should try is traditional Maraş ice cream. It is made from goat milk, sales, and sugar.
The special flavor comes from the goat milk coming from goats who were fed with keven herbs and salep.
famous places
Here you will find Antakya (also known as Antioch). It is close to the Syrian border so make sure you check about the safety level and do your research before you go.
It is also home to the Mosaic Museum.
You will also find Perge, just to the east of Antalya.
It was an important city of Pamphylia but also many Christians may know it as one of the cities that Paul traveled to on his first journey through the region.
This region has its own share of UNESCO sites such as the Titus Vespasianus Tunnel in Hatay and the Ancient City of Sagalassos in Burdur.
If you love history, you will find no shortage of things to see throughout the region!
things to do
Patara is an ancient city that was one of the six principle cities of Lycia. It was a major naval and trading port in its day, just on the Xanthos River.
It also has one of the most beautiful sand beaches. It can get kinda windy though so make sure you go prepared.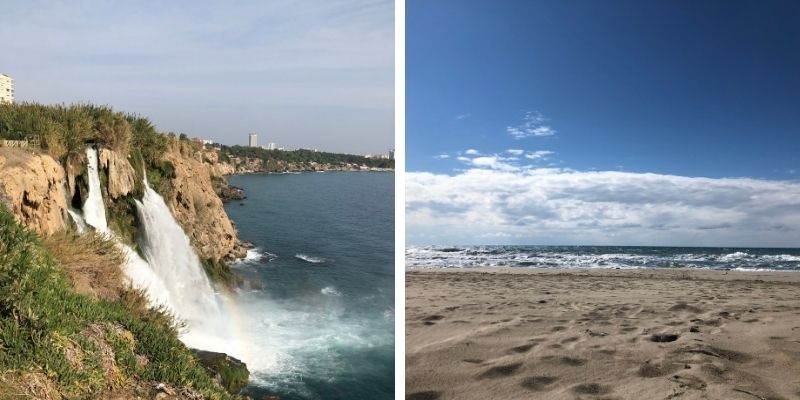 If you're staying in Antalya, there is so much to do! Düden Waterfalls are pretty epic as they spill over 40-meter cliffs into the Mediterranean Sea.
You can also check out the Old City in Downtown Antalya.
Then you can head over to Osmaniye to relax in the Haruniye Thermal Spring. It is on the Ceyhan River and surrounded by trees. Definitely a place for de-stressing.
You can also check out this post on Fethiye for even more ideas of fun things to do!
Aegean Region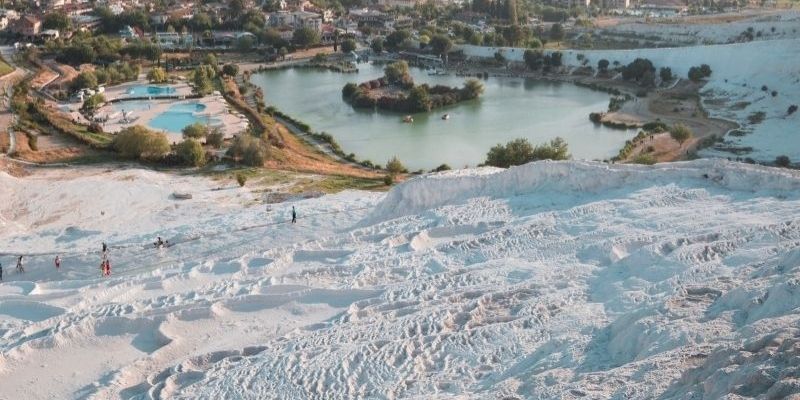 This region is bordered by the Marmara, Central Anatolia, and Mediterranean Regions. Because of the curvy coastline, it actually has the longest coastline of all the coastal regions in Turkey.
This region is bordered by the Aegean, Marmara, and Western Anatolia Regions.
Climate & Terrain
This region also has a Mediterranean climate meaning it is hot and dry during the summer and cool and wet in the winter.
The further inland you go the more drastic the weather becomes. Temperatures range from 57-97°F (14-36°C) in the summer and 40-68°F (4-20°C) in the winter months.
This region does have mountains though here they are perpendicular to the coast instead of parallel.
Because of this, the valleys between allow the sea climate to reach further inland.
Food & Drink
1. Olives & Figs
In Aydin make sure you have some olives and figs. Their figs are considered one of the best quality figs in all of the world.
You can buy them fresh at the beginning of summer. Also, nearly 60% of all the olive trees are in this region and are especially delicious.
2. Kumru
What makes it special is the chickpea flour in the bread, making it especially soft. It is typically stuffed with cheese, sucuk (Turkish sausage), and tomato.
3. Stuffed Squash Blossoms
Or as they are called in Turkish, Kabak Çiçeği Dolması. You will find them in Muğla. Dolma, as we talked about, simply means stuffed.
These are special because the blossoms are picked in the morning before the heat gets to them. If you want to try them, go in July!
famous places
Here you will find the 7 churches of Revelation with many more ancient Christian cities throughout the country.
The Library of Celsius in Ephesus is actually considered one of the Seven Wonders of the Ancient World. Definitely worth a see!
You can also check out Pamukkale. During the Roman and Byzantine periods, it was an ancient spa.
You can see the amazing calcite terraces full of warm, calcium and iron-rich waters.
The ancient city of Milet is a 3,500-year-old city that was known as the center of positive science and often as the city of philosophers.
Many famous philosophers, such as Thales, Anaksimandros, and Anaksimenes were from here.
In this region, you can also find the second-longest canyon in the world, the Ulubey Canyon.
It was formed after the breakdown of the graben of the Big Menderes River. You can get to it on foot or by dirt road. For those of you who love rock climbing, this is the place to go.
things to do
If you're wanting to come to check out the many ancient ruins and stunning countryside, make sure you come in spring or fall for the best weather.
All along the coast, you can find quaint fishing villages mixed with ancient civilizations. You can find olive groves and beaches.
This is a perfect place to explore without an agenda.
Check out the Bodrum Castle and Underwater Archaeology Museum. The Underwater Museum is one of few in the world and the only one in Turkey.
As far as museums go, this is a must-see.
Another castle to see is the Karahisar Castle. It was built on a volcanic mountain in roughly 1,350 BC and used to store state treasury during the Ottoman times.
Today it has become a wishing place for those who want to marry or have children.
You can also check out this post on Fethiye for ideas on a relaxing trip to the Aegean Region.
Central Anatolia Region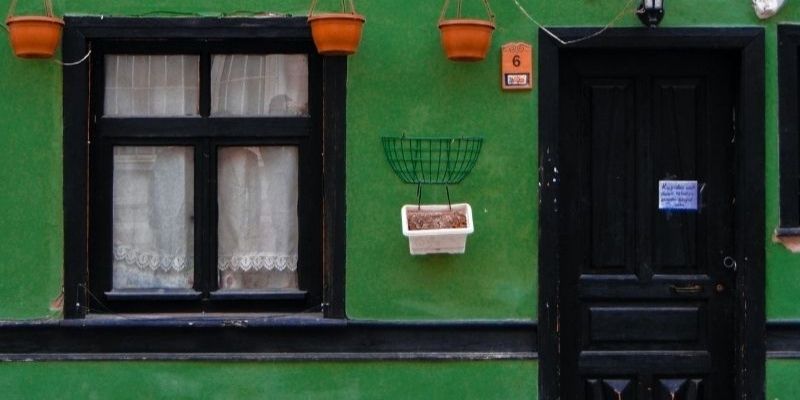 Last but certainly not least, we will talk about the Central Anatolia Region. Here you will find the capital of Turkey, Ankara as well as some amazing vacation spots.
This region is the second largest and has roughly 16% of the population.
This region is also home to Çatalhöyük, the first settlement ever found in what is today known as Turkey. It is understood to exist somewhere between 7,500 BC and 5,700 BC.
Climate & Terrain
The terrain is often called the plateau of Turkey but there is more variety than that. The average elevation is 500 m.
The Northern areas have a lot of woods and forestlands and agriculture is practiced in the river valleys.
Overall, the region has hot, dry summers and cold, snowy winters. It does, however, have 4 distinct seasons.
Compared to the rest of the country, it has pretty low precipitation year-round.
Because there is less precipitation and humidity, it often feels less cold than the humid coastal cities.
Food & Drink
1. Mantı
There is a traditional Turkish food that you can find anywhere you go in Turkey but it is especially famous in Kayseri.
It is a cross between a ravioli and a dumpling. Small bite-sized dough filled with ground meat and onions and usually topped with yogurt and a chili oil sauce.
Try it. You won't regret it!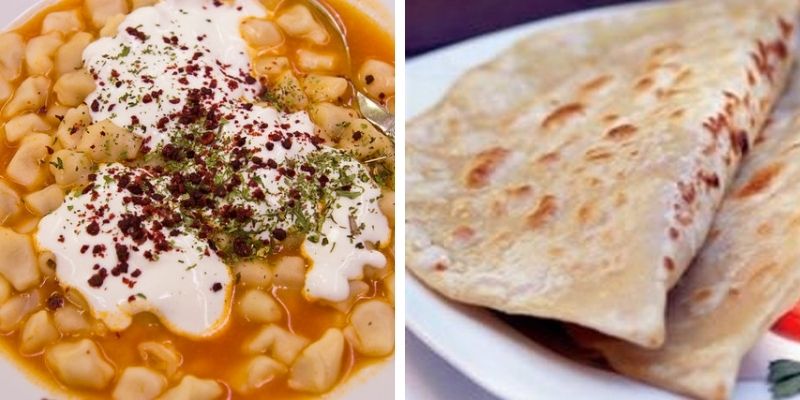 2. Testi Kebab
Most of the Kebabs that we have talked about are pretty standard but if you want to try something different…you should check out the Testi Kebab in Nevşehir.
It is cooked in a sealed clay pot that is broken by the waiter when he brings it to the table.
3. Tandır Saç Böreği
This is another specialty of the region. In Turkey, they have what they call gözleme which is similar to a quesadilla.
This börek is different because it is made like gözleme. It can be stuffed with anything but the traditional way is minced meat, tomato, egg, eggplant, and mushroom.
famous places
Konya is home to the Sufi order often known as the Whirling Dervishes. If you are fascinated with world religions and history, this is a must-visit.
You can go to the museum and learn all about it!
You can step back in time when you visit the Odunpazarı District in Eskişehir.
There is so much history but is also quaint with its traditional houses, fountains, and squares throughout.
Make sure you also check out the Atlıhan Bazaar, where you can find locally handcrafted art.
If you want more bang for your buck, you can always check out the Gök Madrasa in Sivas.
Here you will be able to see Turkish architecture and Turkish decoration art all in one place. It was built in 1271 and converted into a museum in 1926.
things to do
If you like lavender you should totally check out the Lavender Valley in Kırıkkale. It was established in 2019 so it is still growing but the smells are incredible!
If you come during the summer, you can check out Kentpark in Eskişehir. It is a massive park with an artificial beach and a swimming pool. Great for the kiddos!
Of course, there is always Cappadocia! It is filled with things to see and do. Hot air balloon rides, church tours, cave houses and SO MUCH MORE!
Be prepared though, it is more expensive than many places throughout Turkey given that it is such a tourist hot spot.
There is so much do to throughout the Central Anatolia Region whether it is visiting waterfalls, going for a hike, checking out Tuz Gölü (Lake Salt), playing in the valleys or climbing a mountain. For you outdoor lovers, you won't be bored here!
---
You will find so much to see and do within the seven regions in Turkey.
If you're ready to narrow it down, you can check out a few one-week Turkey itineraries to help you with your planning.
Though it is a little bit bigger than the state of Texas (1.2 times the size actually), it boasts a wide variety of things to do and see and rich culture and history.
It is a country known for its hospitality and warm people.
When you come in a spirit to learn, full of gratitude, the hospitality shown will blow the American Southern hospitably out of the water.
That being said I will leave you with a few final random tips (make sure you check out my other blogs with many more tips).
Bring a gift when you are invited to someone's house. It will really take you far in a relationship.
Turkey is the biggest leather producer in the world so stock up!
Don't buy antiques that are 100+ years old…it is quite forbidden. You are either being sold a fake or you will be considered part of the crime.
Come visit this amazing land and fall in love the way I have! You'll never be the same again. For more inspiration check out my posts on Turkish Drinks and Turkish Food.
– Kimberly