The Best Antalya Family Resort: Fun for everyone in the family
This contains affiliate links to trusted partners. They cost you nothing and help me provide you with excellent free content.
Are you looking for the best Antalya family resort? Look no further! Let me tell you all about my favorite.
I know how hard it can be to travel with kids especially internationally.
Somehow having to make sure everyone is happy and taken care of in a foreign language. It is a full time job in and of itself.
Having 4 children myself, and living in Istanbul, Turkey, I have become a bit of an expert.
As you get ready for your trip to Turkey with your family, let me tell you about this amazing resort we stayed at in Antalya.
You're going to absolutely love it…and so will your kids!
Haydarpasha Palace – the best Antalya Family Resort
Once you've done the traditional Istanbul-based sight-seeing with your kids (and you absolutely should take your kids to those sites), take a week and enjoy some real rest and relaxation as a family in Antalya.
After all the walking, navigating big crowds and public transit, put your feet up, poolside, and let someone else do the meal planning and the activity coordinating.
Antalya is warm and sunny most of the year, and it sits along the gorgeous, turquoise Mediterranean Sea.
It boasts lots of all-inclusive hotels, and many of them are a great place for families to rest and relax and enjoy some time together because they're designed with kids in mind!
If you can swing it, I even recommend booking this part of your trip with another family because if your kids are anything like mine, more friends means less fighting — win win!
What makes Haydarpasha so great?
There are so many reason but here are 5 that make this a fantastic destination for families: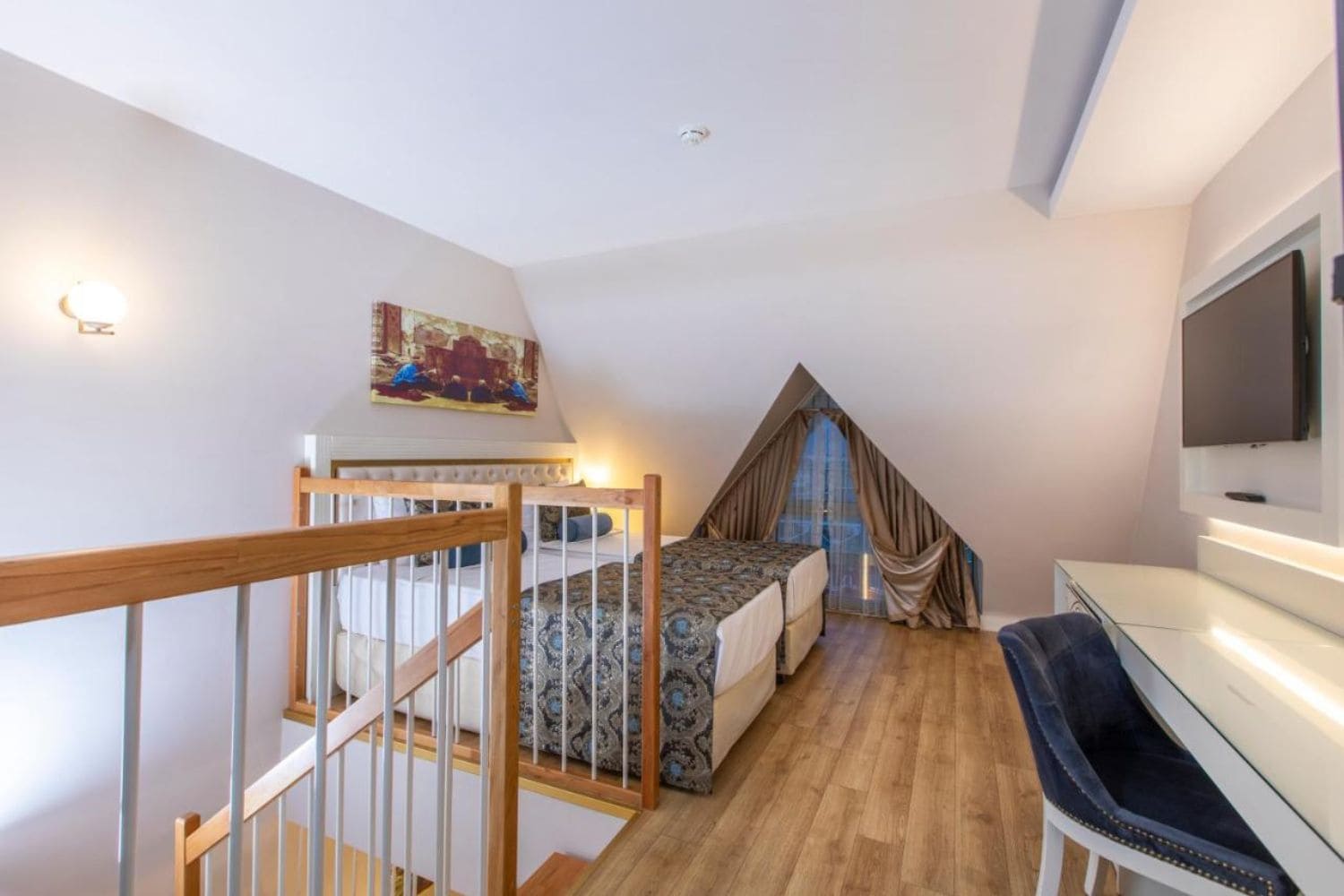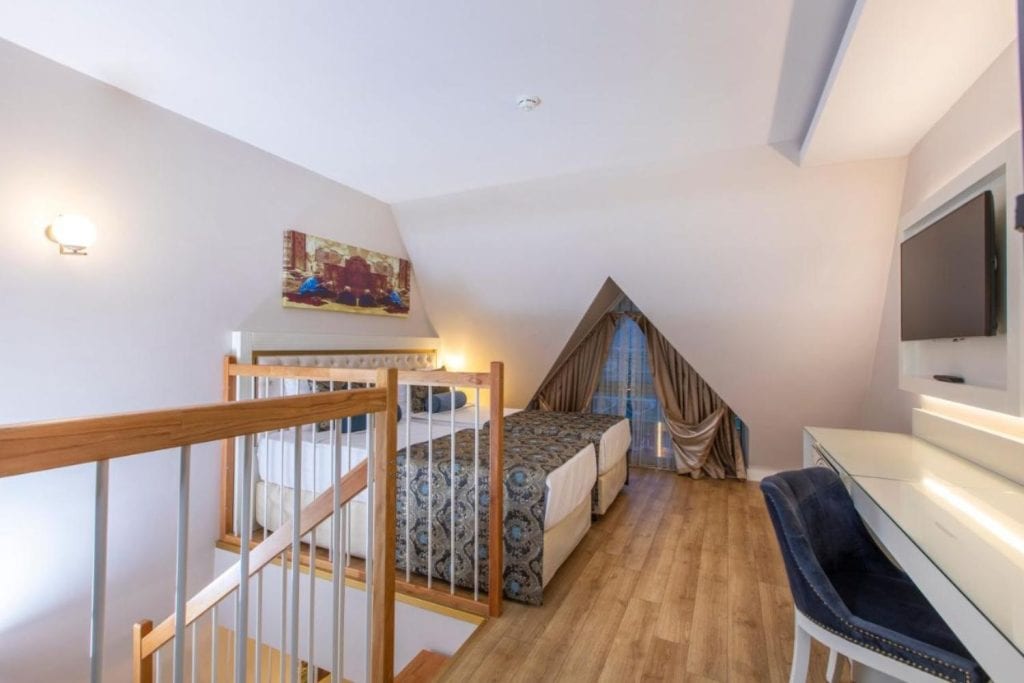 1. Family-style suites that give kids and parents separate spaces
One of the most difficult things about traveling with kids is just finding an appropriate place to stay.
Putting everyone in one room often means no one is sleeping well, and that's no way to vacation.
Check out the accommodations at Hydarpasha Palace that offer kids their own bedroom, their own bathroom, and a door that opens up to mom and dad's space!
These suites are secure, private, clean, and perfect for families.
2. Kid-friendly food at all times
There are specified meal times for eating in the main dining area, and the gorgeous array of food choices can almost be overwhelming.
There are hot foods, cold foods, fresh fruit and salad options, fish, pasta, stews, and so many desserts it was hard to know what to try first!
Also available are kid-friendly choices like plain pasta and sauce, chicken nuggets, fruit, French fries, grilled cheese, etc, alongside the more sophisticated options for mom and dad (or kids with a more adventurous palette).
But even if you're traveling with a picky eater who's off his or her schedule, or if you want to avoid the crowd at the main dining area, things like fruit, salad, burgers, and pizza are available at many of the other cafes and restaurants on-site, all day long.
There's even an ice cream bar.
Boom, everyone's happy.
3. Supervised activities / babysitting
One magical thing about traveling with kids in Turkey is how much Turks really do love children. They genuinely want your kids to be happy all the time.
So they offer activities in the kids' area by the splash pad, and you can drop off your precious little dumplings at specified times in the day and let them play games and make crafts with the trained (and English-speaking) staff there.
Meanwhile you and your partner can enjoy the adults-only swimming pool, visit the coffee shop, or take a peaceful walk on the gorgeous Mediterranean beach, all without leaving the hotel grounds.
4. Floatie-friendly pools and water slides
The pool is massive, with plenty of room for everyone, and the staff is perfectly happy for your little ones to float on and enjoy whatever rainbow-colored inflatable mythical creature he or she currently prefers.
Bring the diving rings, the water guns, all of it — just be sure to throw a spare in your suitcase, as the toys and floaties available in the on-site shops can be a tad pricey.
There is water-based fun for all ages, from the toddler-friendly splash pad to a water bouncy mountain to massive slides that even mom and dad might like to go down a few times.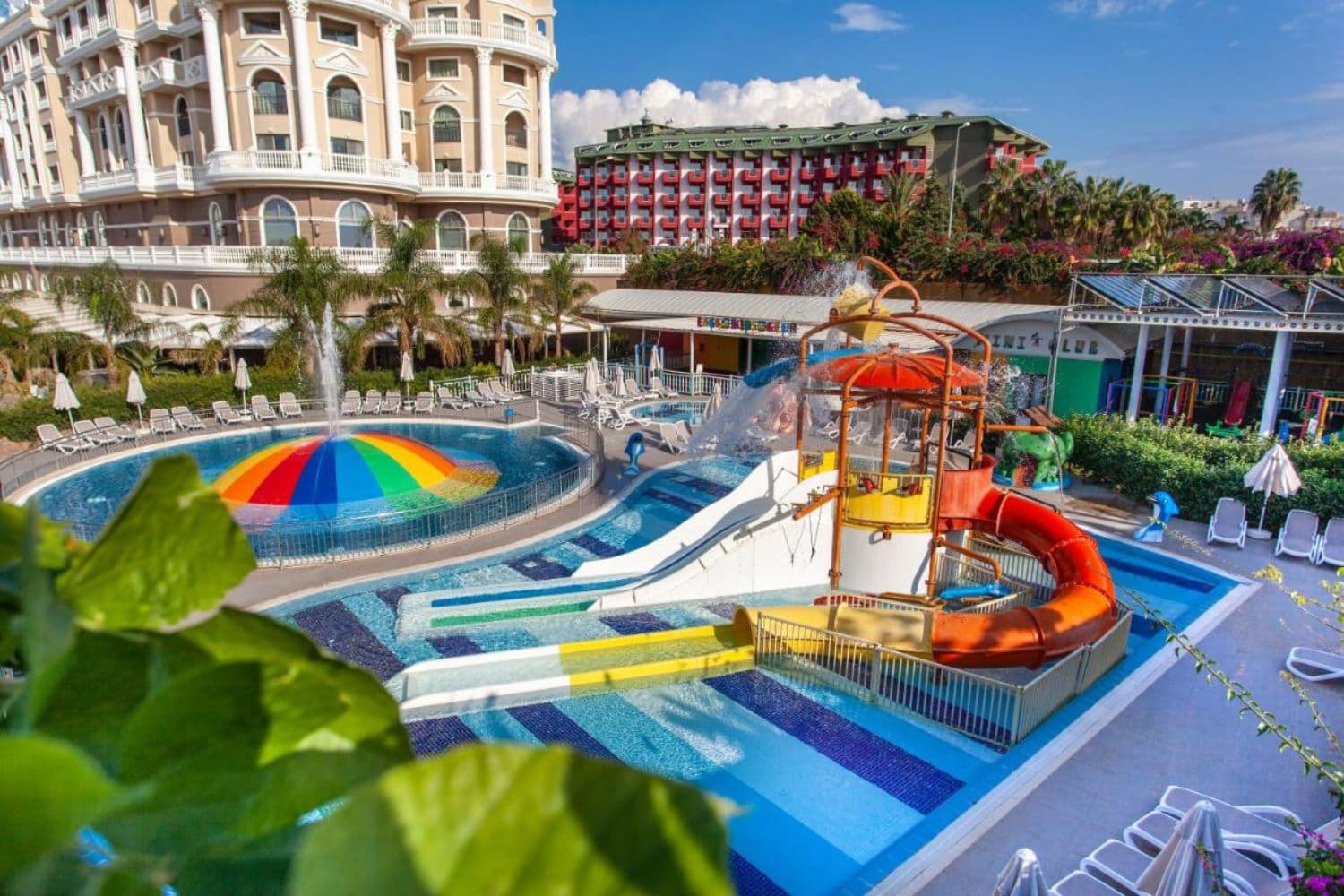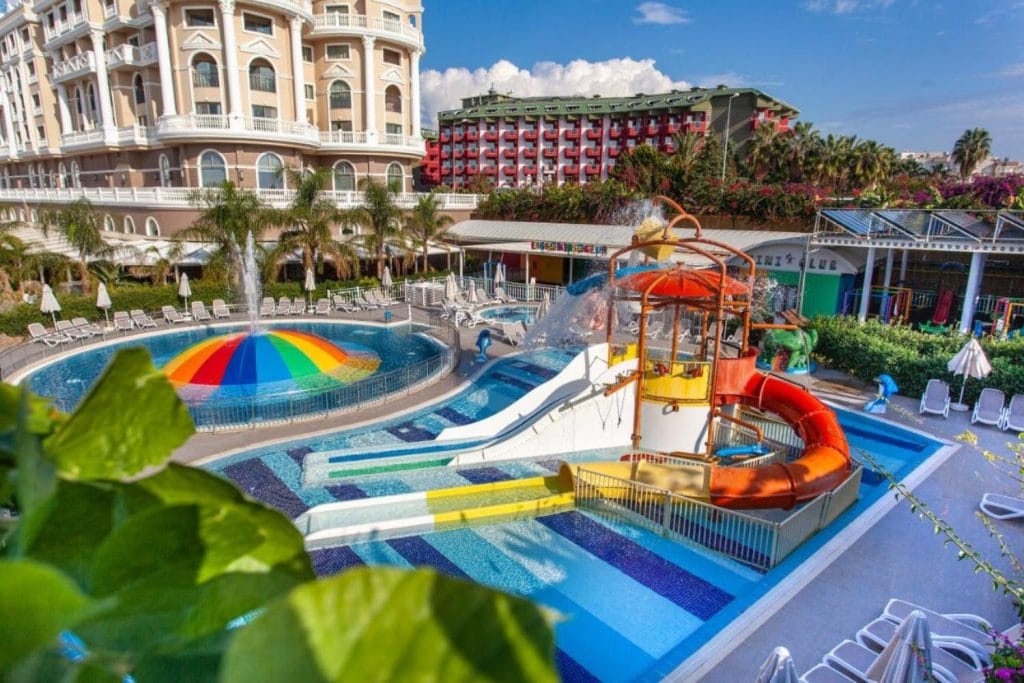 5. Special drinks
I hesitate to include this as an "attraction," but my kids are still talking about the "kids cocktails" that were offered at the poolside bar (in plastic, pool-safe cups, of course).
The special drinks had different names, like the Mickey Mouse and the Cinderella, and were various mixes of Sprite, fruit juice, and flavored syrups. Our kids felt so, so special, floating in their colorful inner tubes, sipping their kids-only drinks, soaking up the sun, and it just reminded me how truly family friendly these kinds of special places in Turkey are.
Those details matter, and they mattered a lot to my kids.
There are many all-inclusive hotels in Antalya, and the details of their accommodations will vary of course, but our experience was at the Haydarpasha Palace.
So if you want to enjoy a week on the Mediterranean coast, soaking up the sunshine and sipping Mickey Mouses along with your kiddos, book your stay there — and see if you can get some friends to come with you!
A word of warning:
As beautiful and relaxing as these all-inclusive places can be, there are a few things that could cause some stress.
1. Packed House
If you come during peak summer months, be prepared for the place to be full. It doesn't mean you can't find a quiet spot, but it might mean that your pool chair is in the second row.
2. Different Cultures
Europeans and Russians especially enjoy Turkey as a vacation destination, with good reason, but you should be prepared to encounter families who vacation differently than you — like, in a Speedo… or letting naked toddlers splash in the baby pool… or waiting in line "differently" than you do.
This is another reason to plan your trip with a family friend — so you can laugh about these cultural differences together!
Either way, put on your Patient Pants and don't let it get under your skin.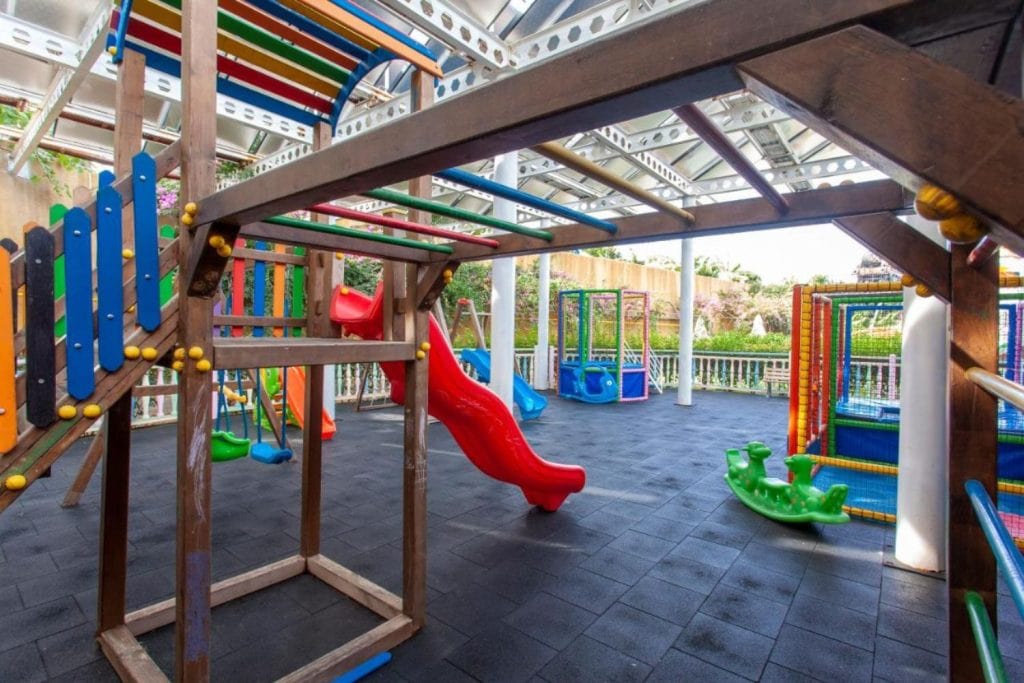 3. Get the best rooms
I recommend asking for a room on the outside wall of the U-shaped hotel.
The inside wall will offer a better view of the pool, of course, but the nighttime entertainment (which is sort of night-club-ish) can be very loud, so kids will likely sleep better further away from all that.
For travel details, talk with the hotel! They're very helpful, and they'll often arrange transport to and from the airport to make life even easier for you.
---
All inclusive resorts are definitely a great option if you're looking for a hotel that everyone in your family can enjoy…especially if you go to one like Haydarpasha Palace.
With it's indoor and outdoor pools, play area, kids' club and water park, you are all sure to find fun in the sun. (The outdoor pools are seasonal so make sure you check if you're going off season).
While it doesn't have private beach area, there is an underground tunnel to grant safe beach access.
This family resort hotel is sure to please as it ticks all the boxes. Your kids will be happy which means you'll be happy.
Before you come check out a few things you should know before you visit.
Have you been to the best Family Resort in Antalya? I'd love to hear about it!
– Kimberly