Turkey Belly Dance: A look into this unique style of dance (2023)
Are you curious about Turkey belly dances? Look no further. I've got you covered.
Most cultures have dances that they are known for. Even within subcultures, you will find specialties.
For instance, if we are talking about America you will see subcultures like Texas being known for the Two Step whereas if you look to the Northern East Coast you might know them for East Coast Swing.
And so on.
While Turkey is known for a few different dances, one of them is the famous Turkish style of belly dancing.
Since living in Turkey I have been able to both watch belly dancing and take a lesson. It isn't something my body naturally does but it was fun!
As we dive into this topic you will understand where this tantalizing dance comes from, how it is still practiced and so much more.
For those of you who are making your way to Turkey for a visit, I'll make sure to include a couple of great places you can check out a show if you're so inclined.
Without further ado, let's jump in!
6 Must-Have travel accessories for Under $25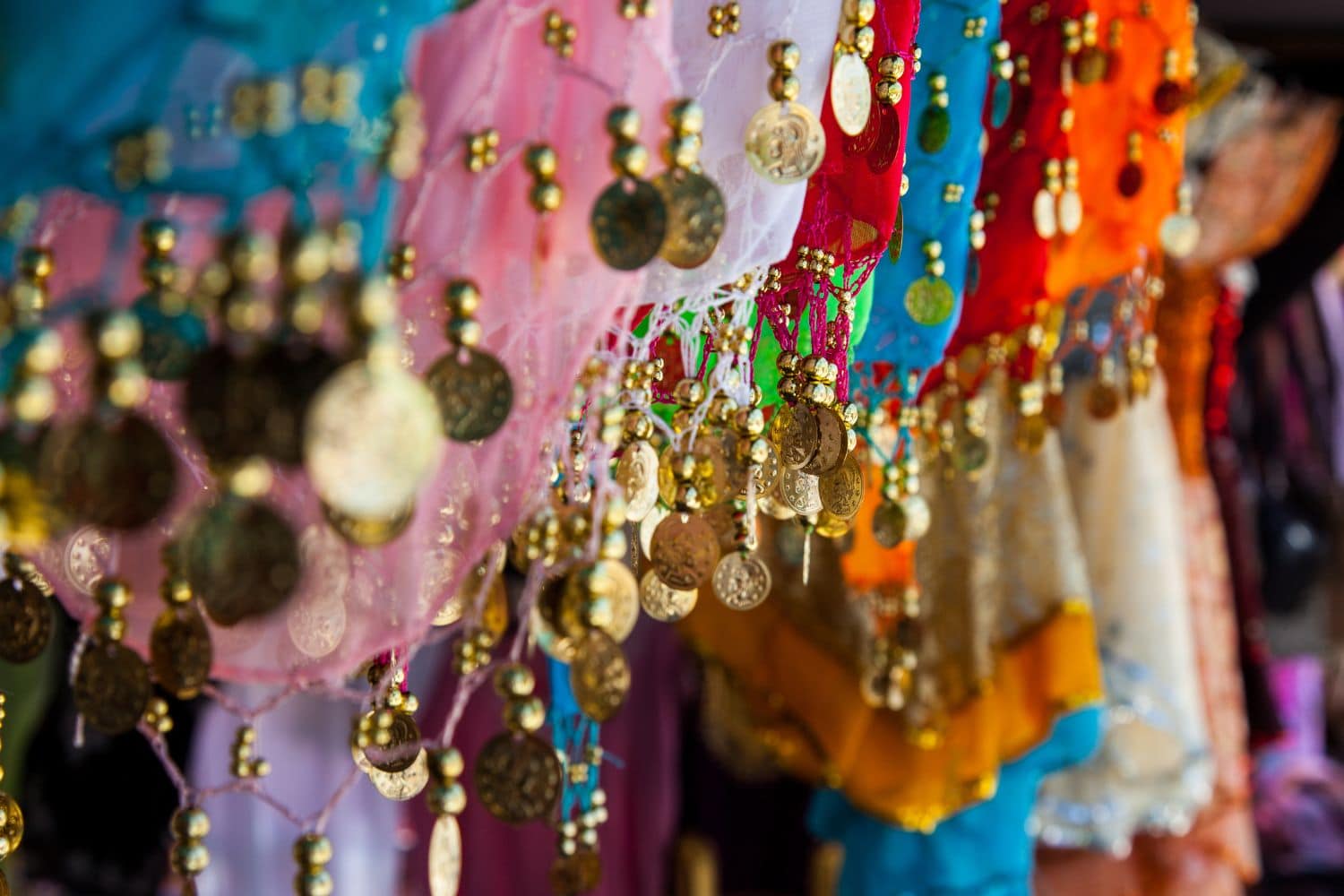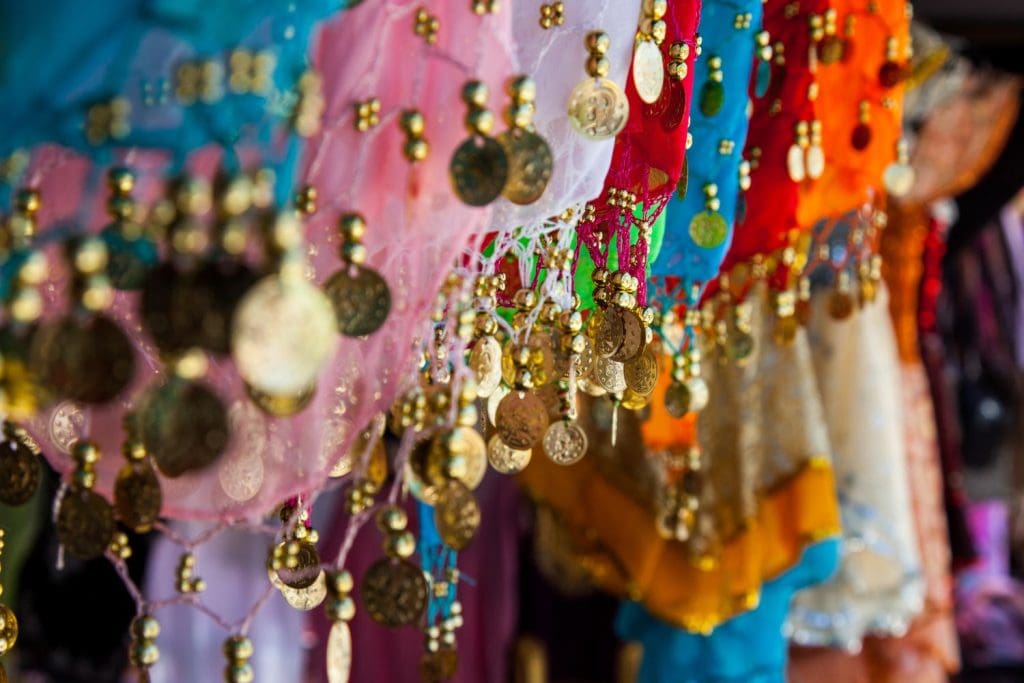 What is Turkish Belly Dancing?
Turkish belly dancing is not just your typical hip-shaking dance; it's a whole vibe on its own.
What we know today as the Turkish style actually originates from the opulent harems of the Ottoman Empire.
Its contemporary form is more aligned with its Romany (Gypsy) lineage rather than its Egyptian and Lebanese counterparts.
It, also known as Rakass, was the globally recognized Ottoman oriental dance.
Turkish belly dancers know how to effortlessly isolate and sway their hips, twirl their arms, and shimmy their torso. Not to mention they bring a whole lot of sass to the floor.
It's all about the precise and fluid movements that make your hips sway and undulate most gracefully.
One of the signature moves is the Turkish backbend where the dancer gracefully leans backward, defying gravity and leaving you in complete awe.
And if that's not impressive enough, get ready for the Turkish drop. It's a sudden and breathtaking move where the dancer quickly drops to the ground and then springs back up like magic.
Unfortunately, the latter can be quite hard on the knees so I don't recommend you try it on your own at home if you're not really limber already.
Turkish Style vs. Egyptian Style
Now, when it comes to styles, we've got the Egyptian/Lebanese style, the Turkish style, and the Romany (Gypsy) style at play.
The Egyptian style is all about graceful, flowy movements that will leave you in awe.
This style has more restrictions regarding how they move and what they wear.
On the other hand, the Turkish style is all about energy and spice.
Here the law allows for a bit more freedom and doesn't restrict the movements or what they wear. It's like a firecracker exploding on the stage!
It has a flavor of its own, blending elements of traditional Middle Eastern dances with a sprinkling of Turkish culture.
One thing to note is the lack of shimmies in the Turkish style and a stronger emphasis on pelvic movements.
Oh, and speaking of Turkish-style belly dancing, we can't forget about Karshilama.
This is a specific rhythm that is associated with a popular folk dance that's often incorporated into belly dancing routines.
Imagine a bunch of people, shaking their hips and stomping their feet in perfect unison. It's a sight to behold!
So, if you ever find yourself at a belly dancing performance, be prepared to have your mind blown.
Trust me, you won't be able to resist tapping your feet and trying out a few moves yourself.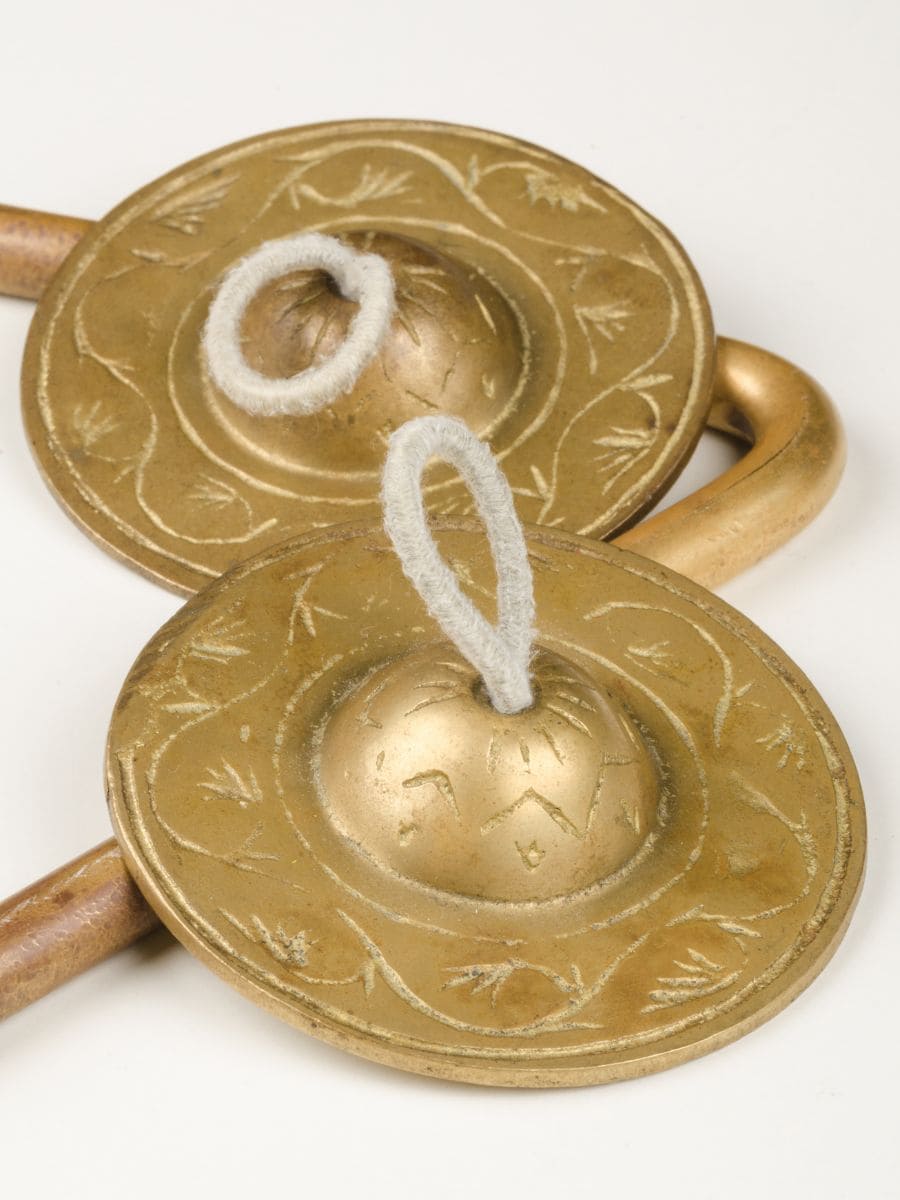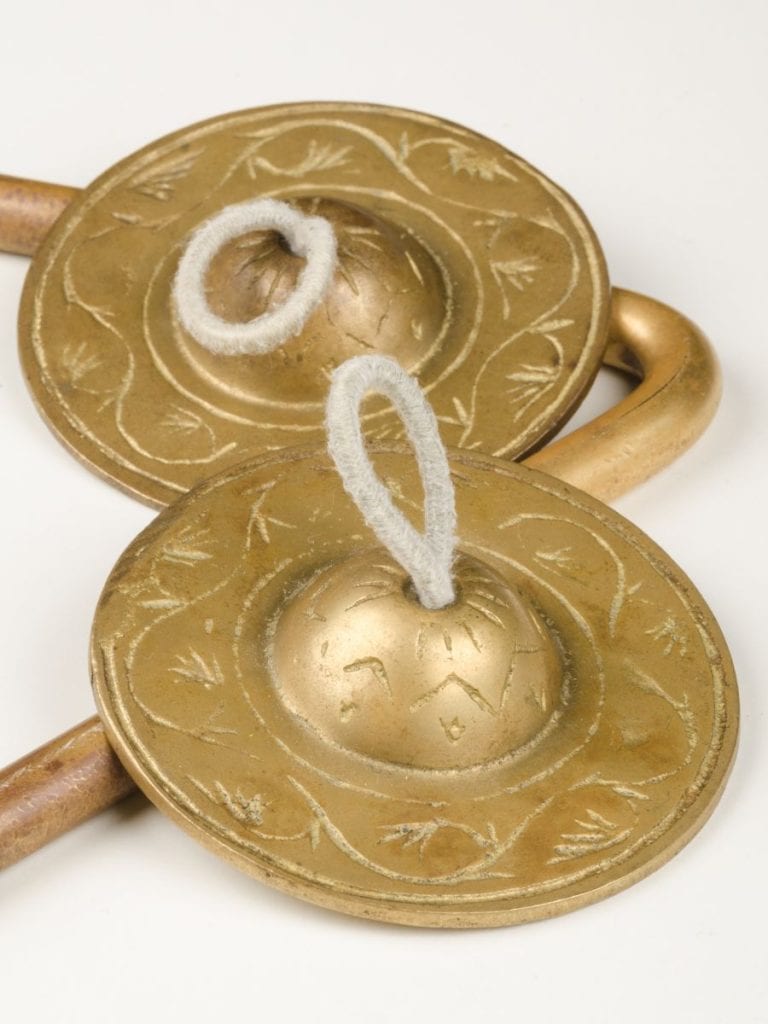 Dancer Costumes and finger cymbals
Because there are fewer restrictions in Turkish dance, Turkish dancers wear some of the most provocative costumes within the cabaret styles.
Historically they have shown a lot of cleavage and leg and are often adorned with beads and coins to make noise as they gyrate their bodies.
Belly dancers in Turkey are also especially adept at using the finger cymbals, zil in Turkish.
Turkish Music
The music that accompanies this dance is simply addictive, with its hypnotic beats and enchanting melodies.
The instruments that are most often used are the oboe, clarinet, oud, ney, kanoon, finger cymbals, and hand drums.
Some of these you may be quite familiar with like the clarinet while others, like the oud, are more localized instruments.
You can check out Turkish Bellydance by Nasrah on Spotify to get a feel for the sound and feel of the music and cymbals.
It produces a unique sound that draws you in and begs you to join in moving your own body.
Beyond the instruments, there is a unique beat that is often associated with traditional Turkish music.
We talked about the Karshilama rhythm already but here is a video to illustrate this rhythm that is often associated with belly dancing in Turkey.
Belly Dancing in Istanbul
On land
If you're only in Istanbul and you want to check out a show, I recommend heading over to the Hodjapasha Culture Center for an unforgettable cultural experience.
You will see not only Belly Dancing but also other traditional Turkish dances.
This stunning show, lasting just over an hour long, is held in an old Turkish bath on Tuesdays, Thursdays, and Saturdays.
It is located down by the Hagia Sophia so you will be right in the middle of all the things you want to see. You can hop in a taxi, walk, or take public transportation.
Unlimited non-alcoholic drinks are included.
On water
If you love being on the water as much as I do, you can always take a Bosphorus cruise with a show.
Not only will you get to see lots of traditional dances, but you'll also get to see Istanbul's heartbeat from a whole new perspective.
You will get to see Whirling Dervishes, Turkish dances, Latin dances, flamenco, Sirtaki, and belly dance all in one go.
Plus with this cruise, you get your own private table…which in my opinion is always a major plus.
Dinner and non-alcoholic drinks are included but there is an option for an upgrade for unlimited alcohol as well.
Belly Dancing throughout Turkey
Cappadocia
While you can often find shows throughout Turkey, another place that is well-known for its shows is Cappadocia.
When you visit Cappadocia, you can book a Turkish Culture Night and experience many different kinds of traditional Turkish dance.
What's more, it happens in a cave in Göreme, making the experience even more unforgettable.
Unlimited alcoholic and non-alcoholic beverages and appetizers are included.
Marmaris
One other place where you can find a belly dance show is down in Marmaris.
This lovely beach town is another destination loved by tourists for its clear, blue waters.
They also love audience participation so you may even find yourself experiencing more than you hoped!
Enjoy dinner and unlimited drinks (both alcoholic and non-alcoholic) plus a night you won't soon forget.
FAQs About Turkish Dancers
Is belly dancing a thing in Turkey?
While it isn't practiced on the streets and is most often associated with tourist locations like Istanbul and Cappadocia. Didem is the most famous Turkish belly dancer.
What is the name of the Turkish belly dancer?
Didem Kınalı is most often referred to like this. She was born on June 6, 1986. She has been dancing since she was a child when she would dance at weddings. She is still active in this arena.
Is belly dancing Turkish or Arabic?
Actually, belly dancing is Egyptian and has branched out from there. The most world-class belly dancers can be found in Egypt.
How do Muslims feel about belly dancing?
There is no clear rule on this. It is understood that belly dancing is permissible if the context it is happening within is also allowed in Islam. Often the bigger problem is the lifestyle and other activities associated with it.
Which country has the most belly dancers?
Egypt has the most belly dancers. Even though belly dancing can be found throughout the Middle East and Turkey, Egypt is home to the best dancers in the world.
🤩 Enjoy a dinner cruise AND a show. Check prices here.
Final Thoughts This Turkish-style Oriental Dance
Turkish belly dancing presents a captivating fusion of history, culture, and movement.
From its origins in the opulent Ottoman Empire harems to its vibrant contemporary forms, this dance embodies the spirit of Turkey's rich heritage.
Its distinct styles, energetic performances, and mesmerizing rhythms create an art form that transcends boundaries.
For those venturing to Turkey, the enchanting world of belly dancing awaits.
From Istanbul's cultural showcases to the cave-side spectacles of Cappadocia, the dance offers an unforgettable journey through rhythm and expression.
So, whether you're drawn to the cultural richness or the sheer joy of movement, Turkish belly dancing invites you to immerse yourself in its captivating rhythm.
Read More:
Turkey vacation basics
When I plan a trip these are the websites I use. Hope they help you plan your next adventure as well!
FLIGHTS: I am a huge fan of Kayak and WayAaway.
VISAS: You can use the free e-visa portal here but for a few extra dollars you can use iVisa and someone else will handle any issues that may come up.
E-SIM: When I traveled to SE Asia I discovered e-sims and I'm never going back. Airlo has been easy and cheap! Use code "SEP15" to get 15% off on one booking.
TRAVEL INSURANCE: I use TravelInsurance.com for my trips abroad.
CAR RENTAL: I have loved working with Discover Cars when I rent cars in country.
ACCOMMODATION: Find the best Turkey hotel deals on Booking.com.
CITY TOURS & DAY TRIPS: You can browse GetYourGuide's website to find just the tour you're looking for!