Istanbul Hot Air Balloons: 3 tours in 2023 that you'll absolutely love
Disclaimer – The Art of Living in Turkey contains affiliate links and is a member of the Amazon Services LLC Associates Program. If you make a purchase using one of these Amazon links, I may receive compensation at no extra cost to you. See my Disclaimers for more information.
Have you been wondering about Istanbul hot air balloon rides? I've got you covered!
After living in Istanbul for a couple of years I finally got the chance to go on a hot air balloon tour.
To say it was an unforgettable experience is an understatement.
As I soared high above the dreamlike landscapes and took in the panoramic views, I was smitten.
However, I do need to tell you something now before we get too far…
There are actually not any hot air balloon rides in Istanbul. To do that you have to go to Cappadocia.
So join me as we look into finding a reputable hot air balloon operator, securing a great deal, and ensuring a memorable flight over Cappadocia's iconic landmarks.
4 Must-Have travel accessories for Touristy areas
My HOT AIR BALLOON RIDE Picks in order of preference
⭐️⭐️⭐️⭐️⭐️
✅ 3 days instead of the standard 2 days
✅ Balloon ride incl.
✅ Choose hotel category
Best choices for hot air balloon Tour from Istanbul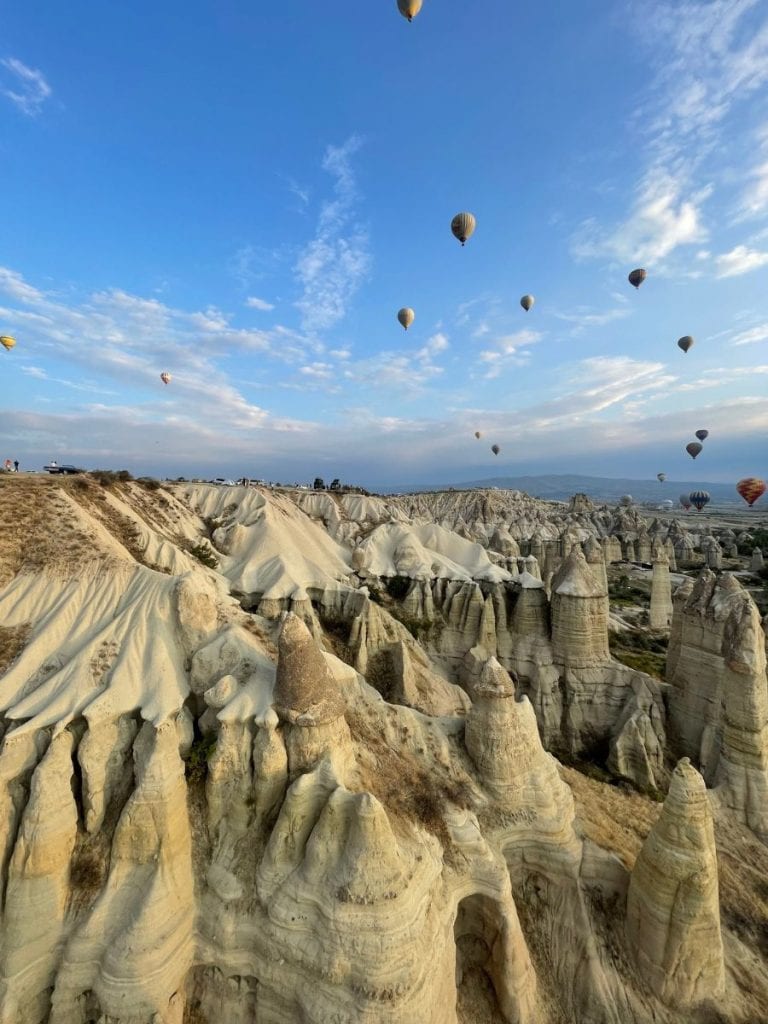 ⭐️ RATING: 4.5/5 Stars |📍 LOCATION: Istanbul to Cappadocia | ✅ Book it!
If you're looking to see all the things and get a hot air balloon ride in, I love this tour. Why? Let me tell you.
First of all, it is a Cappadocia tour from Istanbul. Because they handle all the travel details it is easy peasy!
I also love it because it isn't the standard 2-day tour. Because of this, you have a bit more breathing room.
You will get to see all the things and day tours Cappadocia has to offer.
But perhaps even more important is you will also have a second morning in Cappadocia. This is important because often the flights get canceled.
If you have two mornings, you have a second chance to do the balloon tour on the second day if it is canceled on the first day.
Don't worry though, if it is canceled, should get a refund. Make sure to ask about it.
My favorite 3 benefits of this tour are:
You get to select what category/budget of the hotel you want to stay in. What a great option that I have rarely seen in a tour.
Dinners are on your own so you have some ability to be adventurous. I definitely recommend trying the Testi Kebab while you're there. It is amazing!
They take care of the flight from Istanbul (and return obviously) and all the pesky details in between so you can just go and have fun!
As a resident in Turkey, I often take care of my own travel plans but when I went to Cappadocia I had all that taken care of for me and it was magical.
This includes an Istanbul hotel transfer to the airport as well as in Cappadocia. It feels so nice to be pampered.
I am sold on this way of doing travel now especially if there is a lot going on at the destination or I am going with a lot of people.
Note: This doesn't include your international flights.
"Watch the balloons fire up before sunrise. Awesome 😊 Was a perfect morning chilly but the moment unforgettable"

Yulenia_A, Mar 2022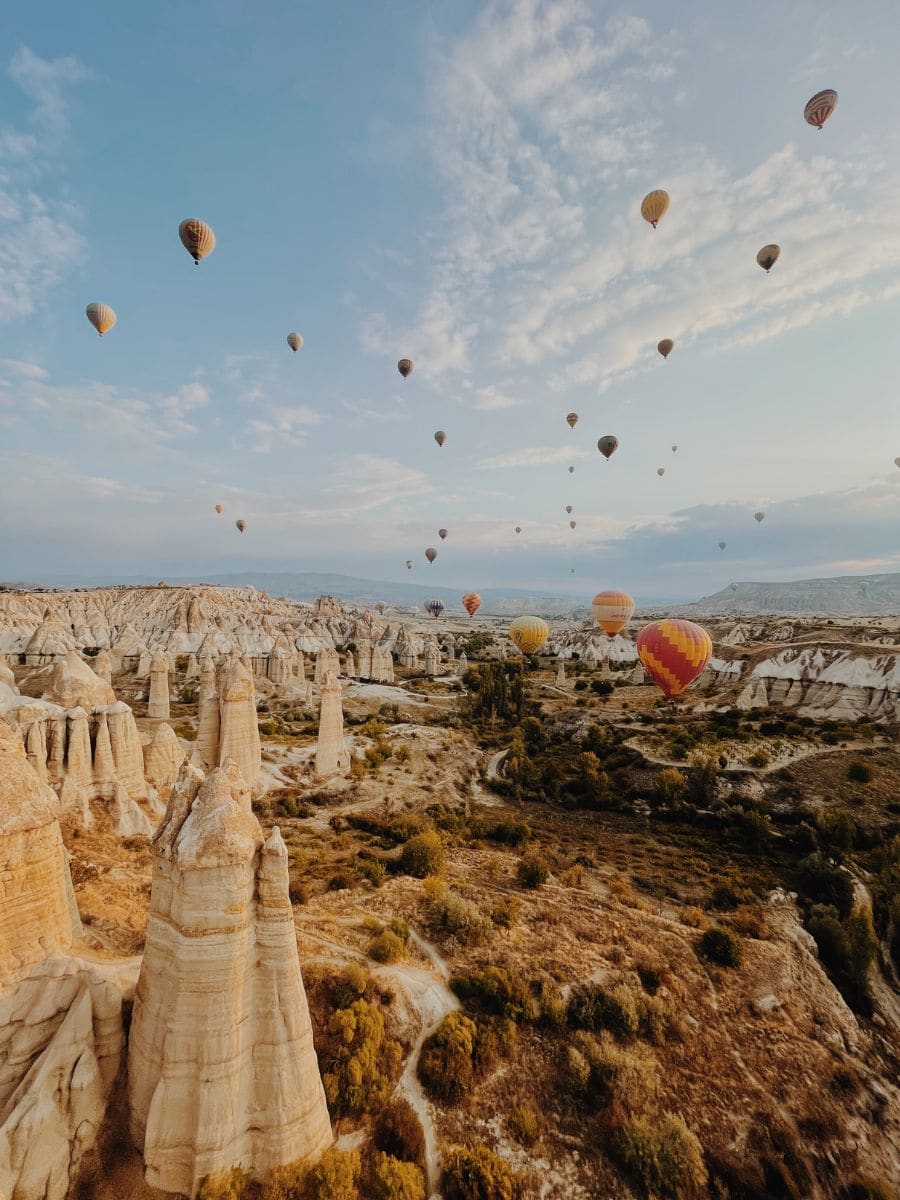 ⭐️ RATING: 5/5 Stars | LOCATION: Cappadocia | ✅ Book it!
This excursion is different from the other two in that this is only the hot air balloon tour.
This is for the people who are going to go exploring on their own or already have all the other details hammered out.
The company is Turkiye Balloons and they were great. Our travel agent has worked with them for a long time and so I knew it was going to be good before we got started.
Like all other balloon tours there is transportation, an hour-long hot air balloon flight, champagne to celebrate at the end, and a commemorative flight certificate.
Our pilot was great and it was really fun watching him work.
To be honest there isn't really anything that separates the hot air balloon companies except for reputation. They all offer the same things but I know this company has a good reputation.
With this option, you can also have the freedom to rent a car and do all your own exploring if a tour guide is not really your style.
I use DiscoverCars for my car rentals in Turkey, and abroad actually.
"One lifetime experience to make ! from the pick to the hotel, the flight, everything has been a great experience. All the staff has been dedicate to make customers comfortable and make this moment unforgettable."

Claire, Istanbul
⭐️ RATING: 4.7/5 Stars | 📍 LOCATION: Istanbul to Cappadocia | ✅ Book it!
I added this final tour because of how popular it is. This one sells out.
As a resident here in Turkey, I can't imagine spending this much money but so many people really love this tour.
Pull relevant information from the sales page, from reviews on booking platforms, and from your personal experience.
That being said, for a 2-day tour, they sure do cram a lot in. If you're wanting to see a ton of stuff in a short amount of time, this could just be the tour for you.
A few things that I see repeated over and over by people are:
Transportation and connections were all on time.
They really take care of you on your trip – they are super attentive to you.
Even though it is an early morning two days in a row, it is so worth it!
"The two days are full ones but I would not have missed any of it. You learn about the history of the region for example why there were underground cities. You learn about the geology."

GetYourGuide traveler – verified booking
Other things to know about Cappadocia
What's so special about the hot air balloon flight
Until you go and experience it for yourself you just might not understand, but let me try and paint a picture.
First of all, you get picked up before the sun rises and are taken to your balloon. You get to watch it be filled with hot air and prepared for your flight. It is quite interesting.
But then you finally start going up into the sky as the sun is rising and it is absolutely magical. The colors hit the fairy chimneys and natural rock formations in such a unique way.
It's breathtaking.
You are anywhere from 700-1000m in the air so you can see for forever. It is especially fun to see hundreds of hot air balloons in the sky with you.
Then as you land you are greeted by the ground crew with champagne to celebrate.
Where should I stay?
If you don't do a tour and need a hotel, I usually use booking.com.
The reason I like using it is because they watch their reviews and make sure they are people who actually purchased the service or hotel.
But also, because the economy is in such crisis, stores, and hotels often close down. It is impossible to keep up with all that is still open and available.
Different day tour options
I have a whole section on Cappadocia and the tours that are offered but this photo sums it up quite well.
Depending on where you stay you may be able to do some of them on your own.
One thing I will say is that if you go to the Goreme open-air museum, I definitely recommend paying the extra fee for the Dark Church.
It was really cool to see the paintings inside with such a vibrant color.
One thing you should also know because so many people comment on it is that when you go on the tours they always stop at a few places for you to go shopping for gifts.
It is how they help each other make money. Obviously, it isn't required to buy anything but also it's how they make their money.
That being said, you should definitely haggle with them! Don't shy away from it and you could get some great deals.
What should I wear?
Preparing for a balloon ride requires some consideration to ensure you're comfortable and safe during the experience. Here are some tips on what to wear:
Dress in Layers: The temperature can vary at different altitudes and times of day, so wearing layers allows you to adjust to the changing conditions. Mornings and evenings can be cooler, while it might get warmer as the sun rises.
Comfortable Clothing: Opt for loose-fitting and breathable clothes to ensure maximum comfort. You also have to climb into the basket so you don't want to be wearing something that won't allow for movement.
Closed-toe Shoes: Wear sturdy and comfortable closed-toe shoes, such as sneakers or hiking shoes. Avoid open-toe sandals or high heels, as you might be walking on uneven terrain during the take-off and landing.
Hat and Sunglasses: Protect yourself from the sun by wearing a wide-brimmed hat and sunglasses with UV protection.
Sunscreen: Apply sunscreen to exposed skin, even if it's a morning flight. The sun's rays can still be intense at higher altitudes.
Avoid Loose Items: Avoid wearing accessories like scarves, long necklaces, or loose jewelry that might get tangled or caught in the equipment.
Check the Operator's Guidelines: Some hot air balloon operators might have specific dress code requirements, so it's essential to check with them beforehand.
Remember, the most important thing is to dress comfortably and appropriately for the weather conditions of the day. A balloon ride is a thrilling and unforgettable experience, and dressing right will help ensure you make the most of it. Enjoy your adventure high in the skies!
FAQs About Balloon Tours in Turkey
Is there a hot air balloon in Istanbul?
In Istanbul, balloon rides are not a thing, unfortunately. You will have to take a day trip to Cappadocia to enjoy that excursion. That being said, there are some great tours or if you want to plan your own, you can also book just the hot air balloon. This is who I went with and loved them!
How much does a hot air balloon cost in Istanbul?
As of the Summer of 2023, the hot air balloon Cappadocia prices range from $175-350 a person depending on how luxurious and private you want. According to my tour guide friend, it is best to not go in the biggest baskets (24 people) even though they are cheaper. He felt like they weren't as safe because they are new and hadn't really been tested as much as the others.
What time of year are the hot air balloons in Turkey?
You can fly a hot air balloon in Turkey year-round but the best season for them is April to November and the absolute best is during the summer. The reason is, during the shoulder seasons it is often more windy which means the flights are more often cancelled.
Is Cappadocia hot air balloon worth it?
The hot air balloon ride in Cappadocia is without a doubt completely worth it! It is absolutely beautiful. Sure you can go places in the States but there is something magical about the scenery of Cappadocia. If you can, do it!
🤩 3 Day Cappadocia tour for the best chance to ride a hot air balloon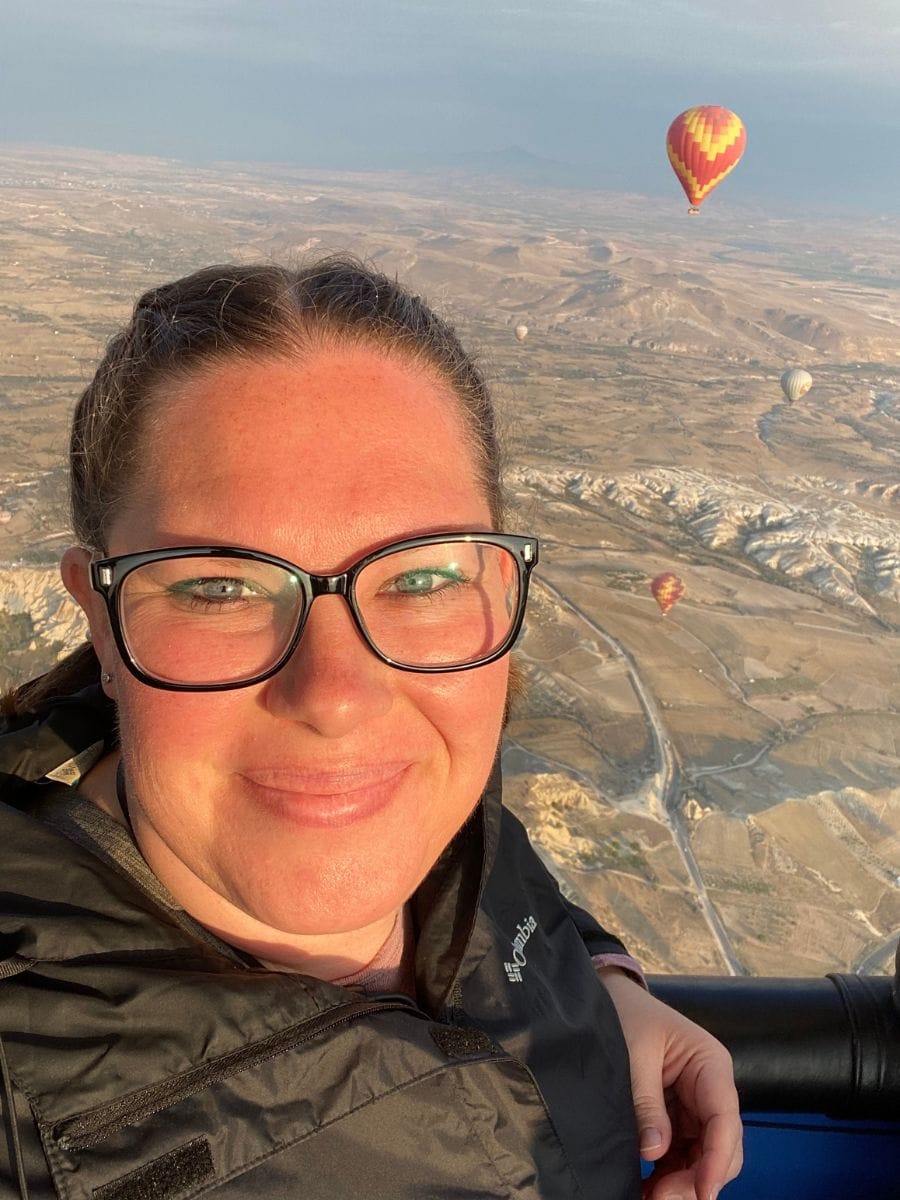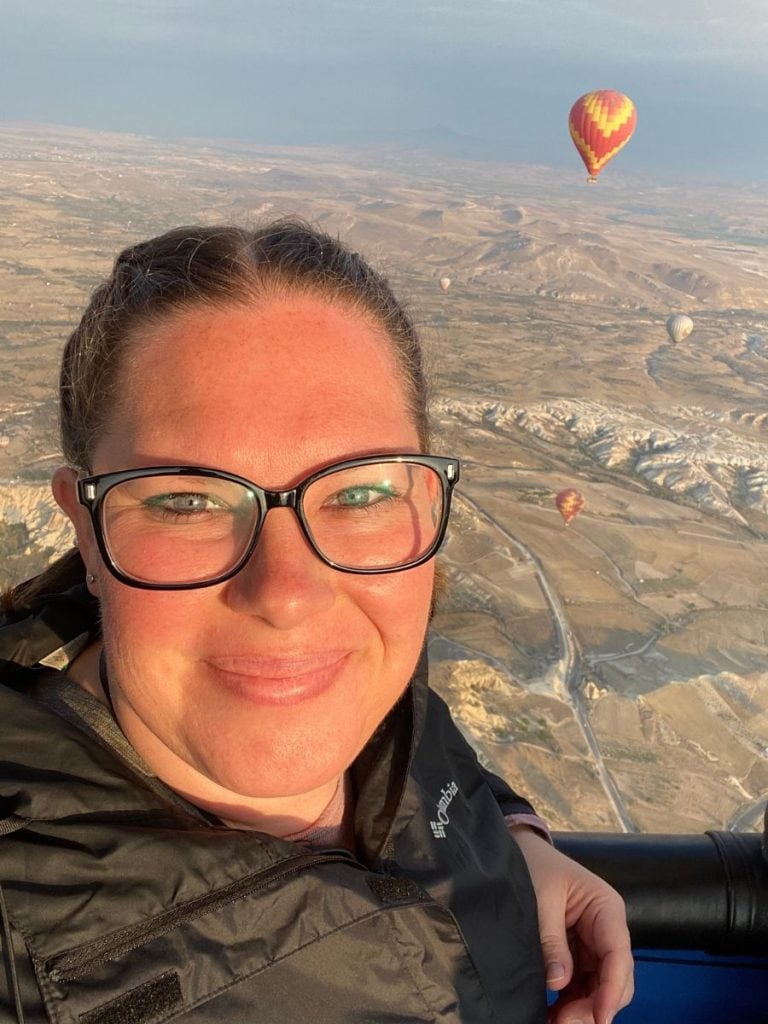 Final Thoughts on Air Balloon Tours and Day Tours in Cappadocia
As the last hot-air balloon gracefully descends back to Earth, I hope you will be left with memories that will forever ignite the flames of wonder and awe in your hearts.
This extraordinary adventure will allow you to soar above the world, like mythical creatures from ancient tales, and immerse yourselves in a surreal dreamscape.
The magical landscape of Cappadocia, adorned with fairy chimneys and hidden valleys, is a testament to the created wonders of the world.
But it is the hot air balloon rides that breathe life into this already fantastical setting.
Cappadocia's hot air balloon rides are not merely a tourist attraction but a soul-stirring experience that transcends the ordinary. They remind us of the importance of seeking moments of pure bliss, of daring to venture beyond our comfort zones, and of appreciating the breathtaking beauty that exists in this world.
It's an opportunity to momentarily escape the rush of life and embrace the serenity of the skies.
So while you can't take an Istanbul hot air balloon ride I hope the flight in Cappadocia is more than you imagined.
Read More:
Turkey vacation basics
When I plan a trip these are the websites I use. Hope they help you plan your next adventure as well!
FLIGHTS: I am a huge fan of Kayak and WayAaway.
VISAS: You can use the free e-visa portal here but for a few extra dollars you can use iVisa and someone else will handle any issues that may come up.
E-SIM: When I traveled to SE Asia I discovered e-sims and I'm never going back. Airlo has been easy and cheap! Use code "SEP15" to get 15% off on one booking.
TRAVEL INSURANCE: I use TravelInsurance.com for my trips abroad.
CAR RENTAL: I have loved working with Discover Cars when I rent cars in country.
ACCOMMODATION: Find the best Turkey hotel deals on Booking.com.
CITY TOURS & DAY TRIPS: You can browse GetYourGuide's website to find just the tour you're looking for!