Pack Your Carry-on Right: 21 things you shouldn't forget
Trying to figure out how you should pack your carry-on for your upcoming trip? This is how I do it!
The Art of Living in Turkey contains affiliate links and is a member of the Amazon Services LLC Associates Program. If you make a purchase using one of these Amazon links, I may receive compensation at no extra cost to you. See my Disclaimers for more information.
Carry-on luggage can be tricky because in recent years some airlines have been getting more strict with their guidelines, especially internationally.
Everyone is charging for checked luggage, making a well-packed carry-on all the more important for saving money.
When you pick the right bag for you and pack your carry-on rightly, it makes for much easier travel.
I have spent a lot of time on planes and in airports. I have learned some things along the way that I will pass on to you to hopefully make your life easier.
There is a lot of debate about which carry-on style is better: hard shell, soft shell, or back-bag style.
What should you pack inside and what should you leave behind?
All of this is determined by how much and what you're bringing in your checked luggage if you're bringing checked luggage.
If you're flying internationally, you're probably coming with a checked bag because it's free and you for sure need space to bring back all your goodies!
If you're wanting to backpack through Turkey, however, this is not the post for you. Keep your eyes posted for that article later.
Let's jump in and decide on what type of bag you need to begin with.
Best Bag Style
This is completely subjective. I know many who will argue for a roller case. Some for a hard shell and others for a soft one.
Before I explain why I think the Osprey Porter is the best option, I'll explain some benefits of the others.
Roller bags are incredibly nice as you roll them through the airport on your layover. You don't have any extra weight on your shoulders unless you have a purse or small bag.
Roller bags also open down the middle and have stuff on both sides.
Hardshell roller bags have a bit more protection from what is actually inside them but generally aren't as durable as soft shell bags.
So if you regularly have to check your carry-on, a soft shell may be a better option.
Softshell rollers allow for a bit more flexibility as well as great durability. If it has to go in a slightly smaller space, the soft shell may fit better and easier than a hard shell.
But they also can fit a little more. If you have to check it for whatever reason, it will likely be pretty durable as well.
Travel Pro suitcases are one of the best both soft and hard shell suitcases cause they were made with input from flight attendants.
Backpack bags – then there is the backpack style of carry-on. I am not talking about a normal backpack or a duffel though both are popular options.
I am specifically talking about the Osprey Porter. I am a huge fan of this bag for so many reasons.
Firstly, this bag comes in 30L, 40L, and 70L sizes. The smallest two are perfect for a carry-on.
The 40L is great for use as a carry-on. The dimensions are 22h x 14w x 9d in and 3.41 lbs.
Secondly, this isn't like any other backpack. This bag is brilliant because it opens up in such a way that the entire length can be accessed.
This means you can pack it more like a duffel bag but wear it like a backpack.
Thirdly, especially in Turkey, where the roads are often cobblestone or not so smooth, it is so nice to not have to roll a bag around.
I don't know how many times I have tripped just walking and can't imagine having to do that with a roller bag as well.
Actually the first time I came to Turkey my best friend brought a roller and I brought my backpack. The entire time, she regretted having the roller.
Obviously, if you have big roller bags you'll probably be using a taxi instead of trying to carry them around everywhere so maybe it won't be as big of a deal but this was a big thing to me.
Lastly, it is surprisingly adaptable. It can hold a lot. There have been many trips where I go for a weekend and this is the only bag I bring.
But it can also shrink down and just be used for a smaller amount of stuff. There are straps on the side that cinch it down.
And because it is a backpack, it is also super lightweight.
While many roller bags will eat up anywhere from 5-8 lbs of your allowed carry-on weight, this backpack comes in at a mere 3.2 lbs.
Now that we have that all sorted out, let's talk about what should actually go in the bag.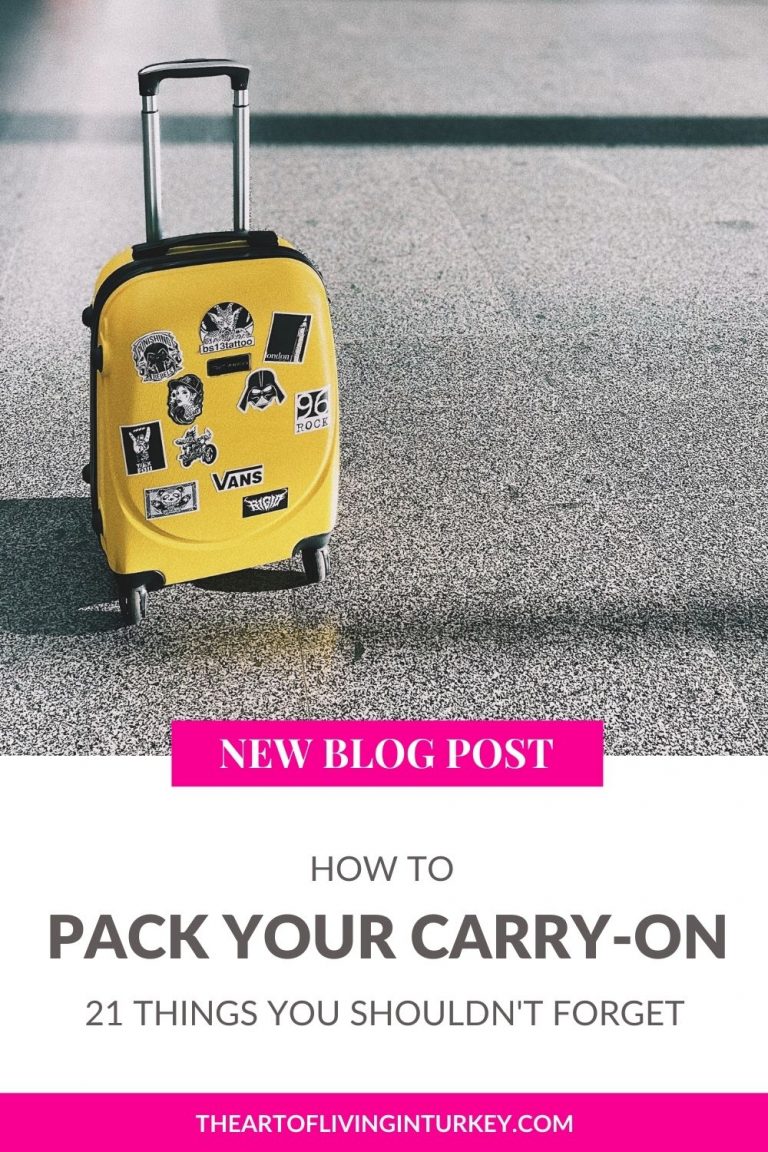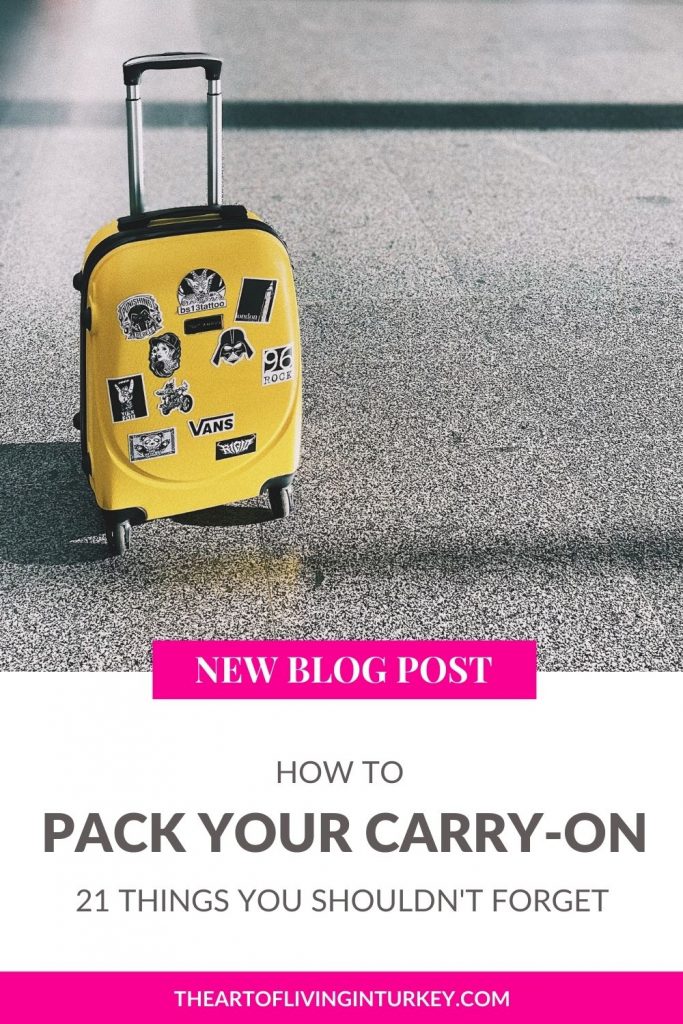 medicines
It is good to keep your medicines with you when you travel.
While it doesn't happen all the time, things can go missing from luggage and if it is something you actually need, you could find yourself in a bad situation.
Also, make sure you keep them in their bottles as much as possible. This will ensure that your medicine appears legitimate instead of like a shady drug deal.
Every so often you will be selected for a more in-depth check and then it is especially helpful if you don't have random pills in baggies in your bag.
You can also check out this blog post on medicines in Turkey.
Travel documents
Make sure you have printed out a copy of all your reservations, insurance, vaccination card, and E-visa.
These will be good to have easily accessible as you will need your e-visa and passport when you enter the country.
It is also good to have a color copy of your passport as well as a backup digital copy somewhere that you can access.
Things happen and if you lose your passport, it is good to have a copy for getting a new one reissued.
jewelry
It is safe to say, you don't ever travel with valuables in your main luggage, especially if they are small and can stay with you. Make sure you pack them in your carry-on.
When traveling to Turkey, it is best not to bring super nice stuff with you anyway.
This is not because it will get stolen so much as the more money you show off, the more attention you will attract.
As a foreigner, it isn't always the best tactic to draw attention to yourself like this. Especially right now.
At the time of this writing, the economy is really struggling and westerners are already seen a certain way.
Best to bring simple jewelry with you and maybe pick up a few new pieces here.
keys
Again, your keys are not something you would want to accidentally lose or have stolen. It is best to keep them with you.
Make sure you tuck them in a secure spot in your carry-on so that they don't fall out when you move things around.
I have a clip in my backpack that I clip them in so they don't easily fall out.
stand
This is a great small item to bring with you if you are going to watch anything on your phone.
Sometimes airlines have a little stand built into the back of the seat in front of you but if they don't, you're stuck holding the phone the whole time or looking down in an uncomfortable.
This is a great one that you can attach in a variety of ways so it will be able to be used regardless of where you find yourself.
charger cable & battery
A charger cable for each type that you need is essential. You can find charging stations throughout airports and most airplanes have an outlet at least which is helpful.
But sometimes all the charging stations are so full and the plane doesn't have an outlet for you to charge. In that case, it is always a good idea to travel with an external battery.
Be aware that on take-off and landing, they will not let you use it so make sure you don't plug in until after you take off.
Side Note: did you know that it is terrible for your phone to plug it in to charge and remove it regularly? Every time you remove it from the charger, it is called a cycle and your phone battery is only good for so many cycles.
change of clothes
Make sure you keep a change of clothes in your carry-on.
You never know what will happen and if your luggage does get lost, it is nice to have a backup outfit with you so you can feel fresh and put together.
Also, plans change and things happen. At the time of writing, we are getting ready to have a major snowstorm here in Istanbul.
People are planning to come to Istanbul all the time but with a storm like this may get stuck in the airport for a day or so.
Make sure you're prepared.
anti-bacterial wipes
In my previous post on how to make for a more comfortable international flight, I talked about the importance of cleaning your area.
I really like these wipes because they are small and individually wrapped. This makes them especially convenient to pack in your carry-on or a small bag.
They can easily be used to clean your areas or hands.
I am actually a huge fan of kolonya, which you will discover when you come to Turkey, but there is something about a wipe that is much more helpful sometimes.
Make sure you get your kolonya wipes while you're here!
face wipes
So these are different cause you don't want to put harsh cleaning products on your sensitive face.
To make sure you are able to stay refreshed and ready for the day ahead, bring along a small pack of face wipes.
Whether you slept like a champ and your mascara shows it or you stayed up the whole flight on a movie marathon and just need to freshen up a bit, face wipes are an easy way to do that.
Make sure you get some good all-natural ones to feel clean without weird residual products on your face.
glasses
If you wear contacts you know the problem of dry eyes. Airplanes are one of the worst places for this.
We previously talked about how airplanes really leave you dehydrated and that you should drink a ton of water.
But when it comes to your eyes, it is probably best that you wear your glasses and save your eyes from the pain of drying out.
Whether that means you bring a contact container with some solution in them or you just wear glasses from the get, either will be a better option than wearing contacts on the plane, especially if you plan to sleep at all.
These lens-cleaning cloths are my favorite for keeping my glasses fresh and clean.
wallet
Make sure you have your driver's license, passport, and insurance cards in your wallet. It is also good to have a little bit of USD cash (or Euro) in your wallet.
While every country has its own currency, these are two internationally recognized and traded currencies.
Also depending on where else you're going, a nice wallet with RFID protection is a good option. Technology is amazing until it is used against us.
There are now scanners out there that will scan the magnetic side of the card without you even knowing it.
This is my favorite wallet because it has multiple security features but also doubles as a clutch sometimes.
I can carry my phone, normal wallet stuff, and Burt's Bees in it for a night on the go or a quick run somewhere.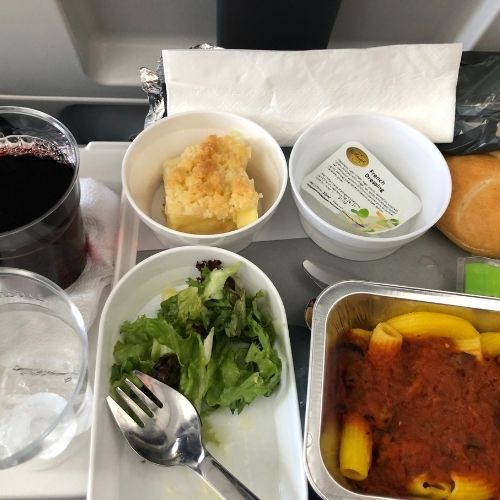 snacks & Water
International flights are pretty good about meals on planes. They stopped for a while during the pandemic but are back on track with it as far as I know.
That being said, sometimes you just want something different or maybe don't like the options given to you.
It is nice to have a few snacks with you to tide you over til the next meal.
Trail mixes are a great option cause they pack in some good fat and protein which will help you feel full longer. You can get generally healthy versions as well as more indulgent ones.
Another great snack option is some fruit, especially something with naturally high levels of vitamins.
They will help boost your immune system as you sit in a tin can with hundreds of other people crossing the pond.
Also don't forget your water bottle to stay hydrated! Check out this one by Epic Water Filters to make sure your water is fresh and clean.
You can read all about their initiatives in helping the environment here.
mini emergency kit
This is an item I never really thought to care about but have been so so glad I had it when I needed it. I really like this first aid kit but would add a few random things to it such as:
Mini sewing kit – I have lost a button or ripped a hole a couple of times…enough to know it has come in handy.
Allergy pills – if you don't have allergies or never use them, leave them out.
Cortisone creme – this has been handy a couple of times if you get bit by something or come in contact with something that causes irritation.
Nail file & clippers – I know you just had your nails done but stuff happens. Make sure you clip them and file them if you break a nail.
Floss – I feel like there is almost nothing worse than having food stuck in my teeth for 24 hours from door to door.
Pain pills – I always carry a couple of Aleve with me just in case I get a headache or something.
Anything else you would need potentially?
A lot of these things I would normally carry in my purse and have found them helpful to pack in my carry-on when I travel.
pen
One of the most under-provided items on a plan is a pen.
When flying internationally, you often have to fill out a form and need a pen to do so but the flight attendants don't always have a pen to give you.
Save yourself the headache and make sure one is handy. This also goes along with the next point.
journal/book
I love to use my time on the plane as productively as possible. I usually start out productive and end by not being productive at all.
So I will start with a book I have been wanting to read or journal about life. Maybe even doing a sodoku or other puzzle.
Either way, I find I will have some great ideas on the plane because I have a chance to just stop. I am not moving around and things are coming to mind.
Having a journal on hand allows me to easily capture those thoughts pretty quickly. Having a book gives my eyes a break from all the screens and lets my eyes rest a little.
Headphones
Don't forget headphones. Make sure you have the kind that can plug in if you normally use Bluetooth.
While you can use your own headphones on the plane, there isn't the ability to use a wireless connection with the plane's screens.
Obviously, if you're planning to use your phone or computer, you can use your wireless headphones just fine.
Some are better than others so make sure you bring something that will be comfortable to wear for long periods of time.
Eye mask/earplugs
If you will sleep at all, these are two essentials that will make it just a little more comfortable.
I have never been able to really sleep on a plane. I always joke that I am good at so many things but sleeping on planes isn't one of them.
But even when I do try to rest, I will pop in some earbuds with some soothing music and put on my eye mask and just rest.
It's helpful enough that I can make it till I get to a real bed. I definitely love this mask as it protects my eyes from the post-sleep raccoon look.
computer
While people do it, I don't recommend keeping your computer in your checked luggage.
If you're not using it, make sure you turn it off as they will ask you to for both take-off and landing.
You can also load movies or books on your computer instead of your phone. I often like to do this because the screen is much bigger than my phone.
They often even have charging spots for normal plugs, though not always. So make sure you bring your charger with you!
sunglasses
It's so glorious landing and arriving in Turkey. A new adventure is beginning and the excitement builds.
But as you leave the dark plane and step into the sunshine, you're likely going to want your sunglasses pretty immediately.
Not to mention, they will much more easily be broken in your checked luggage as bags are tossed to and fro in the loading and unloading.
Make sure you get a good hard case for them, especially for travel.
toothpaste & toothbrush
We typically brush our teeth twice a day at least but for some reason when we fly, it doesn't seem to happen.
By bringing your toothpaste and toothbrush with you on the plane, you can brush them just before you get off the plane and feel a bit fresher as you head into Turkey or your connecting flight.
Make sure you bring a travel toothpaste though as the full size can't go through security.
deodorant
I have been on many flights. Most of the time they are so cold and all I wanted was more blankets.
But there have been other flights that were so hot, I was glad I had my deodorant with me.
Again, another small way to just keep yourself refreshed after a long day of travel.
Pack your carry-on for you
While this is a pretty good list, think through what you would need for 24-28 hours. If your luggage gets delayed/lost or you get delayed on a layover, what would you need?
Make sure you have it with you so you're not stranded without the things you need.
My last thought for the day is to make sure you pack it in a reasonable way. The things you know you're going to need during the flight in a smaller bag that you can keep at your feet.
Things like your eye mask, snacks, and electronics/headphones.
While it is good to get up and move about it isn't always necessary for every single thing.
Check out my 17 helpful tips for a more comfortable international flight and Packing Travel Hacks for more helpful tips!
What about you? Is there something you always pack in your carry-on that I left off the list?
Turkey vacation basics
When I plan a trip these are the websites I use. Hope they help you plan your next adventure as well!
FLIGHTS: I am a huge fan of Skyscanner and WayAaway.
VISAS: You can use the free e-visa portal here but for a few extra dollars you can use iVisa and someone else will handle any issues that may come up.
E-SIM: When I traveled to SE Asia I discovered e-sims and I'm never going back. Airalo has been easy and cheap!
TRAVEL INSURANCE: I use TravelInsurance.com for my trips abroad.
CAR RENTAL: I have loved working with Discover Cars when I rent cars in country.
ACCOMMODATION: Find the best Turkey hotel deals on Booking.com.
CITY TOURS & DAY TRIPS: You can browse GetYourGuide's website to find just the tour you're looking for!