A sugar lover's guide to the best 9 Turkish Desserts
Want to know which Turkish desserts you should try on your visit to Turkey? Let me share my favorites!
If you're a sugar lover and you're headed to Turkey, this post on Turkish desserts is the perfect one for you!
Turkey is known for some amazing desserts and regardless of what you typically eat, there is one here that is sure to fit within your palette!
The problem may be that there are too many to try! Some are too sweet for me but then there are even a couple of healthier options if you're into that!
Baklava and Turkish delight seem like a no-brainer to me. Everyone always talks about them.
These 9 Turkish desserts are perhaps lesser known but no less delicious!
1. Aşure (Noah's Ark Pudding)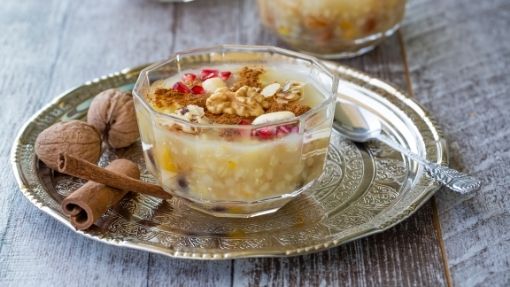 This Turkish dessert is especially popular during Muharram, the Islamic calendar's first month. Being it's a lunar calendar, it changes every year.
Given it is believed that Noah's Ark landed on Mt. Ararat, this is a popular dish believed to have originated from the pudding made by Noah.
Basically, it is believed he made a pudding from the dried fruits, nuts, and grains that were left on the boat.
The interesting thing about this dessert is that it is different depending on who makes it. So if you have had it once, you may try it again and see if you like it better the next time.
2. Candied pumpkin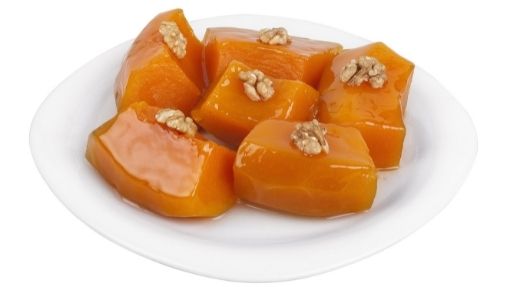 This Turkish dessert has a surprisingly large amount of sugar as it is what is used to soften the hard flesh of the pumpkin.
It is pretty easy to make. Here is a pretty easy recipe to follow.
It is often paired with whipped cream and or walnuts for an even better flavor.
3. Turkish Ice cream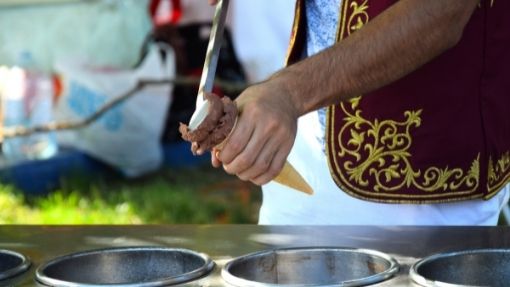 Turkish ice cream is often described as elastic. This is because it is a special ice cream that is made with salep powder.
This powder is also used in a famous Turkish drink called Sahlep.
Sahlep is a product made from the bulbs of orchids, adding an elastic texture. It makes it chewier and sticker than many normal ice creams. Definitely something worth trying!
This Turkish dessert can be found year-round in tourist areas.
4. Lokma
I simply love lokma when it is fresh. I have only eaten it a handful of times in the 2.5 years I have lived here because it is so sweet but the flavor is absolutely amazing!
Completely worth a try.
They essentially are fried doughnut holes that are sweetened with a simple syrup.
There will often be options such as pistachios or shredded coconut to put on top though I am a fan of the "sade" plain ones.
These are special from the other Turkish desserts also because you will often see a lokma truck on the side of the road giving out free lokma (though you can get a serving on the street for 4-5 ₺).
There are a couple of reasons.
Someone died and they are honoring the deceased on the anniversary of their death. The custom is that one will go up and pray for the living family member and the deceased.
Because Islam is a works-based religion, many will purchase a certain amount of servings and have people go serve it on the streets as a good deed. It is their way of doing a good job.
5. Helva
Helva has a very unique texture and flavor. This dry-textured Turkish dessert is made from large amounts of sugar with sesame nut butter, and tahini.
You will often see it with pistachios and other flavors mixed in. You will see this throughout Turkey and the Middle East.
Also, something to note, while it is quite sweet, it is also packed with vitamins from the tahini and when mixed with pistachios, even more nutrients.
6. Pİşmanİye
This is a fun one to eat. It is quite similar to cotton candy though different all at the same time.
For starters, cotton candy is just spun sugar. But Pişmaniye is made from flour, butter, and sugar.
You can watch this video on how it is made…have fun trying to make it yourself!
You will find it in a variety of flavors and packaged in a way that is easy to take home to friends and family who didn't come with you.
7. Sutlaç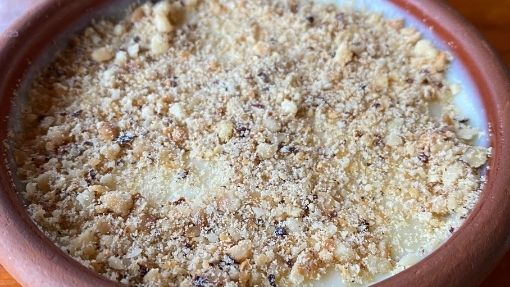 Sutlac is one of my favorites. This is Turkish rice pudding. I had a roommate in college who introduced me to rice pudding.
I loved it immediately because pudding normally has a texture that I can't eat. But rice pudding is heavenly.
You will often see it served with a portion of peanuts that you can pour over the top or cinnamon to sprinkle over it.
If you have time and are feeling adventurous, I highly recommend a trip up to Hamsikoy by the black sea.
Taste it in any other region then head out there and your mind will be blown by the flavor difference.
Recently a Turkish friend and I went on a road trip up to the Black region and stopped in Hamsikoy just for the sutlaç and it was completely worth it.
The flavor is so much richer, almost like it is made with cream instead of milk.
When we asked the owner of the restaurant about it, he said it was because the cows were free roaming and able to eat such a wider variety of plants which impacted the milk.
So so delicious!
8. Kunefe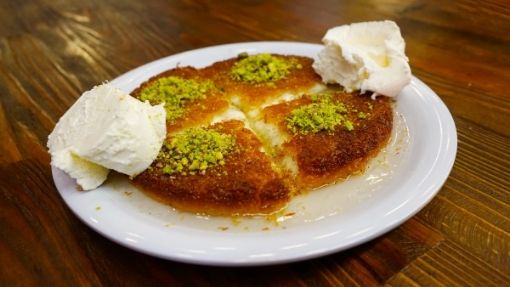 This Turkish dessert is a much-loved dessert. I am much more picky with this one as the flavor has to be just right for me.
It is a shredded wheat type of pastry with a cheesy filling and soaked in a sugary syrup.
This one is definitely best if you have it kaymaklı (with cream) or with ice cream (dondurmalı). It is definitely a dessert that should be tried while in Turkey.
You can find it quite easily though most often is served at kebab restaurants.
9. Katmer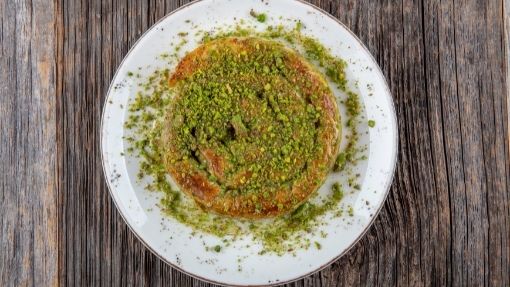 Last but not least, my favorite Turkish dessert: katmer. This dish is native to Gaziantep. The picture above is Gül Katmer, or rose katmer because of the shape.
It is more often found in a square shape and cut into 4 sections.
This is a crisp phyllo dough stuffed with pistachios and clotted cream. Because pistachios increase energy levels and reduce morning fatigue, this is often eaten for dessert by locals.
The flavor of this dessert is so incredibly lovely. Enjoy! This post on the 7 Regions has lots of other regional food recommendations.
---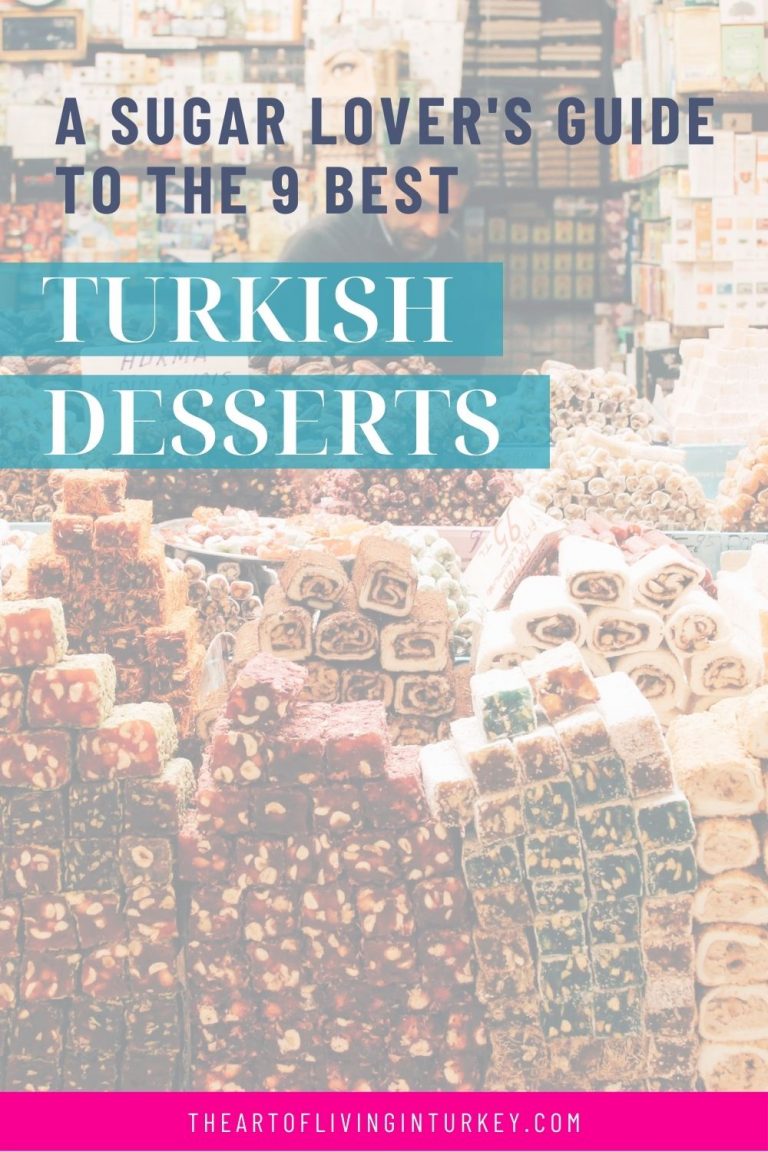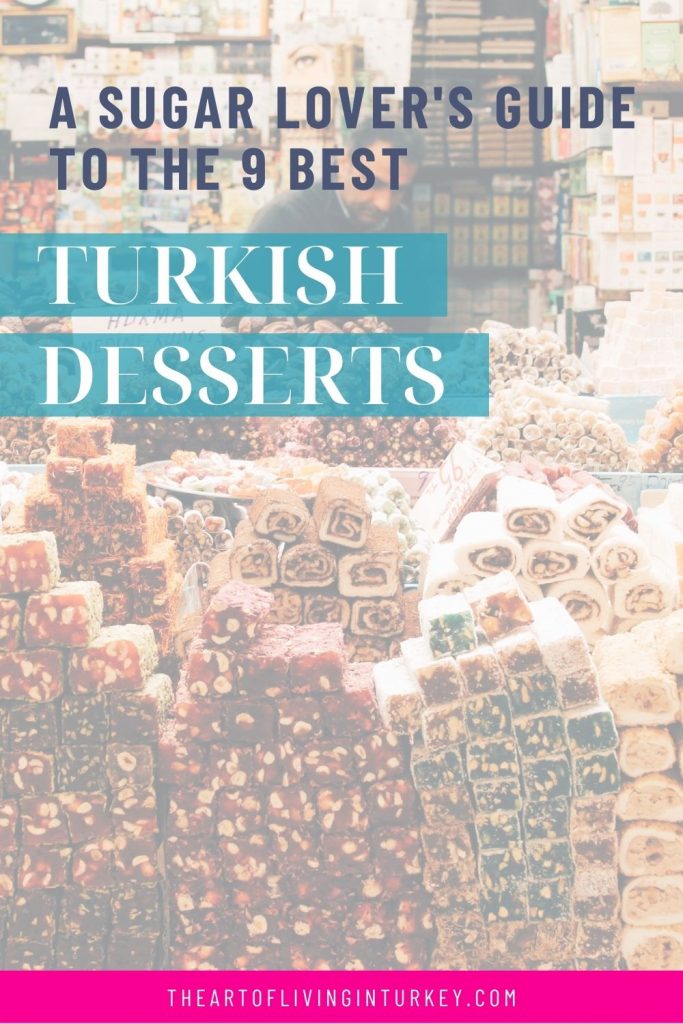 If none of those seemed healthy enough for you, my favorite healthy treat is some delicious, plump dates and walnut combo.
They are the perfect combination of sweet and nutty.
Of course, there are so many more options. Turkish delight, baklava, tulumba tatlısı, almond cookies, cakes and so much more!
I hope you enjoy eating your way through Turkey!
Do you have another favorite Turkish dessert that I didn't list here?
Well, I will see you around. If you're looking for other food posts, I did one on Turkish foods you should try.
Afiyet Olsun!
– Kimberly