5 Reasons I support Epic water filters – save the planet
Disclaimer – The Art of Living in Turkey contains affiliate links and is a member of the Amazon Services LLC Associates Program. If you make a purchase using one of these Amazon links, I may receive compensation at no extra cost to you. See my Disclaimers for more information.
Have you heard about Epic water filters? I absolutely love these water filters and I'm gonna tell you why.
Water is absolutely necessary to be able to sustain life. It's so important that our bodies are made up, on average, of 60-70% water. That blows my mind!
While living in Turkey, I find that I drink a ton of water. Especially during the hot summers, I can easily drink 3 L of water.
I am sure, like myself, that you want to make sure you're drinking good quality water.
Here in Turkey, you can buy bottled water but then it is in those cheap plastic bottles that are neither good for the environment nor your health.
Epic Water Filters understand the value of clean water AND caring for the environment.
If you do too, then you're going to love this product! Let's take a look at the problem and then why I think Epic is the solution.
Problem #1: Contaminated water
Unfortunately, so much of our water is filled with chemicals and pollutants.
We can find everything from microorganisms to plastics to pesticides to chemicals and so much more in our water.
Whether you're trying to drink tap water or water from plastic bottles or even some filtered water, a lot of things are still sneaking their way through. "How?" you might say.
Well unfortunately tap water, while free of viruses and bacteria often carries harmful chemicals like Chlorine and microplastics.
A lot of filtered water, especially ones for at-home use, allow heavy metals through. And bottled water carries harmful BPAs.
Each of these has harmful effects on our bodies, some known and others yet unknown.
When traveling to Turkey, the same applies.
Tap water here is safe to drink in that it won't make you sick because of a virus, but the water has chlorine and heavy metals which are bad for the body.
Most water filtration systems solve part of the problem but not all of it. Some really focus on tap water and filter out some heavy metals but not all of them.
But then often the home filtration systems are different than the bottles. Some brands are geared toward outdoor life and focus on bacteria and viruses.
So we have a problem of contaminated water throughout the world.
Problem #2: Single-use bottles
Beyond the need for clean water is the need for sustainable ways of carrying said water.
According to the NRDC (Natural Resources Defense Council), we produce 300 million tons of single-use plastic waste worldwide.
That is a staggeringly high number. 80% of that doesn't even get recycled.
Our dumps are overrun with plastic. Animals' habitats are harmed by it. It litters our beaches and highways and streets.
Bottles are just one of the many contributors to these numbers and definitely, something we can easily do something about.
Not all water bottles are the same either.
I have seen some pretty cool-looking water bottles that collapsed and you could carry so easily but you can't clean them well so they grow mold and get really gross inside.
Others have great filters but the bottles aren't so great and they leak everywhere.
There has to be a better solution!
Solution: Epic Water Filters
There are so many reasons I am excited about Epic and I can't wait to share them with you!
1. Epic filters out at least 70+ contaminants
Their filters filter out as much as 200+ contaminants but all filter out at least 70+.
Obviously, the home filters are going to be able to do more heavy-duty filtering as the water sits in the filter for a longer period of time.
They do have a filter focused on tap water that filters out 99% of tap water contaminants.
Things like heavy metals, microplastics, and chemicals are used in water "purification" processes.
Their under-the-sink or on-the-counter filters can remove 200+ contaminants and save so more than 1000 single-use plastic bottles from being tossed in the dump.
But then their adventurer filter is truly epic. Not only does it handle typical tap water but also contaminants you would find out in lakes and streams.
Things like viruses, bacteria, micro-organisms, and pesticides. This bad boy does it all! It even removed 60% of fluoride which is incredibly difficult to remove.
So their filters are top-notch! You can read all about all the amazing third-party test results here just to understand what all this filter can do!
2. Bottle options
This company understands not everyone has the same needs! We already saw they have a variety of filter options to suit your particular need.
But they also have a ton of bottle options. They have partnered with some of the leading bottle makers to produce a fantastic final product covering all the options.
Let's take a quick look.
Glass
This 32 oz. glass water bottle is a great option regardless of what you're doing! It has a protective silicone sleeve to protect it.
It is stylish and comes in three color options. Both every day and adventurer filters can be used easily and interchangeably. I want the glass bottle!
Metal
The Vostok 34 oz. stainless steel bottle is another great option. This bottle comes in two color options: black or gray and can also be used with every day and adventurer filters interchangeably.
This is a double-walled insulated bottle complete with a durable powder coat to make it more durable. I want the steel bottle!
Plastic
Finally, we have the Nalgene partnership. Nalgene is known in the water bottle world by everyone!
They are made in America and proud of it. Though they are plastic, they are made from BPA and BPS-free Tritan plastic. I want the Nalgene!
If you're looking for on-the-counter or under-the-sink systems, you can check them out here.
3. They walk the talk
They aren't one of those companies that bashes plastics and then uses the very products they don't want in their filter.
Epic filters are 100% replaceable, 100% recyclable, and 100% BPA-free.
They produce a quality product for a reasonable price which means you don't have to break the bank to drink clean water!
They are committed to the planet and having a solution that actually works.
4. They have club prices and recycling benefits
When you join Epic, you can join a subscription and get filters auto-delivered to you at the frequency of your choosing for a lower price.
What's better is you can send the same filters you have used back to Epic and they will credit you a free filter for 3-4 filters you send in (depending on the style of the product).
They reward you for being a part of the solution. It just doesn't get any better.
5. They give back
My final reason is they also give back. Epic Water Filters realizes that it isn't all about them.
They are a 1% for the Planet Member. This means that they give 1% of their sales each year to environmental organizations that are truly making a difference.
As a team, they do a monthly creek clean-up to prevent unwanted waste from making its way from us to the ocean.
They also love to work with artists and design unique bottles that not only add some color to your sip but promote awesome art, near and far. Check out their Artist Series Bottles here.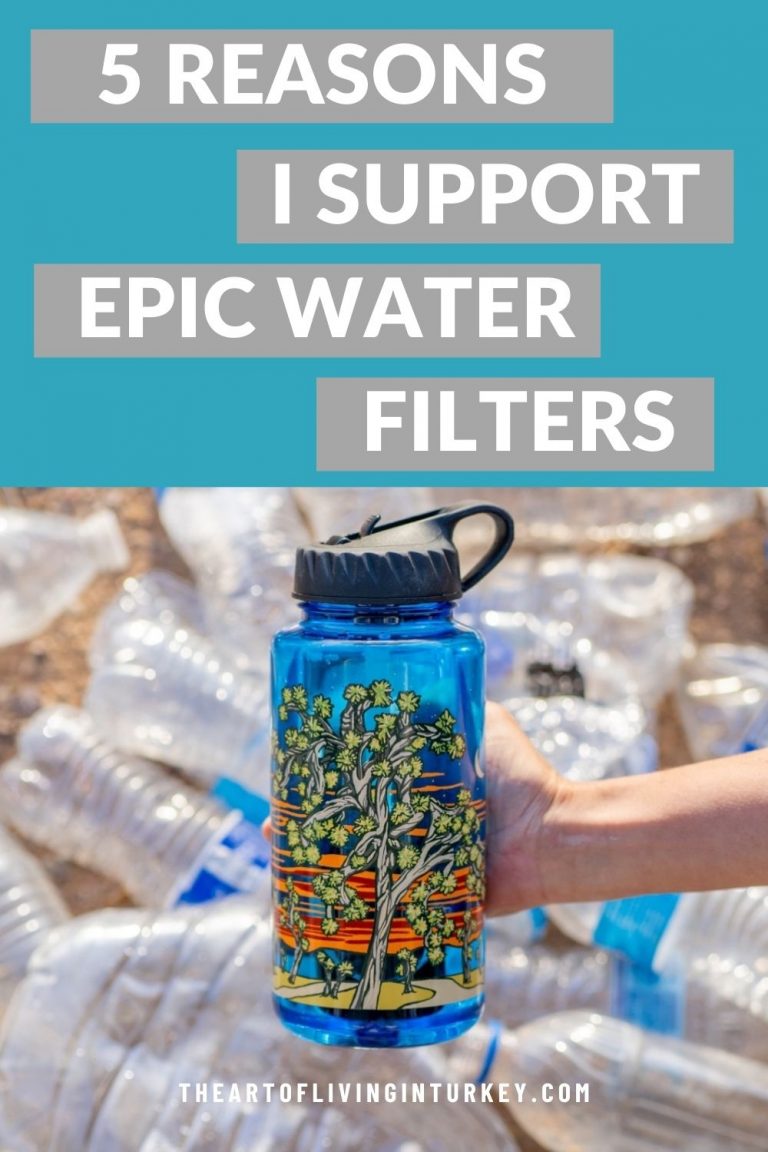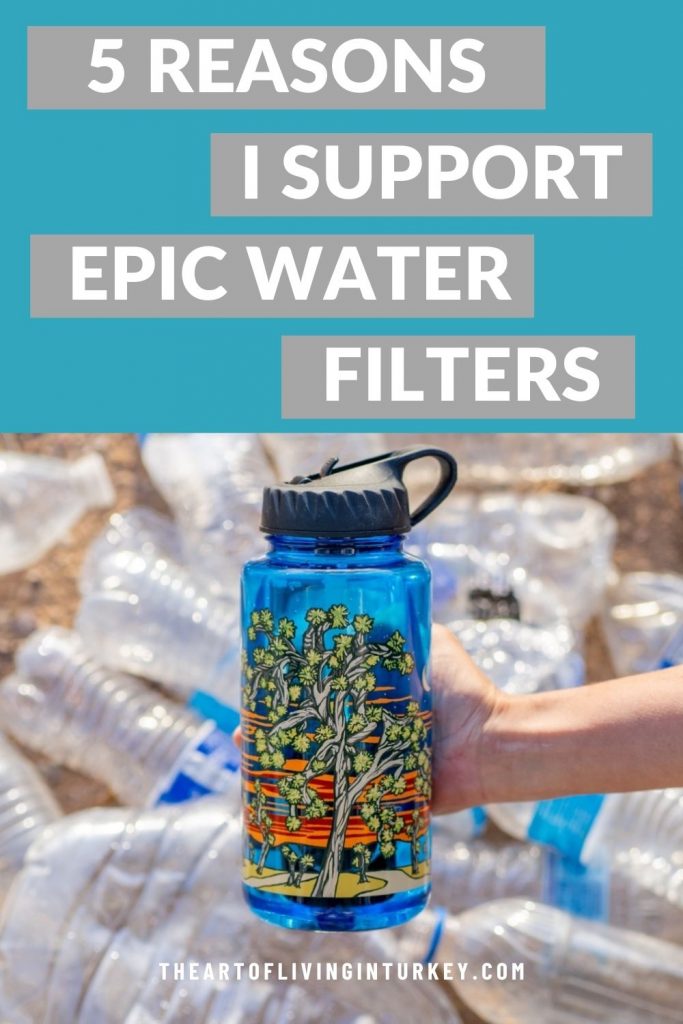 ---
This water bottle is one of the things I definitely recommend packing. You can check out the Packing Travel Hacks and How to Pack Your Carry-on for more tips!
You can also check out other reviews of products and services here.
I have used many brands of water filters over the years but Epic Water Filters are on the ball when it comes to quality and integrity.
If you weren't already sold, they even come with a 100% lifetime warranty. Check it…
If you are not 100% satisfied with any product purchased from Epic Water Filters, you may return the merchandise to us for a full, 100% refund of the product price paid subject to the following requirements:

Only the sales tax associated with the returned product(s) will be refunded if there are multiple products ordered. All returned merchandise must be currently for sale at Epic Water Filters. We will not accept returns for discontinued or closeout sale items.

You are responsible for all return shipment/freight charges.
Ready to give Epic a try? You can click HERE to start your Epic journey!
What have you got to lose?! Let me know what you think and I'll catch you on the next blog.
– Kimberly