Where is Istanbul: All You Need to Know About This Beautiful City (2023)
Disclaimer – The Art of Living in Turkey contains affiliate links and is a member of the Amazon Services LLC Associates Program. If you make a purchase using one of these Amazon links, I may receive compensation at no extra cost to you. See my Disclaimers for more information.
Are you wondering where is Istanbul located? This post explores the unique architectural landscape of Istanbul, its economy, as well as where it is exactly.
Since moving to Turkey, I have only lived in Istanbul and it is definitely a city that you should know about.
Planetware.com even has it listed at tenth in top 29 international cities that you should visit. If you're planning a visit to Istanbul this will definitely help you on your way.
You will not only learn all the things but I hope you will begin to fall in love with this beautiful city.
Let's jump in!
So where is Istanbul exactly?
Istanbul, Turkey's largest city, is a city that straddles two continents. Located at the intersection of Europe and Asia, Istanbul has been a major cultural center for centuries.
It is located on the Bosphorus Strait in northwestern Turkey and spreads across both sides of the strait.
The European side makes up most of Istanbul's population while the Asian side offers more rural areas with incredible views of the Bosporus and Black Sea.
In addition to its strategic location, Istanbul also boasts an impressive array of historical sites, vibrant nightlife, delicious cuisine, and stunning architecture that make it one of the world's most exciting cities to explore.
Istanbul, or as it was formerly known Constantinople, has a rich and storied history as well.
It was founded by the Roman Emperor Constantine in 330 AD and served as the capital of the Eastern Roman Empire for more than 1,000 years.
During this time period, Istanbul was one of Europe's most important cities and its influence spread throughout much of Asia Minor and beyond.
Over centuries of conquest, occupation and rule by various empires such as the Ottomans, Byzantines and Venetians have given Istanbul an incredibly diverse culture that still lives on today.
As a result, Istanbul is often referred to as "the crossroads between East and West" – a fitting description for this vibrant city which continues to bridge two continents together even today.
While Turkey technically considered a Middle Eastern country, it is not the Middle East in more ways than it is.
If you're concerned with safety in Istanbul, you can read this blog post to find out everything you need to know when visiting Turkey.
Where is Istanbul on the map?
The area that is within the red dotted border is Istanbul.
Istanbul Facts
Official Name: Republic of Turkey, Türkiye (Turkey's new name)
Units of Measure: Celsius (°C), meter (m), liter (L)
Time Zone: Turkey is in the Eastern European Time Zone. This is 2 hours ahead of London (GMT +2). Turkey does not observe daylight savings time.
Location: It is located in Southeastern Europe and Southwestern Asia. The portion within Europe is considerably smaller in size.
President: Recep Erdoğan (2014-present) and previously served as Prime Minister of Turkey from 2003 until 2014.
Capital: Ankara (it was moved from Istanbul when Mustafa Kemal Ataturk established the republic)
Government: Republican parliamentary democracy. Mustafa Kemal established in the beginning. It is the only Muslim majority country that has a secular constitution and democratic government.
Country Code: +90

Language: Turkish

Currency: Turkish Lira
Religion: 99.8% of the population are registered at Muslim (mostly Sunni)
Population: 84,680,273 in 2021 (second highest population in Europe)
Landscape: The topography of Turkey is quite vast including plateaus, plains, mountains, beaches and all that is in between.

Turkey also holds the Euphrates and Tigris rivers. While the European side is made up mostly of the Eastern Thrace plan and the Strandzha mountain, the Asian side has many mountain ranges.

One of the most beautiful things are the mountains that run alongside the most stunning beaches.
Weather: This varies greatly depending on where you are in the country. If you want a deeper look you can check out the 7 Regions of Turkey for more information.

The winters are generally cold and wet where as the summers are hot and dry.

You will also find the coastal regions have a much higher humidity, making the temperatures feel more extreme in both directions.
Size: 783,562 sq km (302,535 sq mi). 755,688 sq km (291,773 sq mi) are in Asia and 23,764 sq km (9,175 sq mi) are in Europe.
Emergency Numbers: by dialing 112 you will be able to be connected though English will likely not be spoken.
What is Istanbul known for?
Istanbul is known for its storied history, vibrant culture, and incredible sites.
As a result of its rich heritage, Istanbul is home to some of the world's most iconic landmarks such as Hagia Sophia, Topkapi Palace and Blue Mosque – all located within walking distance from one another.
Additionally, Istanbul offers a diverse range of activities including:
street markets filled with spices and souvenirs
delicious cuisine that blends Turkish flavors with influences from across Europe
lively nightlife
art galleries showcasing local artists
stunning views from atop its many hillsides
and more!
All these features make Istanbul one of the world's most exciting cities to explore!
Places to see
When visiting Istanbul, it's important to plan ahead and know what places you want to visit.
There are a number of historical sites and incredible views that can take up days or even weeks worth of exploring.
With so many things to see and do, it can be overwhelming!
Istanbul is home to a number of UNESCO World Heritage Sites, offering visitors a unique look into the city's rich heritage and culture.
From majestic mosques to Byzantine palaces, Istanbul offers an impressive array of historical sites that are sure to captivate any traveler.
In addition to the well known sites, there are a number of lesser-known sites such as the Chora Church which offer insight into the city's past and present.
Or perhaps take a trip on the cable car up to the Golden Horn and enjoy a tea with an epic view.
With so many incredible sights to explore, visiting Istanbul's UNESCO World Heritage Sites is an experience you won't soon forget.
Landscape of Istanbul, Turkey
The landscape of Istanbul is truly unique, with its strategic location straddling two continents and breathtaking views of the Bosporus and Black Sea.
The city is located on the Bosphorus Strait in northwestern Turkey and spreads across both sides of the strait.
On one side lies a bustling metropolis full of vibrant culture, historical sites, delicious cuisine, lively nightlife and stunning architecture.
On the other side are more rural areas surrounded by natural beauty.
Whether you're looking for an exciting urban experience or a peaceful countryside getaway – there's something for everyone in Istanbul.
Climate
Istanbul has a mild climate, with hot and humid summers and cool winters.
The temperature can range from an average high of 86°F in the summer to an average low of 33°F in the winter.
It generally experiences sunny days throughout the year, although winter months may bring rain or even snow on occasion.
The city is also known for its strong winds that blow through during certain times of year, making it a great place for windsurfing and kitesurfing.
Overall, Istanbul's mild climate offers visitors pleasant weather all year round – perfect for exploring its many historical sites!
Architecture
Istanbul is renowned for its stunning architecture, which has been shaped by a diverse range of cultures and influences over the centuries.
The city's historical sites are some of the most iconic in the world, from Hagia Sophia to Topkapi Palace and Blue Mosque.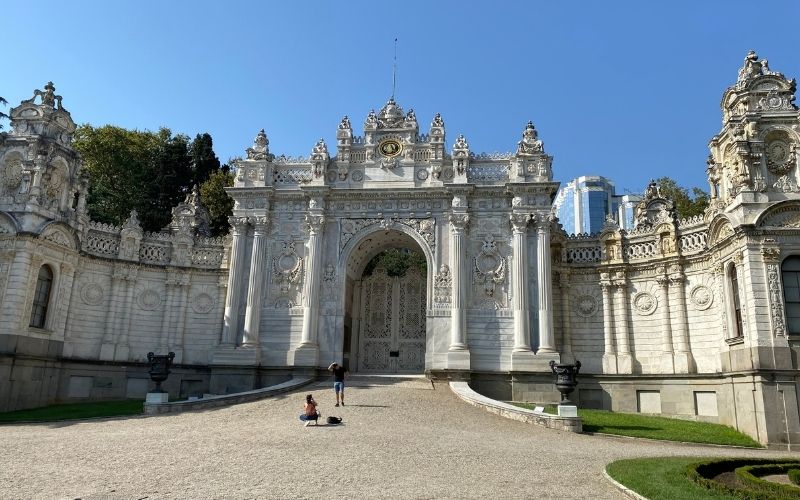 Other architectural gems can be found throughout Istanbul's bustling streets, such as traditional Ottoman houses with colorful facades or modern skyscrapers that tower above the skyline.
Whether you're exploring ancient ruins or admiring contemporary designs, there's something for everyone to appreciate when it comes to Istanbul's unique architectural landscape.
People of Istanbul
Economy
Istanbul is a thriving economic hub in the heart of Turkey, with its strategic location on the Bosphorus Strait connecting Europe and Asia offering immense opportunity for growth.
The city has seen rapid development over recent years as it continues to attract businesses from across the globe.
Istanbul's economy is driven by its strong tourism industry, which accounts for more than 10% of total GDP, as well as its vibrant services sector that includes finance, banking, IT and software development.
Additionally, the manufacturing sector contributes significantly to Istanbul's economy through production of textiles and other goods.
With an abundance of resources and investment opportunities available in this bustling city – there are plenty of reasons why so many people choose to make their home in Istanbul.
Transportation
Istanbul is a bustling city with an abundance of transportation options, making it easy to explore the city and its many attractions.
With its strategic location on the Bosphorus Strait connecting Europe and Asia, Istanbul offers numerous ways to get around quickly and efficiently.
From ferries that traverse the strait to high speed trains that connect major cities, there's no shortage of options for travelers looking to explore this vibrant metropolis.
There are also plenty of taxi services available throughout the city as well as buses, trams and metro lines that make navigating Istanbul simple.
Visitors can easily take advantage of these reliable forms of transportation while exploring all that Istanbul has to offer, especially when you use an Istanbulkart.
The Istanbulkart is a convenient and easy way to get around Istanbul.
It is an electronic ticketing system that can be used on buses, trams, metro lines and ferries – ferries are by far my favorite way to travel!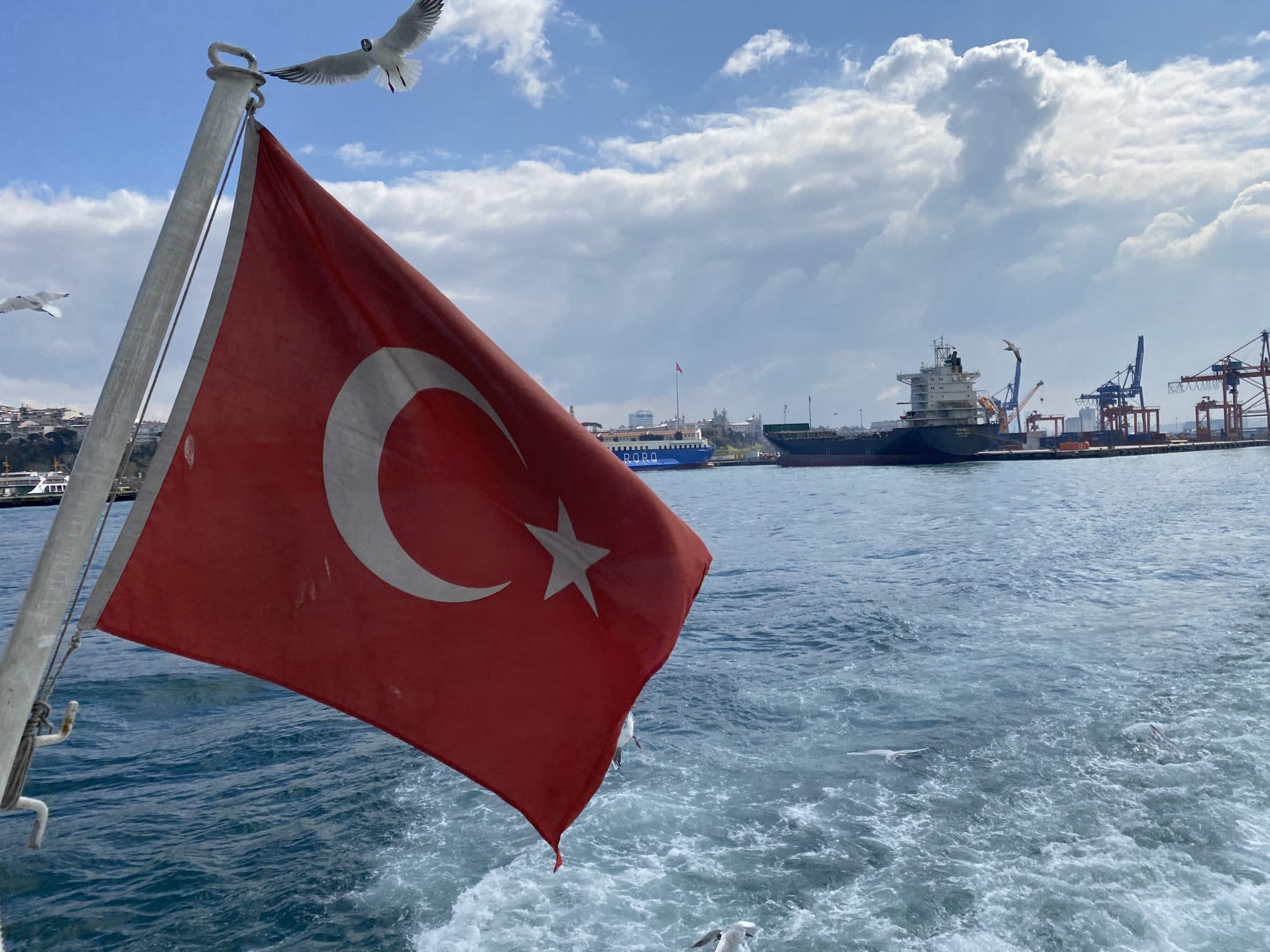 This card allows users to pay for their fares quickly and easily without needing cash or coins.
Additionally, it's easy to top up your card with credit so you always have enough money for your travels. Just go to one of the big yellow machines and follow the instructions.
With its convenience and affordability – the Istanbulkart is one of the best ways to explore all that Istanbul has to offer. Easy peasy.
Visiting Istanbul
If you're ready to come visit Istanbul, Turkey, there are a few resources I definitely recommend.
You should know these 23 things before you visit Istanbul
What you should wear in Turkey, especially as a woman
You will likely fly into the Istanbul airport though if you decide to fly in country, you will often use the Sabiha Gökçen airport.
The best option for getting to the tourist areas is using the HavaBus system. They have many different stops-including Taksim on the European side and Kadikoy on the Asian side-and is much more economical than a taxi.
Accommodations
There are so many options when looking at where to stay in Istanbul. Airbnb of course is an option as is HostelBooker but my favorite is Booking.com.
The reason is the great review system. There seems to be a bit more accountability with Booking.com in my experience.
That being said, you can't use it while in country unless you have a VPN turned on so it is good to make sure you have everything printed as well as have VPN on your phone or computer.
One of the other things I love about Booking.com is the customization available. You can choose what is important to you and see things that fit within those criteria.
Museum Pass
I am a huge fan of the Museum pass! Because people are always coming for visits, it makes it so handy to just buy one every year for myself.
There are a couple of options. You can check out the official Museum Pass website for all the details but there are a couple things I will highlight.
There is one for the whole of Turkey, one for just Istanbul and then a few for regional areas.
Make sure you check how long they area available. They are activated on your first museum entrance. So if you buy online and then don't use it until a month later, the clock will start from when you use it.
Make sure you always pull it out because sometimes a site isn't covered but it will provide you with a discount! One time I went to Pamukkale with my mom and got 30% off my sandwich!
If you're doing a lot of site seeing, they are typically a really great value and more than pay for themselves.
---
As we took a look at where is Istanbul, we also learned so much more!
From its beautiful architecture to its bustling economy and transportation options, Istanbul is a vibrant city with something for everyone.
Whether you're looking to explore ancient ruins or take advantage of the economic opportunities available in this metropolitan center – there are plenty of reasons why people flock to Istanbul each year!
With modern amenities like ferries traversing the Bosphorus Strait, high speed trains connecting major cities, and even an electronic ticketing system – getting around Istanbul has never been easier.
So if you're looking for a new adventure or simply want to experience all that this incredible city has to offer – make sure you put Istanbul on your list!
Where is Istanbul is a question that you know all about. What to you want to learn next?
– Kimberly
Frequently Asked Questions
What country does Istanbul belong to?
Istanbul is the largest city in Turkey. It is a part of the Marmara Region and is home to multiple UNESCO World Heritage Sites.
Can you drink alcohol in Istanbul?
Yes! While it is still becoming more popular, especially in tourist areas you can easily find alcohol. Raki is the national liquor. Anyone over 18 can purchase alcohol in Turkey.
Is Turkey part of Europe or Asia?
Is it safe in Turkey right now?
This is a pretty subjective question as everyone's degrees of safety is different. You can read more here about how you can stay safe in Turkey and determine if it is right for you.