Don't Miss the 11 Best Cafes in Istanbul for your coffee fix (2023)
Looking for the best cafes in Istanbul to experience? I have an epic list for you!
The Art of Living in Turkey contains affiliate links and is a member of the Amazon Services LLC Associates Program. If you make a purchase using one of these Amazon links, I may receive compensation at no extra cost to you. See my Disclaimers for more information.
Who doesn't love a quaint cafe while they are traveling abroad?
Maybe you're the type of person who would rather go, go, go but at some point you have to rest….right?
Even though I have been living in Istanbul since 2019 and have been to so many great cafes, I thought it would be fun to get other travelers to weigh in.
So I asked other travel bloggers what their favorite cafes in Istanbul were. I have been to a few of these but am so excited to add many of them to my list of places to see!
I have a map with them all laid out but read on to find out more why each traveler picked the cafe they did.
So as you are planning a trip to Istanbul, make sure a couple of these sweet Istanbul cafes make the list of places to go and enjoy some of the best coffee out there.
Best Cafes in Istanbul
1. Cafe Privato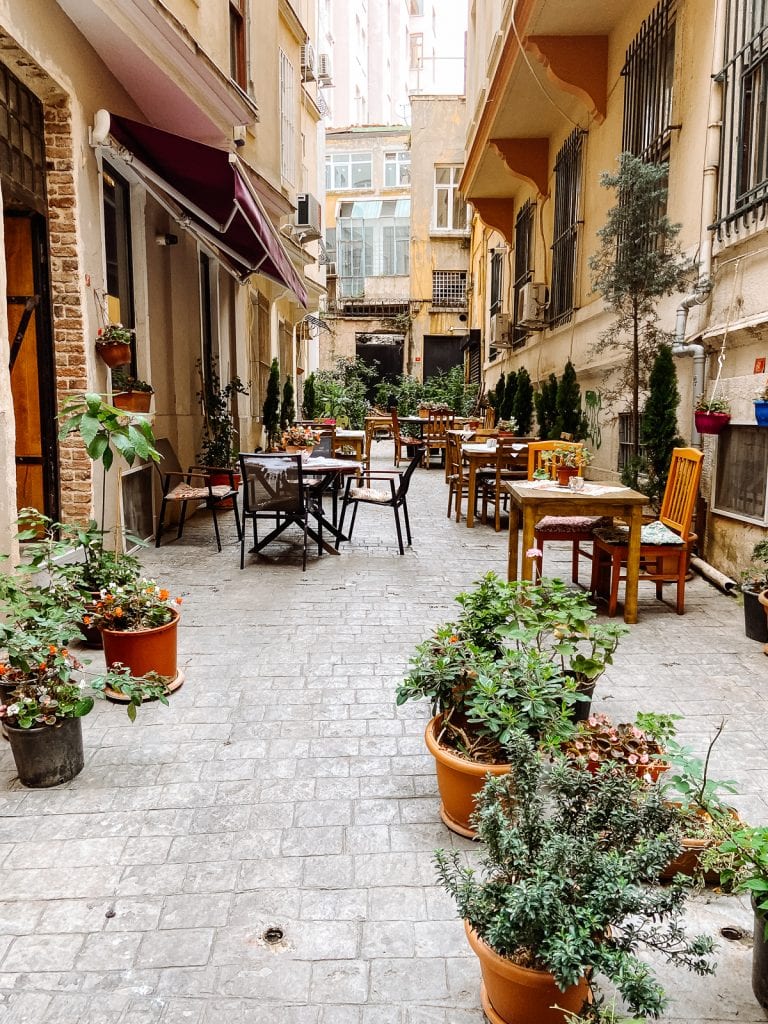 Down a small side street in the heart of Beyoğlu, you'll find the teal facade of Cafe Privato, one of the most adorable cafes in Istanbul.
This rustic-chic cafe has a "grandma vibe" with its antique furniture, amazing food, and incredibly friendly staff. My elderly server kept smiling and literally put food on my plate without speaking any English!
The highlight though is the "secret" terrace across the street down an alley that is littered with beautiful plants, flowers, and more antique tables and chairs. It's a peaceful and beautiful way to start the day with a hot beverage and breakfast!
While I loved the Turkish Coffee here, the standout drink is the "Salep" made from powdered orchid roots, milk, sugar, and cinnamon!
I also highly recommend the "Village Breakfast" which is bigger and better than any Turkish Breakfast I had anywhere else in Istanbul!
Starting the day with thick, chewy pancakes, creamy hummus, and grilled halloumi cheese? Yes, please!
Submitted by Taylor of Culture Craving Couple
2. Ehli Keyf Cafe
These days in Istanbul there are many trendy cafes selling lattes and cappuccinos but we certainly didn't travel to Turkey for an uninspiring coffee in a beige-painted room.
Decorated with an eclectic mix of fairy lights, potted plants, and weathered but elegant tablecloths, we were tired at the end of a full day of walking the city and this cafe had a certain charm to it.
Like many cafes in this area, it's definitely aimed at tourists but its authentic Turkish-style coffee was good enough for the locals too.
As well as traditional tea and coffee they had a full Turkish food menu but I visited with my mother for a late-night coffee and some famous baklava.
Staff were friendly and willing to stay open late so long as there were customers.
In such a busy area it's easy to walk past a place like Ehli Keyf Cafe in favor of one of the fancier modern cafes, thereby missing out on experiencing the overwhelming ambiance that Istanbul is renowned for.
You could sit here for hours watching local workers, tourists, and stray dogs darting past each other.
Submitted by Nilufar from www.tourcentralasia.com

3. Hafiz Mustafa 1864
Visiting Hafiz Mustafa 1864 for a cup of coffee followed by a plate of warm kunafa or a delicious chocolate baklava is an unmissable thing to do in Istanbul.
Hafiz Mustafa is not just any café in Istanbul. It is an institution.
Built by Ismail Hakki Bey in 1864 during the reign of the Ottoman Empire, Hafiz Mustafa started as a small candy shop. It soon became one of Turkey's most loved confectioneries.
Today, Hafiz Mustafa is a popular place in Istanbul to try Turkish desserts as well as an excellent coffee shop thronged by both locals and tourists.
Whether you're visiting Istanbul for a day or a week, you have to visit Hafiz Mustafa 1864 for a slice of Turkish history and culture.
They have several branches across the city, the Sirkeci branch being the most popular.
Hafiz Mustafa 1864 Sirkeci serves the best Turkish coffee that goes best with their incredible desserts such as Turkish baklavas and kadayifs. Be sure to pack a box of Turkish delights from Hafiz Mustafa as a wonderful souvenir from Turkey.
Submitted by Soumya of Stories by Soumya

4. Karaköy Güllüoğlu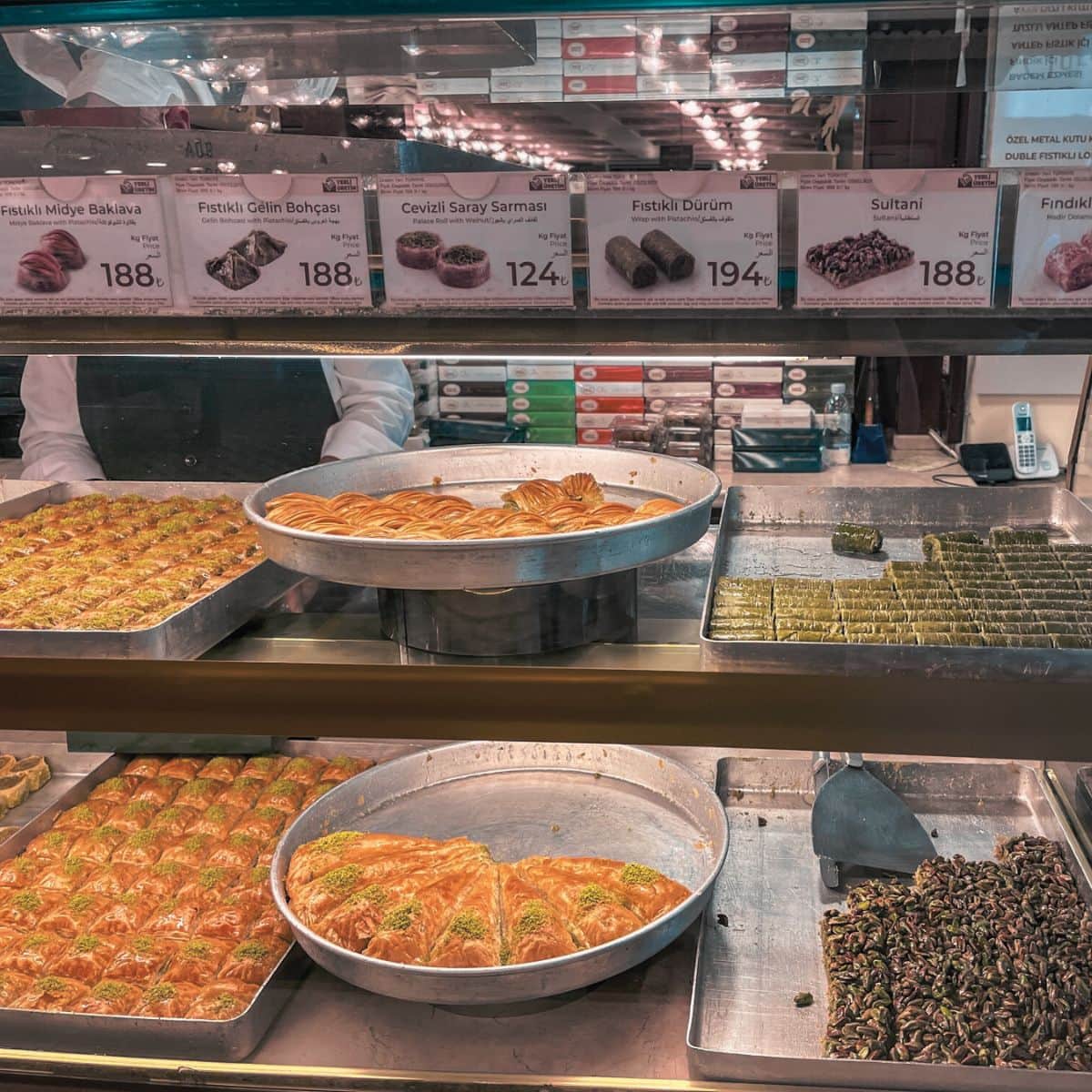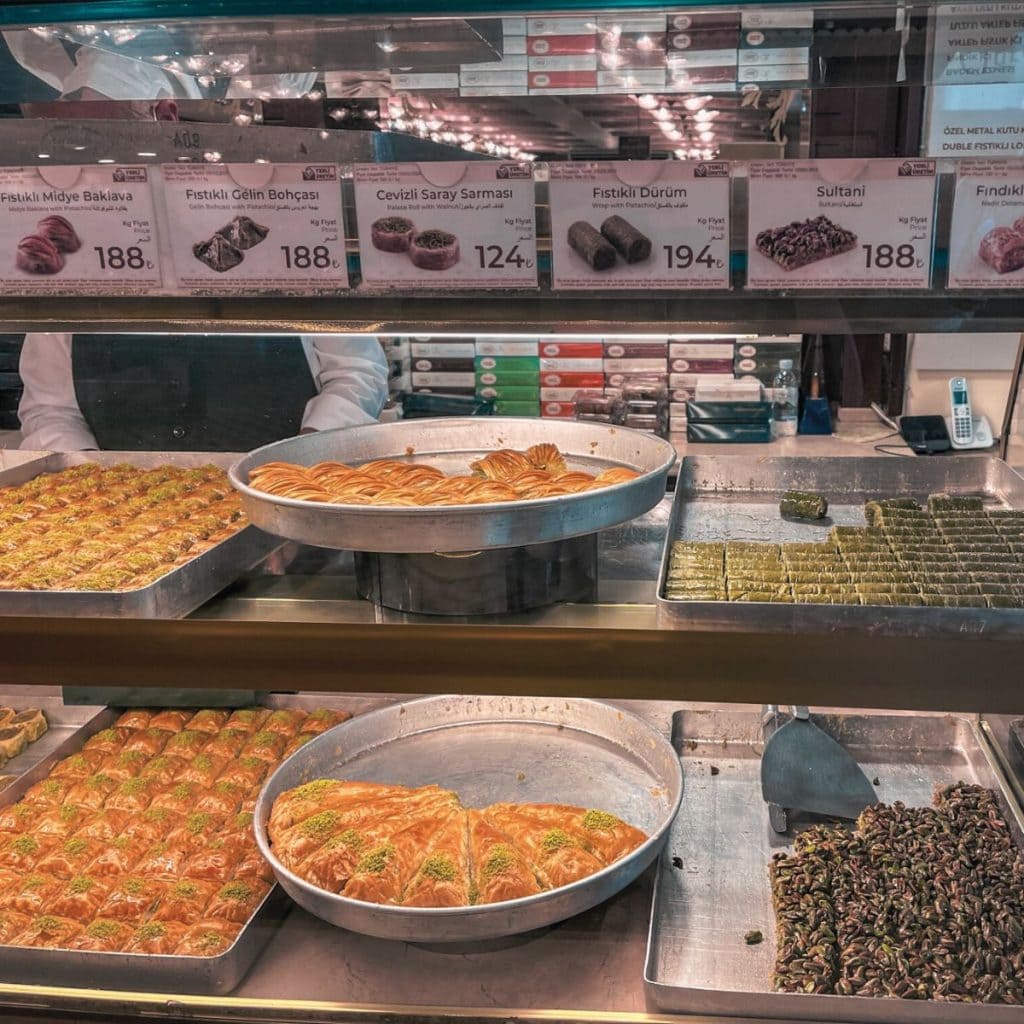 Among the best cafés in Istanbul, I recommend Karaköy Güllüoğlu. The Karaköy Güllüoğlu is a famous Turkish pastry shop and café located in the Karaköy district of Istanbul.
In Karaköy Güllüoğlu we can not only enjoy the popular Turkish coffee and tea but also an incredible variety of Turkish desserts such as baklava, lokum, and kadayıf. We also have the chance to try some salty Turkish dishes such as börek.
The history of the shop dates back to the 1800s and it is still a family business.
Today, Karaköy Güllüoğlu has become one of the oldest and most famous baklava creators in Istanbul, preserving its tradition for generations.
One of the special features of Karaköy Güllüoğlu is the possibility to taste gluten-free baklava, which is a rarity in Turkey.
We had several gluten-free versions to choose from, all of which were incredibly delicious. They also offer sweetened baklava for diabetics.
An added bonus is that although Turkish delicacies can be enjoyed on the spot, it is also possible to order online within the city via its official website.
The products can be ordered in beautiful boxes that truly reflect the quality and elegance of the place.
If you visit Istanbul, Karaköy Güllüoğlu is a highly recommended place to enjoy the best baklava in the city with a delicious Turkish tea or coffee.
Submitted by: Adri of Traveltipzone
5. Archeo Cafe
As soon as I set foot into Istanbul for the first time, I visited Archeo Cafe.
The establishment is located right in the middle of town in Beyoglu, making it the perfect place to grab a coffee before getting on with your day.
The owner is a lover of art and history. When I walked in, I saw the walls covered in the most unique artwork.
Talking to the friendly staff, I originally went in to try a traditional Turkish coffee, but upon asking questions about their coffee, I realized there were many unique options to try.
I ended up opting for the mastic gum coffee which is made from tree bark. It was full of an earthy flavor, which nicely counteracts the sugar.
The cafe itself is on the ground floor, however, there is a hostel upstairs that has both dorm rooms and private rooms.
The second time I returned to Istanbul, I booked at Archeo which meant I could enjoy their coffee many more times!
They also sold sweet treats such as cakes and slices. The owner even gave me borek with icing sugar to try! This is a breakfast dish made of flaky pastry, like filo. Delicious!
Submitted by: Delilah of Travel Sim Expert
6. Karabatak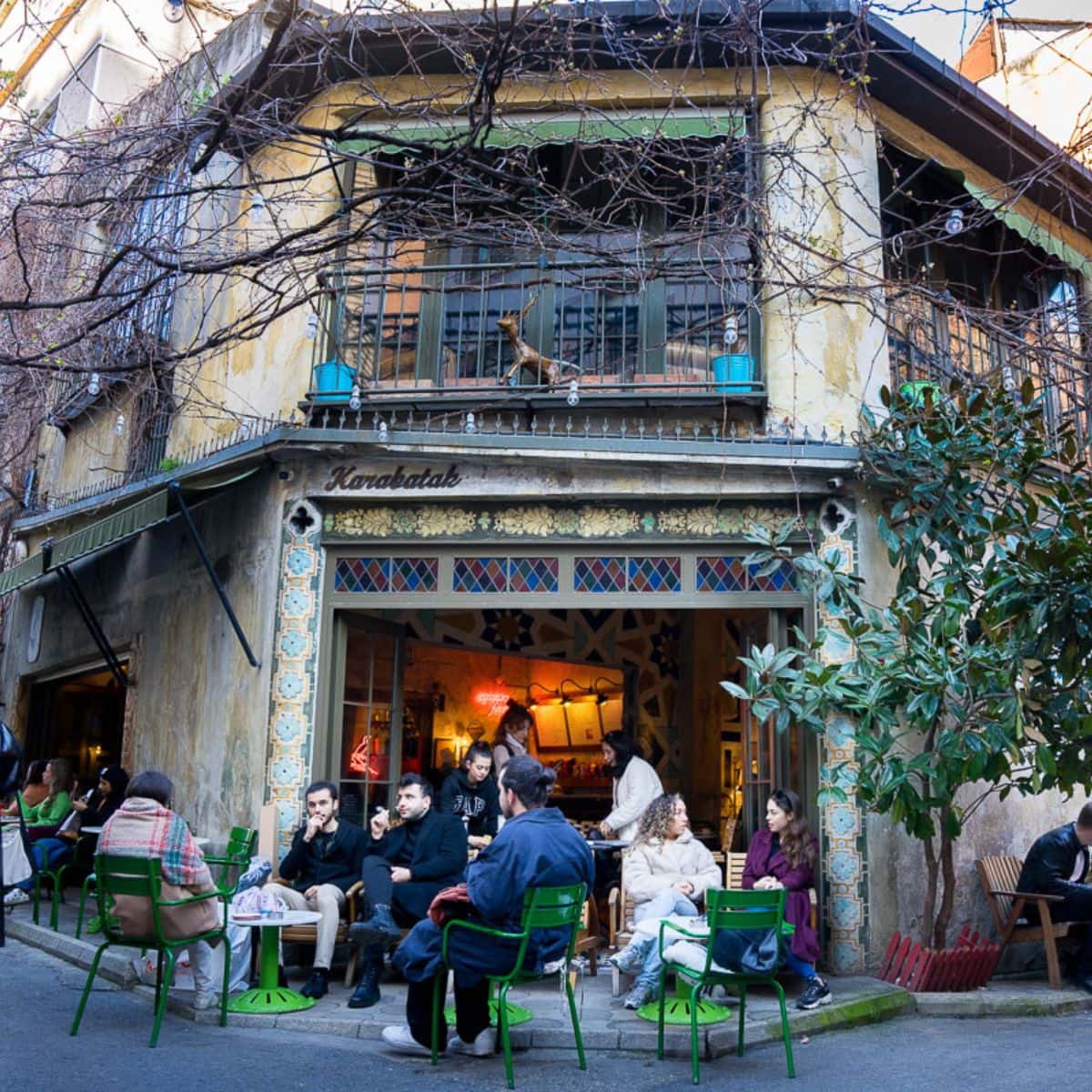 Istanbul's coolest neighborhood, Karakoy, has no shortage of trendy coffee shops and places to see and be seen. But beautiful Karabatak stands out as our favorite.
Located on a beautiful pedestrian street, a block from the Karakoy Pier, Karabatak caught our attention when we walked by with its classy yet laid-back look.
Groups lounging at low chairs and drinking coffee outside looked chilled, just like people hanging out at their friend's house.
Inside, Karabatak is a quirky blend of what is best described as a mix of Ottoman coffee shops and Vienna.
The hip customers, colorful decor, and low-key ambiance give Karabatak some serious bohemian vibes. It is self-service, so order at the counter and then grab a seat inside or out on the street.
The baristas will whip up your favorite coffee, anything from a flat white to an Americano to a vanilla late.
As it's hipster central, you can also get plant-based milk if that's your thing. Besides good coffee, you can order some fab cakes or light meals such as sandwiches, sausage, or chicken schnitzel.
We had the carrot cake and apple pie – both amazing but the apple pie disappeared first, so it was slightly better.
We loved it so much, that Karabatak became our local spot we visited every day when we stayed in Karakoy.
Submitted by: De Wet & Jin of the Museum of Wander
7. Espressolab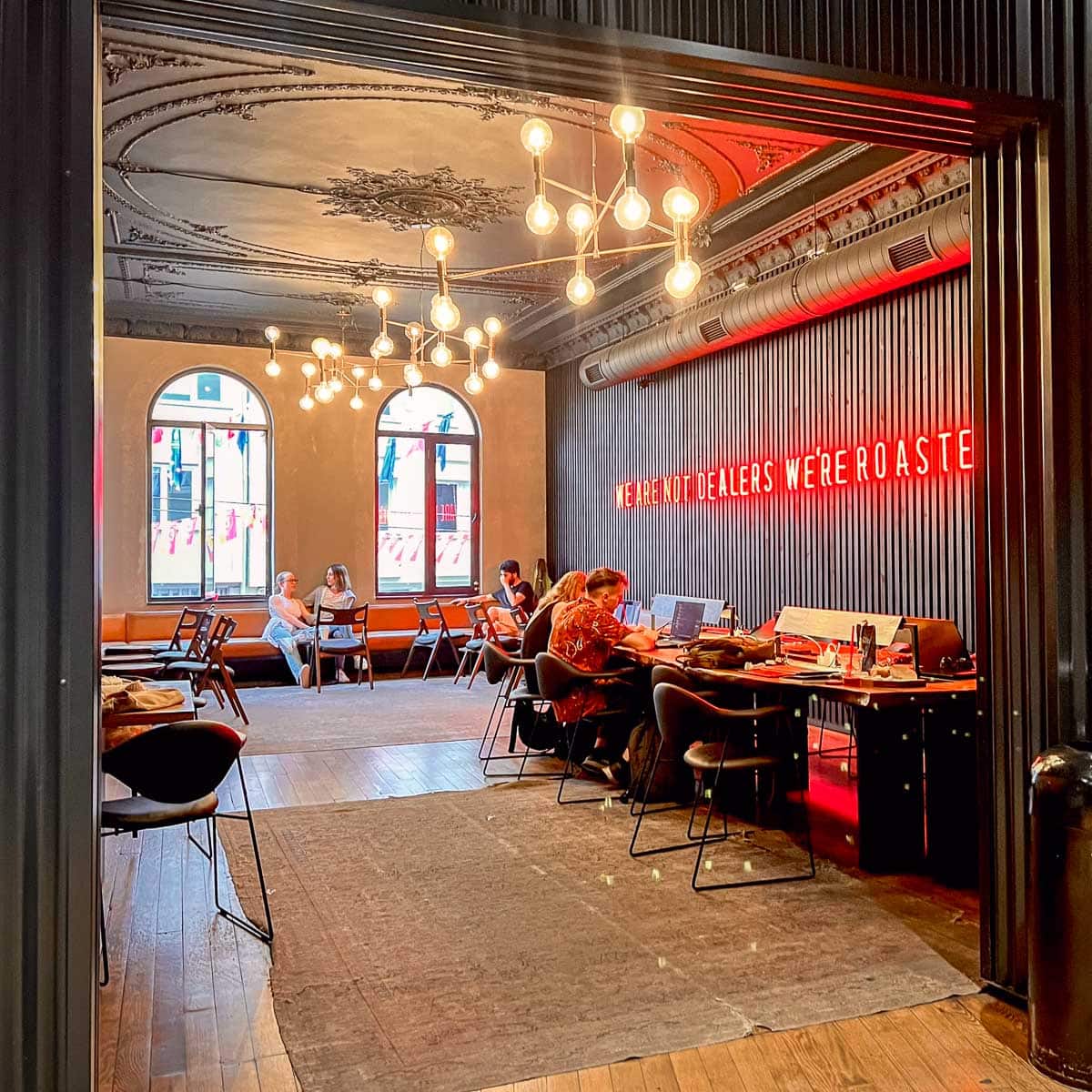 You may have already seen the name 'Espressolab' branded in many popular tourist areas with their iconic red circle logo.
Now, I'm usually more inclined towards cozy mom-and-pop coffee shops, but Espressolab is not your run-of-the-mill coffee shop, especially Espressolab Taksim Tünel on the famous Istikal Street.
Espressolab prides itself on being Turkey's leading innovative coffee chain, offering an extensive selection of gourmet coffee flavors, teas, and small snacks.
Upon entering Espressolab, you can't help but notice its trendy ambiance geared towards socializing youth and those typing away on their portable digital nomad equipment.
On the lower level, the cafe masters a fun open-concept loft-style decor, while the quieter upper level has rooms of inventive seating and tastefully placed neon signs and artwork.
When you want a break, there's even a backdoor leading to grand views of the Bosphorus.
Espressolab serves everything from traditional Turkish Coffee to fancier brews and small cakes.
Although I aimed to try everything inventive on the menu, I find myself irresistibly drawn back to their Gold Chocolate Mocha Latte, where every sip is filled with delightful chunks of melting chocolate.
Submitted by: Catherine of Nomadicated
8. Kadim Kahve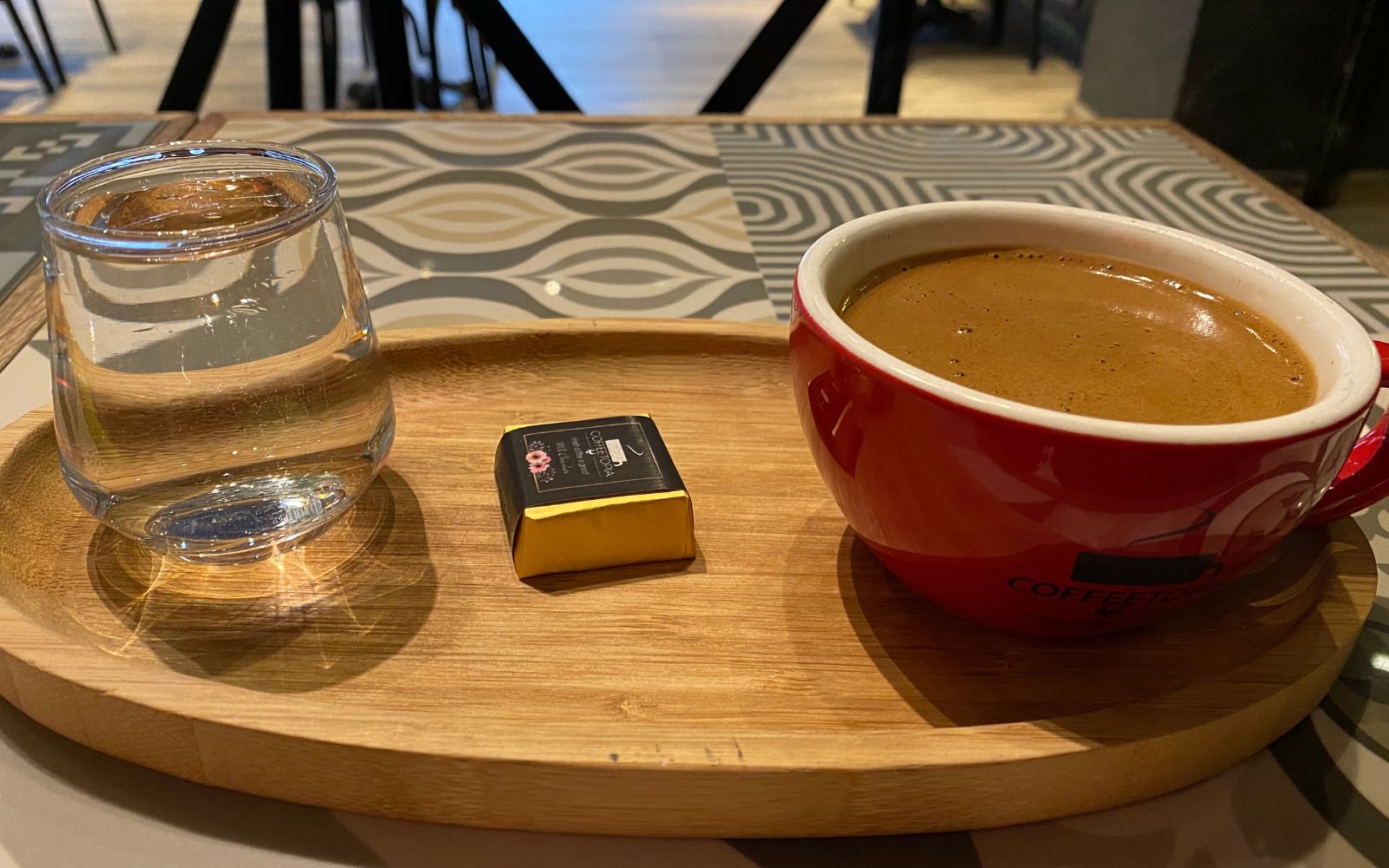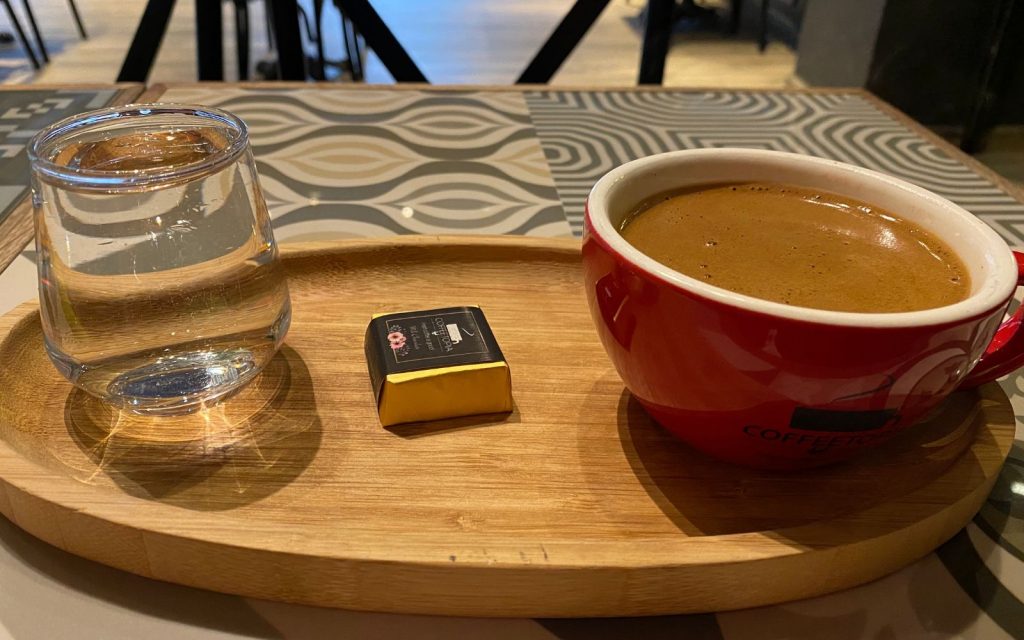 Years ago when I backpacked through Europe, I tried tiramisu in all 5 countries I went to. I thought it was fascinating that each country had a different style.
Some were almost soggy compared to others. Some had alcohol and some were alcohol-free. Some were really cream and others focused a lot on the coffee bit.
So when I discovered the tiramisu at Kadim Kahve I was absolutely delighted.
It is probably one of my favorite non-Turkish desserts in Istanbul. The texture is so incredibly creamy and the flavor is perfect.
It is quite rich so I always share it with someone as I sip on my coffee or tea. Or sometimes I will go and just work for a couple of hours and eat it really slowly.
Beyond the delicious desserts, they also have pretty tasty food with a large variety. Everything from kebabs to salads to Curry chicken to breakfast plates.
Let your taste buds enjoy the dance!
9. Walter's Coffee Roastery
Walter's Coffee Roastery is one of Istanbul's unique coffee shops but what's more is they also roast their own coffee beans.
From the moment you enter Walter's, you'll notice the Breaking Bad theme, an American TV series where a high school chemistry teacher turns to making meth after discovering that he has lung cancer.
Admittedly I wasn't super excited about the show except when it came out a friend who had gotten out of the drug scene, said that it was incredibly accurate.
I was curious to know more about him and so I watched the show.
Walter's has good, stable wifi and they serve both sweet pastries as well as coffee and non-coffee drinks.
There are also a lot of tables meaning it can really be a great place if you need to get away and work for a bit or simply meet up with friends.
Their drinks are good and this is the second dirty chai in Istanbul that passed my test. Hope you enjoy it!
10. Mill Bakery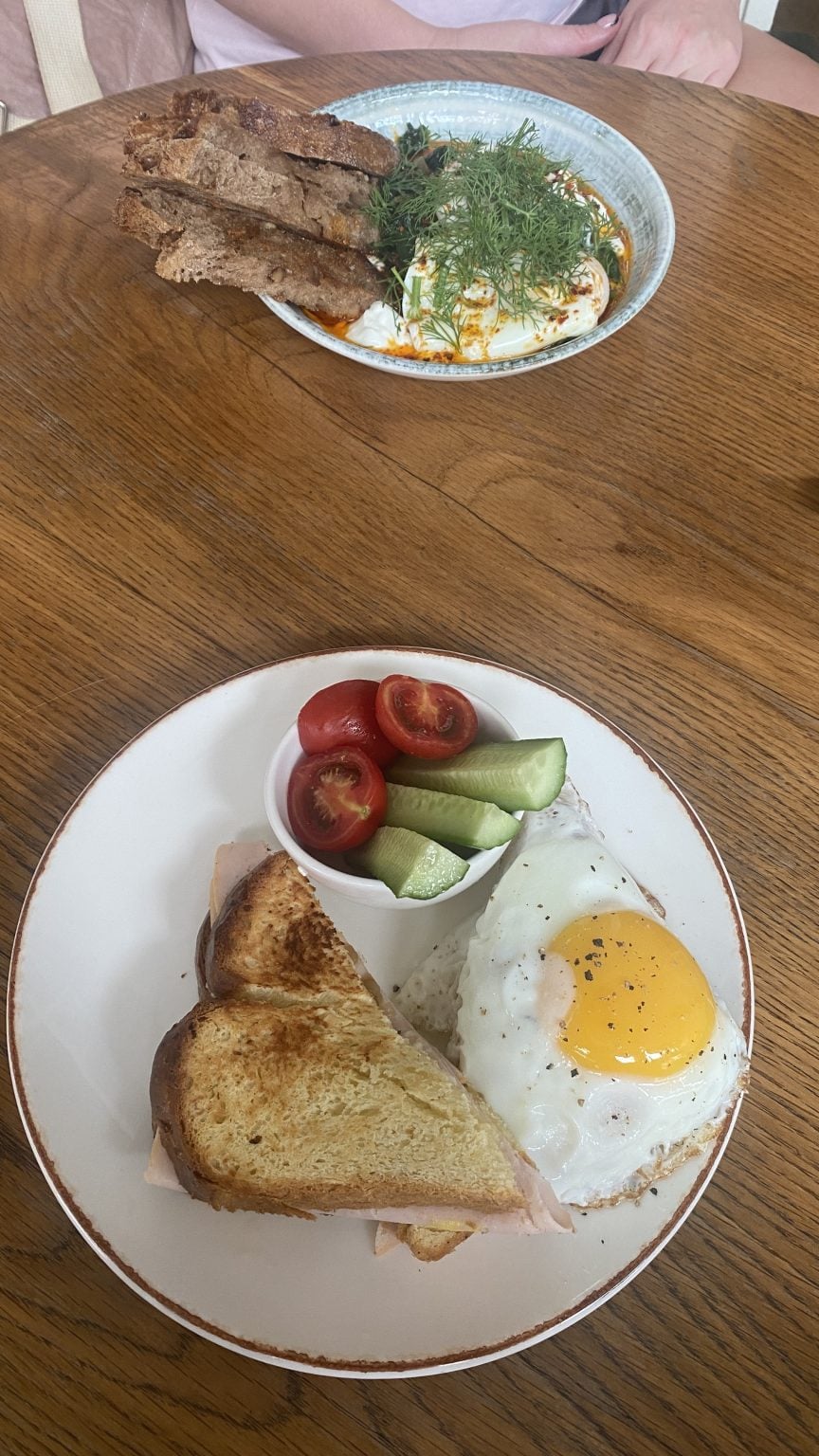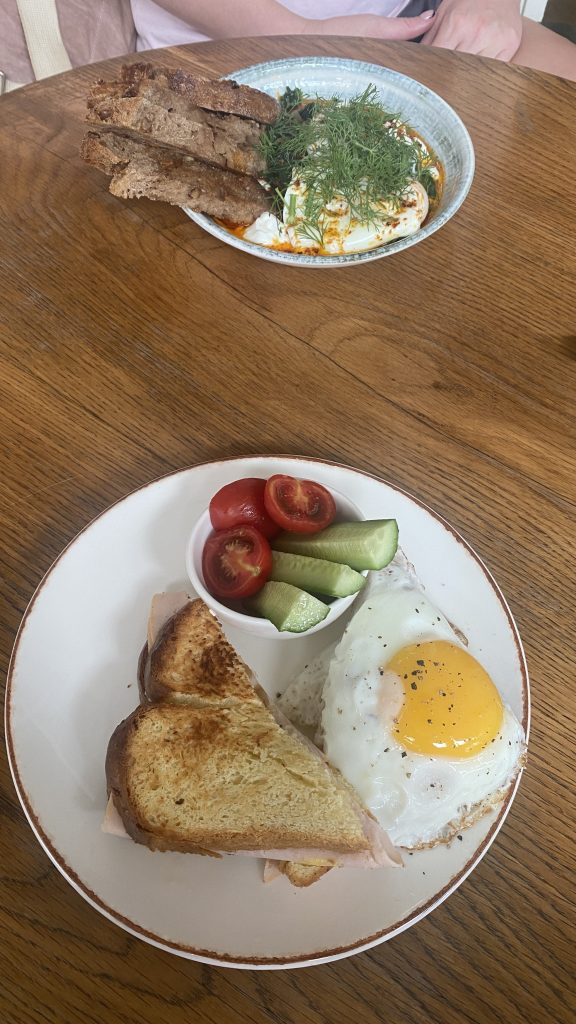 Mill Bakery is the cutest little cafe with lots of outdoor seating, which is perfect for most of the year.
I first went here for a Turkish lesson with a friend. I live in Kadıköy and was shocked that I hadn't discovered this little gem.
I have been there since then again and it has never disappointed me. The coffee is always good and the last time I got some breakfast that was absolutely delicious.
What I love about Mill is that they make their own bread. It is always fresh and there are so many great options.
My sandwich came on a ciabatta bread that was perfect! Enjoy a break from all the shopping and wandering with a light meal and tasty coffee at Mill Bakery.
11. Glow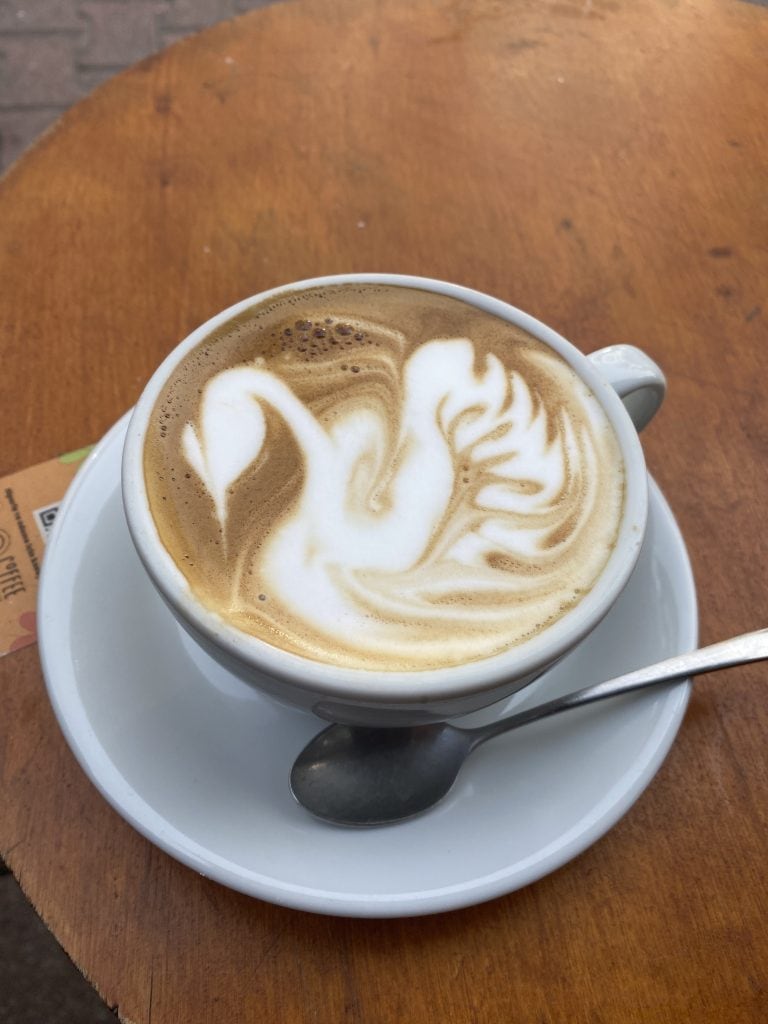 I am a pretty simple coffee drinker. I do like milk in it but no sugar or flavors generally.
But every so often I go hunting for something that will remind me of home. As I live in this world that is not my home country, sometimes I get homesick.
In May of 2023, I went to Glow Coffee, one of the best cafes in my opinion, with some foreign friends who were visiting. They were much braver and ordered a dirty chai (a chai latte with an espresso shot).
I am quite picky when it comes to dirty chais and so I have never wanted to potentially waste the money trying. BUT IT WAS AMAZING!
The reason it is so good…they make their own mix.
Of course, coffee lovers will enjoy their drip coffee, and their lattes are exceptional. One time I tried a lavender latte and fell in love.
They also have delicious desserts to pair with your coffee.
You can't go wrong with a couple of hours wandering through Kuzguncuk and a stop at Glow Coffee.
Coffee Culture in Istanbul
Istanbul's coffee culture is such an important part of Turkish culture as a whole.
But what is interesting to me is you are now seeing more and more of this modern third-wave culture alongside the traditional Turkish culture.
They are quite different from each other in preparation but the root of it all is the same, community and connection.
At one point in Ottoman history, 1633 to be exact, coffee was illegal and a particularly brutal sultan would wander the streets of Istanbul coffee houses, beheading offenders.
There were other rulers who also outlawed this "nectar of God" as many have referred to it. Thankfully it isn't so anymore.
Now it is a much beloved part of culture. Turks even have a saying to communicate how important coffee is in their connected culture.
Bir fincan kahvenin kırk yıl hatırı vardır.
It means "A single cup of coffee can create a friendship that lasts for 40 years", while literally, it translates to "a cup of coffee has a 40-year memory".
One last thing that is interesting is the timing of when Turks generally drink coffee. In Western culture, many of us roll out of bed, find our beloved friend the coffee pot or a french press, and don't engage anyone until a cup of life is drunk.
In Turkey, the word they use for breakfast is kahvaltı. It comes from two words: kahve (coffee) and altı (below or before).
For Turks, coffee is usually enjoyed after breakfast or even into the afternoon, while tea is enjoyed with breakfast.
FAQs about Istanbul coffee shops
How do I order a coffee?
You can order a coffee in English in most touristy parts of town. If you want to order in Turkish you can say "Bir [beer] *insert drink from menu* alabilir [all a bee leer] miyim [me yeem]?"
Is Istanbul good for coffee?
Yes! You can find modern coffee practices with your V-60 and french press coffee as well as the more traditional Turkish coffee. As locals work to get an edge on the market, there are more and more coffee roasters popping up as well.
How much is a cup of coffee in Istanbul? (2023)
That really depends on where you are. Enjoying a cup of coffee at Starbucks starts at roughly 65 tl but with a fancy drink it can easily be 130 tl. If you're looking at a high quality a nice latte can start at 90 tl. And Turkish coffee varies greatly somewhere between 30 tl – 60 tl.
what is the best coffee shop in Istanbul with a view?
Depends on what you want the view to be. One of my favorites is the Starbucks in Bebek, Besiktas. Why? Because it is right on the Bosphorus! You can sit there as if you were in a boat looking out across the water while drinking a coffee. There are of course other great options with a higher view as well.
Do you tip in Turkey?
Technically no but with foreigners it is becoming more and more expected. You can read my whole article on tipping according to industries for a better understanding.
Final thoughts on the best Cafés in Istanbul
Istanbul is a city known for its vibrant coffee shop and cafe culture.
There are so many wonderful places to explore in this beautiful city, as you saw from the list above.
Remember that the cafe culture in Istanbul is not just about the beverages but also the experience of leisurely enjoying your drink, often accompanied by a delicious Turkish dessert.
Turkish coffee and tea are staples, but many cafes also offer a wide variety of international coffee styles and herbal teas as well.
Exploring Istanbul's cafes offers a wonderful blend of history, culture, and modernity.
They are perfect places to relax, socialize, and soak in the unique atmosphere of the city. Enjoy your time exploring these cafes and drinking great coffee on your next trip to Istanbul!
Read More:
Turkey vacation basics
When I plan a trip these are the websites I use. Hope they help you plan your next adventure as well!
FLIGHTS: I am a huge fan of Skyscanner and WayAaway.
VISAS: You can use the free e-visa portal here but for a few extra dollars you can use iVisa and someone else will handle any issues that may come up.
E-SIM: When I traveled to SE Asia I discovered e-sims and I'm never going back. Airalo has been easy and cheap!
TRAVEL INSURANCE: I use TravelInsurance.com for my trips abroad.
CAR RENTAL: I have loved working with Discover Cars when I rent cars in country.
ACCOMMODATION: Find the best Turkey hotel deals on Booking.com.
CITY TOURS & DAY TRIPS: You can browse GetYourGuide's website to find just the tour you're looking for!