Sail Turkeys Southwestern Coast on a Traditional Gulet (2023)
Have you been wondering about the best tour to sail Turkey's coast? I've got you covered!
I get it. Every tour looks great and it can be hard to figure out which one is best.
I will help you understand why Contiki is a great option for your next adventure.
Discover the breathtaking allure of Turkey's picturesque coastline, where azure waters caress pristine beaches, and history weaves seamlessly with natural beauty.
As someone who has called Turkey home since 2019, I have had the privilege of spending a lot of time along the Mediterranean coast.
Here, the ancient art of sailing intertwines with modern-day adventure, offering a captivating experience like no other.
While sailing Turkey's coast, which stretches over 8,000 kilometers, you will experience a maritime paradise that beckons you to explore.
From bustling harbors to secluded coves, each port of call reveals a unique facet of Turkey's rich cultural tapestry and diverse landscapes.
For millennia, this region has been at the crossroads of civilizations, leaving a lasting mark on its shores.
Ancient ruins stand witnesses to the passage of time and charming coastal towns harbor stories that unravel like unfurling sails.
As a passionate explorer who has immersed myself in the coastal wonders of Turkey, I invite you to check out this epic adventure.
You will discover everything from hidden bays and lagoons of turquoise water of the Marmaris to quaint fishing villages and lively seaside towns.
Let's jump in and see why this Contiki Turkish sailing adventure is one worth having!
Overall, Contiki's Turkish sailing experience combines the exhilarating joy of sailing on the pristine Mediterranean waters with the chance to explore Turkey's captivating coastal towns.
They provide you with all you need to make the memories of a lifetime with other people your age. Their tours have been purchased by thousands who have gone before you and can all testify to the quality of their tours.
What is Included in this Turkish Gulet sailing Holiday?
This sailing holiday in Turkey runs along the Southern coast of Turkey.
Guests will stay aboard a traditional Turkish gulet, a handmade wooden boat sometimes known as a motor sailor.
Over the course of 7 nights and 8 days, you will visit 11 different cities. Some you will get to sunbathe for a while and then there are 6 different places you will port for the night.
Most of your meals are provided (breakfast, lunch, and dinner), made fresh on the boat, and enjoyed with everyone all together.
There are a couple of meals that you will pay for on your own as you go into the port city and explore.
As a resident of Turkey, I can attest to the deliciousness of the food! Especially along the coast, it will be nice and fresh.
Alcoholic drinks are available for purchase for somewhere between $5-$10 each. If you want coffee, tea, or sodas outside of meals those can also be purchased but are free with your meals.
One thing to mention is they required you to have purchased travel insurance for the trip but there are many options to do that.
If you're interested, there is also an add-on for a Turkish bath, or hamam as it is called in Turkish. I highly recommend doing this. About a year ago I started going to the hamam once a month and it has become one of my favorite things!
It is probably one of my favorite things about life in Turkey. You leave and your skin is so soft and you are so relaxed. It's the perfect way to end your trip.
your Sail Turkey Itinerary out of Fethiye
Day 1 – Fethiye to Boncuklu Bay
On this Turkey boat tour, Fethiye will be your first stop. This Is where you will board and unpack, then head to Boncuklu Bay.
You'll get to explore Fethiye at the end of the trip. I have visited here many times and love it so much! You will too.
Day 2 – Boncuklu Bay to St. Nicholas Island via Ölüdeniz
Ölüdeniz is absolutely stunning. The water here is almost unbelievable.
Hopefully, it will be a clear and sunny day for you to fully enjoy it, which it usually is in the summer.
Then you get to explore the island after dinner if you want. It is home to the tomb of the OG Santa, St. Nicholas himself.
If you get a chance make sure you check out the Butterfly Valley. It is an incredible sight to see.
Day 3 – St. Nicholas Bay to Kaş via Firnaz
You will get to enjoy a swim in Firnaz Bay before heading on to Kaş. Sailing Turkey's coast will be an unforgettable experience.
You can bring some snorkel gear as well if you want to see some epic underwater scenes.
Day 4 – Kaş to Kekova Bays
There aren't sandy beaches in Kekova so make sure you have a good pair of water shoes with you to really enjoy the trip.
You can explore ruins of all sorts. If you have enough time, you can even go kayaking.
Day 5 – Kekova Bays to Myra
Earlier in the trip you had the opportunity to visit St. Nick's tomb and here in Myra, it is believed to be the birthplace of the OG St. Nick.
You can visit the church or see old stone-carved cities and so much more.
Day 6 – Myra to Yeşilköy via Kalkan
Before you get to Yeşilköy you'll drop anchor in Kalkan for some sunbathing. Make sure you put on sunscreen as the Mediterranean sun is no joke.
Then you will port for the night in Yeşilköy in Antalya. You will get to explore a bit. I love Antalya though I typically prefer it in the Spring and Fall. There are some really great places to see here.
One of my favorite things actually about this coast is the contrast of the mountains next to the beach. It is absolutely beautiful. Some of my favorite sunset photos have been taken at this beach!
Day 7 – Yeşilköy to Fethiye via Samanlik Bay
As you leave Yeşilköy, you'll head to Samanlik Bay for your last sea swimming before getting to Fethiye. Enjoy the beautiful blue waters and the unique seaside.
Then you will head back to Fethiye for one more night on the boat. This is the time you will get to go to the hamam if you're interested. Again…highly recommend it.
Day 8 – End Fethiye
Check out and continue on your way.
Traditional Gulet cruise with Contiki
Social Connection
Just like other Contiki trips, sailing adventures foster a strong sense of community among travelers. Living together on a sailboat encourages bonding and camaraderie, leading to lasting friendships and shared memories.
If you are a solo traveler who wants to see more but is nervous to go out on your own or you just don't have anyone else to travel with, this is a great option for you!
Contiki is known for the community it fosters among travelers. Given that it is only open to those 18-35, you'll be with people similar in age.
Plus with all accommodations and logistics taken care of by the Contiki team, you can focus on enjoying the journey without the typical hassles of planning and booking accommodations.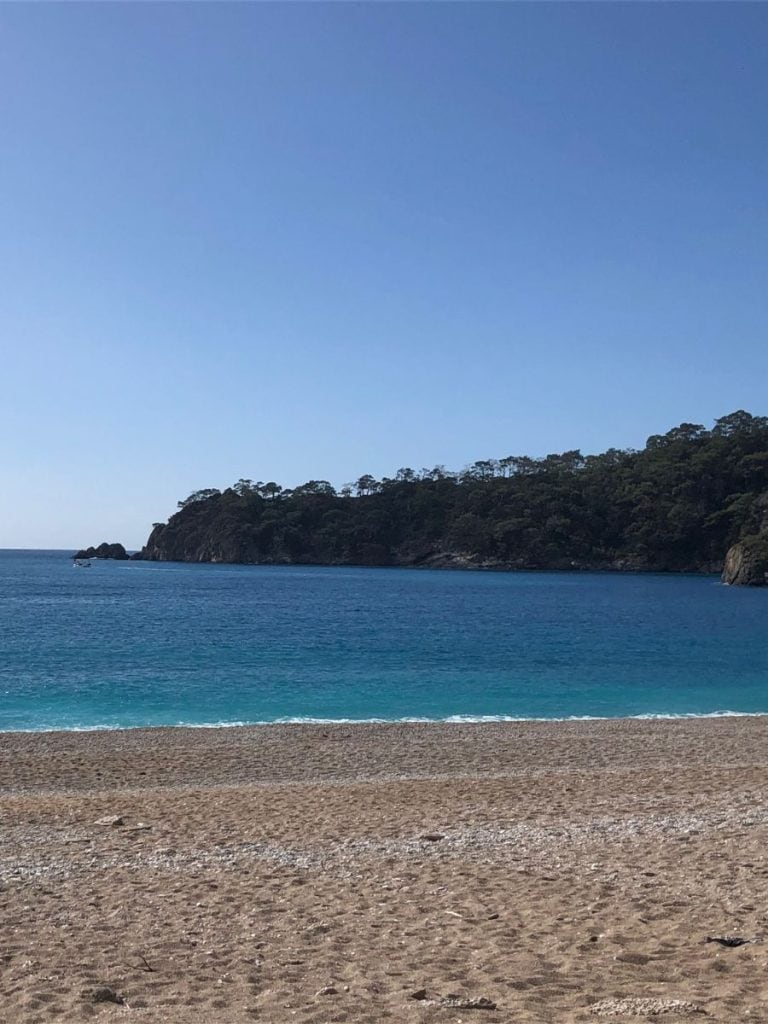 6 cities in one week
The best sailing adventure involves visiting multiple coastal destinations in a single journey, giving you the chance to explore diverse cultures, cuisines, and activities in each location.
This means you can experience the best of several destinations in one trip and only have to unpack once…honestly my favorite part of a boat trip.
The stops on this trip are pretty great as well. Oludeniz is stunning and all my local friends are the biggest fans of Kas.
Plus sailing itself is an adventure, and being on a sailboat allows you to immerse yourself in the elements and feel the wind and waves as you navigate the open seas.
All the activities
Like on any other Turkey sailing trip, you will be able to swim and enjoy the Mediterranean Sea, of course. But similar to a cruise, you will spend the day exploring the cities you visit as well.
You can see the itinerary here. You will notice that there are some pretty epic things to see in each of these cities.
There is everything from temples to the tomb of St. Nicholas himself to the ruins of the ancient city of Myra.
They have life jackets, pool noodles, etc available but you are also welcome to bring your own inflatable if that is something you really want to enjoy.
Environmental awareness
One of my favorite things is that Contiki places an emphasis on sustainable tourism, and their gulet trips align with this philosophy.
Sailing is considered an eco-friendly way to explore, leaving a smaller environmental footprint compared to traditional mass tourism.
Contiki emphasizes the importance of preserving the environment and giving back to local communities.
Unparalleled quality
You get to witness breathtaking views along the Turkish coastline landscapes, crystal-clear waters, and picturesque sunsets from the deck of your sailboat.
Their staff is extremely skilled. They will teach you some sailing tutorials but because of safety reasons you won't be required to do anything…just kick back and enjoy!
Another thing that blows my mind is that, as of 2023, they have nearly 19,000 reviews and 14,000 of those are 5-star ratings. They are so loved by the people who travel with them.
A lot of the other tours will make you pay for things like coffee and tea or make you bring your own towels.
With Contiki coffee, tea, and juices are free at meals and they provide towels, though they recommend bringing an extra since you're in and out of the water all day every day.
Pros of the Turquoise Coast Cruise
Unforgettable Experience: Sailing with Contiki offers a unique and adventurous experience that allows you to explore picturesque coastal destinations and remote islands, creating unforgettable memories.
Social Atmosphere: Contiki trips, including sailing adventures, foster a vibrant and social environment. You have the opportunity to meet and connect with like-minded travelers, making new friends from all over the world.
Expert Guidance: Contiki sailing trips come with experienced crew members who know the waters, the best places to visit, and how to ensure a safe and enjoyable journey.
Multiple Destinations: This trip includes visits to multiple coastal cities in one trip, giving you a chance to experience diverse cultures and landscapes in a short span of time.
This is a small peek at the ancient city of Perge in Antalya, Türkiye
Cons of the Go Sail Turkey Trip
Of course, if there are pros, there will also be cons. To me, the pros outweigh the cons but here they are for your consideration.
Limited Time in Each Location: Due to the nature of boat trips, you might have limited time to explore each destination thoroughly. If you prefer a slower-paced travel experience, this might be a downside.
Potential for Seasickness: Sailing on open waters can cause seasickness in some individuals, which could affect their overall enjoyment of the trip. There are so many solutions for this these days though!
Confined Spaces: Living on a sailboat means limited personal space and shared facilities, which may not be suitable for travelers who value more private accommodations. Good thing it is only 7 nights.
Cost: Sailing cruises, especially those involving island hopping and various activities, can be more expensive than standard land-based tours.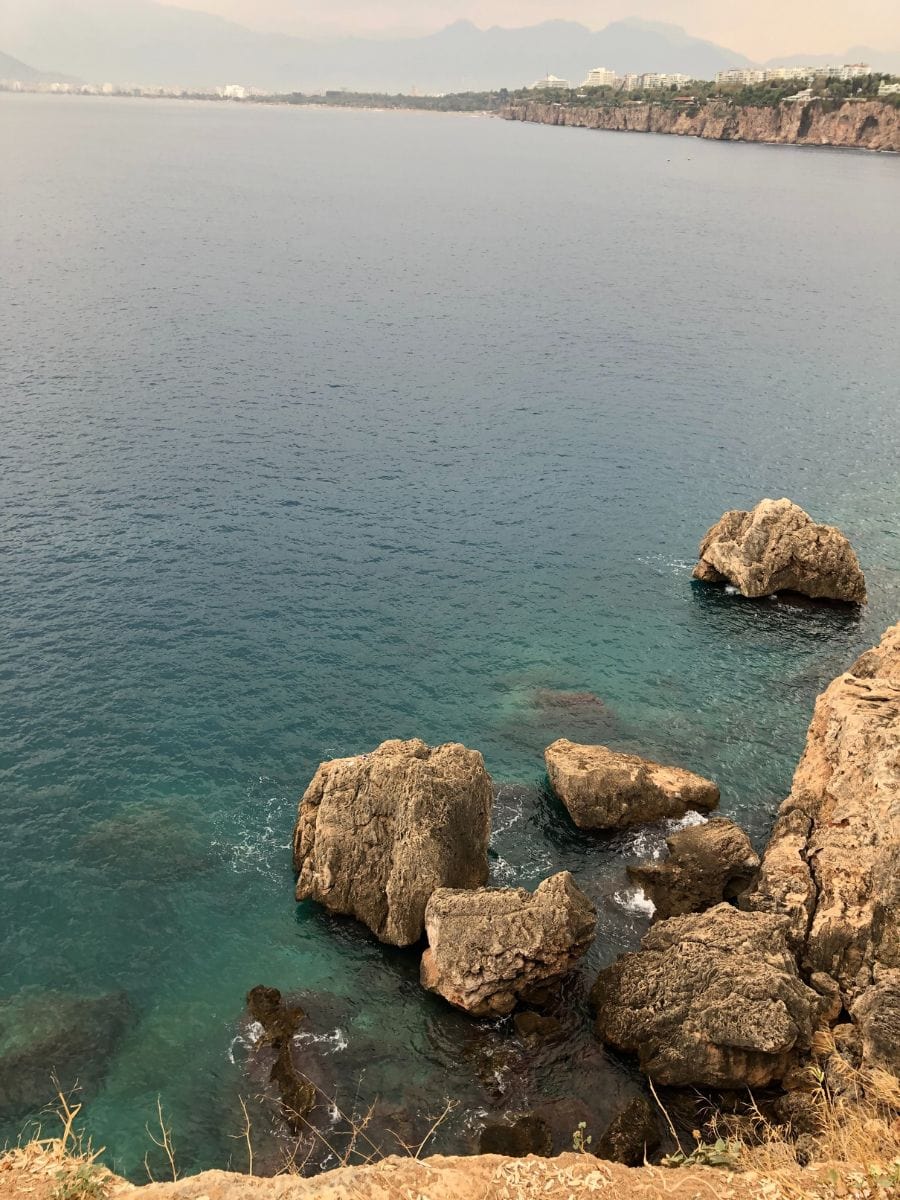 Who is Contiki?
Contiki is a renowned travel company that has been offering unique and immersive travel experiences to young adventurers for several decades.
Their first trip happened in the summer of 1962 and by 1966 they were incorporated in the UK, quickly gaining popularity by catering exclusively to the 18-35 age group, providing them with the opportunity to explore the world's most captivating destinations in a fun and social atmosphere.
The company's carefully crafted itineraries combine must-see landmarks with off-the-beaten-path gems, ensuring travelers get a comprehensive and authentic experience of each location.
What sets Contiki apart is its focus on creating a tight-knit community among its travelers, fostering lifelong friendships and unforgettable memories.
Over the years, Contiki has become a leading name in youth travel, inspiring countless young individuals to venture beyond their comfort zones and embark on life-changing journeys.
My Experience with boats
While I have only gone sailing once or twice, I am a huge fan of being on the water. I love being on boats of all shapes and sizes.
I love the freedom they provide and how I get to explore places I wouldn't on a normal day. If you haven't been sailing or on a boat, make sure you bring something for motion sickness just in case.
Thankfully I have never struggled with that but I have many friends who do. There are a lot of options between pills, pressure point bracelets, and stickers of medicine you put behind your ear.
You're gonna have a blast!
Who is this sailing trip for?
If you are 18-35 and want to meet new people, along the turquoise coast of Turkey, and see a part of the world that many miss, this is the trip for you.
It is a bonus that there are only 16 max other people on this sailing adventure. The group is big enough to make friends but not so big that it is overwhelming.
Famous Blue Cruise pricing
There isn't a single price as it changes according to season and demand. You can check out the prices and availability below.
There also often have pretty good discounts if you book far in advance. Take advantage of that as you plan your next trip!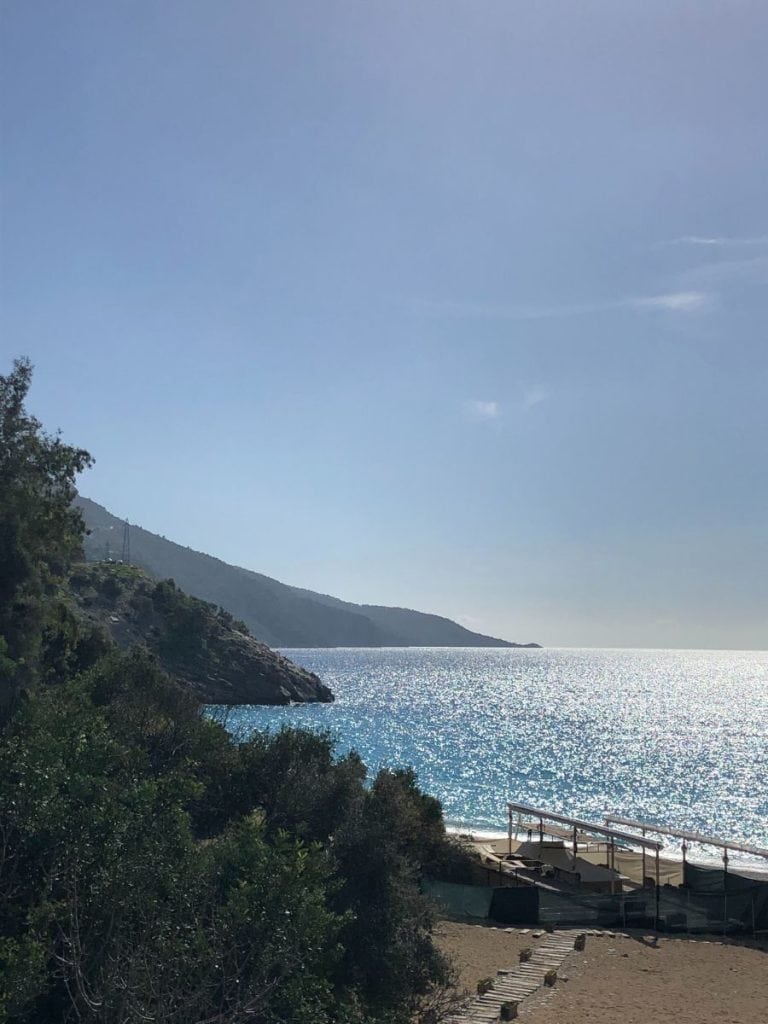 Contiki Turkish Sailing Alternatives
A shorter trip
If you're looking for something a bit less expensive, you could try this 4 day Gulet cruise in Turkey that goes from Olympos to Fethiye.
One of the fun features of this trip is that you will sail over the Sunken City of Kekova.
Your meals are included but none of the admissions to the sites are included but often run around 1 euro to enter.
This cruise is put on by SAILNSTAY and they also have great reviews.
Check Prices and Availability on Tripadvisor!
A less expensive trip
This is another SAILNSTAY option. Same amount of time but could be a couple hundred dollars cheaper than the CONTIKI cruise.
This one is set more to the Lycian Way part of the coastline though some cities will overlap between this and the CONTIKI cruise.
One fun included experience with SAILNSTAY is the option to watch the sunset on top of Simena Castle! It doesn't get much better than that.
If you do this one, however, make sure that you bring enough Turkish Lira to cover your tab as they don't have credit card processing on board.
Check Prices and Availability on Viator!
A Hybrid sailing cruise
If you're looking for both some sailing and on-land touring this is a great option for you.
This tour has 3 nights/4 days on a gulet seeing places like Kekova, Firnaz Bey, Fethiye, and so much more PLUS you will get to see places like Pamukkale, Ephesus, and Cappadocia.
What's more, the flights during the tour are included and all meals on the boat are included. You will get to do your own dinner when on land which allows you the freedom to explore as you want.
It also has a 24-hour cancellation policy which is pretty great.
FAQs About sailing in türkiye
What time of year is best to sail in Turkey?
The season for sailing is April through November. What time of year depends on what you're looking for in a sailing adventure. I personally prefer the shoulder seasons but if you love the really hot sun, then summer is a great option for you.
Is Turkey good for sailing?
Along the Turkish Riviera or the Turquoise Coast, Türkiye's coast has some of the most beautiful water and coastline around. Because the mountains line the coastline, the strong winds don't typically make it to the coast, making it quite enjoyable for sailing.
Where do you sail in Turkey?
The most commonly sailed areas in Turkey are the Mediterranean coast and then further east along the Lycian Way. You can hire a gulet charter to take you just about anywhere you want to go for a premium free.
What time of year is the cheapest to go to Turkey?
The cheapest time to go to Turkey is definitely in the shoulder season. It is also, in my opinion, the best time to go. You still get the warm weather during the day but cooler nights and a lot fewer tourists. Plus, the prices are obviously cheaper.
What is sailing in Turkey like?
Most of the time sailing in Turkey involves spending time on Turkish gulets which is a unique type of sailing boat that includes a motor. You will get to see lots of quaint bays, unique shorelines, and ancient city ruins.
Final Thoughts on Sailing Holidays in Turkey
The magic of Turkey's coastal wonders is boundless and ever-ready to welcome you to explore on your week of sailing with Contiki.
As you continue planning your Turkish Gulet cruise, may the spirit of exploration guide you to new and exciting destinations.
You can check out more options for other Turkey boat trips from Antalya and Turkey tours in Fethiye below.
So if you're ready to set sail on one of these Turkey sailing tours, reserve your spot now. Enjoy your time in Turkey!
Read More:
Turkey vacation basics
When I plan a trip these are the websites I use. Hope they help you plan your next adventure as well!
FLIGHTS: I am a huge fan of Kayak and WayAaway.
VISAS: You can use the free e-visa portal here but for a few extra dollars you can use iVisa and someone else will handle any issues that may come up.
E-SIM: When I traveled to SE Asia I discovered e-sims and I'm never going back. Airlo has been easy and cheap! Use code "SEP15" to get 15% off on one booking.
TRAVEL INSURANCE: I use TravelInsurance.com for my trips abroad.
CAR RENTAL: I have loved working with Discover Cars when I rent cars in country.
ACCOMMODATION: Find the best Turkey hotel deals on Booking.com.
CITY TOURS & DAY TRIPS: You can browse GetYourGuide's website to find just the tour you're looking for!