7 Best Things to Do in Fethiye and along the Turquoise Coast
Wondering what are the best things to do in Fethiye? Then this is the post for you!
The Art of Living in Turkey contains affiliate links and is a member of the Amazon Services LLC Associates Program. If you make a purchase using one of these Amazon links, I may receive compensation at no extra cost to you. See my Disclaimers for more information.
If you don't already know, Fethiye is the Muğla Province of Turkey. You can read about the 7 regions of Turkey here.
While Turkey is a land that is incredibly rich in history and culture as well as amazing places to see and visit, there are some places that hold a special place in my heart.
Fethiye is one of those places in Turkey for me. Since moving to Turkey in 2019, I have visited Fethiye multiple times, and each time I love it more.
It can be hard to figure out where to go or if you're actually going to like a place before you actually get there. I get it.
Fethiye has everything from underground cities to mountains to gorgeous beaches and that isn't even getting into the historical sites or man-made wonders.
It is known for its amazingly blue waters and epic beaches like the Oludeniz. By the end of this post, you'll know just what to do on your next visit!
Discover Fethiye
Fethiye is a part of the Aegean Region of Turkey and a part of the Muğla Province. It is about a 4-hour drive from Izmir and a 3-hour drive from Antalya.
It borders the Mediterranean Sea and boasts amazingly blue water.
It is also the ancient city of Telmessos. You can actually see ruins throughout the city. This ancient Lycian civilization was a flourishing city in its day with lots of rich cultures.
There are some great places around the Fethiye area to check out that didn't make this list. Places like the Fethiye Market, Fethiye Museum, and Fethiye Old Town.
On your visit to Fethiye, in the heart of Fethiye is the perfect place to stay, and then take a few day trips out from there.
The Fethiye Harbour and the Old Town of Fethiye are also great areas for a lovely walk in the morning or at the end of the day.
1. Amyntas Rock Tombs
These rock tombs are carved into the slopes of the Southern hills in Fethiye.
The most famous of these tombs are actually facing north and easily be seen from below. It belongs to Aminthas son of Hermapias.
It is quite old, dating back to the 4th century BC. That being said you can still take the path to the top to take a peek inside! It is done in the 'in antis' style.
This is a Latin expression that means it has a portico (or a porch) with two columns at the entrance.
It is carved in limestone and while it still remains, it has definitely been broken and seen erosion from natural causes over the centuries.
Another set of Lycian rock tombs are the Kaunos Rock Tombs. These are located near Dalyan, just an hour's drive northwest of Fethiye.
They are done in the same style as the Tomb of Amyntas.
There are different legends that surround Kaunos. You can read more over here about them!
2. Soak up the sun at Ölüdeniz Beach & Butterfly Valley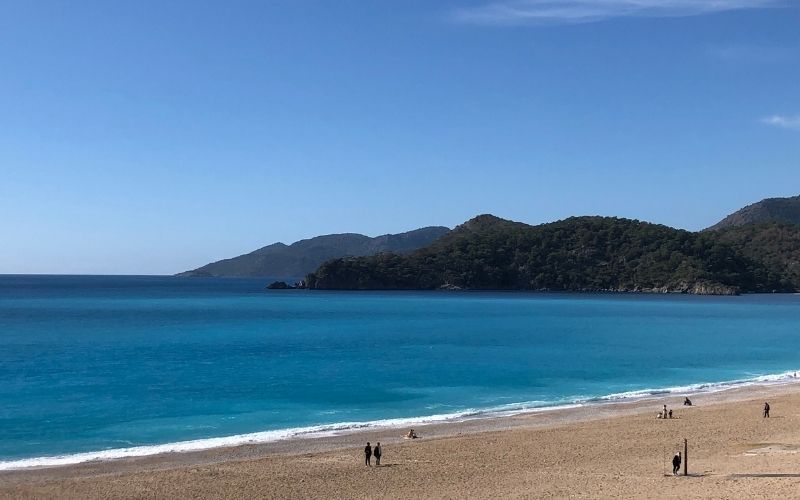 Obviously, you have to go to a beach while you're down here! One thing to note that took me by surprise when I moved here and went to the beach…
They aren't all sand beaches.
I grew up in Florida. There weren't a lot of rocky/pebbly beaches…maybe one that was so full of shells it felt like rocks?
Anyway, make sure you bring those water shoes for a day at the beach in case you find a gorgeous pebble beach.
The water is a gorgeous blue color, crystal clear, and feels amazing! It can be cooler water the further from the "season" that you get.
In my opinion, it balances out the super hot weather.
As you explore along the coast, you will see beach after beach with amazing views. Enjoy every second.
Butterfly Valley is not far away and is known for its unique design. Another stunning area but hemmed in by epic cliff faces.
Paragliding in Fethiye is also one of the most popular activities among tourists.
You'll see the entire Oludeniz Bay as well as views of Fethiye, taking in the incredible views from high up in the sky.
Check paragliding prices and availability on GetYourGuide
3. Ancient city of Tlos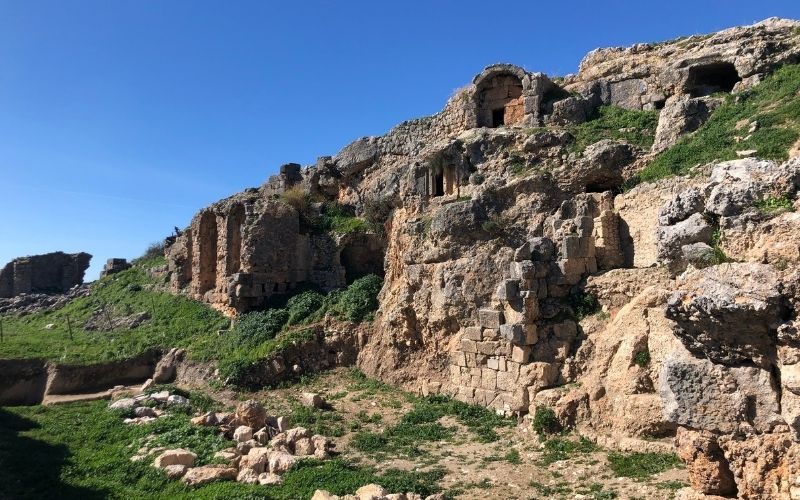 This is another Lycian city that was established on the slopes of the Akdağlar Mountains (literally white mountains) and is a great day trip from Fethiye.
There is actually evidence that people lived in Tlos in the Bronze Age (3300 to 1200 BC) and it was continuously lived in until the 19th century. Amazing!
Because of its height, it held a strategic viewpoint, able to see all of the Eşen Valley.
Tlos, one of the four sons of Tremilus and Praksidike according to Greek mythology, is said to be the founder of this city.
In Greek mythology, it is said to be the city that the hero Bellerophon and his winged horse Pegasus lived in.
As you can see in the photo below, annotated by the red arrow, one of the locals told us this is where Tloos was believed to have been buried.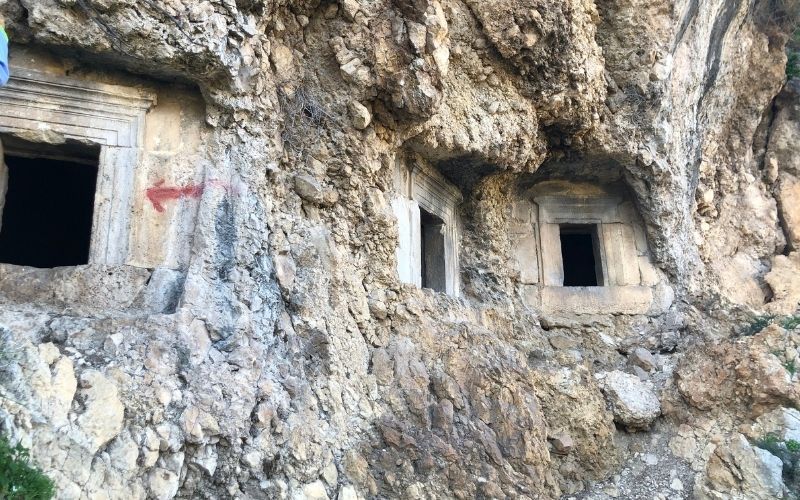 This city has such a rich history. It was inhabited by the Romans, Byzantines, and Ottoman Turks. It is one of the only Lycian cities that was lived in until the 19th century.
On the southern border, you can find the Saklikent Gorge, which I'll mention later.
There are even seven different land-based trade routes headed to this city which obviously points to its importance in its time.
Tlos also became a Diocese while Christianity was prevalent here.
After you finish wandering the ruins and taking it all, you can head down the hill to the street of little holes in the walls for fresh gozleme and tea.
I loved being able to sit there, drink some tea, eat gozleme, and gaze at these ruins that have existed for centuries.
4. Ancient Letoon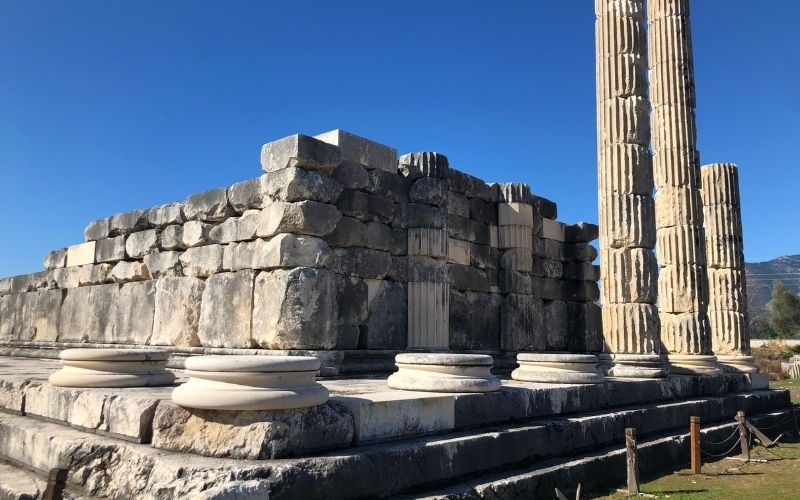 Letoon's Hellenistic temple was dedicated to Leto, the mother of Artemis and Apollo. Though it is small and won't take more than an hour or so, it is worth a visit.
It is located near the ancient city of Xanthos and was an important religious center in the region. It along with Xanthos are UNESCO World Heritage Sites.
Letoon boasts one of the best-preserved caves (the concave form of a theater) among the Lycian theaters.
The theater was built during the Hellenistic period and could hold about 7,800 people.
In the 1960s an early Christian church was also discovered that was actually part of a monastery.
It was built with pieces of limestone and spolia blocks carried from other temples. A column drum from the Leto Temple was even used as an altar in the church.
You can see a few lingering elements of the church like the baptistry and the general shape.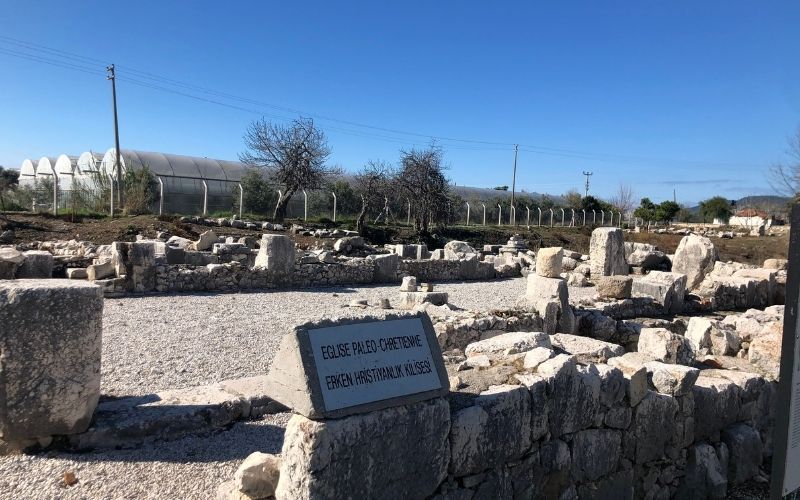 It is a small stop on the way but definitely worth seeing. When we were there, it was springtime and you could hear the frogs croaking and the birds chirping. It was lovely.
5. Visit Fethiye's Martyr Fethi Bey Park
This is a new park that opened in 2018. It was named this in honor of Tayyareci Fethi Bey, an airline pilot from the region.
In 1914 as he was flying from Istanbul to Cairo, his plane crashed between Damascus and Jerusalem and thus received the title of the first aviation martyr of the air force.
In 1934 the district's name was even changed from Telmessos to Fethiye.
Here you can find something to do for both adults and children alike. It was built on the coastline and has great benches facing out towards the water.
There are some amazing water features to gaze at as well.
There are play areas for the kids, walking paths and there is even a duck island. A home just for them. People are often found feeding the ducks as they pass.
It is also known as the "region's largest recreation area." Great for a picnic or a relaxing day reading a book outside.
6. Abandoned city of Kayaköy – AKA Ghost Town
Kayaköy was anciently a Greek-inhabited city and is located South of Fethiye.
Here the language changed from Ancient Greek to Koine Greek to Byzantine Greek and then Modern Greek.
In about 1050 AD the people here became Greek Orthodox Christians.
They lived happily under the rule of their Turkish-speaking Ottoman rulers until the Greco-Turkish War of 1919-1922.
This time period holds a dark past that affects many Armenians and Turks to this day. I won't go into the entire history lesson, suffice it to say, that many innocent people were killed.
After WWI there was a massive population exchange of Greek and Turkish Populations. It was an agreement signed by both Greece and Turkey.
Turkish Muslims would be sent to Turkey and Christian Greeks would be sent to Greece.
The hard part was many of them had never known the foreign land to which they were being sent. They were forced to leave everything behind.
Karaköy is one of those villages where everyone left at the same time.
Generally, the newly coming Turks were settled in the old Greek villages but this town was left because of rumors that the killed Greeks' ghosts remained.
It remains empty and is now preserved as a museum village.
7. The ancient city of Patara and its beach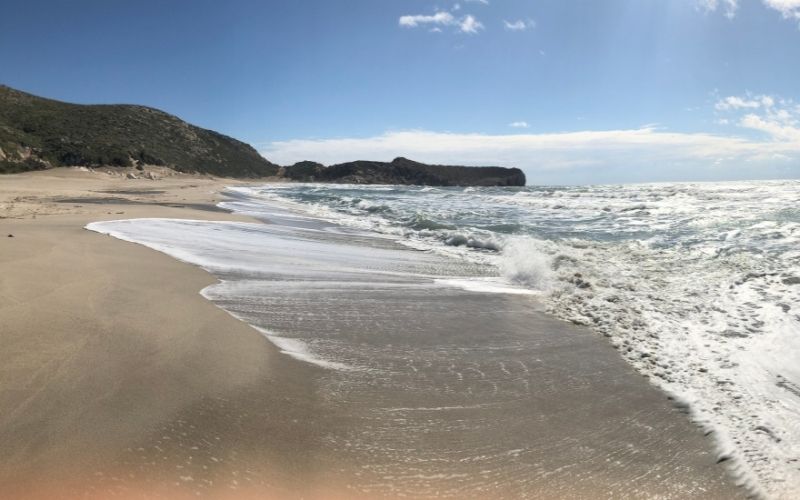 Last but not least, the ancient city of Patara is worth a look! This amazing site is covered by the Museum Pass as well.
This city is just across the border in Antalya Province (mostly we have been in the Muğla Province) and only 1 hour away from Fethiye.
And is the birthplace of Saint Nicholas. Make sure you keep your eyes peeled for a new blog post all about him.
Back in its day, it was a flourishing and culturally rich port city. The myth is that it was founded by Patarus, Apollo's son, and is located at the mouth of the Xanthos River.
According to ancient writers, Patara was also a principal city of Lycia.
While this city changed hands a number of times and carries a rich history, it is also interesting to know that it is mentioned in the Bible.
This is a port at which Paul and Luke change ships in Acts 21:1-3.
On the ancient site, you will see many old ruins some of which have been reconstructed from what was already there.
Some ancient Hittite texts from 13 B.C. mention this city as Patar. Oh, the things these stones have seen!
Finally, it is also believed that the oldest lighthouse in the world, built in 60 A.D. can be found here. Enjoy your exploration!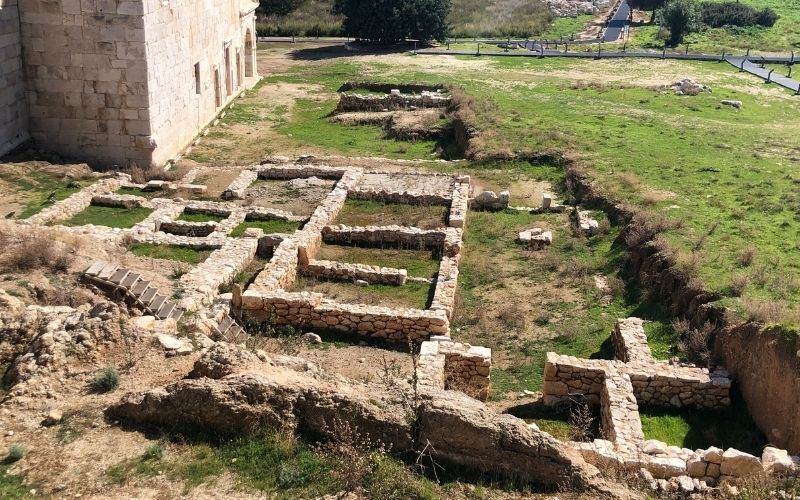 How do I get to Fethiye?
There are many options depending on what else you're doing. If you're in Istanbul, it's probably best to fly into Dalaman, the closest airport, and rent a car.
The drive from the airport to Fethiye is about 45 min. Since it is a smaller city than the likes of Istanbul, a rental car will be helpful for your time here.
You can also drive in from Izmir, Antalya, or any other close airports if you're looking to do more exploring than just in Fethiye.
The entire Aegean Coast is stunning and definitely worth your time. Here you will find places like Bodrum, Marmaris, Kas and so many more.
Currently, ferries between the Greek Islands and Turkey are closed but we hope they will open back up this year.
When they do you can even easily get to Fethiye by way of the Greek Islands.
Where should I stay in Fethiye?
You find some great places close to where you're wanting to stay on this map below.
I am a huge fan of Booking.com and Hotels.com because people actually rate hotels. Sometimes hotels can be hit or miss here in Turkey.
Take comfort in knowing others have gone before you! One thing to note, however, is don't wait until the last minute. Good places fill up fast here during tourist season.
Also, Turkey has blocked booking.com so make sure you book your reservation before you come, or use a handy dandy VPN like this one! It's the one I used and never had problems.
What should I know before coming to Fethiye?
When to visit
The off-season is always my preference. Tourist places tend to get packed quickly and it just seems not as enjoyable to me.
If you're into that sort of thing, June-August will be great for you! If, however, you prefer a little more space, May and September will be a much better fit.
Not to mention the heat will be a little more doable during those months. June-August the weather is quite hot as well as humid.
I grew up in Florida and unless all I am doing is sitting on a beach, I find that weather a bit unbearable. But again, if you love the heat, it will be a dream!
What to pack
While Turkey doesn't have specific rules on what you can/can't wear and while it does have a secular government, it would be good to remember that Turkey is an Islamic country.
It will be more conservative than not.
Here is a post on how to dress when visiting Turkey.
I think hold a different opinion than many, and perhaps even than you, so here it is.
While you can get away with much more in a touristy area, doesn't mean you should or that you have to.
I'm not saying you should be fully clothed like some people you will see at the beach (yes, Muslims go to the beach too!) but you also don't have to wear next to nothing.
Not because you can't but out of respect for this beautiful country and amazing people.
If you go into a mosque you will be required to cover up (no shorts, women have to cover heads and shoulders) but even as you're out and about it would be prudent to cover up a little more than perhaps you normally would back home.
While you may not have a problem, you will get a lot of looks and draw attention to yourself. Maybe you don't care which is fine too.
In more rural areas, you won't see men in shorts and women are often still wearing long skirts or pants and will have their heads covered even in the summer.
Learning Turkish
One of my values is honoring and respecting people wherever I go. When I travel, I try to have at least a handful of phrases to communicate with locals.
Obviously, you can't, nor am I saying that you should, know a million languages to be able to travel.
But there is something special about being able to say something to someone in their native tongue. The Turks LOVE it!
The small gesture will take you far. You will see yourself get better treatment from shop owners, and more kindness, and hospitality from locals.
You check out Turkish for Tourists for some basic phrases and tips.
Museum Pass
I love the Museum pass! As a Turkish resident, I buy one every year. With people coming in for visits or traveling myself, it is worth always having on hand!
The cool thing is there are a couple of options. You can check out the official Museum Pass website for all the details but there are a couple of things I will highlight.
There is one for the whole of Turkey, one for just Istanbul, and then a few for regional areas.
Make sure you check how long they are available. They are activated at your first museum entrance. So if you buy online and then don't use it until a month later, the clock will start from when you use it.
Make sure you always pull it out because sometimes a site isn't covered but it will provide you with a discount! One time I went to Pamukkale with my mom and got 30% off my sandwich!
If you're doing a lot of sites seeing, they are typically a really great value and more than pay for themselves.
Car Rental
I think the easiest way to get around in this part of Turkey is with a rental car. When we went to Fethiye, the car rental process was easy.
I always add on full coverage because it is so worth the value to me. I never have to worry about anything this way!
I have used Discover Cars here multiple times when booking flights. You can do a search here to see what they would cost.
When renting a car, however, don't forget to budget for the cost of fuel. It is definitely more expensive here or maybe just as much as in the States.
When I went on my road trip to the Black Sea Region, granted that was a lot more driving than you'll likely do, we paid nearly the same price for gas as we did for the car for the week.
You can check out local fuel prices here.
---
Final Thoughts on Things to do in Fethiye
This is just one of the amazing areas along the Turkish Riviera also popularly known as the Turquoise Coast.
If you're looking for the best places to visit in Fethiye, I hope you have some good ideas for your adventure through the Mugla Province.
Make sure you read these 23 things you should know about Turkey before you come get ready!
Also here are my Packing Travel Hacks and don't forget to sign up for the free packing list on the right.
Have you taken a trip to Fethiye or added it to your bucket list now?
Look forward to seeing you on the next blog.
Read more:
Turkey vacation basics
When I plan a trip these are the websites I use. Hope they help you plan your next adventure as well!
FLIGHTS: I am a huge fan of Skyscanner and WayAaway.
VISAS: You can use the free e-visa portal here but for a few extra dollars you can use iVisa and someone else will handle any issues that may come up.
E-SIM: When I traveled to SE Asia I discovered e-sims and I'm never going back. Airalo has been easy and cheap!
TRAVEL INSURANCE: I use TravelInsurance.com for my trips abroad.
CAR RENTAL: I have loved working with Discover Cars when I rent cars in country.
ACCOMMODATION: Find the best Turkey hotel deals on Booking.com.
CITY TOURS & DAY TRIPS: You can browse GetYourGuide's website to find just the tour you're looking for!