DOES IT SNOW IN ISTANBUL? All you wanted to know and more (2023)
Disclaimer – The Art of Living in Turkey contains affiliate links and is a member of the Amazon Services LLC Associates Program. If you make a purchase using one of these Amazon links, I may receive compensation at no extra cost to you. See my Disclaimers for more information.
Are you wondering "Does it snow in Istanbul during winter?" Then This article is everything you need to know!
After having spent four winters in Istanbul, Turkey, I have become a bit of a pro on the topic.
Istanbul's weather patterns can be quick to change during November, December and January.
One minute there is sunny, semi-warm weather and the next day it is sleeting. It can be quite confusing.
If you're planning a trip to Istanbul and wondering if its really worth it I would say yes and no.
I hope my experiences will help you understand the weather in Istanbul, a city that spans Europe and Asia, better so you can plan the best vacation possible. 
6 Must-Have Winter Accessories
Does it even snow in Istanbul?
Yes, that is the short answer. It is a bit more complicated than just a "yes", however. You see it really depends on where you are in Istanbul.
Because Istanbul is hilly and parts of it are at higher altitudes, certain areas are more prone to snow than others.
For instance, in Kadikoy, where I live, snow isn't as common as it is in Uskudar. They are at a higher elevation.
So even when our roads are fine down along the coast, Uskudar's roads could be frozen over and unsafe.
Also, the coastline of Istanbul is much more temperate than further inland so snowfall is rare. If the coast does get snow, the amount of snow is small and it doesn't stick around long.
So while the answer is yes, it will really depend on where you plan to go that will determine if it will be snowing.
6 Must-Have travel accessories for Under $25
When does it snow in Istanbul?
Istanbul weather conditions really depends on the altitude but I will share with you a few averages of snowfall for the winter months.
It is also more likely to snow in late January or February as opposed to any day in December.
According to Weather-atlas.com Istanbul receieves an average snowfall of 49mm or just shy of 2 in and a meager 7 snowfall days a year.
Last year we got more than that and other years less. So there's no guarantee.
Climate change has definitely affected the weather in Istanbul and what you expect to happen often doesn't. The amount of snowfall varies from year to year.
There have been some years we have seen snow in March and April or even in November, like in 2022.
Just to clarify it is usually a light dusting of white snow not the heavy snowfall you will find out East.
So my biggest tip is to be prepared to be flexible. Let's take a look at some averages for temperatures and precipitation.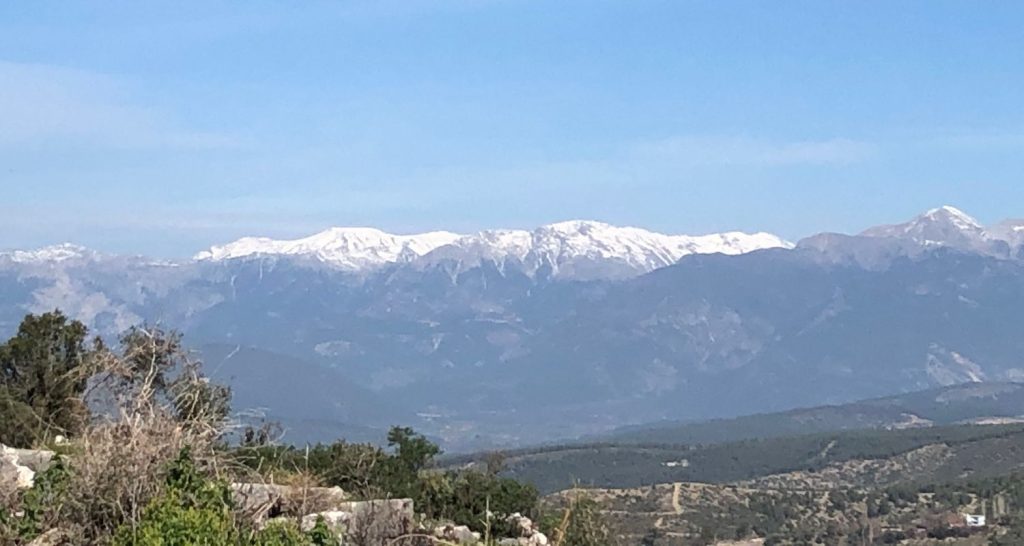 Istanbul weather in December
Even though December is the first month of winter and sometimes you'll see the first snow, snow in Istanbul at this time is not common.
Winter weather in Istanbul does start around this time, however.
That looks more like chilly weather with a lot more rain. December is typically the wettest month in Istanbul.
Average temperature in Istanbul: somewhere between 46 – 51°F
Average number of days of rainfall: 13.6 days with roughly 2″ of precipitation
Average number of snow days: .9 days with .3″ of snow
Istanbul weather in January
Istanbul in January is typically the coldest month of the year. There is generally less rain than in December though it is still significant.
Average temperature in Istanbul: somewhere between 41 – 47°F
Average number of days of rainfall: 12.9 days with roughly 1.9″ of precipitation
Average number of snow days: 3.7 days with .94″ of snow
Istanbul weather in February
Istanbul in February still holds a lot of rain and potential for snow even though it is the last month of winter.
Average temperature in Istanbul: somewhere between 43 – 50°F
Average number of days of rainfall: 12.4 days with roughly 1.5″ of precipitation
Average number of snow days: 2 days with .6″ of snow
Where in Istanbul does it snow?
Generally speaking, Istanbul is classified as having a Mediterranean climate. However, because of its hilly topography, it actually has three distinct microclimates. This means snowfall in here isn't such a straightforward answer.
These microclimates can be seen in the differences between the southern coast and the northern fringe.
The Southern coast gets an average of 24″ of yearly rainfall whereas the Northern fringe gets an average of 47″.
So the higher you are, the more likely it is to snow. The further away from the Mediterranean coast you are, the more likely it is to snow.
That being said, temperatures in the months of January and February are still the coldest of the months, and snow in Turkey is not something that should be greatly feared.
What can I do in Istanbul when it snows?
Museums & Art Galleries
During these cold months, museums and art galleries come alive with a captivating blend of history, culture, and artistic brilliance.
They offer a sanctuary of inspiration for both locals and visitors.
From the majestic Topkapi Palace Museum, where you can observe the opulence of the Ottoman Empire, to the contemporary wonders of the Istanbul Modern Art Museum, winter in Istanbul presents a great opportunity to explore a diverse range of artistic expressions.
Museums and art galleries during these chilly months offer a truly enchanting experience that lingers in the hearts and minds of all who venture within their walls.
Food Tours
Checking out a food tour in Istanbul during this time is probably one of the best times in my opinion.
Yes, it will be chilly outside but it will be so warm inside that the chill outside will feel refreshing, or at least I think so.
Plus, when it is so cold the hot meals and steaming drinks can be enjoyed to their fullest.
Food tours in Istanbul provide an opportunity to savor the city's culinary delights, indulge in comforting delicacies, and experience the warmth and hospitality of the Turkish culture, all while creating lasting memories.
Plus on a couple of them, you can even sample some locally-made spirits.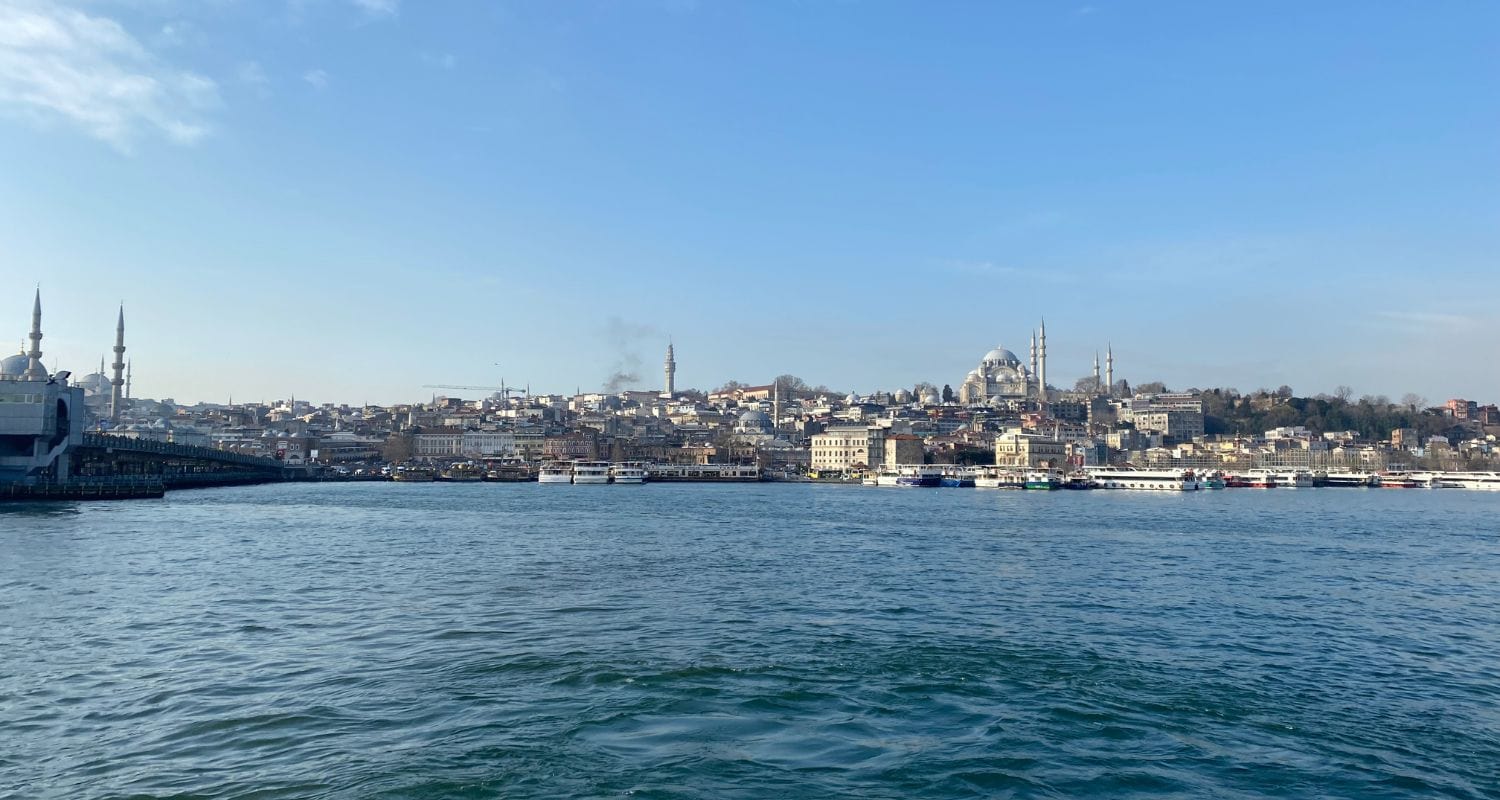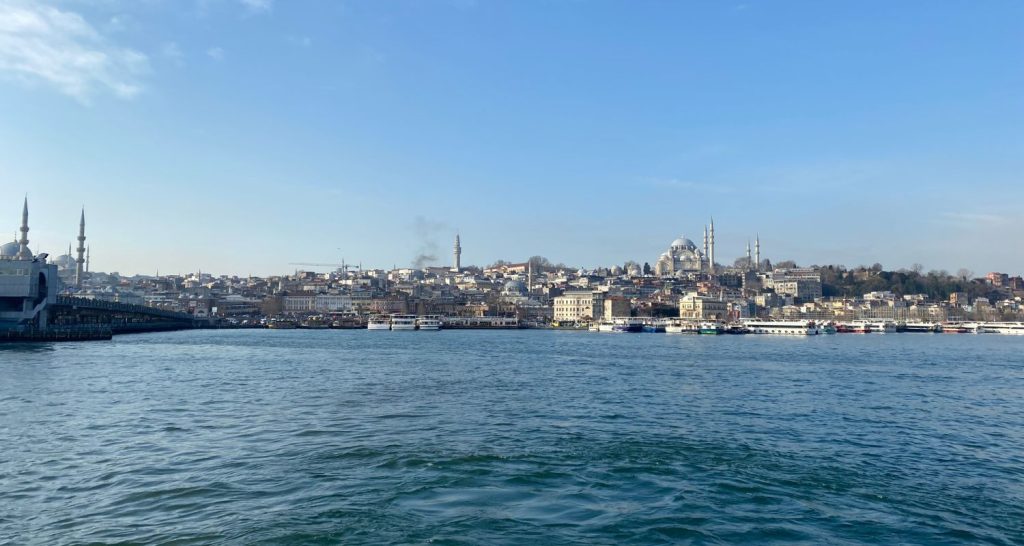 Check out the coffee shop scene
The coffee shop scene in Istanbul has changed so much in the 4 years that I have lived here.
While Turkish Coffee is the thing most people think of when they think of Turkey and coffee, modern and trendy coffee shops have begun to emerge in the effort to become more Western.
Whether you seek the authentic experience of sipping a strong cup of Turkish coffee or prefer to indulge in a meticulously crafted latte art masterpiece, Istanbul's coffee shop scene caters to every taste.
Most coffee shops' atmospheres are cozy and inviting and serve as social hubs, where friends meet, writers find inspiration, and strangers become acquainted over a shared love for the "elixir of the gods" as my Crossfit coach use to say.
Go Skiing
While Istanbul is renowned for its vibrant cityscape and historical landmarks, it also offers a unique opportunity for winter enthusiasts: skiing.
Just a short distance from the city, there is a ski resort where visitors can immerse themselves in the snow-capped beauty of the region.
Uludağ Ski Resort is an easy 3-hour drive from Istanbul and offers well-maintained slopes and a range of amenities, catering to skiers of all levels.
Whether you're a seasoned pro or a beginner, this resort provides an exhilarating experience and allows for a unique combination of adventure and relaxation.
With its proximity to the city and the chance to engage in winter sports, Istanbul proves to be an ideal destination for those seeking an unforgettable skiing experience.
I will say if this is the reason you're coming then December in Istanbul may not be your best bet.
You should probably wait until later in the season to make sure there is enough snow on the mountains.
Visit Hagia Sophia and other sites
Visiting the Hagia Sophia and other historic sites in Istanbul during this is a magical experience that transports you back in time.
Winter offers a quieter and more intimate atmosphere, giving you the opportunity to admire the intricate details and absorb the ambiance.
Exploring other iconic sites such as the Blue Mosque and the Topkapi Palace becomes even more enchanting with a dusting of snow and fewer crowds turning it into a winter wonderland.
While exploring these landmarks, you can also relish in the warmth of traditional Turkish tea or indulge in hearty street food to fuel your adventures.
Who should be visiting Istanbul in winter?
Istanbul is definitely worth visiting in the winter! Because the weather in Istanbul in December is so mild, it makes it a great time for a visit.
But even if you hope to come in January or February, there is still so much to see and do.
Those who don't mind the cold.
As you can see from the temperatures above, while Istanbul in winter is cold, it isn't Michigan cold.
So if you are used to a really cold, then Istanbul in January will be like spring for you. If you're used to a Florida January, you may want to bundle up.
If you're averse to the cold you may be able to simply avoid Istanbul in January as the other two months are a little warmer.
Those who don't really care about the beach life.
Since the weather is a bit cold for swimming and sunbathing, unless you're into polar dips, beaches are definitely not on the list of things to do in Istanbul during the winter.
Also, Istanbul isn't really known for its beach scene…That is more along the Mediterranean and even the Black Sea coast.
That being said, the seaside is one of the most beautiful places to walk and catch a sunset.
Those who like fewer crowds.
This is probably my favorite reason to travel in the shoulder and winter seasons. Fewer people. Fewer tourists. Less noise.
Not only are there fewer tourists, but more locals also stay indoors during the these months. In January and February in Istanbul, the streets are empty.
Even when there isn't a blanket of snow, Turks simply don't love the cold weather. They would rather avoid the cold weather outside and stay in their 80° homes.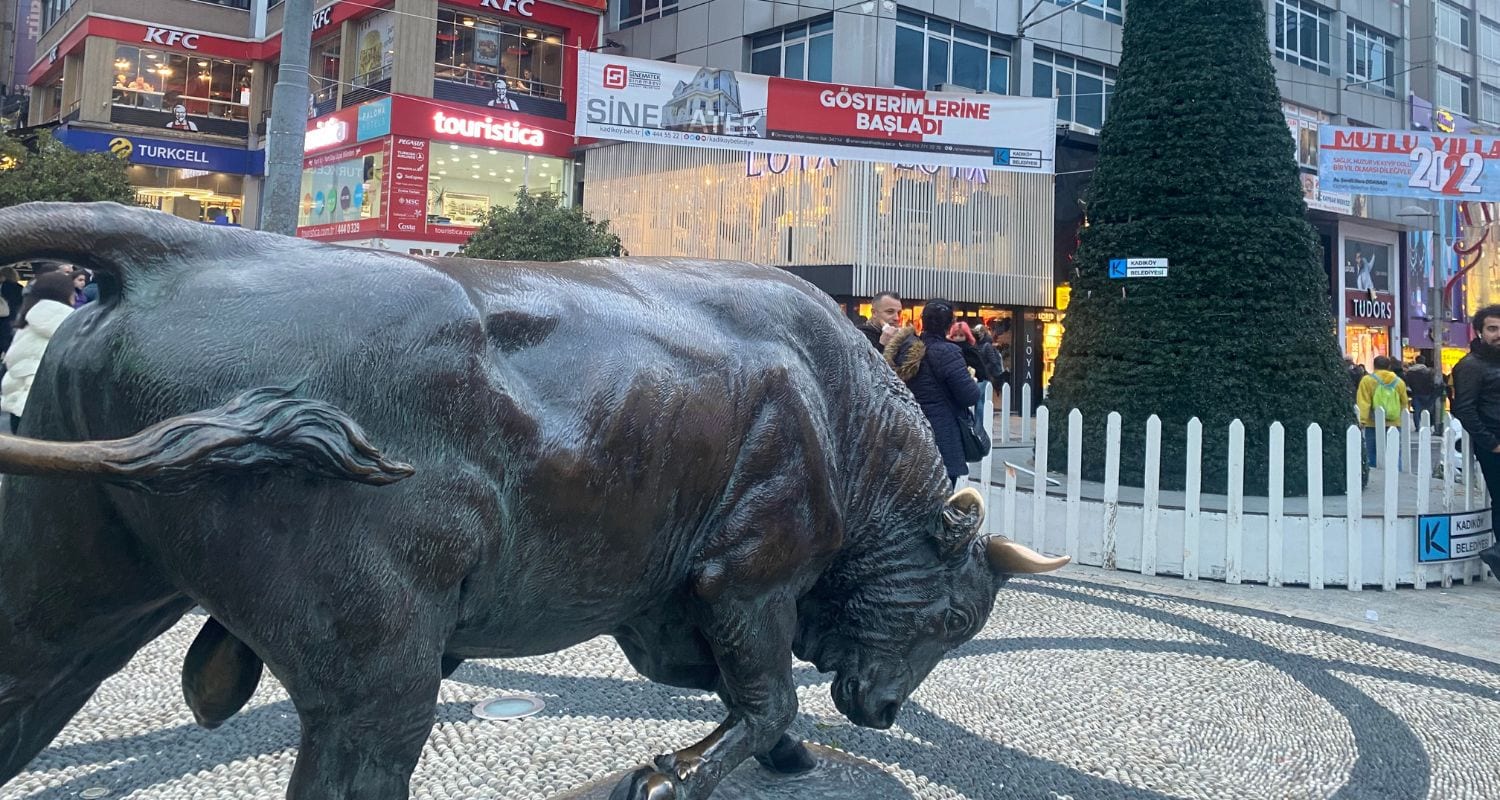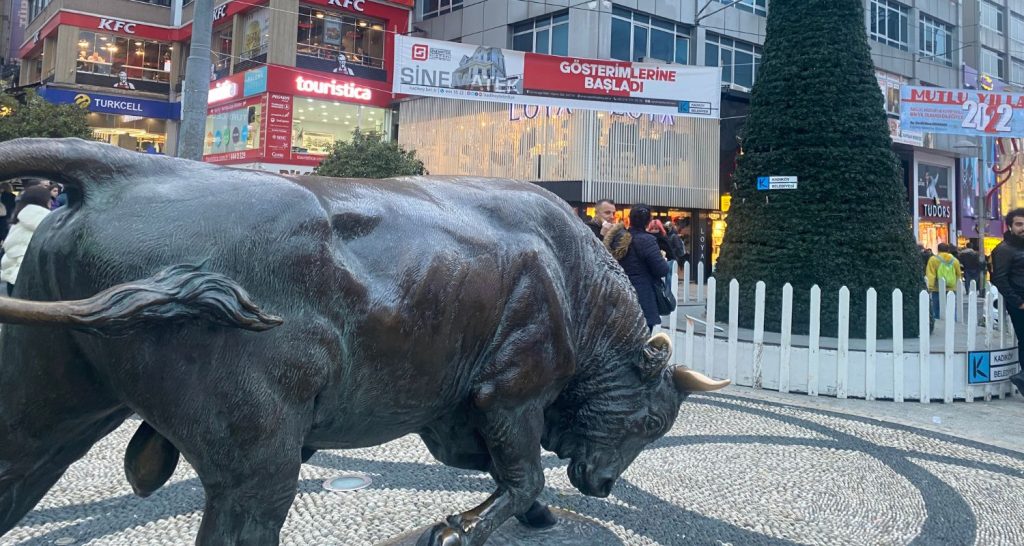 Those who like cheaper prices.
I know not everyone is a budget traveler but who doesn't love saving a few extra bucks? Or better yet, using those saved bucks for an upgrade for your stay in Istanbul!
Because there is less demand and the same amount of supply, the prices have to go down. This is just basic economics.
While the time around Christmas and New Year is not as cheap, the rest of the other months are a great time to visit Istanbul if you're trying to save a bit of money.
Those who love thermal spas and hamams.
During this time of the year, spas and hamams offer a welcomed retreat from the chilly weather.
These centuries-old bathhouses are steeped in tradition and offer a unique cultural experience as well.
The heated marble surfaces, steam-filled chambers, and gentle sounds of flowing water create a serene atmosphere where the chill of the day can melt away.
In my opinion, it is an ideal time to visit these spas and hamams.
I go to the hamam monthly because they are so healthy and I love how my skin feels afterward but I especially love going when it is so cold outside.
Frequently Asked Questions about snow in Istanbul
Do they celebrate Christmas in Turkey? 
No, because they are a Muslim country. They have many holidays the Western world doesn't. You can read all about them here. 
Is Turkey a good winter destination? 
Yes! You can save money, experience fewer crowds, and still do so much exploration. Definitely check out my post on winters in Turkey to get a feel for all that you can do during winter here in Turkey.
Final thoughts on spending winter in Istanbul
As you can see whether you find yourself in Istanbul for a day or an entire vacation, winter is a great time for a visit.
There is so much to see and do and experience with lower prices and fewer crowds. Winter is the best time if you're looking for winter sports or really want to spend a lot of time in hamams or spas also.
As you plan your Istanbul adventure, I hope you will consider winter!
Read More
Turkey vacation basics
When I plan a trip these are the websites I use. Hope they help you plan your next adventure as well!
FLIGHTS: I am a huge fan of Kayak and WayAaway.
VISAS: You can use the free e-visa portal here but for a few extra dollars you can use iVisa and someone else will handle any issues that may come up.
E-SIM: When I traveled to SE Asia I discovered e-sims and I'm never going back. Airlo has been easy and cheap! Use code "SEP15" to get 15% off on one booking.
TRAVEL INSURANCE: I use TravelInsurance.com for my trips abroad.
CAR RENTAL: I have loved working with Discover Cars when I rent cars in country.
ACCOMMODATION: Find the best Turkey hotel deals on Booking.com.
CITY TOURS & DAY TRIPS: You can browse GetYourGuide's website to find just the tour you're looking for!