7 incredible Novels about Turkey: a look into the culture
Disclaimer – The Art of Living in Turkey contains affiliate links and is a member of the Amazon Services LLC Associates Program. If you make a purchase using one of these Amazon links, I may receive compensation at no extra cost to you. See my Disclaimers for more information.
Are you looking to read a couple of novels about Turkey before you head over? I got you covered
Some of these books are quite famous and really a great read. Hope you enjoy them!
I have always loved to read and appreciated a book's capacity to transport you to another time and place. These novels about Turkey will do just that!
While they are different authors and styles, each book will hold a different view of Turkey and its aspects of life.
While they aren't real stories, fiction has a way of explaining the culture in a way a nonfiction book never can.
So as you prepare for your trip to Turkey, grab one of these books and learn something about the culture before you even step foot in Turkey.
I hope you will enjoy each of these for what they are as you venture into a new world and discover something new.
This book holds a special place in my heart.
I bought this book before I knew specifically that the desire of my heart to be in Asia actually meant Turkey.
I bought this book 3 years before I had even considered Turkey.
When I saw it I was intoxicated and knew I had to buy it.
When I first tried to read it, I found it dry, but as I have experienced, it spoke more to the book being out of season for me rather than it not being a good book.
But maybe 6 months after I decided to move to Turkey, I picked this book up again and realized what it was…a historical novel about Turkey as it became a nation.
I was overwhelmed and felt even more sure in my decision to move abroad.
This book by Louis de Bernieres is a beautiful picture of people living among those who are different and thriving in those relationships.
There is a strong tension between religion and nationalism especially when it is impacted by love.
I hope you enjoy this book as much as I did! Buy "Birds Without Wings" on Amazon – it would even make a great gift!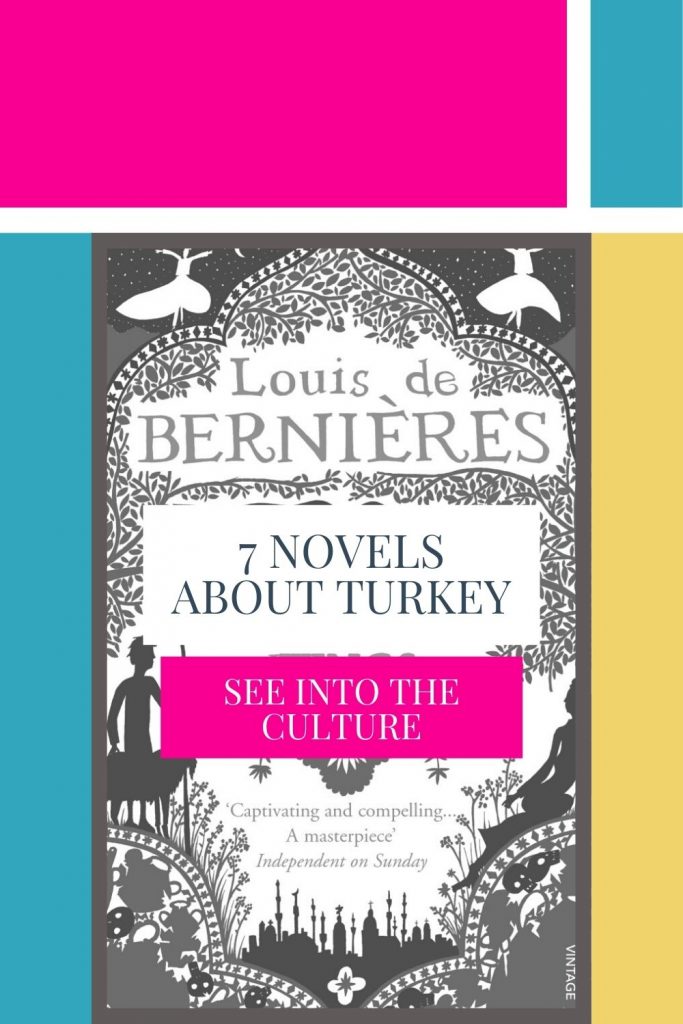 One of my favorite things about fiction is the ability to paint a picture.
Sometimes it is easier to understand a picture first and then understand the real.
In her book, Ayşe Kulin paints a beautiful picture of love that transcends politics and war, and religion.
Selva couldn't care less about any of her potential suitors as she can only see a Jewish boy, the son of a court physician.
As intermarriage was a big deal back then, they decide to move away so they can start a new life but little did they know the coming war would greatly impact them as well as their families.
Buy "Last Train to Istanbul" on Amazon
This debut novel by Alan Drew is incredibly well done.
There are many novels about Turkey that deal with forbidden love but this one hits home as it is about a forbidden love between an American boy and a Kurdish girl.
Dylan, the son of an expat teacher, is seen as a temptation that Irem's father hopes to shelter her from but when a massive earthquake shakes their world in the middle of the night, forbidden love is no longer the biggest obstacle.
The book highlights the cultural tensions of personal freedom versus honoring cultural tradition.
What will come of the relationship when the Kurdish family's survival is dependent on their American neighbors?
Buy "Gardens of Water" on Amazon
Recently Netflix released a series about the Pera Palace so when I saw this book, I was intrigued.
In this book, Charles King weaves historical fiction with such depth.
The Pera Palace, Istanbul's most luxurious hotel, is the backdrop for an incredible story.
Istanbul was quite the melting pot. Many ethnicities and religions lived together and coexisted. They welcomed all.
But during the Second World War, there is much more at play. During this critical time period, Istanbul finds its way into the modern world.
Buy "Midnight at the Pera Palace" on Amazon
In Istanbul Istanbul, Burhan Sönmez develops themes of compassion, creation, and the importance of imagination.
Set in a prison, four prisoners await their judgments.
Between the student, the doctor, the barber, and Uncle Küheylan, they begin to share stories of life.
They laugh together and find sweet comfort in the stories shared.
As the story unfolds a bigger picture about Istanbul itself becomes clearer.
Regardless of whether it is life above or in the ancient streets below Istanbul, both hope and suffering abound.
Buy "Istanbul Istanbul" on Amazon
Orhan Pamuk, a famous Turkish author who has written many international best sellers brings us this gem again addressing such big ideas of the tensions between religion, love, power, and art.
This book is set in 16th-century Istanbul with all of its splendor and religious chicanery.
The Sultan wants to create a book that will sing the praises of his great realm so he forms a special group.
The problem is much of art is quite offensive to the religious minds and so their full goals must be kept secret.
Buy "My Name is Red" on Amazon
Elif Shafak is another local author who has penned many international best-sellers.
In "The Bastard of Istanbul" we find a story revolving around 6 strong women set between the United States and Turkey.
We see Asya, a girl who loves Western music and culture, the four sisters of the Kazanci family, one of which is Asya's mother, and Armanoush, the wife of Asya's mother's brother who is living in America.
When Armanoush comes to Turkey from America to find herself, she and Asya connect. Soon long-kept secrets are revealed.
This book's ending shocked me. It was brutal but so in line with how Turks live and relate. I loved it because of this!
Buy "The Bastard of Istanbul" on Amazon
---
I love a good fiction book. The ability to be transported anywhere and anytime to any world is so magical!
It's also so interesting to see what cultures value and how it is revealed through a story.
You can also check out my post on Turkish TV Series. They are great for learning some of the languages but also really helpful in learning some of the cultures!
If you're wanting to learn a bit of Turkish before you come, you can check out Turkish for tourists.
Have you read any good novels about Turkey?
read more:
Turkey vacation basics
When I plan a trip these are the websites I use. Hope they help you plan your next adventure as well!
FLIGHTS: I am a huge fan of Kayak and WayAaway.
VISAS: You can use the free e-visa portal here but for a few extra dollars you can use iVisa and someone else will handle any issues that may come up.
E-SIM: When I traveled to SE Asia I discovered e-sims and I'm never going back. Airlo has been easy and cheap! Use code "SEP15" to get 15% off on one booking.
TRAVEL INSURANCE: I use TravelInsurance.com for my trips abroad.
CAR RENTAL: I have loved working with Discover Cars when I rent cars in country.
ACCOMMODATION: Find the best Turkey hotel deals on Booking.com.
CITY TOURS & DAY TRIPS: You can browse GetYourGuide's website to find just the tour you're looking for!