Easy Guide To Purchasing A Turkish sim card so you can stay connected
Disclaimer – The Art of Living in Turkey contains affiliate links and is a member of the Amazon Services LLC Associates Program. If you make a purchase using one of these Amazon links, I may receive compensation at no extra cost to you. See my Disclaimers for more information.
Are you looking into purchasing a Turkish sim card for your upcoming trip to Turkey? Here we will talk about both traditional sim cards and e-sims.
Getting a sim card is important for a variety of reasons and is quite simple to get one before you leave the airport if you need to, though I recommend waiting or purchasing an e-sim if possible.
There is nothing worse than needing to call or find out something and not having access to the information. I learned this the hard way!
If you have a T-mobile plan that gives you free service on a 2g network that is awesome….but let's be honest, 2G isn't getting you very far.
After living on 3g or 4g it can be hard to go back to the lower 2g. If you are here for a short time, it might not be necessary to have more than that service.
If, however, you don't have coverage in Turkey I have a few simple recommendations that will keep you connected with people back home and here in Turkey.
Install WhatsApp
If you aren't familiar with WhatsApp, it is a free application that allows you to text, video, and call over a wifi connection.
It is secured end to end. While it is owned by Facebook now everything is secure from sender to receiver.
If people back home will also install this app, which is actually used worldwide, you will be able to stay in touch with people easily and for free!
You can even do FaceTime-type calls with your friends back home.
Reasons for Purchasing a Turkish sim card
When I first came to Turkey in 2018 I had T-mobile and they provided free data here on 2G, if I remember correctly. But sometimes it didn't work right.
There was something I had to do with the roaming but didn't know. I was often frustrated that the signal wasn't strong enough to do the maps….leaving me stranded a bit at times.
Because of that, I think there are some good reasons why it is really helpful to have a Turkish sim card. Let me elaborate.
Avoid extra fees. When you purchase a sim card, you will be able to use your phone in a country like you need to.

You don't have to worry about how much it is going to cost to call someone or can you watch that video on Netflix. No more need to think about roaming.
If you're going to apply for a longer stay, you will need a Turkish number. Say you want to apply for a short-term resident visa, you will need a Turkish number to do so.

But keep in mind your phone will likely stop working at 3 months so have a game plan.
No worrying about signal strength. You won't have to worry about if you have a signal with your home country carrier because likely where ever you are, save the caves in Cappadocia, you will likely have service.
Don't have to rely on free Wi-Fi. You are guaranteed to be able to connect regardless of if you have wife service. If you just come thinking you'll just ride wifi in Mcdonalds', you might be frustrated.

Sometimes the wifi is really slow or you can't connect. Why leave a connection to chance when it is so important for your safety and peace of mind?
Using an e-sim when you travel can be a great way to stay connected while abroad.
An e-sim is a digital version of your physical chip SIM card, and it allows you to activate a cellular plan from a local carrier without having to purchase or carry around a physical SIM card.
This can save you time and money.
Additionally, e-sims are more secure than physical SIM cards because they cannot be removed if your device is lost or stolen.
With an e-sim, travelers can access 4G connections around the world and save on data roaming costs.
Activating an e-sim is a simple process that typically requires setting up the user's device to be compatible with the network provider.
This includes entering specific codes or scanning a QR code that will authenticate the e-sim on your device.
Once this is done, users can choose their desired cellular plan and start enjoying access to an affordable and secure connection while traveling abroad.
Compatibility
That being said, you should make sure that an e-sim is compatible with your phone.
Checking whether a device is compatible with a network provider is essential when setting up an e-sim.
The best way to do this is to check the device's compatibility list on the network provider's website, which will tell you if it supports e-sim or not.
Additionally, it is important to check with your phone manufacturer for any specific requirements for using an e-sim.
Once you have confirmed that your device is compatible, you can then follow the steps to activate your e-sim and enjoy an affordable and secure connection abroad.
Purchasing a Turkish sim card
This process can be pretty simple though there are a few things I suggest to make it the easiest!
This will only work if your phone is unlocked. You can take it to your phone retailer and ask them to unlock it without a problem typically.

They usually will do it free of charge. Especially if you explain you are traveling abroad.
Make sure you go to a Turkcell, Turk Telecom, or Vodafone shop. The reason is they will take care of everything for you while you are there and it will be easy-peasy.

While you can go to a reseller, you will likely have a more difficult time actually activating the card.
Get more than you think you need. They call their monthly services "packets". You will purchase a packet and it will be good for 4 weeks, not a month like most places in the States.

So say you get 15 GB, 1000 minutes, and 1000 SMS. You have 4 weeks to use that up.
I would say that even now I am only looking at how many GB I will use.

WhatsApp, maps, social media…all that is going to come out of GB. Even locals use WhatsApp which means you will rarely use the texts and minutes.
Be aware of what they are charging you at the airport. Of course, everything at the airport is more expensive.

You are paying for convenience. What is standard is a packet fee and an activation fee. But if you are being charged 300+ tl, they are overcharging you.
Use local apps. Bi-taksi is one of my most recommended apps for getting a taxi in Turkey.

(You can read my about the apps I recommend downloading for your visit.) But you can only use this app if you have a Turkish number.
Three Turkish Carriers
For each of these services, I would recommend you find a photo or explanation of what you're wanting to show them.
It will make it much easier for everyone involved. If you find someone who can speak English or your native tongue, that's even better!
Turkcell
Turkcell is who I use and I love them. They have great service and coverage. They are known as the best and often a little more expensive though it isn't enough to sway me.
They have a tourist package called the "Tourist Welcome Pack" that you can learn a little more about in this video.
They have a variety of other packages that are cheaper and contain less data if you're interested.

Includes: 20GB internet, 200min. calls in all directions, unlimited messaging via BiP & WhatsApp
Cost: 149 tl plus a one-time activation fee
Valid: this packet is good for 30 days
Vodafone
Vodafone is another great option for purchasing a Turkish sim card. They have a page just for tourists as well called "Tourist Exclusive Pack". Check out the details here.

Includes: 20 GB internet, 750 minutes calls, 1000 SMS
Cost: 40 TRY plus the cost of a Turkish sim card
Valid: for 28 days from the day of purchase
Turk Telekom
Finally, we have Turk Telekom. They do not provide a special tourist package like the other two so you will have to choose what you want if you decide to go with them.
With Turk Telekom, you will have to purchase a sim card and the the packet you want to go with.

Includes: This is determined by the packet you choose
Cost: the price of the sim card will vary as to where you purchase it from. See the most recent prices from their website below.
Valid: for 28 days from the day of purchase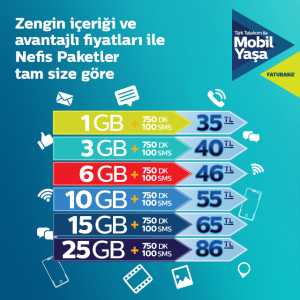 Final thoughts
I recommend an e-sim as it is the most practical and can be reloaded indefinitely.
If you want a traditional sim card my recommendation is to go with Turkcell but make sure you understand how long you can use the sim card.
Every company is different and it will depend on what you actually purchase. The tourist sim cards are only valid for so long.
Don't miss these other things you should know about Turkey before you come.
Do you normally buy a sim card when you travel abroad?
– Kimberly