5 Great Turkish TV Shows that will help you learn Turkish
Disclaimer – The Art of Living in Turkey contains affiliate links and is a member of the Amazon Services LLC Associates Program. If you make a purchase using one of these Amazon links, I may receive compensation at no extra cost to you. See my Disclaimers for more information.
So you want to watch some Turkish TV shows to help learn Turkish but don't know which ones are worth watching?
I'm gonna share with you a few that are either some of my favorites or loved by many!
Let's be honest, not everyone has the same taste when it comes to film and TV. One person will say that a film is the best one this year while another person thought it was terrible.
We all have our own opinion. So I will be curious to hear what you think about these TV shows as you watch them.
I have really enjoyed watching most of these and they have been helpful for learning Turkish as I watched them over and over.
Learning a language is hard work but it is definitely made easier when it is enjoyable!
I hope these will help you on your learning Turkish journey.
Learning Turkish
Let's be honest….learning a new language is hard work. Some languages are definitely harder than others. Turkish, for English speakers, is one of the hardest for sure.
WHY?
Well in addition to learning new letters (just a few) and new vocabulary, you will also have to learn a few types of grammar we don't have in English and to top it all off, you will have to say every sentence backward from English.
I fancy myself a smart person. Took AP calculus and chemistry in high school. I didn't even score well on the chemistry test but this…I have felt stupid multiple times while learning Turkish.
Mostly because I couldn't understand something that was being spoken in Turkish as a means to explain Turkish. Once it was explained in English, I was generally fine.
Turkish is a level 4 language. That means for English speakers it will generally take 44 weeks (1000+ hours) to learn this language to reading and speaking level 3 as described by the Foreign Service Institute.
Other level 4 languages include languages like Russian, Czech, Hebrew, Greek, and Tagalog. There are only five level 5 languages: Arabic, Cantonese, Mandarin, Japanese and Korean.
So with all that let me say this…my hope is to provide you with helpful tips I have discovered in my learning journey to help yours progress smoother than my own. This blog is one of many I will write to help you grow in proficiency in the Turkish language.
If you are just visiting, obviously you will be using more phrases than really learning grammar; that's good for you! So with that, let's talk about a few tips for learning this language through Turkish TV Shows.
5 Tips for Watching Turkish TV Shows
There are a few things I would highly recommend so that you can get the most out of your learning journey.
FOCUS – Don't do anything else while you're watching, except take note of words/phrases you don't know or have wanted to know how to say.
3x your show – Watch the same movie or episode three times. The first time, watch it in Turkish with English subtitles. The second time watch it in Turkish with Turkish subtitles. The third time watch it in Turkish with no subtitles. Each time, make sure you make notes as necessary and pause when needed.
Repetition is key – Use the words you wrote down in sentences. Practice using them so they will stick better. You can memorize them but they stick so much better when you can use them in a sentence that makes sense because you have just given the word context.
Turkish shows – If you watch something other than the ones below I would encourage you to start with Turkish shows/films. If you don't, oftentimes what is dubbed in English voice is different than what is in subtitles. This makes it much harder to line up the sound and words you're reading.
Pay attention – Watch the cultural implications of what is happening. Some of my favorite shows below are because I learned so much about the culture more than I paid attention to the language. Turkish shows are rich in help for language learners.
So now, let's talk about my 5 favorite shows/movies that you can find on Netflix. If you don't see them on your particular Netflix, you can always use a VPN to see the Turkish ones. If you need one, this is my favorite!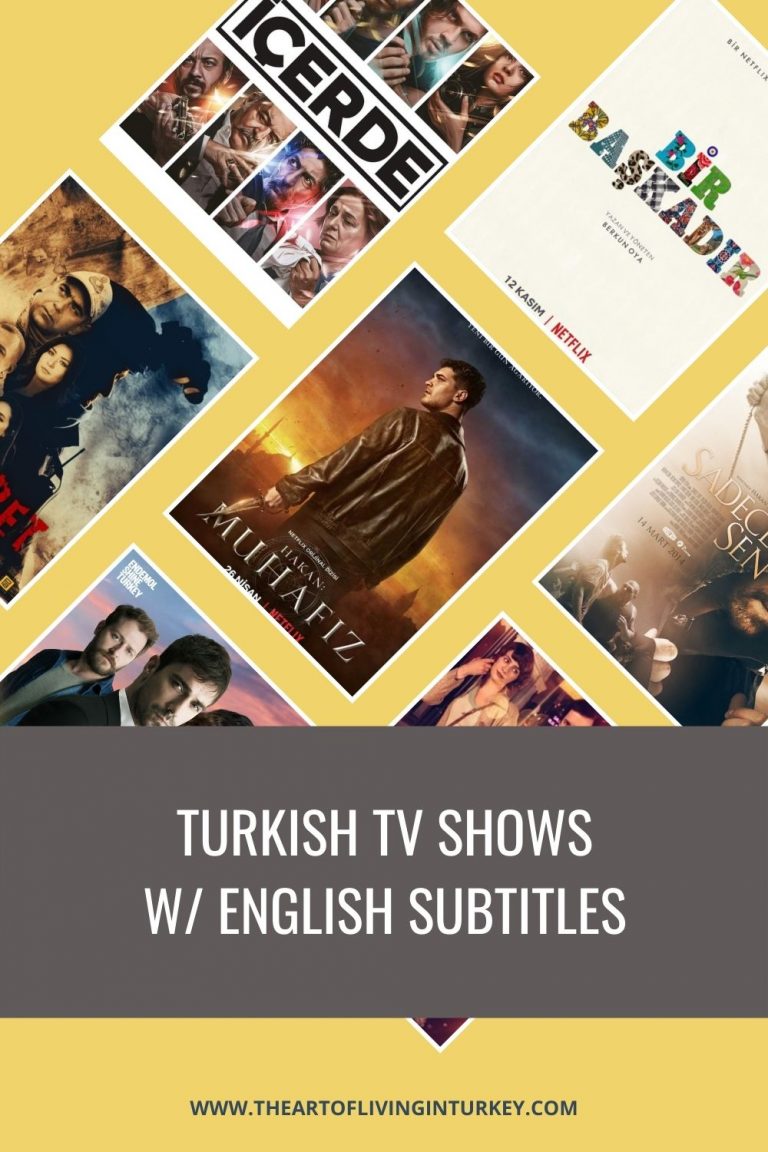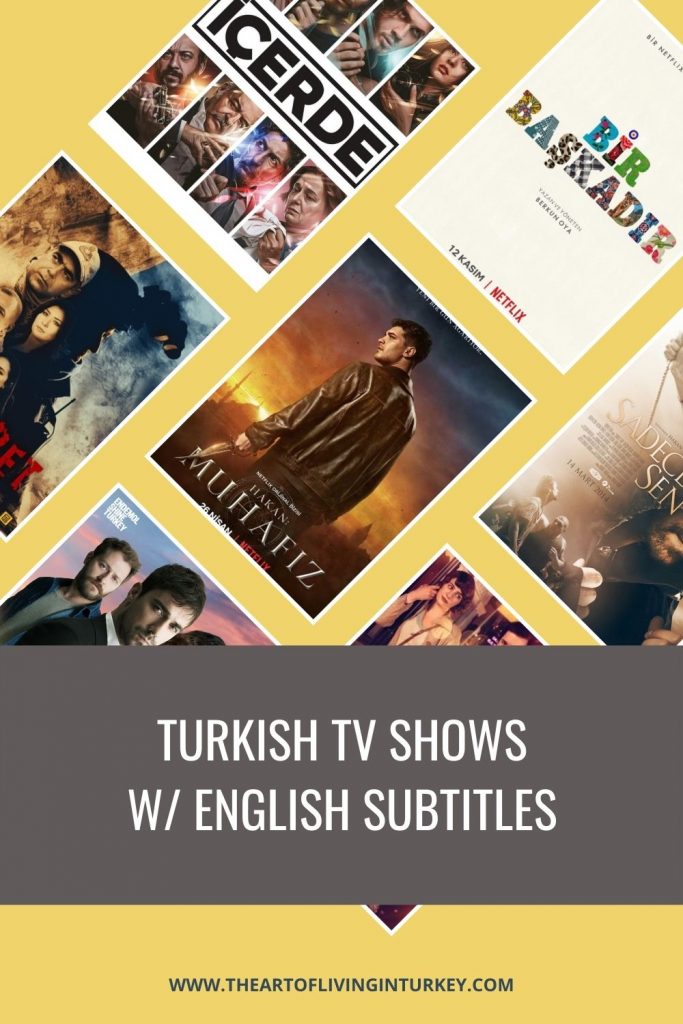 1. The Protector
Or as it is called in Turkish, "Hakan Muhafiz". But if you're watching abroad you will see Protector.
Discovering his ties to a secret ancient order, a young man living in modern Istanbul embarks on a quest to save the city from an immortal enemy.

– IMDB Description
This Turkish TV show was perfect because it was mostly set in modern times. So the language was what people are currently using. They do jump back to older scenes but in general, it is modern.
This show is also really enjoyable to watch. It has a great storyline and it remained good, in my opinion, past season 2 when many start to lose some of their luster.
If you like magic and action with a hint of romance, this show will be perfect for you! And an extra tidbit, it is actually based on a book! N. Ipek Gokdel's novel "Karakalem ve Bir Delikanlinin Tuhaf Hikayesi (A Strange Story of Charcoal and a Young Man)".
This show can be found on Netflix.
2. 50 M2
After being betrayed by his boss, a hitman hides out in a vacant tailor shop, where he's mistaken for the late owner's son, an identity he decides to embrace.

IMDB Description
I recently watched this series and quite enjoyed it. As most Turkish TV shows go, this was a fairly intense show. It has violence and some language. You will see some of the cultural undertones of revenge and unforgiveness in the storyline.
It is different than the typical Turkish TV show and they did an excellent job in making it!
This show can be found on Netflix.
3. Love me like this
In Turkish this one is called "Beni Böyle Sev".
The story of Aysem and Ömer, who think that they will be able to take responsibility for their dreams, their love and each other, and to have difficulties together, instead of temporary relations that they will live for their daily fervor in their youth.

IMDB Description
This I loved for the culture. I found it incredibly fascinating. I am not a person who picks on the games people play with each other and for that reason found a lot of this show quite insightful.
Turkish culture, on the whole, is not a very direct culture when it comes to something that could cause dishonor to someone else. They will ask very direct questions or tell you that you have gained weight, but they won't correct you as that would be shameful. So they go around an issue, hoping you will figure it out.
That being said, you will see that in this show. You will also see the tensions in a relationship where one is wealthy and the other is not. One is from modern Istanbul and one is from rural Turkey in the Black Sea Region. It's fascinating.
By season 2, however, the season that never ends, I had to take a break. The drama was just too much to bear. Too much to handle. If you love drama though, this is the show for you!
This show can be found on Netflix.
4. Insider
This show, "İçerde" in Turkish, is on my list because it has come so highly recommended. This show, while dark and violent, is amazing and powerful. This action-packed thriller carries with it such a powerful picture of redemption.
A story of two brothers torn from each other. Now on the opposite sides of the law, brothers Sarp and Mert are put against each other, unaware of their fraternity.

IMDB Description
This is again, not a typical Turkish TV show but they have done a great job with it. The same main actor from The Protector is one of the main characters in this show as well.
This show can be found here on Youtube. If you are somewhere other than America, however, make sure you turn on your VPN.
5. Ethos
Last but not least this show made my list mainly for cultural references. In Turkish it is called "Bir Başkadır".
Afflicted by fainting spells, part-time cleaner Meryem confides in psychologist Peri – but she's reluctant to reveal one detail.

Netflix description
This is one of those dramas where different people's stories are intertwined and you understand in the end what is happening.
This show would be for a more advanced learner. I say this because Meryem, the main character, truly has an accent and if you don't know the language well, it will be hard to understand her.
There is also some cultural context as she lives with her brother and his family. There are tensions displayed through the airing of dirty laundry and the introduction to therapy. I really enjoyed it and look forward to watching it again!
This show can be found on Netflix.
Bonus: Delİha
This one is a bonus. I thought this series was just plain hysterical. If you want a look into Turkish humor, which to be honest I still don't understand a lot of the time, this is great. There are even a couple of sequels.
Short on sense but long on self-confidence, dotty Deliha sets her sights on a hunky photographer who opens up shop in her neighborhood.

Netflix description
This movie follows the main character, Deliha. Her common sense seems negligent but thinks the world of herself. Everyone loves her simultaneously everyone understands her.
If you're up for a laugh, give this one a go!
This show can be found on Netflix.
---
There are soooooo many more that I could add to the list. I encourage you to find some of your favorites and share them with me. I am always on the hunt for a new Turkish show to watch!
Also, you can check out Turkish for Tourists for some help with phrases to learn or this post on novels about Turkey.
Do you currently have a favorite Turkish show?
Catch you on the next post! And don't forget to check back for more language tips in the days to come.
– Kimberly