WayAway Plus Review: All you need to know to earn Cashback when traveling
This contains affiliate links to trusted partners. They cost you nothing and help me provide you with excellent content without lots of ads.
I love to travel both domestically and internationally. Because of this, I am always on the hunt for the next great tool to make it easier and cheaper. Recently I discovered an amazing new tool: WayAway Plus.
Travel is expensive these days and saving money anywhere you can is always a bonus. Who doesn't want cashback when booking their flights, hotel stays, car rentals, tours and more?
If you do, then you are going to love this review because with this amazing tool, you can save hundreds on your travel and then cash out as soon as its available.
So if you already know you're going to be traveling over the next year, now is the time to sign up. You can even get 50% off the first year of membership. You can even score an extra 10% off with my code "artfullyliving" or clicking here.
So let me explain how this works and why it is an epic choice!
What is WayAway Plus?
WayAway Plus is a membership program for their flight aggregator (think Skyscanner and Kayak among many) that then rewards you with cash for using their platform.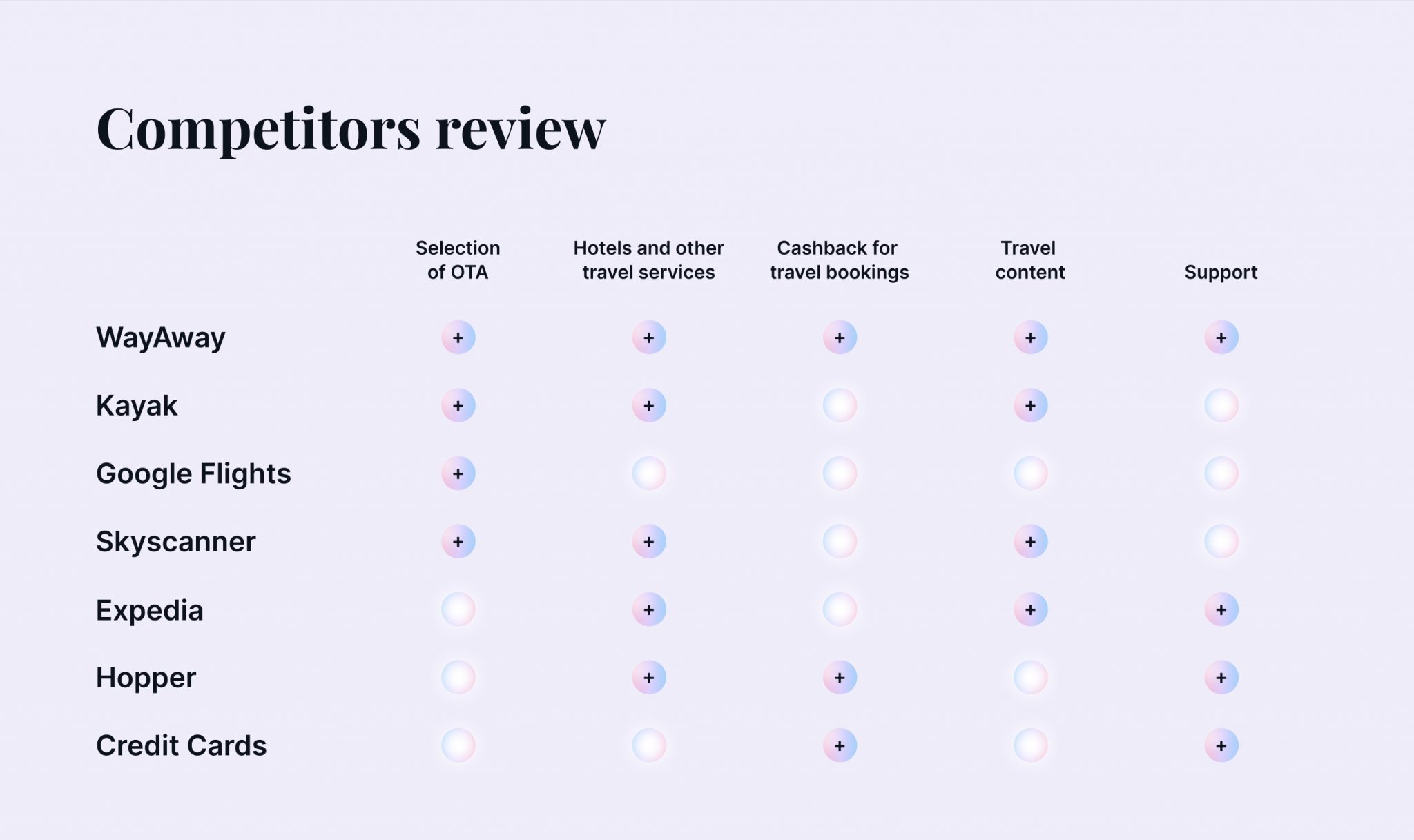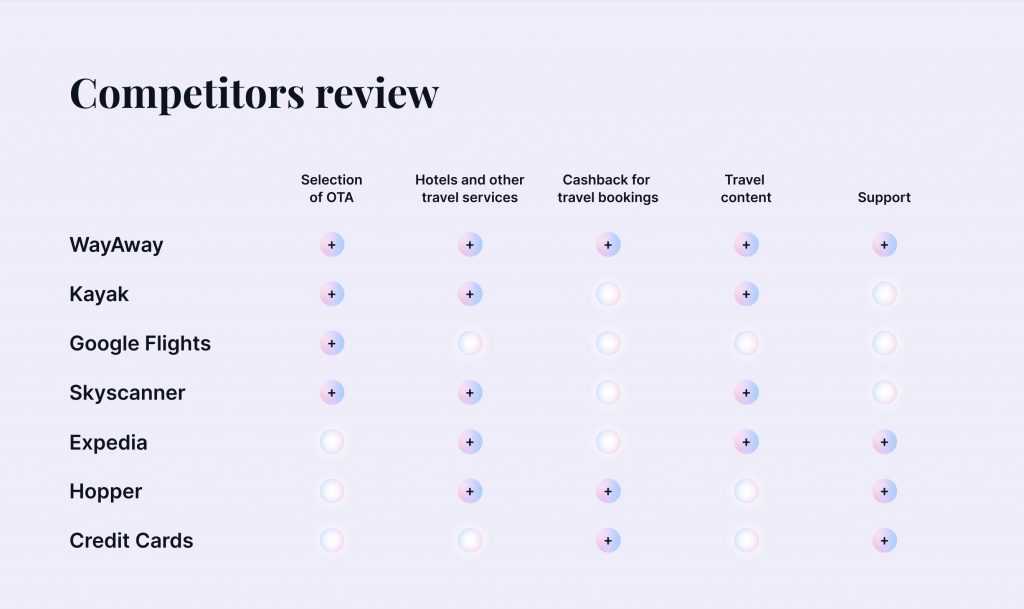 The beautiful thing about WayAway is that it was created by travelers, for travelers. Through a partnership with Travelpayouts, they have created a partnership platform that marries travel content created and travel brands. It is the product of 10 years of experience in this market.
They want to share their commission from airlines and travel agencies with us through their cashback program.
What makes them special from all the other aggregators out there is that WayAway is dedicated to a customer-first approach. What does that mean? It means:
it has built in service with you in mind
includes features like:

cashback rewards – no points or miles here
premium customer support – they will help answer any travel-related question
travel content from active travelers worldwide – find friends anywhere you go
option of price alerts

getting to receive part of the commission for your purchases
you can use the WayAway app and search for travel deal from anywhere
While you can use WayAway without the Plus, you will miss out on the cashback rewards.
One of my favorite features of their platform is the customization for your search. You can easily toggle on and off for things like
baggage requirements
flight details
layovers
luggage recheck
and so on
For a little Turkiye travel inspiration…
So how does WayAway Plus work?
Right now you can purchase a membership for 50% off the normal price. I don't know how long that will continue but if you will travel at least a couple of times in the next year, it would be worth it!
You can even score an extra 10% off with my code "artfullyliving" or clicking here.
After purchasing an annual membership, you make bookings with a variety of services using their website. Make sure you do it through the website or you won't get your cashback though.
For instance, Booking.com is one of WayAway's partners. Of course you can just go to Booking.com to make your reservation but if you go through WayAway, you will have the same options but you will actually get up to 10% cashback.
It is important to note that this isn't just miles you can redeem or points to be cashed in. It is hard. cold. cash. They will send your cashback bonus through PayPal and you can do with it whatever you want.
Just as a note: while you will get cashback and can use it however you want, there are generally some waiting periods – varying per partner – on when you can cash out.
What kind of cashback bonuses can i expect?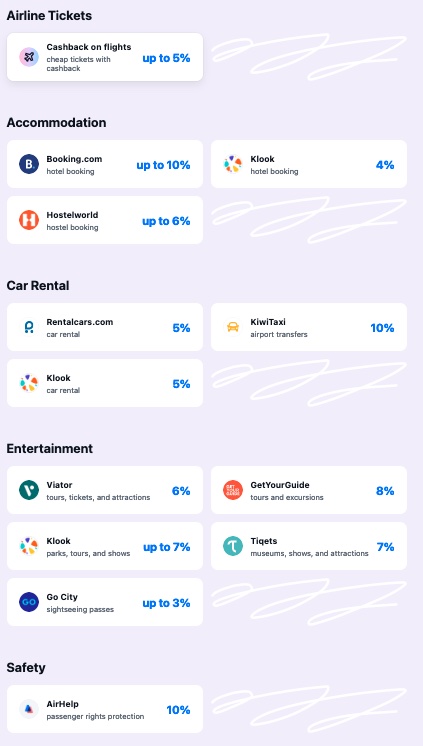 Flights: up to 5%
Booking.com: up to 10%
Klook: 4% for accommodation
Hostelworld: up to 6%
Rentalcars.com: 5%
KiwiTaxi: 10%
Klook: 5% for car rental
Viator: 6%
GetYourGuide: 8%
Klook: up to 7%
Tiqets: 7%
GoCity: up to 3%
AirHelp: 10%
WayAway Plus partners with so many different programs, covering the gamut of what you need when you travel!
Multiple of them say "up to" because it depends on where you go. I noticed that when I was looking at international travel, the cashback bonuses weren't as high of a percentage as they were when looking at domestic flights. Just something to be aware of.
What I love is that there are options! If you want a hostel, you can do that but you can also do hotels which are different experiences.
You can rent a car or just hire someone to pick you up.
You can choose who you book your tour or experience with. All. the. options.
You can find out more details about a specific program, including but not limited to, the delay for cashing out as well as a bit of info about that service provider if they are new to you.
Then you just link your PayPal account and cash out when it is ready to go.
Can I see an example of a trip?
Here is an example of how WayAway Plus works on a domestic trip:
Round flight from Boston to Las Vegas for two ($245 x 2) = ~$25 cashback
Round airport transfer for $130 = $13
Hotel for a weekend for $962 = ~$96 cashback
Car rental for $400 = ~$20 cashback
Grand Canyon tour for $238 = ~$14
This comes out to $168 total cashback for just one trip, meaning that users can save over 7% using WayAway Plus!
Who is this good for?
WayAway Plus is great for you if you:
travel for work with any regularity
book travel for you and your family/friends
love to travel often
rent cars when you travel
stay in hotels/hostels
take excursions or do activities while on vacation
you have a passion for adventure
Who is this not great for?
WayAway Plus might not be great for you if you:
if you only stay in Airbnbs or go camping
don't travel very often
need the cash out to happen immediately – there are waiting periods before you can cash out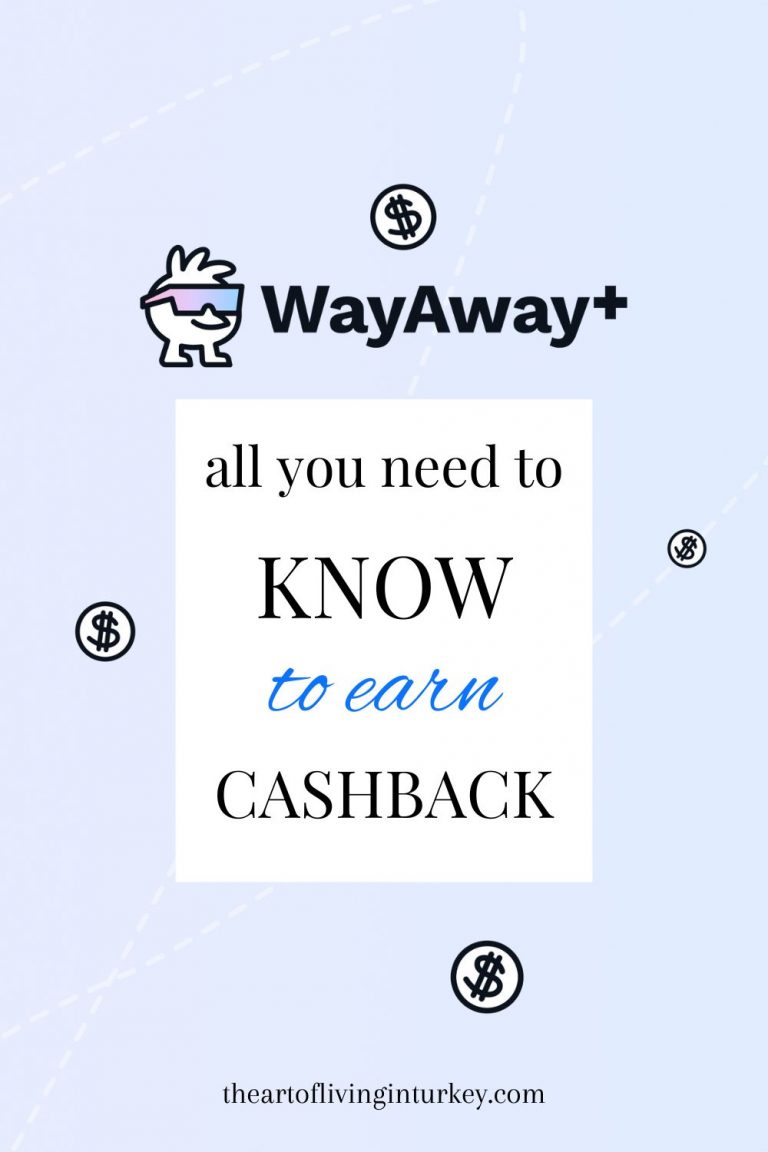 ---
Okay. That was a lot of information. Did it get you as pumped up as it pumped me up?! If you're ready to take the plunge you can buy an annual membership plan at an early-bird price of $49.99. This is less than $5 a month.
If you're ready to put this awesome tool to use in coming to visit Turkey, don't forget to check out my packing travel hacks and 17 tips for international flights.
Are you ready to try out WayAway Plus?
– Kimberly